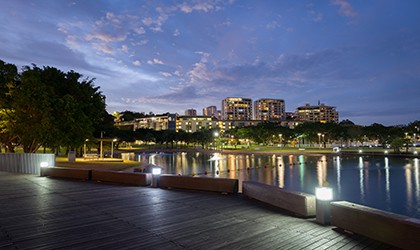 Board Coral Adventurer at Darwin at 4:30 pm where there is time to settle into your stateroom before our 6:00pm departure.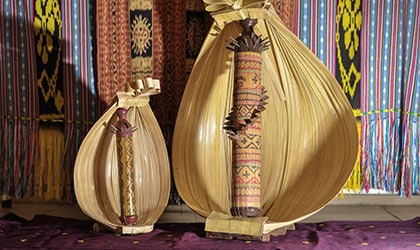 Kupang is our introduction to Indonesia, an historic trading port during colonial Portuguese and Dutch eras, and we arrive at the same location where Capt. William Bligh landed at the end of his mammoth 3,600nm voyage after the 1789 Bounty mutiny.
Kupang was once an important trading port during colonial Dutch and Portuguese eras. We wander through the old city and visit the Siang lay Chinese Temple, established long ago by the Chinese community, as well as a 16th century Dutch church. On a guided tour of Kupang we see the Sonbai memorial and wander through an Arts and Crafts Centre where we practice our bargaining skills.
Later, we visit Tablolong Beach, famous for its beautiful white sandy beach and is a favourite for swimming and snorkelling. We visit a village and enjoy a traditional welcome dance and cultural performance which includes the harp-like stringed Sasando.  Sasando music is an important cultural element within the Timorese community and marks significant occasions like births, deaths, marriages as well as welcoming visitors. The musical 'belly' of the Sasando is made from strings stretched across a hollow bamboo tube with a fan-like resonator made from dried palmyra fan fronds to enhance acoustics.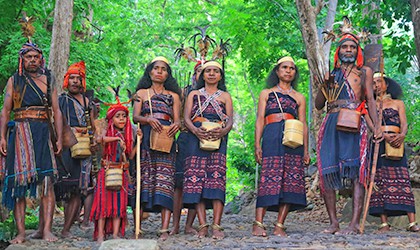 The population of Pulau Alor is about 140,000 but the island is very rugged, one of the reasons why this small island is divided with about 50 different languages. There are a few traditional villages and we will tour through the open-air Kadelang Market, the Museum of 1000 Moko Drums, and on to the very pretty Latafui village to enjoy a traditional Lego Lego dance. Ladies dressed in hand-woven textiles and with dangling bangles around their ankles form a tightly-knit circle and dance rhythmically to gongs and drums. The Lego Lego dance symbolises strength of unity and brotherhood and may be accompanied by a poetry reading or singing.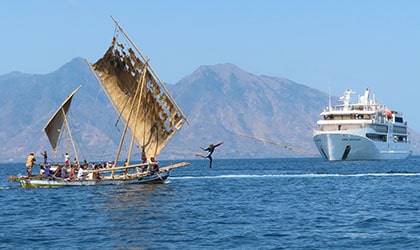 Lamalera is one of the last two traditional whaling villages in Eastern Indonesia where the ancient whaling tradition remains the principal economic activity. Lamalera villagers follow ancient beliefs and taboos with each hunt carried out following traditions passed down through generations. When a whale hunting expedition is announced, boats are launched to much ceremonial fanfare with villagers gathering on the beach to wish the fleet a successful hunt. A dedicated Mass service is led by a Priest to pray for a safe, successful expedition, which remains an important food source for villagers.
Whaling boats, known as peledang, are made entirely of timber with wooden pegs used in place of nails, powered by sails woven from palm leaves. Upon locating suitable prey – whether whale, manta ray or dolphin – fishermen launch a harpoon from the bow using nothing more than the strength of their bodies to reach their target.
We are welcomed to the village to see traditional activities and dances. The women demonstrate Ikat weaving and dyeing and there is an opportunity to purchase Ikat textiles direct from those who make them, where the patterns of whales and peledang boats may be seen in exquisite hand-woven cloth.
Depending on weather conditions, we may have the rare opportunity to go on a 'mock' whale hunt with villagers in their own boats. Alternatively, they will bring their boats close to Coral Adventurer and demonstrate how they hunt using traditional methods.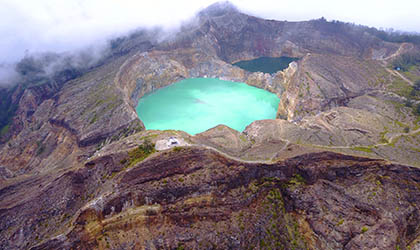 We travel by vehicle along a scenic route from the coastal town of Ende to the multi-coloured crater lakes of Kelimutu, stopping on the way at a Convent where we will meet the orphans and enjoy refreshments. At Kelimutu Crater, there is a short walk to the crater viewpoint where we may toss stones into the lake for good luck.
We enjoy lunch at Kelimutu Eco Lodge accompanied by a choir and the traditional music of Flores. Before returning to Coral Adventurer we visit the beautiful traditional village of Wologai Tengah and wander through a local market.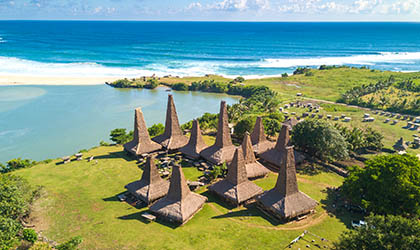 The distinct architecture and conical-shaped rooflines of multi-floored homes in the coastal village of Ratengaro has remained little-changed for generations. Each one of the four levels have a different purpose with the ground level housing animals, the second level is where villagers live, the third level for storing crops and produce while the top level is where the kitchen is located. The fourth level is also used for the safekeeping of sacred objects, such as a buffalo horn, which is considered a symbol of prosperity. Sumba Island is one of few remaining places in the world where megalithic burials honour prominent individuals when they die, a practice that dates back to the Bronze Age.
We visit the village and have the opportunity to see these intriguing homes along with admiring the Sumba islander horsemanship skills for which they are well known.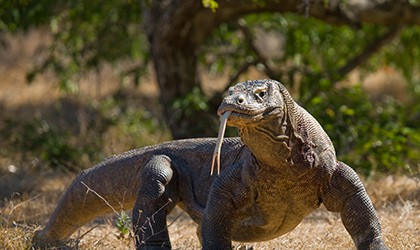 The best time to see the famed Komodo Dragons is in the morning when they are most active, so our day starts bright and early. We take a guided walk with local rangers to maximise opportunities for seeing the Komodo Dragons as well as visiting a small village where Dragons are also likely to be seen.
Myths and legends abound about Komodo dragons.  According to one, the Dragon Princess of Komodo, called Orah, was the twin sister of a boy who grew up to be a great hunter. Poised to kill a dragon, the dragon materialized as his long-lost sister, and was thus spared. From this day, Komodo Dragons have been treated with the kindness, even feeding dragons which roamed through villages as they became too old to fend for themselves.
Later, we go ashore on Pink Beach where there is time to relax on the dusky pink sands and swim or snorkel in the sea. Local traders may come by in their boats to set up impromptu souvenir stands.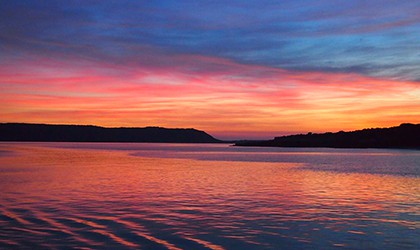 Kalong Island is a small mangrove-lined island within the Komodo National Park which is inhabited by a large bat colony. Cruising slowly past at sunset, we witness the daily spectacle as thousands of bats depart the island on hunting expeditions.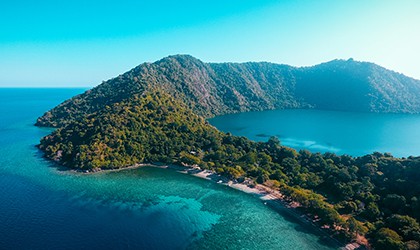 Situated in the Pacific 'Ring of Fire', Satonda Island is notoriously difficult to access and is separated by narrow strait from Mount Tambora. Tambora was the site of the most devastating volcanic eruption in history when it erupted in 1815, with the tsunami breaching the rim of Satonda crater, creating a salt water lake.
We visit the collapsed crater of Satonda which is now a 240m deep salt water lake surrounded by 'wishing trees' and offers terrific birdwatching along with an opportunity to swim and float in the salty waters. Colonies of brightly coloured butterflies drift across the lake while and hundreds of flying foxes hang from the trees atop the surrounding hills of this alluring, remote island.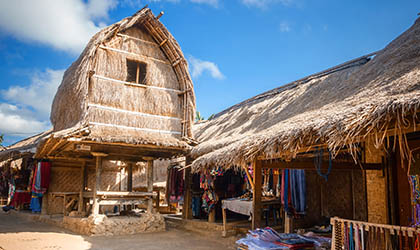 The Sasak tribe of Lombok live in villages with distinct bell-shaped thatch-roofed homes with elegantly curved roof lines, woven bamboo walls and where cow dung is used as an effective mosquito repellent. The Sasak are a predominantly Balinese ethic group whose traditional dances include the Peresean Dance where men wield rattan sticks and shields made of buffalo hide to demonstrate a show of manhood. In the Gendange Beleq "big drum" performance, oversized, elaborately painted drums lead a ritual to prepare warriors for battle or to welcome them home after a successful battle.
For Sasak women, textile weaving remains integral to village life with weavers creating colourful cloth from simple looms. We have the opportunity to visit a village and learn about their cultural heritage.  We may enjoy a remarkable opportunity to participate in a traditional ritual such as wedding or coming of age ceremony.
Coral Adventurer arrives into Benoa (Bali) at 7:00 am. Farewell your Master, crew and fellow guests with disembarkation at 8:00 am.