Our small ship expedition fleet
Our small ships and unique itineraries take you to some of the most beautiful and remote regions of Australia, the Asia Pacific, and the Indian Ocean.
On board you will discover a personalised style of cruising. With our ships carrying only 44 to 120 guests, you can say goodbye to queues, long waits, and assigned seating. Instead, enjoy a relaxed, convivial atmosphere shared with like-minded explorers.
Without crowds to worry about, our chefs can prepare small-batch meals made with Australian ingredients. Where possible, they procure locally.
The shallow draft and high maneuverability of our purpose-designed expedition ships let us get you closer on coastal adventures, to explore the shelted bays and hidden inlets inaccessible to larger ships.
CORAL GEOGRAPHER

We are proud to announce the build of our next expedition ship. As a sister ship to Coral Adventurer (launched April 2019), Coral Geographer will remain true to our pursuit of authentic expeditions. When designing our next generation of ships, we stubbornly resisted the trend to go large and glitzy. We remain small enough to go to untouched places, focusing on bringing small numbers of like-minded guests closer to nature and cultures with personal attention and professional Australian service.
Arriving in December 2020, the 120-passenger ship will feature the same state-of-the-art specifications and expedition features as Coral Adventurer, however due to popular demand, she will have an increased number of 6 bridge deck suites with horizon bathtubs. Construction is well under way and we look forward to providing you regular updates on her build and future sailing schedule.
CORAL ADVENTURER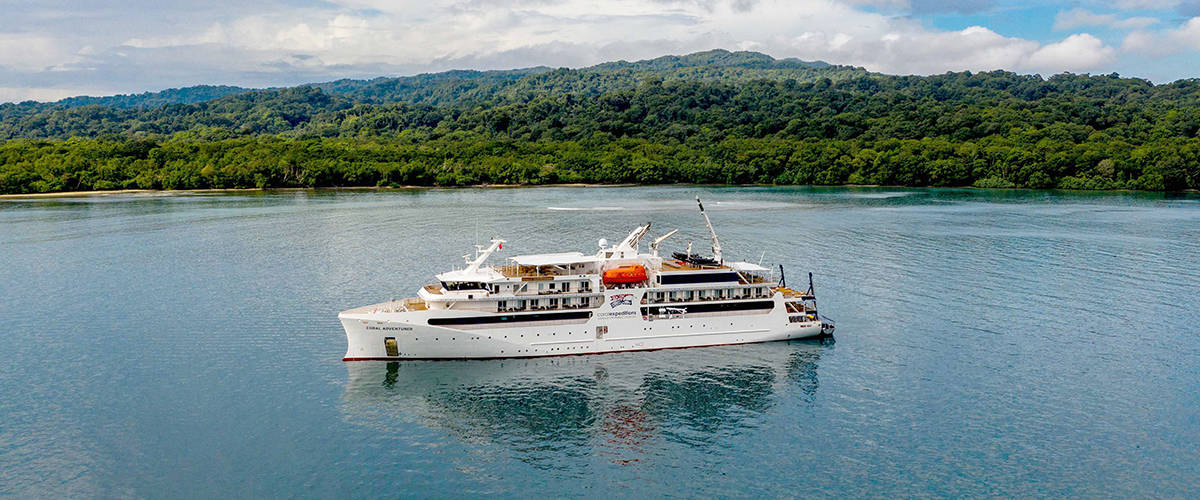 Launched in April 2019 and purpose-built to take you closer to unspoilt vistas in comfort, style and safety, Coral Adventurer accommodates 120 guests in 60 spacious staterooms and has a cruising speed of 13.5 knots.  A culmination of two years of design and three decades of passion for expedition cruising, Coral Adventurer has over 1000 sq m of open deck space including a wrap-around promenade deck with panoramic views.  Multiple indoor and outdoor bars – including our Explorer bar on the sundeck, a well-equipped gym, and a passenger elevator creates an environment designed for guest comfort.
Coral Adventurer has captured the unique requirements of our guests, our crew, and our incredible destinations. Combining it with the highest quality equipment and technology, this will make her ideal for sailing the Indonesian archipelago, Papua New Guinea, and the Kimberley coast.
CORAL DISCOVERER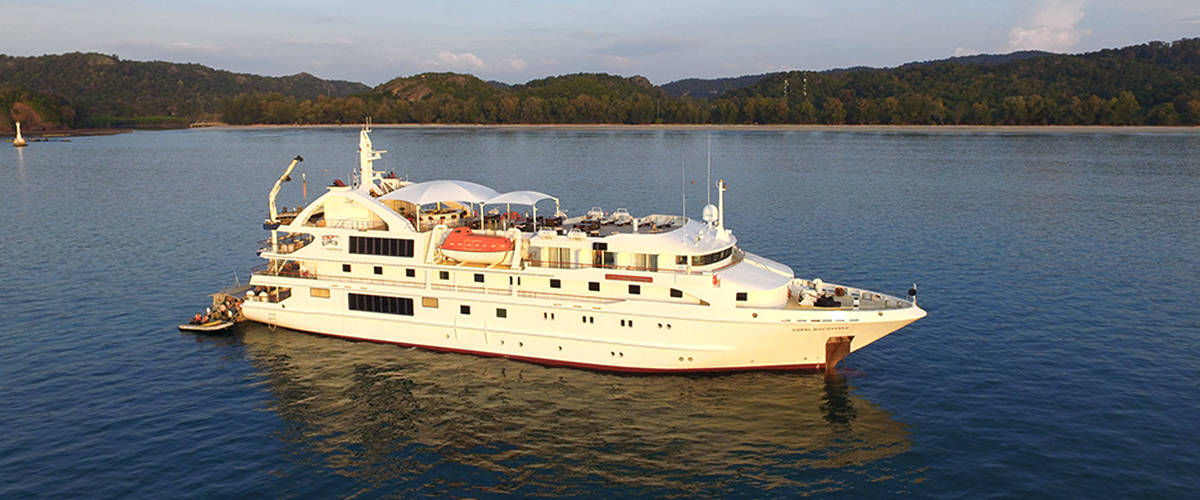 Launched in 2005 and purpose-built for cruising in the tropical regions of the southern oceans, Coral Discoverer accommodates just 72 guests in 36 spacious staterooms and has a cruising speed of 14 knots. Coral Discoverer's shallow draught allows it to access even the most isolated and remote locations regions we cruise, beyond the reach of other ships.
Coral Discoverer is highly suited to cruising between Cairns and Darwin on our Cape York and Arnhem Land itineraries, and between Darwin and Broome where she plies the rugged Kimberley coastline (April to October) each year. During the Australian summer, she can be found cruising Tasmania, Islands of the South Pacific and New Zealand.
CORAL EXPEDITIONS II
Coral Expeditions II is just 35 metres in length and accommodates 42 guests in 21 rooms. Fully refurbished in early 2015 and featuring the facilities and comforts of much bigger ships, aboard Coral Expeditions II you will discover the best of the Great Barrier Reef in comfort and style.
Coral Expeditions II operates year-round on the islands and reefs of this World Heritage-listed wonderland.