Nature Photographer of the Year Competition
The Australian Geographic Nature Photographer of the Year competition, run by South Australian Museum, continues to be a brilliant showcase for the unique flora, fauna and landscapes of this part of the world. Coral Expeditions are thankful and grateful to be a partner of the awards in what is now our 5th year. Every year we are inspired by the striking photography that is entered across all categories. We, along with our guest community of over 60,000 past passengers, have a shared love and curiosity of nature. We are lucky to be able to explore some of the most remote natural places in our region year-round. This partnership with the South Australian Museum and Australian Geographic is such a natural fit for us and one we look forward to continuing long into the future.
It's always a pleasure to welcome the overall winner onboard to see what we do and to share stories and insights with our guests – whether it's to explore the iconic Kimberley or to venture further afield to remote Papua New Guinea. We had 2020 winner Matt Beetson join our 10-night Kimberley cruise last year, and 2021 winner Scott Portelli will be joining our upcoming "Solar Eclipse" voyage. We look forward to welcoming 2022 winner Ashlee Jensen onboard to explore with us in the near future too!
Congratulations to everyone who was shortlisted and the category winners. These amazing photographers are true explorers, and they really do capture nature in all its beauty and rawness.
Take a look at some of the 2022 category winners below.
Overall Winner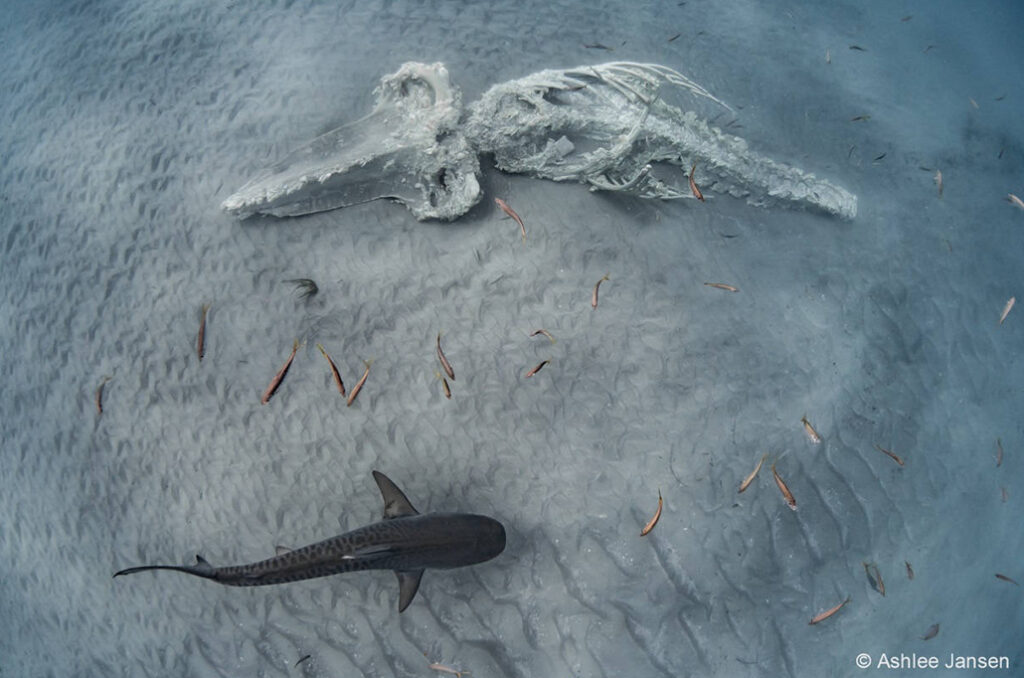 Nature's Prey | Ashlee Jansen, Western Australia
Humpback whale (Megaptera novaeangliae), and Tiger shark (Galeocerdo cuvier) | Coral Bay, Western Australia
A humpback whale carcass found on the ocean floor, stripped clean of its flesh by surrounding sharks. This sub-adult whale died while making the annual migration north along the Ningaloo Reef. A harsh act of Mother Nature, but an important part of the natural ecosystem.
Animals in Nature Winner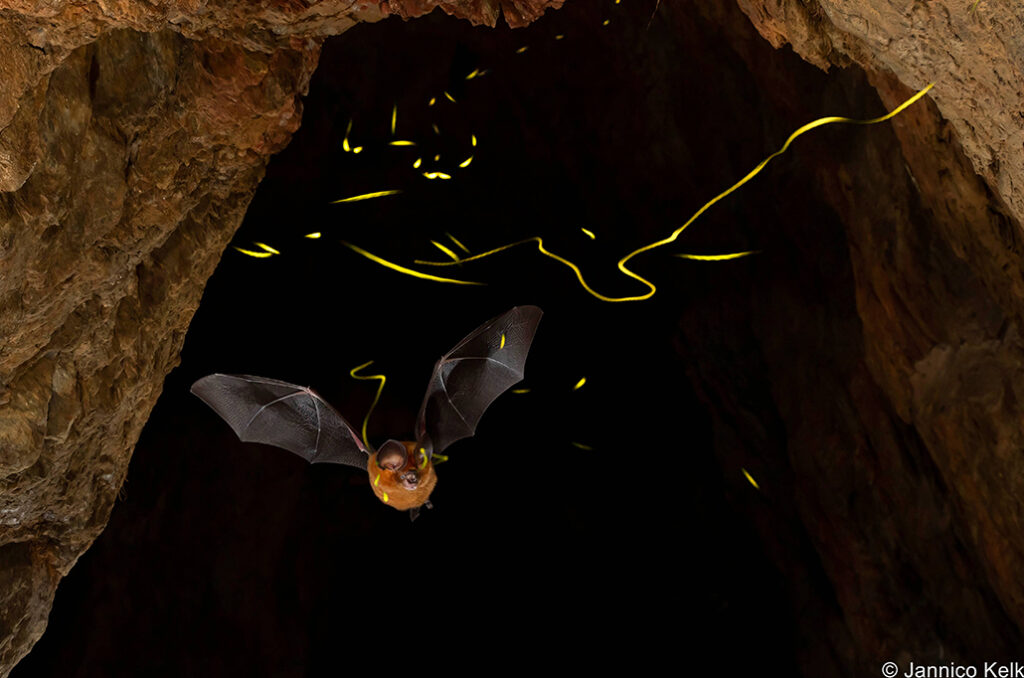 Night Light Dining | Jannico Kelk, Queensland
Dusky leaf-nosed bat (Hipposideros ater), and Firefly (Lampyridae) | Ella Bay National Park, Queensland
Each spring, the Great Dividing Range is treated to a magical event. After sunset, bioluminescent fireflies emerge from the darkest corners of the forest for a short time. However, they're not entirely safe. Insectivorous dusky leaf-nosed bats leaving their roost capture fireflies mid-flight, displaying a stunning acrobatic aerial battle.
Threatened Species Winner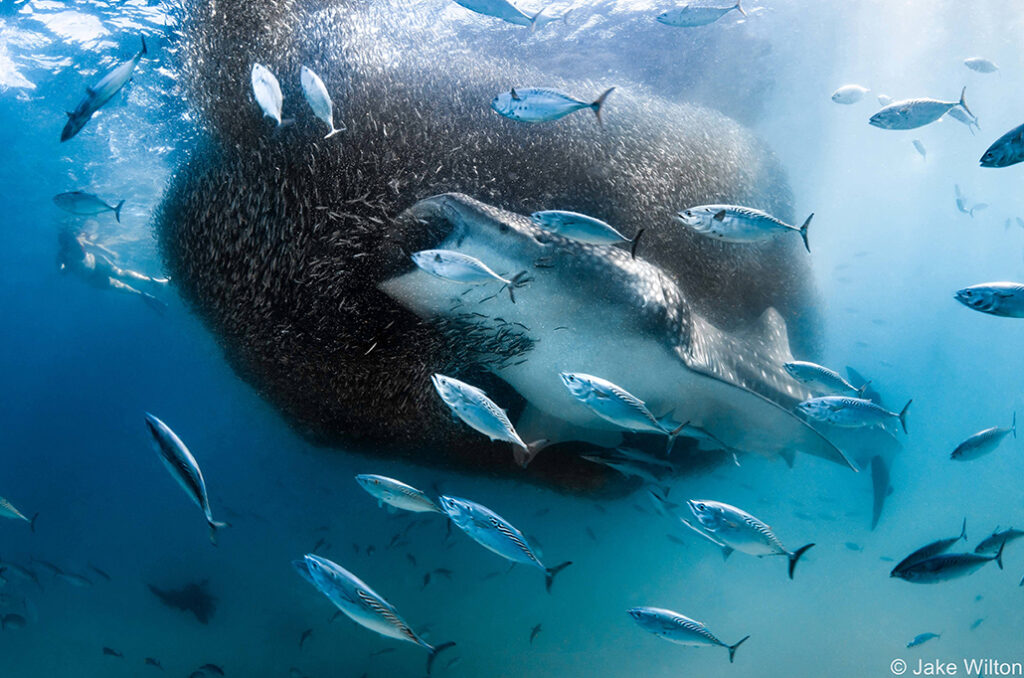 Ocean Giant | Jake Wilton, New South Wales
Whale shark (Rhincodon typus) Status: Endangered | Coral Bay, Western Australia
A whale shark engulfs a bait ball of fish on the Ningaloo Reef. Little is known about this behaviour, as it is so rare only a handful of records exist. The sharks are too slow, so must rely on the efforts of other predators such as tuna to catch them.
Monochrome Winner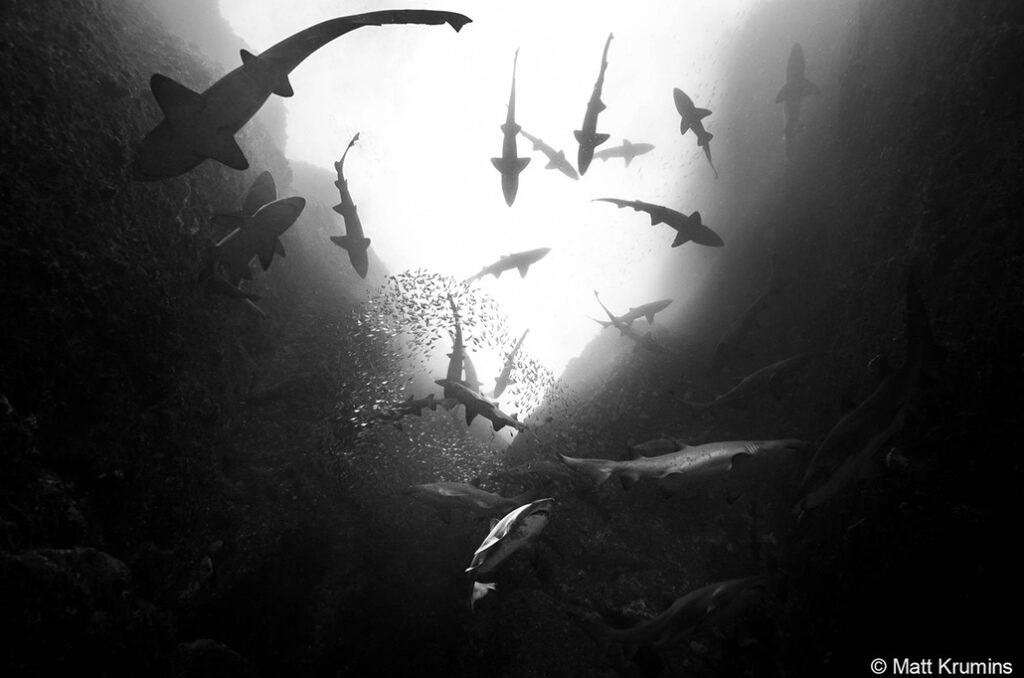 Fish Rock Cave | Matt Krumins, Victoria
Grey nurse shark (Carcharias taurus) | Fish Rock Cave, South West Rocks, New South Wales
A school of critically endangered grey nurse sharks hover almost motionless in front of the 24m-deep entrance to Fish Rock Cave. It's such a privilege to see this number of sharks in one place, and whilst ominous in appearance, these incredible animals are generally considered harmless unless provoked.
The competition opens each year around the end of November, and we encourage adventurous photographers to enter! View more competition details HERE >