Expedition Cruise into frontier New Guinea & Micronesia
Our long history of operating in New Guinea and Micronesia allows us to showcase these lands, which are some of the most isolated on the planet. Enjoy warm welcomes as you discover village life and cultural traditions unchanged for millennia. Kayak through rainforest-clad fjords. Spot a long-lost bird species. Explore the unique Bubbling Springs Reef at Dobu. Snorkel, swim and dive on vibrant reefs at the Fly Islands. On visits to remote islands, admire intricate craftwork passed down from generation to generation. For 40 years Coral Expeditions has operated with a single purpose – to take small groups of like-minded explorers to remote places with expert guidance and warm Australian hospitality.
There is no better way to experience the spirit of New Guinea and Micronesia than by one of our expedition ships.
Papua New Guinea Voyage Logs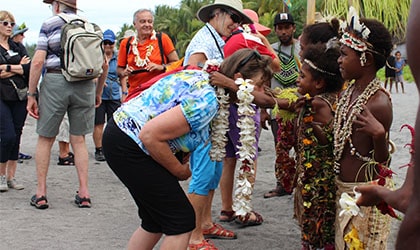 Frontier Lands Of Papua New Guinea, Cairns to Madang
30 October 2019, Coral Adventurer
"We reached the mouth of the mighty Sepik River at 0545, and began our ascent of the river admiring distant ridges and mountains above the palms and trees. Long thin dugout canoes shot out from the banks as we passed camps of scattered thatch houses, which people occupy while they fish, process sago and collect bananas, prior to converging on their main villages." – Expedition Leader Jamie Anderson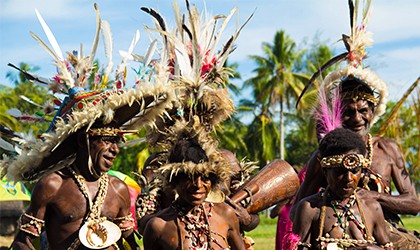 Scouting The Sepik River
February 2018, Coral Expeditions I
"Everyone was up early and eager as we headed across to Pelambei Village. Hundreds of egrets flooded the rain trees and beautiful pink lilies lined the waterways. On arrival, we were shown through to one of three Haus Tambaran and sat inside whilst Arron (the community head for 35 years) spoke to us about what happens in the village and the traditions."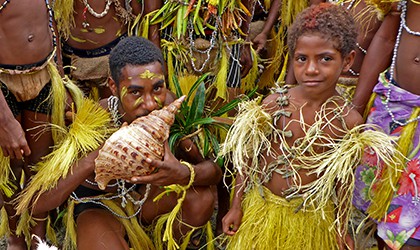 Lababia, Papua New Guinea
29 February 2016, Coral Discoverer
"The Xplorer gave us an easy afternoon landing amid calm seas and we were greeted by customary dancing and a sing sing performed to the beating rhythm of the drums. There was a welcome and presentation of gifts from Jamie. The children were let out of the primary school here, most of them speaking English comfortably. Again, as at all villages we have visited, there were tidy, nicely laid out paths that had been swept clean, with lots of fruit trees. Most the guests chose a canoe paddle up the creek."
Cruise New Guinea & Micronesia Onboard Coral Adventurer
Coral Adventurer is perfectly designed to navigate the remote, tropical waters of New Guinea and Micronesia. Her shallow draught, dual Xplorer tenders and complement of zodiacs make her the ideal choice for an expedition to these frontier lands. With more than 1000 square metres of open deck space, large picture windows and balconies, you can take in the environment in comfort.
New Guinea & Micronesia for True Explorers
Enjoy ancient warrior traditions and cruise pristine landscapes in search of hidden lagoons and exotic birds. Discover the limestone karst islands of Raja Ampat and hike to the summit of Pindito Peak. Snorkel and dive the coral reefs, lava flows and WWII wrecks of the Coral Triangle and the marine playground of Raja Ampat. Join in traditional performances and experience ancient Austranesian and Micronesian traditions. Learn about Yap's customs and culture and visit the isolated islet of Ulithi home to sea turtles, coconut crabs and sea birds. Meet the people of Sonsorol island who are linguistically and culturally different from their Caroline Islands neighbours. Discover the breathtaking landscape of Palau and swim with harmless golden jellyfish in Jellyfish Lake.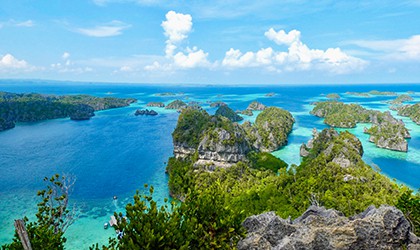 Best Day On Expedition | Misool, Raja Ampat
It is so hard to pick just one best day as the entire journey was filled with memorable days, but it was the experiences in Misool
Read More
Posts from our New Guinea voyages