Cruise the Small Islands of Japan & The Philippines
Join us on our inaugural expeditions to the small islands of Japan and The Philippines. Trace history as we explore sites that lie in the wake of war, from Tinian and Torishima to Iwo Jima. Sail to the small islands of the Japanese Ryukyu, Ogasawara and Izu archipelagos, most of which remain untouched by Western travellers. Discover remote island life at traditional fishing villages and experience authentic encounters with local people, culture and nature.
This is Japan and The Philippines most visitors have never seen
Sail The Series – Enjoy our Xplorers Club Benefits & an additional 10% savings on adjoining voyages.
Coral Expedition Explores Japan
With fewer than 120 guests, Coral Adventurer and Coral Geographer are perfectly positioned for expedition cruising around the Small Islands of Japan & The Philippines, designed to venture where few other cruise ships can go. The ship's lightweight dual Xplorer expedition tenders allow for deeper exploration, on shore excursions and an easy, step-on embarkation from the ship's main deck making it ideal for remote seaside villages and beaches in Japan and the Philippines.
History and Natural Beauty
This is Japan and The Philippines but not as you know it. Enjoy the ancient warrior traditional welcome of the kora kora canoes in Banda Niera and cruise the pristine landscape of Kitikita Waterfalls. Swim, snorkel and dive the aquamarine waters of the Northern Mariana Islands and visit UNESCO World Heritage sites. Experience Awa or "fool's dance" which dates back 400 years at Tokujima and visit Osaka, the food capital of Japan. Be among the first overseas tourists to set foot on the remote Ryukyu Island and view a 25m tall giant cedar tree estimated to be up to 7,200 years old. Witness the natural beauty of Palaui Island National Park and its historic Cabo Engano lighthouse and cruise the Loboc River with traditional song and dance entertainment.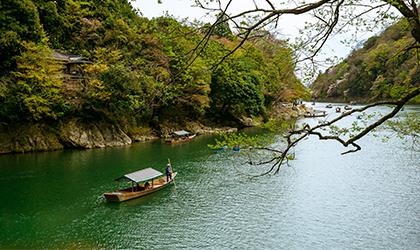 The Small Islands of Japan and The Philippines by Sea
In a world where travel has become increasingly accessible, it is rare to find destinations that remain untouched by the footsteps of Western travellers. However, tucked away in the vast expanse of the Pacific Ocean lie the small islands of Japan and The Philippines, a hidden paradise waiting to be discovered.
Read More