Expedition Cruises Of Cape York, Arnhem Land & The Torres Strait
Become immersed in the ancient Indigenous cultures and prehistoric landscapes of Australia's northern coastline on a voyage of discovery that takes you far off the beaten track in Arnhem Land, to the very tip of Australia at Cape York, and into the Torres Strait. Experience traditions unchanged for centuries, sacred rock art and remote lands only permitted accessible by a fortunate few. Learn and understand the song lines and lore that shaped this ancient culture, and allow your expert guides to interpret ancient rock art. See how generations have passed on artistic traditions, and how this important cultural legacy is being kept alive today. Coral Expeditions has had the privilege of introducing guests to this remarkable culture for over three decades, so guests receive personal experiences conducted with the utmost respect and cultural sensitivity.
Cape York, Arnhem Land & Torres Strait Voyage Logs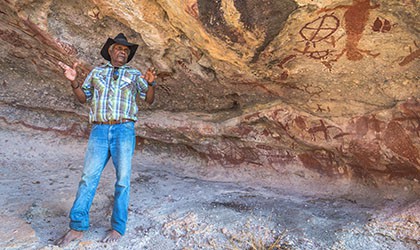 Cape York & Arnhem Land
5-16 October 2022, Coral Adventurer
"We awoke to find ourselves anchored off Stanley Island, the site of a remarkable history and heritage. The island has numerous rock art galleries that have been here for hundreds of years. This important cultural heritage has a well-constructed board walk to enable visitors to view one of the main galleries. Stanley Island is an integral part of the geographical and mythological complex of the Flinders Group. The rock art covering the walls are painted in red and white ochre on the red sandstone."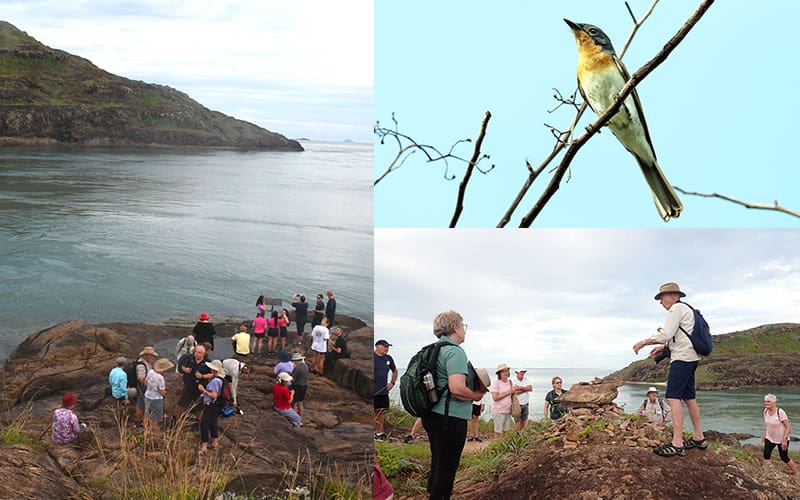 Cape York & Arnhem Land
4-15 April 2021, Coral Discoverer
"Everyone had their photos taken near the sign and then enjoyed a glass of champagne or orange juice, or both. The more relaxed headed back to the ship, while those ready for some more adventures continued with myself and Tom along the Cape York ridge and down into the moist monsoon forest. As it was the wet season and access was limited for 4WD'ers, and the tip had been closed recently, the area was unusually clean and very lush. So it was a good time to look for some wildlife."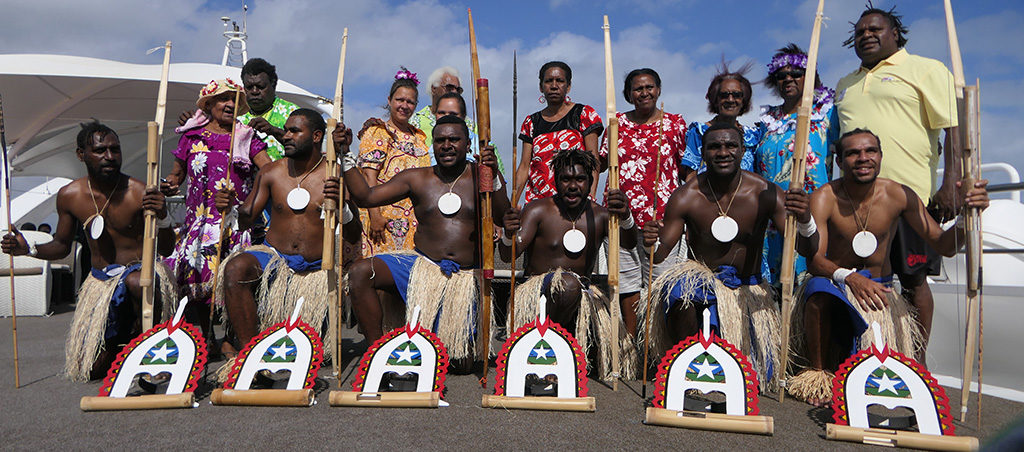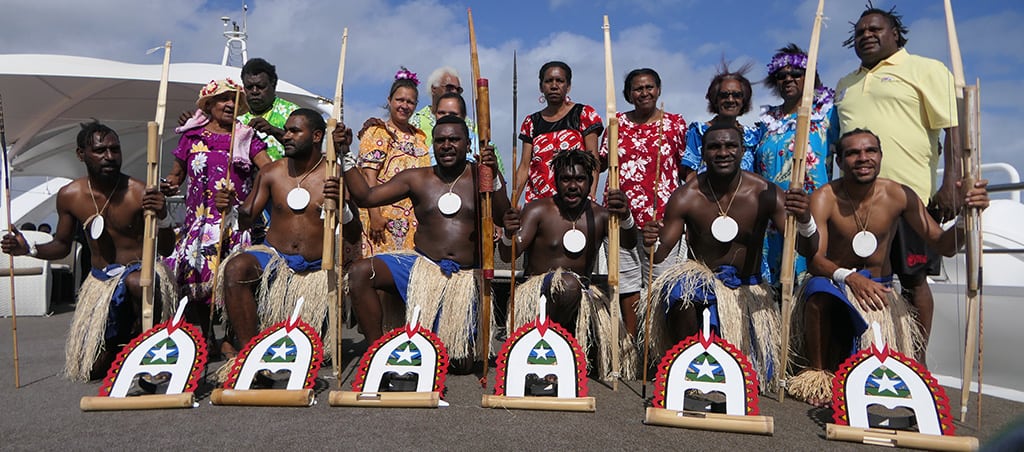 Cape York & Arnhem Land
2019, Darwin to Cairns, Coral Discoverer
"Landing at the boat ramp we had an enjoyable stroll along the foreshore to Badu Art Centre. We had a special kai kai lunch that had been prepared by the island women. We piled our plates with crayfish, chilli fish, pork, fish curry, lamb curry, sop sop (sweet potato and cassava cooked in coconut milk), salads, fried scones and damper. But that wasn't all because the ladies had prepared dessert, custard and tapioca and it was hard to resist. Luckily we had a long walk back along the shore to burn up some calories. Back on the ship we were treated to traditional dancing by people from Moa Island."
Discover Australia's Top End onboard Coral Discoverer
The nimble and manoeuvrable Coral Discoverer is ideally built for this region. Her shallow draught enables her to get up close to destinations. She also boasts ocean views from all public spaces, making Cape York, Arnhem Land & The Torres Strait come alive from onboard. Xplorer and Zodiac boats are ideal for exploring the incredible and remote waterways on these expeditions.
Cruising Australia's Remote North
Our team of Expedition Leaders and regular Guest Lecturers have a wealth of knowledge of the unique landscapes, flora and fauna and Indigenous cultures of Australia's north. Passionate explorers, marine biologists, and naturalists, they provide onboard lectures and interpretation.  Meet the Tiwi people of Bathurst and Melville Islands, the Yolngu clans of Arnhem Land, and the Torres Strait Islanders of Thursday, Badu and Moa Islands. You'll also discover a remote and captivating natural wilderness as you swim and snorkel over the colourful coral gardens of the UNESCO World Heritage-listed Great Barrier Reef, go ashore on rarely visited islands, and cruise through coastal rivers shaped by countless monsoon seasons.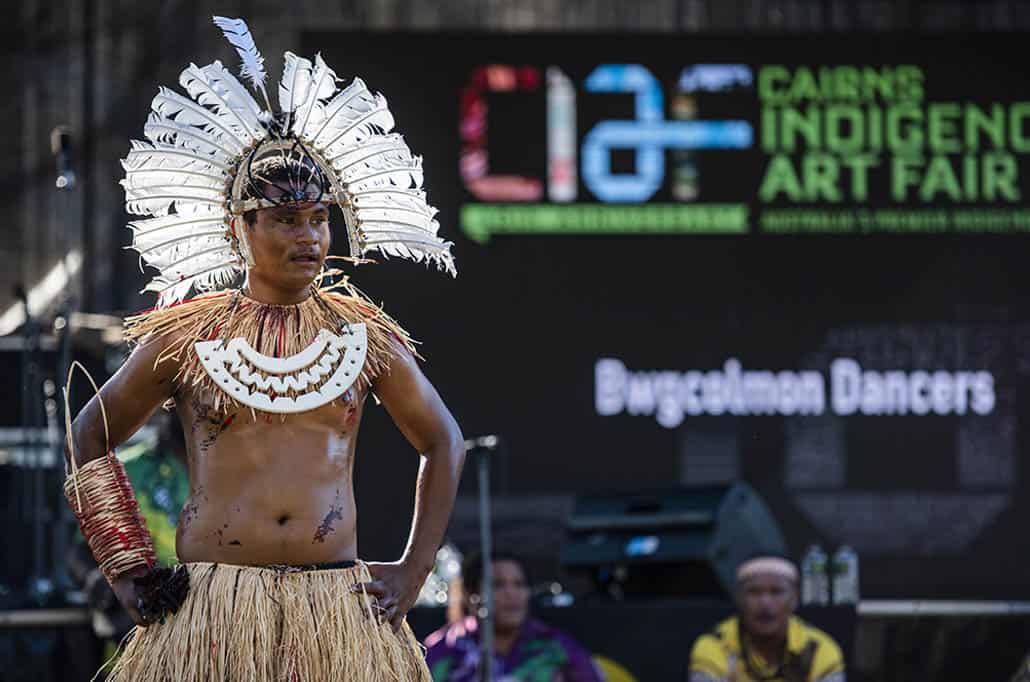 Cairns Indigenous Art Fair Partnership
Coral Expeditions has proudly sponsored the Cairns Indigenous Art Fair for the last 6 years, and are committed to continuing in 2023 and beyond as a major partner of the CIAF 'Collectors and Curators' program. The festival is one of the highlights of North Queensland's event calendar and is a true 'coming together' of the…
Read More
Posts from our Cape York & Arnhem Land voyages