Expedition Cruises Of Tasmania's Wilderness Coast
Explore Australia's island state poised at the edge of the world, where the Southern, Indian and Pacific Oceans collide. Tasmania's natural beauty sees rugged mountain ranges culminate in soaring coastal cliffs and crescent-shaped beaches. Its intriguing colonial history comes to life in haunting convict buildings and heritage sites. Shaped by its climate, fertile pastures and verdant valleys, it produces a bounty of world-renowned food, wine and artisanal beers and spirits, making a Tasmanian expedition cruise an experience for all the senses.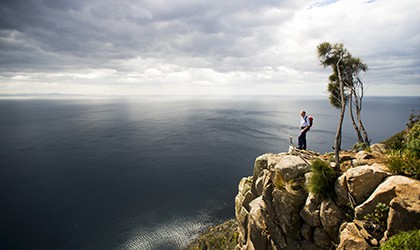 Coastal Wilds of Tasmania, Hobart to Hobart
16 – 26 Feb 2022, Coral Discoverer
"We boarded Xplorer to view the spectacular dolerite columns of the Fluted Cape coastline. We found an Australian fur seal which had just hauled itself up onto the rocks. Soon after a smaller female laboured out of the water demonstrating amazing dexterity for such a chunky animal."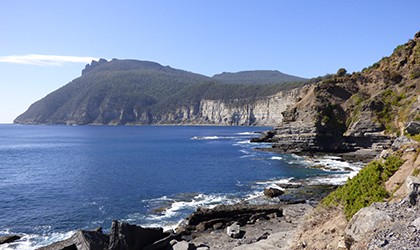 Circumnavigation of Tasmania, Hobart to Hobart
1 – 17  January 2021, Coral Discoverer
"Coral Discoverer moved to a new anchorage before breakfast, near the Darlington Historic Settlement on Maria Island. From the ship we could see the famous Painted Cliffs and parts of the historic settlement at Darlington. Soon after breakfast we headed ashore to explore this historic settlement, which was now a national park."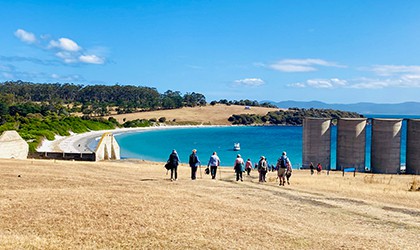 Coastal Treks of Tasmania, Hobart to Hobart
8 – 18 March 2021, Coral Discoverer
"We headed to Claytons Corner, where some chose the long walk to Mt Beatty, and others explored the area around the Clayton's cottage – a place from a simpler time in Australian history – the former home of Clyde and Wyn Clayton. They had made their home there as Clyde was a Cray fisherman and so Wyn could be closer to her brother Deny King, a tin miner at Melaleuca."
Coral Expeditions Ships In Tasmania
Comfortable and intimately scaled for the Tasmanian region, Coral Discoverer has a shallow draught to get up close to the rugged coastal beauty, ocean views from all public spaces, an expansive open-air sun deck, and all outside-facing staterooms. Coral Discoverer also hosts state-of-the-art expedition vessels including the Xplorer, zodiacs and kayaks allowing guests a more intimate experience of the remote Tasmanian coastline.
UNESCO World Heritage Wilderness
The Tasmanian wilderness is one of the largest conservation reserves in Australia measuring approximately 1.6 million hectares. It boasts hundreds of archaeological sites, a vast diversity of flora and is home to several animals either extinct or threatened on mainland Australia. Recognised by UNESCO for its ancient forests, the best way to experience it is on foot. At Freycinet National Park, guests can walk to the Wine Glass Bay lookout, one of the world's most photographed locations. The Fluted Cape Trek, at the southern end of the picturesque Adventure Bay, rewards you with stunning views of Storm Bay. Another beautiful trek is the walk along the Mt Beattie track which affords walkers incredible views over Bathurst Harbour, Bathurst Channel and Melaleuca Inlet.