OUR COMMITMENT TO SUSTAINABILITY & THE ENVIRONMENT
At Coral Expeditions, we're passionate about the locations we are privileged to visit and believe in leaving these environments better than when we arrived. We are committed to sustainable practices and are always looking for ways to preserve and protect landscapes both above and below the water. Our voyages showcase the wonders of nature, and the health and wellbeing of both the ocean and land are at the forefront of our minds and integral to the quality of our expeditions.
Some of the initiatives we have launched include parting ways with plastic straws in 2018, bringing water and supplies to drought-stricken small island communities, onboard environmental education programs, and involvement in coral species collection for the world's largest Coral Biobank.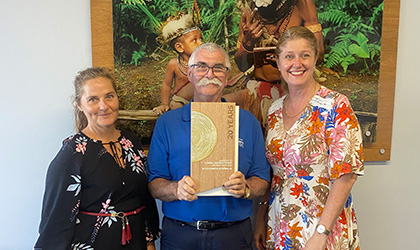 MEDIA RELEASE | Coral Expeditions enters Ecotourism Hall of Fame
Coral Expeditions, was recently inducted into the Ecotourism Hall of Fame in recognition of two decades of unwavering commitment to advanced and sustainable Ecotourism practices.
Read More