It is with great pride that we announce we have entered Ecotourism Australia's Hall of Fame for being continuously ECO Certified for over 20 years.
Ecotourism Australia is the national peak body for eco and sustainable tourism in Australia and certifies businesses and destinations according to global best practice sustainability standards.
At Coral Expeditions, we're passionate about the locations we are privileged to visit and believe in leaving these environments better than when we arrived. We are committed to sustainable practices and are always looking for ways to preserve and protect landscapes both above and below the water.
Our voyages showcase the wonders of nature, and the health and wellbeing of both the ocean and land are at the forefront of our minds and integral to the quality of our expeditions. Some of the initiatives we have launched include parting ways with plastic straws in 2018, bringing water and supplies to drought-stricken small island communities, onboard environmental education programs, and involvement in coral species collection for the world's largest Coral Biobank.
We look forward to continuing our sustainability journey through tourism that values the environment, community, and culture.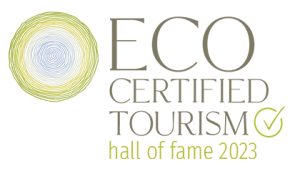 What does it mean to be in Ecotourism Australia's Hall of Fame?
Tourism businesses in Ecotourism Australia's Hall of Fame are our nation's first sustainable tourism innovators – the ones who have helped pave the way for responsible and sustainable tourism as we experience it today. They have continuously met global best practice sustainability standards through Ecotourism Australia's certification programs for over 20 years.
Who is Ecotourism Australia?
Ecotourism Australia is a non-government, not-for-profit organisation, established in 1991, that promotes and supports the eco and sustainable tourism industries in Australia through building capacity and actively promoting sustainable tourism operations and systems. Their key program – ECO Certification – was the world's first national ecotourism certification program. Ecotourism Australia is acknowledged globally for their industry standards and their certification program criteria are recognised by the Global Sustainable Tourism Council (GSTC). Ecotourism Australia is considered the credible, national peak body for sustainable and nature-based tourism in Australia.
READ MORE ABOUT OUR SUSTAINABILITY INITIATIVES