All-inclusive excursions
A Coral Expeditions cruise is not about just passing through a region and seeing it from the ship's deck. Instead, each day you will travel ashore and fully immerse yourself in the stunning landscapes, fascinating history and vibrant cultures of these remarkable locations.

Whether you're coming face to face with extraordinary marine life as you snorkel over a reef, chatting with the villagers in a remote and rarely-visited community of the Sepik River region of Papua New Guinea or admiring the ancient Bradshaw (Gwion Gwion) paintings of the Kimberley region; you will genuinely feel like you're not only seeing these remarkable regions but truly experiencing them.
Our small ships are equipped with a fleet of excursion tenders to make travelling ashore as simple and comfortable as possible. Designed with flexibility and guest comfort in mind, our inflatable zodiacs, glass-bottom boats and unique excursion tender 'Xplorer' ensure that even the least intrepid adventurer can step ashore with ease. Our excursion boats board directly from the ship's main deck, before the hydraulic platform gently lowers them into the water, avoiding the need to clamber aboard.
On most days you'll have the opportunity to participate in two shore excursions or activities (one in the morning and one in the afternoon), along with onboard briefings and presentations. The vast majority of excursions are included in your cruise price and in key locations, you will have the opportunity to enhance your experience through participation in optional activities such as a helicopter flight over the Kimberley's spectacular four-tiered Mitchell Falls.
UNIQUE ACCESS

Our access to remote destinations and communities is unique in three special ways:
Firstly, the shallow draught of our small ships allows us to safely access and anchor in close to bays and landscapes that larger ships cannot reach giving us a bird-eye view of spectacular beaches, bays and at times, bustling port communities.
Secondly, our unique Xplorer tenders, comfortably appointed with shading and on-board toilet facilities, enable penetration inland with explorations into shallow rivers and streams, close to waterfalls and other extraordinary landscapes. Our inflatable Zodiacs and kayaks enable guests an up-close-and-personal view of reefs, islands and atolls and allow peaceful explorations of sheltered locations.
Lastly, our experienced Expedition Team, guided by an Expedition Leader and complimented by qualified experts with specific knowledge of local people, cultures and landscapes have the knowledge and connections, enabling unique access to areas often restricted to other travellers.

Snorkelling and Scuba Diving
On some itineraries such as the Great Barrier Reef, and Abrolhos Islands & The Coral Coast, you will enjoy opportunities to snorkel and dive over the most colourful and pristine coral reefs. Our snorkelling and scuba diving departments are fully stocked with a wide range of snorkels, fins and masks (to fit all sizes) along with all the necessary equipment to allow you try the unforgettable experience that is SCUBA diving. Snorkelling equipment will be assigned to all guests at the commencement of each cruise.

Private moorings
Our exclusive reef moorings enable unparalleled access to with the very best coral gardens, rainforests and secluded tropical islands visible right outside your window.
Guided by a qualified Marine Biologist and including a Dive Master; our Great Barrier Reef immersive expeditions showcase the very best of this World Heritage-listed natural wonder.

Guided hikes
Time onshore is an important part of our expedition experience. In addition to exploring narrow waterways and secluded bays by tender vessel, our Expedition Team like nothing more than taking guests on a guided hike to points of interest, elevated look-outs, rock art sites and hilltop temples.
Our outdoor activities are designed to suit a variety of physical abilities and fitness levels and no athletic ability is presumed. Your Expedition Team will be on hand to guide and assist whenever necessary. Hikes vary in intensity and where possible, groups can be split to suit easy and moderate walkers as well as those who want to stretch themselves a little.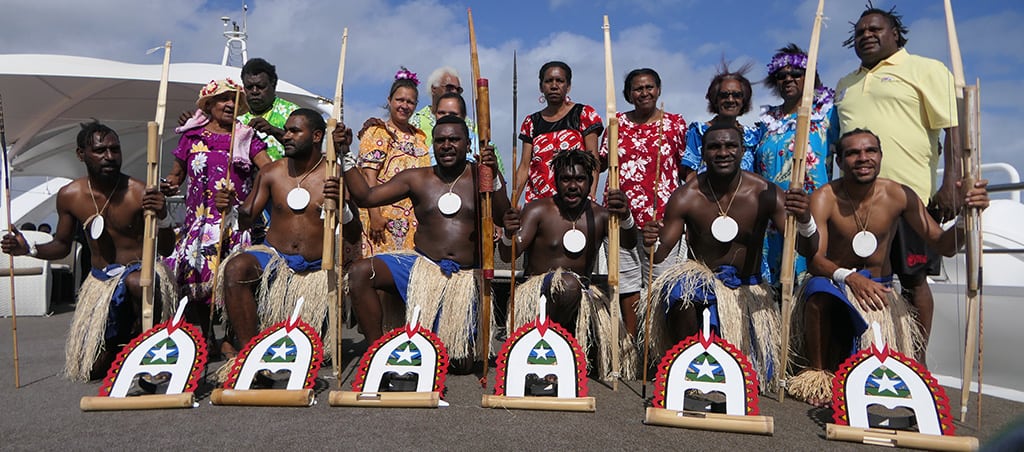 Cultural interaction
We believe that interaction with local communities in an important part of any travel experience.
In the Kimberley and Top End of Australia, we are privileged to visit indigenous communities in Arnhem Land, the Tiwi and Thursday Islands and on the Cobourg Peninsula. Gaining insight into their ancient connection with the land and their culture and art, is a special experience. Not only will you be awed by the rugged beauty of these dramatic landscapes but by the unique ways of the Aboriginal, Torres Strait and Tiwi people who call them home.
In New Guinea and Islands of Indonesia, we are welcomed into coastal communities often with a ceremonial dance. Our visits help keep alive these traditional forms of dance and our itineraries have been carefully designed to showcase the very best traditional cultures, ancient rituals and the most spectacular scenery.