Australian Geographic Hosts – The Solar Eclipse Expedition
We are pleased to introduce our special guests who will join us for this voyage, Marnie Ogg and Professor Fred Watson AM.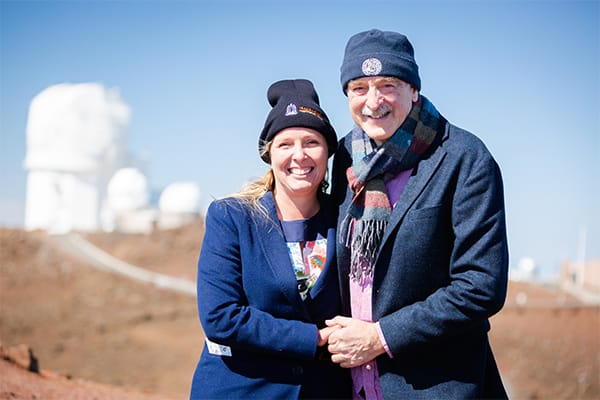 Marnie Ogg – Founder of ADSA
Her thirty years in the travel industry has seen her venture to seventy-five countries, and into all aspects of tourism including flight attending, travel agency, restaurants, hotels and guiding. It was when Marnie returned from an astrotourism event she was hosting in Europe that she realised how truly special the Australian dark night sky was, and that it is a natural asset that needs to be preserved. Seeing the designation of Australia's first Dark Sky Place, managing Sydney Observatory and Founding the Australian Dark Sky Alliance, has seen her receive two International Dark Sky Defender awards for her personal and board efforts, and strengthens her commitment to create inspirational places and experiences for human connection in the world, both day and night.
Fred Watson AM – Australia's Astronomer at Large
Known for his public presentations, award-winning books and TV and radio interviews, Fred is the perfect host for anyone with a thirst for learning. Fred is also Astronomer-in-Charge and Head of Lighting and Environment at the Australian Astronomical Observatory. A lifetime of astronomical research, interesting colleagues and colourful anecdotes provide the perfect backdrop for these one-of-a-kind journeys.
Fred Watson says he's spent so many years working in large telescope domes that he has started to look like one. He is Australia's first Astronomer-at-Large in the Commonwealth Department of Industry, Science, Energy and Resources, having worked at both of Britain's Royal Observatories before joining the Australian Astronomical Observatory as Astronomer-in-Charge in 1995.
Recognised internationally for helping to pioneer the use of fibre optics in astronomy during the 1980s, Fred is best known today for his award-winning radio and TV broadcasts, books, music, dark-sky advocacy and co-hosting the Space Nuts podcast.
Fred has adjunct professorships at Macquarie University and the Universities of New South Wales, Sydney, Western Sydney, Southern Queensland and Wollongong. In 2003, he received the David Allen Prize for communicating astronomy to the public, and in 2006 was the winner of the Australian Government Eureka Prize for Promoting Understanding of Science. In January 2010, Fred was made a Member of the Order of Australia for service to astronomy, particularly the promotion and popularisation of space science through public outreach.
Fred's books include "Stargazer – the Life and Times of the Telescope", "Why is Uranus Upside Down? – and Other Questions About the Universe" (which won the 2008 Queensland Premier's Literary Prize for Science Writing) and "Star-Craving Mad – Tales from a Travelling Astronomer", featuring highlights from his science tours around the world. His most recent books are "Cosmic Chronicles – a user's guide to the Universe", and "Spacewarp – Doomsday Comets and other Cosmic Catastrophes", aimed at the 10+ age group.
The Australasian Dark Sky Alliance (ADSA) is an independent non-profit organisation formed to:
Educate the public and policymakers about night sky conservation,
Promote environmentally responsible outdoor lighting,
Create business opportunities, and
Celebrate our night sky heritage.
Since its inception in early 2019, the movement has quickly gained momentum with community groups, councils and media all around the country hungry for more information.