Mark Steadman
Ever since I was a young boy I have been very interested in the natural world.  I studied biology and environmental science at university and this has helped me tremendously to appreciate the complex relationships between animals, plants and their environment.  In the early 1990's I worked in an Australian native animal zoo where I gained much experience working with endangered animals, and with visitors who had a real interest in our strange and unique fauna.  Since then I have been lucky to have lived and worked in North Queensland, Ecuador, Hawaii and New Zealand as a wildlife guide where I take great pleasure in showcasing the country's natural history to international visitors.
After completing my training as a High School Science Teacher, I joined Coral Expeditions at the end of 2011 as a Guest Lecturer in New Zealand.  The geology, birdlife and history of this country is so different to Australia and is quite fascinating to me.   After a few years cruising through the fiords of southern New Zealand I began working in the Kimberley, West Papua, New Guinea and Tasmania with Coral Expeditions.  In 2017 I began my role as Expedition Leader.  This new position allows me to combine my great organisational skills with my love of the outdoors and all the creatures found in it.
My travels to far flung places such as the Amazon, British Columbia, Japan and South Africa have opened my eyes to the amazing cultures, history and wildlife to be found on this earth.  Recently I have turned my attention towards Indonesia, an incredibly diverse country that draws people in again and again.  I am very much looking forward to continuing the exploration of this country with you and with Coral Expeditions.
AN UPDATE FROM MARK
Mark shares some of his favourite remote and difficult to reach destinations that we visit in New Zealand, Tasmania, Indonesia, New Guinea and Kimberley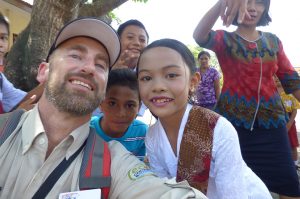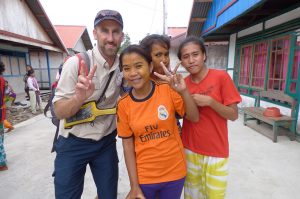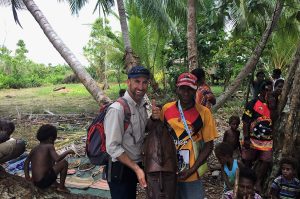 QUICK FACTS ABOUT MARK
Qualification/s:
Bachelor of Science Degree (Zoology) and Graduate Diploma in Teaching (High School Science)
How many years have you been a EL/GL?
I started out as a GL for the 2011-12 NZ season.  I started as Expedition Crew in March 2016 on the West Papua trip. I started as EL in November 2016 in Tasmania.
Favourite place on our trips:
Snorkelling in Raja Ampat.
Favourite species:
Tasmanian Devil. I was fortunate enough to raise an orphaned baby Devil.
Best experience on/memory from a CE trip: 
Watching the hunting strategy of Snub-fin Dolphins in the Kimberley.They often hunt late at night in the muddy waters of the saltwater rivers. The dolphin will spit a stream of water to land in front of the fish they are pursuing, startling it into making a u-turn straight into the dolphin's mouth.
Passionate about:
Sharing stories with people about how incredibly interesting animals are, especially the not-so-cuddly species.
Life experiences to make you a great EL/GL:
I have lived and worked as a nature guide in amazing places such as the Amazon, Hawaii, North Queensland and New Zealand.
Before I was an EL/GL/Captain I was a:
A zookeeper, a nature guide and a science teacher in various countries.
3 March 2019 | Part of the "A Pioneering Cruise Line" Anthology of Stories
MY LIFE AS AN EXPEDITION CREW MEMBER ONBOARD CORAL DISCOVERER
By Mark Steadman
I have always been a wanderer, and my love of nature has taken me to many far-flung places around the globe. As a nature guide, I have been very fortunate to lead eco-tourists on expeditions in the Amazon jungle, World Heritage listed Tropical North Queensland, the active volcanoes of Hawaii, and the cool temperate forests of Tasmania and southern New Zealand. I have also enjoyed travelling extensively around national parks in the United States, British Columbia, Central America and South Africa.
I started working for Coral Expeditions in 2011 as a Guest Lecturer on board the Coral Discoverer in New Zealand, where I presented talks on native wildlife, geology and history. As a zoologist, I found the marine life, such as penguins and albatross, absolutely fascinating. Seeing immense blue whales off the coast of Akaroa, New Zealand is indeed a memory I will never forget. When, after a few seasons in the Kimberley, I was asked to join the Coral Expedition team as a full-time employee, I jumped at the chance. Since then I have been giving lectures and guided walks through destinations such as West Papua and the Spice Islands, Tasmania, New Zealand, Arnhem Land and the Kimberley.
My role in the Expedition Crew changes daily. I might be driving a Zodiac around the unique Montgomery Reef, leading an uphill walk to view ancient Aboriginal rock art, giving a presentation on the Dutch VOC in the Banda Islands, putting together a photo show of the cruise, or even applying some Betadine and a band-aid to a scrape on a passenger's knee. My role also includes being the Assistant Expedition Leader, where I help with writing the daily guest newsletters, making announcements of upcoming events, and ensuring first aid equipment and radios are safely on board our excursion vessel, the Xplorer.
The Xplorer is a flat-bottomed vessel that is quite unique as it can carry all 72 passengers at once to any of our secluded beach landings. While on board, the Expedition Team and I share interesting facts on the wildlife we see, along with commentary about the early explorers of the area and their contact with the local inhabitants. Once we arrive at our location, the front ramp is lowered, and all our guests can easily walk off the Xplorer and on to the shore. From there, each group is accompanied by a guide as we discover exciting facts about our new destination.
On each and every cruise, I am fascinated by the great variety of cultures we encounter. When we visit the Torres Strait, the Banda Islands, and remote villages of West Papua we bring school books, pencils and balls for the children. On other occasions, we will give our slightly worn linen and towels to a remote island first aid station. Our reward is seeing their smiling faces and the memories we take home with us. From slow-moving wombats and huge boab trees to clever river dolphins and the iconic Kimberley rose, each day on board Coral Discoverer offers me the chance to share my passion for the natural world with our guests.