At home with the Reservations Team
7 April 2020
As we are coping with the current travel crisis brought on by the COVID-19 pandemic and the ensuing lockdown of non-essential travel and border closures, our Reservations team have been very busy looking after our guests and their bookings through these dramatic changes. They have always been hard working and gracious, and at this time the team has shown remarkable courage, endurance and the highest-level of customer service during this time, continuing to serve and solve problems patiently and compassionately.
We wanted to shine a light on them and share a bit about who they are and give an insight into how our team is managing during this extraordinary time. They each have kindly agreed to share a message with you.
The Reservations Team is made up of five staff, who are Australian (with one Kiwi), and based out of our headquarters in Cairns. Sitting together in a block in the middle of our open plan office, they are the hub for jokes and snacks and keep the mood of the office bright and cheery.
So, let's meet them!
Benjamin – Reservations Manager
Hi, my name is Benjamin – but everyone calls me Ben. I am the Manager of the Reservations Team, making sure everyone is supported with their tasks and putting new processes in place.  We are a very tight-knit team and get along very well with each. Particularly in times like this, we support each other very much like a family. Indeed, the culture and atmosphere within the company and team is my favourite thing about working for Coral Expeditions!
Working with Coral Expeditions has been quite rewarding! I was able to travel on the Kimberley in 2018 and it was a real bucket list experience. It is remarkably remote and the scenery is picturesque. I highly recommend that experience to everyone! When I'm not at work, I enjoy trivia nights. I also have quite a reputation for always picking up the meat tray during the local raffle!
My wish for all our guests is to stay safe and check in with your loved ones! While it is an unprecedented time, it's important to stay positive. From our side, we are working hard to get through every question and email – please bear with us! We are together in this situation – a difficult and challenging one for the whole world – but we can simply take each day as it comes.
Thinking of all our guests at this time, and I will probably speak to you soon!
Dawn – Senior Reservations Executive
Hi, my name is Dawn Rolt.  I am part of the amazing team in Reservations, and we share the responsibilities of answering the phones, emails and assisting each other. We do have our own responsibilities, but on the whole, we work as a team.
I love the people I work with, both my immediate team as well as the amazing people that surround us and support us. I love to help our clients book their cruises, and I enjoy talking about the wonderful destinations that we visit. I love the way that the company thinks and puts the guests first and that we offer top-class customer service both in the office and on the ships. The crew onboard always blow me away with their professionalism and kindness.
I am looking forward to travelling again with Coral Expeditions, perhaps to the Spice Islands. Any experience of our expeditions is an incredible bonus – I so appreciate the opportunities and experiences I have enjoyed already! Check out my #BestDayOnExpedition in the Sepik River.  Outside of work I love to get outdoors with my boys – boating on Lake Tinaroo, jet-skiing to Fitzroy Island, or just walking and hiking. Oh, and spending quality time with my friends, dancing and drinking wine!
During this challenging time, I hope that all our lovely guests remain unscathed and have a wonderful family around them to check in on them or look after them.
Esther – Reservations Executive
Hi, I'm Esther!  I was born in the Netherlands but grew up as a Kiwi and now I am living in beautiful Cairns, getting a taste for the tropical far north Queensland.
In our Reservations team I work with Dawn and Eva to answer new and existing enquiries on the explore inbox. I also answer the phone, so you have probably spoken to me! We are currently receiving a lot of phone calls and emails, so although I love talking with you all, it might be faster to send an email and we will get back to you as soon as possible.
Coral Expeditions has become like my family and I consider myself very lucky to be working with such a lot of wonderful people. I had the privilege of cruising around Tasmania aboard the Coral Discoverer this February, and it was one of the best travel experiences I have ever had. My dream would be to experience Spice Islands and Raja Ampat one day, as well as the Kimberley.
When I'm not at work I love pottering around in my little balcony garden, watching movies, reading books and drinking coffee or a glass of wine!  I hope that you are all looking after yourselves and staying safe. It is such a beautiful thing to see the amount of kindness that has come about from this awful situation and I hope that we all remember to show that kindness to each other. Lots of love and care to everyone!
Eva – Reservations Executive
Hi, I'm Eva. I just recently joined the Reservations team, and I work with clients and travel agents to manage and assist guests with their cruise bookings!
My absolute favourite thing about working for Coral Expeditions is getting to work alongside our incredible team. Our day are often filled with laughter and we really enjoy working together. I also love to connect and speak with our guests – they are incredibly sweet and quite often keep me smiling all day long.
We are working very hard to respond to all our guests in a timely manner. Being a rather small team and with the high volume of enquires due to COVID, this may take a little longer than usual. The current global environment is everchanging and your patience at this time is much appreciated.
I do hope that our amazing guests are looking after themselves and that they are able to get lots of help from families and loved ones, and that none of our passengers has to go through this alone. Everyone needs support at a time like this!
Personally, I am really looking forward to having the opportunity to go on an expedition. The Small Islands of the World Series is full of truly amazing and unique itineraries. I wouldn't even know which one to pick as my dream holiday!
When the day is done, I love to go home and have a glass of shiraz and socialise with friends and family, watch good movies or read a crime novel and eat my favourite food – pizza. I also might spend a lot of time with my dogs – they are very important to me!
Nat – Reservations Executive
Hi, my name is Nat. In Reservations, I look after the manifests for the vessels, following up with guests on additional information such as dietary requirements and other information, payment information, and I also help out with phone calls when the phones are ringing hot!  The people in my team make this an awesome place to work!
I know we are all going through a difficult time at the moment. I hope all our dear guests stay healthy and safe because we would love to see their smiling faces again in the future! Please stay optimistic and be kind and patient to one another – that is often all we can do to make the world a better place!
Outside of work, I absolutely love hiking and we have many beautiful hikes in the Cairns region! Catch me outside walking the esplanade or the trail up to Behana Gorge! I am also very keen to travel with Coral Expeditions to the Kimberley, or broaden my horizons with some of the incredible overseas itineraries!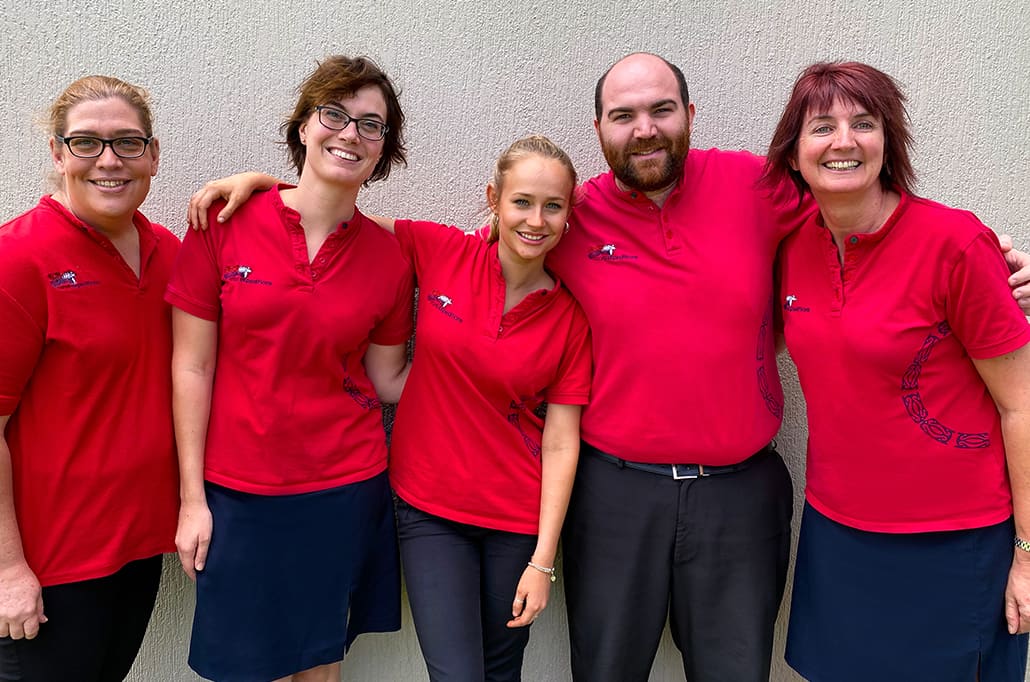 Pictured (left to right): Nat, Esther, Eva, Ben & Dawn before social distancing was a thing!