ABOUT FLINDERS ISLAND, SOUTH AUSTRALIA
Information by Tobin Woolford, from Eyrewoold Abalone
THE WOOLFORD FAMILY ON FLINDERS ISLAND
Peter and Pamela Woolford acquired Flinders Island and moved there with their young family in 1979 to run a sheep it as a station. During his time on the island Peter noticed abalone boats working around the island initiating the acquisition of a licence to harvest abalone in 1984 and established Eyrewoolf Abalone which Jonas and Tobin still run today.
A land-based tourism offering is now available and in 2020 the Woolford family were successful in receiving a grant from the Commonwealth and South Australian Governments to establish a safe-haven for re-establishing birds, reptiles and vegetation along with the planned introduction of vulnerable marsupials.
WHERE IS FLINDERS ISLAND?
Flinders Island is 35kms from the coast of Eyre Peninsula, South Australia.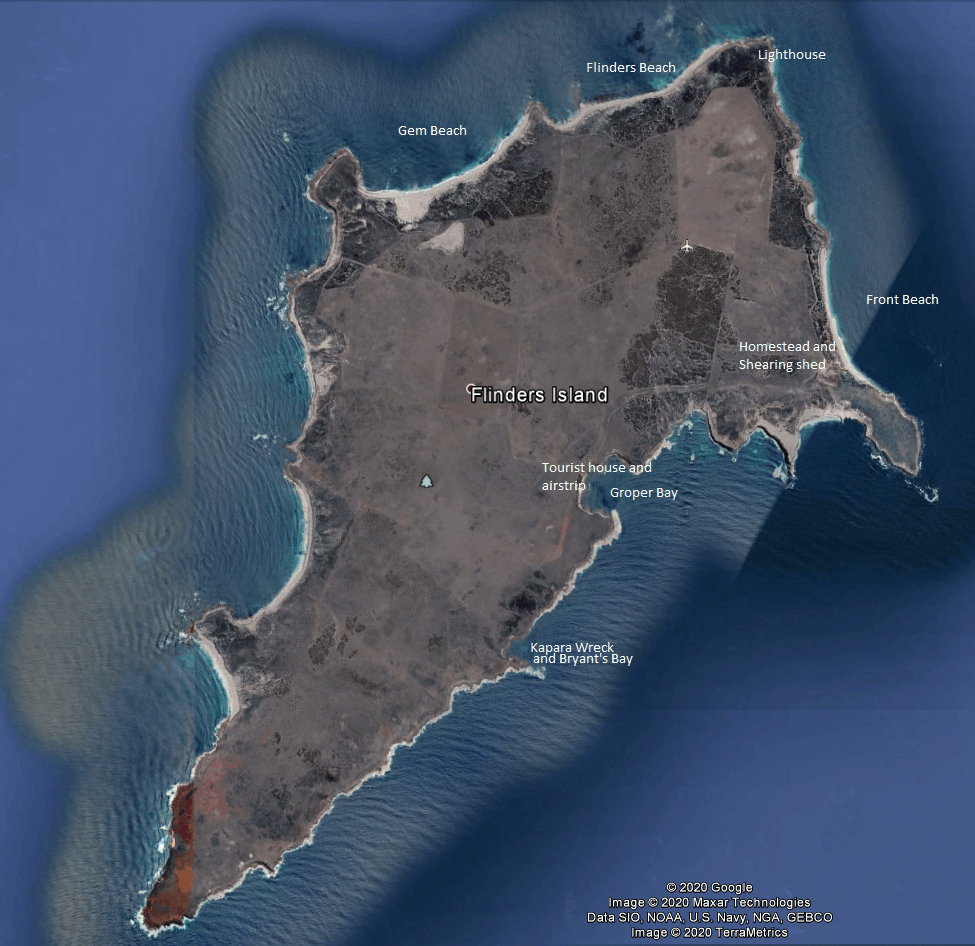 WILDLIFE OF FLINDERS ISLAND
Around 75% of Flinders Island is covered by native shrubland or scrub and in contrast to many other islands off the Eyre Peninsula no snakes exist on the Island, although twelve skink species and three gecko species are present.
Migratory seabirds are present in the summer, along with a few species of resident shorebirds and raptors including osprey, white bellied sea eagle and the Australian kestrel.
Marine species are plentiful and sightings of the Australian sea lion, dolphins and the western blue groper are common and occasionally penguins will be seen.
HISTORY OF FLINDERS ISLAND
Matthew Flinders discovered Flinders Island in February 1802 and named the island after his brother Samuel Flinders, who was the second lieutenant on the HMS Investigator. Coincidentally Nicolas Baudin sailed by in April 1802 and named the Ilse Andreassy until the maps were certified which concluded Flinders discovered it first.
Since Flinders' discovery there have been a long history of human inhabitants, in around 1826 sealing had begun and whaling by 1845, the most famous being Bill Bryant, a sealer who inhabited the island for more than 17 years harvesting seals – from what is now known as Byrants bay. The whaling schooner 'Vulcan' in 1845 became wrecked and after a more than a month on the island built another vessel and sailed to the mainland.
The first pastoral lease was granted in 1845 and by 1867 Flinders Island carried 4,000 sheep over two titles, as well as a guano mining operation which still has remnants from pre-1900's today. The island was also once cropped, when coastal transport was more prevalent due to the numerous merchant ketches servicing the coastline.
The wreck of the steam ship, the Kapara, in 1942 can still be seen at Bryants bay. The Kapara ended here during wartime blackout conditions, resulting in black rats being introduced to the island. Cats were then subsequently introduced to control the rats (around the houses at least).