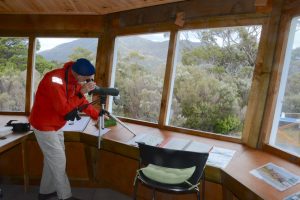 I didn't know Chris Done that well, but for all his importance in the national park system, I was impressed with his down-to-earth qualities, as this little memory will attest. 
We were on a trip in the Kimberley on Coral Princess 1, maybe 15 years ago, as Guest Lecturers to guide, inform and entertain the guests.  One night, I had to wear a silly but very expensive wig for some foolish display for the guests. I stored it temporarily in a plastic garbage bag, but a diligent crew member, assuming it was garbage, threw the bag out, wig and all!  When it came time for the wig wearing, Chris, with whom I was sharing a cabin, wondered why I was stressed out.
When I described the dilemma to various crew members, one said "oh, it's in the garbage room", which is a small dark, scary hold under the stern deck of the ship. With Chris assisting, I had to unlatch and jump into the dark and dank garbage room, on top of, and in amongst, big bags of tissues, scraps, and God knows what else from the galley and passengers.
Good old Chris immediately jumped in there with me, and after ripping open and re-bagging mound after mound of garbage bag, he finally, triumphantly, lifted up the clump of curly hair! So there we were; me, an idiot biologist, and Chris Done, then responsible for the entire north western Australian National Parks system, in a garbage dump looking for a lost novelty wig.
Thanks Chris!