Voyage Log: The Kimberley Cruise | Darwin to Broome
Darwin to Broome |   12 August 2023 – 22 August 2023
Jump To: Day 1 | Day 2 | Day 3 |  Day 4 | Day 5 | Day 6 |  Day 7 |  Day 8 |  Day 9 |  Day 10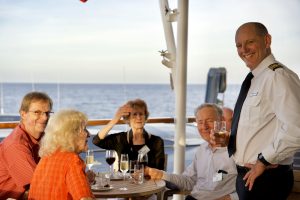 Day 1: Departing Darwin
12 August 2023
We all met up at Novotel on the Esplanade in Darwin, got our luggage and health requirements out of the way, enjoyed a coffee, and took the bus down to Fort Hill Wharf to our waiting vessel. As we departed Darwin Harbour and headed out into Bonaparte Gulf – after completing the mandatory safety routine – the captain, purser, crew, and expedition team introduced themselves and gave an outline of the upcoming program through to Broome. Then we were able to relax and enjoy a very pleasant night crossing the Gulf.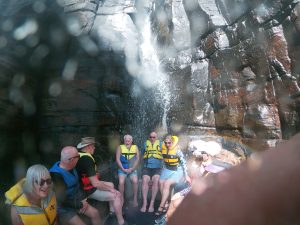 Day 2: King George River
13 August 2023
After a pleasant night's journey, we reached the Kimberley coastline. Anchoring in Koolama Bay, named after a WW2 incident, we explored the King George River, admiring its ancient sandstone cliffs and the spectacular King George Falls. This region is rich in indigenous history, with local Balanggarra Rangers caring for the area. The Kimberley Plateau, dating back 1,800 million years, features unique sandstone formations. Fresh rockfalls are common due to seismic activity. We enjoyed the falls and a refreshing swim before returning to our ship for lunch. As we continued our voyage, we encountered wildlife, including a basking saltwater crocodile named 'Eric.' We sailed around Cape Londonderry, heading down the West Kimberley coast towards Broome.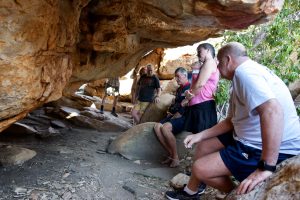 Day 3: Jar Island
14 August 2023
At sunrise, we woke up to a vast bay without any visible sandstone. After breakfast, we ventured to the Anjo Peninsula to explore a well-preserved aircraft that crash-landed in 1942. It was a C57 SkyTrooper, which overshot Broome and ended up in the nearby woodland. Thankfully, the crew was unharmed. Truscott Air Base, built during the war, now stands nearby. Our journey was as exciting as the destination. We explored a paperbark forest, observed native flora and fauna, and spotted our first boab tree. Returning to the ship, we encountered nurse sharks and even saw a rare sailfish. Next, we visited Jar Island, known for its ancient art and history, particularly its role in the trepang industry. The climb to view the traditional artwork was a privilege, showcasing nearly 20,000 years of history. Jar Island was also once used as a trepang processing site by Makassan traders who supplied China. This history is an intriguing chapter in our country's past.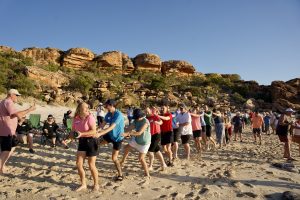 Day 4: Verandah Beach
15 August 2023
We awoke in a new location in the top northwestern corner of the Kimberley, where the stable sedimentary geology features heavily weathered light-colored sandstone rock. This seemingly barren landscape was rich in resources for the traditional people. The main event was the optional Mitchell Falls experience, with a scenic helicopter ride and a swim in the creek above the falls. For those who stayed behind, there were two excursion options. One group explored Winyalkan Island, and the other visited a Wandjina art gallery at Wollaston Beach. We spotted ospreys and other wildlife during the island explorations. At Hathaway's Hideaway, we observed a unique sandstone weathering layer that forms underground cave systems. The rock art activity revealed large Wandjina figures and symbols. In the evening, we enjoyed refreshing sunset drinks on Verandah Beach and had a fun time dancing into the sunset as we formed a giant 'Conga Line'. Several bronze whaler sharks made an appearance behind the Geographer, hoping for a meal of fish attracted to the lights. Another exciting day in the Kimberley!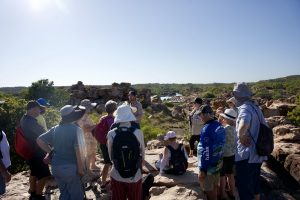 Day 5: Bigge Island
16 August 2023
After relocating overnight, we anchored in Wary Bay on Bigge Island, the third-largest WA coastal island. Named after John Thomas Bigge, it holds cultural significance for the Wunambal/Gaambera People. Activities included exploring art sites, stone arrangements, and Cathedral Cave, a natural sea cave. Legend suggests Dutch explorer Abel Janszoon Tasman visited in 1644. We divided into groups, exploring ceremonial areas and witnessing wildlife. In Cathedral Cave, we observed erosion effects and encountered footprints. An Xplorer excursion into Porosus Creek allowed us to appreciate tidal forests and spot crocodiles and birds. The day concluded with crocodile sightings, mudskippers, and a stunning sunset.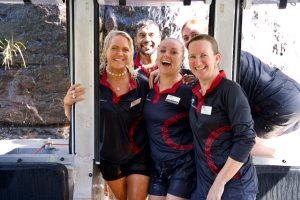 Day 6: Prince Frederick Harbour
17 August 2023
This morning, we woke up early for a sunrise cruise across Careening Bay to the beach where Captain Philip Parker King careened his stricken cutter due to rusty iron nails causing a leak. It was in danger of sinking due to cheaper iron nails instead of copper ones. We enjoyed a slow bay cruise as the sky turned from red to yellow, spotting wildlife like a short-eared rock-wallaby and beach stone-curlews. We explored local plants and admired the surroundings. After morning tea and a crocodile talk by Ian, we witnessed a whale's flipper-slapping display and navigated through whirlpool alley. Later, we visited King Cascade, a refreshing freshwater waterfall named after Phillip Parker King. It's fed by porous sandstone and runs year-round. We also explored a mangrove-lined channel, observed various birds, and encountered snubfin dolphins. Games night with Sara capped off the day.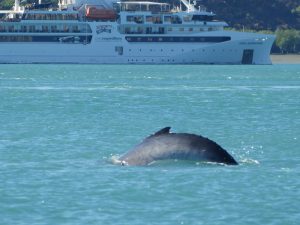 Day 7: Raft Point
18 August 2023
This morning, we arrived at Raft Point just as the sun was rising, casting a deep red glow on the sandstone cliffs. We observed the growing tidal range due to the new moon as we traveled south, with a low tide of just 1.8 m at 8:10 am before boarding the Xplorers for our morning cruise. Our cruise took us past the bluff north of Raft Point and onwards to Steep Island, both featuring steep cliffs of Warton Sandstone on top of basalt from the deeper Carson Volcanic geological layer. We learned about a natural shelter with Wandjina art figures, refreshed by Mr. D Woolagoodja and his father Mr. S Woolagoodja, where the Worrorra People sought shelter during cyclones and storms.
During the morning cruise, we had fantastic wildlife sightings, including a mother whale with her calf and two medium-sized saltwater crocodiles resting on the mudflats near the bluff. Four ospreys also made an appearance. Afterward, Melissa gave a presentation about the geology, landscapes, and wildlife of the Kimberley.
In the afternoon, we explored the saltwater estuary of Red Cone Creek to Ruby Falls. Some of us enjoyed a swim in a cool freshwater rock pool, while others cruised among the mangroves or relaxed on the Geographer. Chantelle served a refreshing lemontini cocktail. After dinner, Ben led a stargazing session at the front of the ship, where we learned about the dark emu, light years, and the source of iron in our solar system.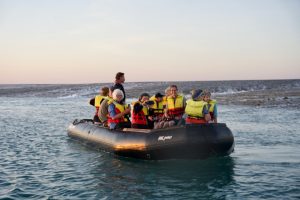 Day 8: Montgomery Reef
19 August 2023
This morning, we embarked on a dawn cruise inside a tidal channel of the spectacular Montgomery Reef. As the sky turned red-gold, we boarded the Xplorers and headed for the channel, which cuts into the southeast edge of the reef. The reef continued to emerge from the ocean as the tide ebbed, with streams of seawater cascading down gently sloping walls covered in algae-covered coral. These saltwater streams flowed continuously as the sea level dropped. We kept an eye out for turtles, birds, and other wildlife while enjoying a picnic breakfast. Most of us transferred from the Xplorers into Zodiacs for a close look at the reef and sea life at the edge. We observed the flow of water slowing down over time. Before lunch, Ian shared his knowledge of the strong links between the people of Makassar and the Yolngu People of East Arnhem Land. We were briefly interrupted by several male humpback whales breaching on the horizon.
In the afternoon, we leisurely cruised around several islands of the Buccaneer Archipelago, starting at Nares Point on the mainland. The intense folding and tilting of grey siltstone and orange-red sandstone were beautifully lit by the afternoon sun. We also explored two caves on the beach and had another close sighting of a humpback whale mother and her calf. Next, we passed Koolan Island, which houses an iron ore mine. The mine opened in 1965, operated for several decades, and was briefly shut down in 2014 due to a seawall breach. Fortunately, there were no casualties. Mining resumed in 2019 after repairs. The iron ore from the mine is used to make steel in Japan. Our final stop in the afternoon was the Iron Islands east of Koolan Island, where we marveled at the iron-rich haematite interspersed with purple manganese.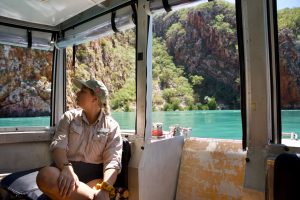 Day 9: Talbot Bay
20 August 2023
This morning, we had an exciting start as we rode through the Horizontal Waterfalls, marveling at the raging white water caused by the ebbing Kimberley tide. Our experienced Zodiac drivers safely guided us through the tumultuous seawater, providing a thrilling experience. Afterward, Melissa shared her insights into living in the remote Kimberley. Following lunch, we embarked on a scenic cruise across Talbot Bay and into Cyclone Creek, known for its fascinating geological formations. We observed all six major Kimberley geological layers, from the oldest to the youngest, and learned about their unique characteristics. Our afternoon expedition took us through the Horizontal Waterfalls again, where we witnessed the tide reversing the waterfalls. We explored Cyclone Creek's stunning geology, including fine layering, deformation, and unique rock formations. During our adventures, we encountered various wildlife and plants, including Kimberley rose shrubs, mangroves, ospreys, white-bellied sea eagles, and a saltwater crocodile. Some of us spotted white-quilled rock-pigeons, a brown goshawk, and common sandpipers. In the evening, Anita led a spotlighting session, and we had the chance to observe tawny nurse sharks and bronze whaler sharks, adding excitement to our day.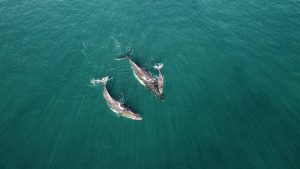 Day 10: Lacepede Islands
21 August 2023
This morning, we stayed on board as we sailed to the Lacepede Islands, located 30 km off the northwest coast of the Dampier Peninsula. It was a good opportunity to learn about upcoming Coral cruises, enjoy a quiz with Ben, explore Indigenous kinship arrangements with Ian, and do some whale-watching, relaxation, or exercise. After lunch, we boarded the Xplorers for the Lacepede Islands. These sandy islands are an A-class reserve with no native or introduced predators, as black rats were eradicated in 1986. They were once used as a 'holding area' for Indigenous people who were taken from their homelands to work as slaves in the pearl shell industry. There was also a historical dispute over the right to collect and export bird guano as fertilizer, involving Australia and the USA. During our exploration in calm weather, we had the exciting opportunity to observe an abundance of seabirds and marine life. Brown boobies were numerous, with around 18,000 breeding pairs on the islands. We witnessed mottled chicks preparing for their first flight and other bird species along the shoreline. We learned that silver gulls (seagulls) are unwelcome on the islands as they prey on the eggs of breeding seabirds. On the Zodiacs, we encountered nesting and breeding green turtles, various fish, and the occasional stingray and western shovel-nosed ray.
After returning to the Geographer, we enjoyed Captain Andrew's farewell drinks on the Bridge deck, where he expressed his appreciation for the crew's excellent efforts in ensuring our enjoyable cruise experience. We settled in for our final night aboard as we smoothly sailed down the coast of the Dampier Peninsula towards Broome. After breakfast, the Geographer docked alongside the wharf, and the Captain and his crew bid us farewell. We crossed the gangway to waiting buses that took us to the airport and our respective hotels around Broome, concluding our marvelous cruise experience along the west Kimberley coastline.