Voyage Log: Circumnavigation Of Tasmania – Coral Discoverer
Hobart to Hobart |   01 January 2023 – 17 January 2023
This trip diary was compiled by: Guest Lecturer Ian Terry
Jump To: Day 1 | Day 2 | Day 3 |  Day 4 | Day 5 | Day 6 |  Day 7 |  Day 8 |  Day 9 |  Day 10 |  Day 11 |  Day 12 |  Day 13 |  Day 14 |  Day 15 |  Day 16 |  Day 17

Day 1: Nipaluna/Hobart
01 January 2023
On a warm Hobart afternoon, we arrived at Macquarie Wharf No. 2 ready to board Coral Discoverer for our circumnavigation adventure. We boarded CD and pulled away from the wharf at 5pm, steaming down the Derwent Estuary towards our overnight anchorage point in Quarantine Bay on Bruny Island/Lunawanna Alonnah. After our mandatory safety drill with Purser Bonita, Jamie, our Expedition Leader, introduced himself and his team and provided us with some basic details about our trip.
After pre-dinner drinks, the Galley put on a wonderful BBQ dinner and we met new friends before retiring and preparing for our first walks and experiences in the forests and shorelines of Tasmania on the following day.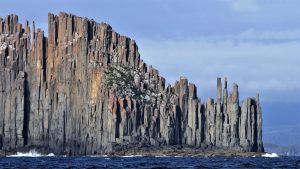 Day 2: Lunawanna Alonnah/Bruny Island
02 January 2023
After an early start, we headed ashore at Adventure Bay which was named after Tobias Furneaux's ship in 1873 and became a regular stopover point for European mariners in the late eighteenth century.
Some of us chose to do a long and hard loop walk to Fluted Cape, returning via the whaling station remains at Grass Point, whilst others did a shorter out and back walk to Grass Point. Along the spectacular sheer dolerite cliffs we enjoyed seeing yellow-tailed black cockatoos and seeing native cherry fruits and the lovely white guitar plant flowers as well as views across Storm Bay to Tasman Island. After returning to CD for lunch we re-boarded the Xplorer for further an exploration of Fluted Cape's dolerite cliffs and deep sea caves, then motored over to Adventure Bay to visit the small and quirky Bligh Museum. On our return Guest Lecturer Ian gave a presentation introducing Tasmania with an overview of some of the indigenous creation stories, places we would visit and some slides of some of Tasmania's flora, fauna and geology. After dinner we steamed past across the aptly named Storm Bay and past high cliffs of Tasman Island and Cape Pillar in the beautiful dusk light.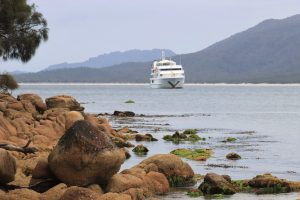 Day 3: Puthimiluna/Freycinet National Park
03 January 2023
After a 'lumpy' trip overnight up the east coast of Tasmania we woke anchored in Promise Bay in Freycinet National Park. We had an early breakfast then boarded Xplorer to cross over to Hazards Beach, named for an African American whaling captain rather than any perils. After Shane told us a little about the indigenous and post-settlement history of the bay we split into two groups, both crossing the isthmus to Wineglass Bay. We climbed over the middens and walked past Hazards Lagoon, which our guides observed had the highest water level they had seen for decades. The calls of grey fantails, yellow wattle birds, yellow-throated honeyeaters and yellow-trailed black cockatoos vied for attention with banjo and other frogs enjoying the high water level of the lagoon. The track through casuarina, eucalypts, Oyster Bay pines and banksias was unusually muddy track after heavy Spring and recent rain. At Wineglass Bay some of us then tackled the 1000 step climb to the lookout where we were afforded misty views back over Wineglass Bay and the mountains beyond while the others enjoyed some time exploring that beautiful beach.
After the usual delicious lunch, we reboarded Xplorer and crossed over to Crockets Bay on Tiggana Marraboona/Schouten Island then walked the few hundred metres to Moreys Beach and inspected the simple 120 year old cottage which provides a base for seasonal caretakers who do two week stints on the island. We enjoyed the display on Schouten's history and the numerous whale and other natural history objects laid out on a table for inspection. Our guest lecturers also told us about the unusual geological history of the island which is split down the middle with the eastern half dominated by granite and the western half by dolerite.
In the evening Captain Simon hosted welcome drinks, opening a tab at the bar, and after dinner we enjoyed a fine video about the lives of famous the Tasmanian wilderness photographers, Olegas Truchanas and Peter Dombrovskis. In the evening dolphins accompanied us as we steamed back down Great Oyster Bay to anchor near the mouth of the Prosser River opposite Maria Island, our destination for tomorrow.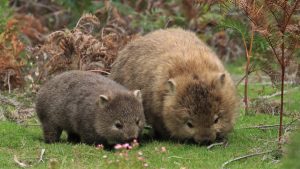 Day 4:Wukaluwikiwayna/Maria Island
04 January 2023
After breakfast we headed over to the World Heritage listed Darlington convict settlement on Wukaluwikiwayna/Maria Island, enjoying a rare dry landing on the island's jetty. A range of activities were in the offing, a longer walk to the world-renowned Fossil Cliffs, a shorter walk to the Reservoir with its opportunity to see numerous birds and animals, or an inspection of the World Heritage listed convict settlement at Darlington where we learnt about the island's periods of convict history followed by various periods of agricultural and industrial development. Another group joined Dan for a coastal cruise of the island's dramatic coastline in Xplorer.
The weather was kind to us, and the many on the shore side enjoyed the rich history and diverse fauna of the island. Tasmanian Native Hens and Cape Barren Geese abounded as did Bennett's wallabies, pademelons and Forester kangaroos. There was also some of evidence of the nocturnal Tasmanian Devil in the form of scats, easily identified by the finely crushed bone and tufts of fur. Wombats were scarce until the last minute, and as if they didn't want to leave us disappointed, they came out as we were departing. A mother wombat with its joey close on its heels was the subject of many photos!
In the afternoon, the weather held and we walked down to the amazing Painted Cliffs, a richly coloured area of eroded sandstone cliffs accessible at low tide. We heard various stories about the island's history as we walked along, bringing the island alive for us. We also enjoyed seeing more wombats on this walk.
After a long day on the island we reluctantly left Maria Island but were rewarded after our return to Coral Discoverer by Guest Lecturer Shane's first presentation of the voyage, on the history, fauna and flora of the major islands in Bass Strait. We learnt about this extraordinary and isolated region, whetting our appetites for the days ahead of us. We steamed up past the spectacular coasts of Schouten Island and the Freycinet Peninsula during pre-dinner drinks and then during dinner itself. A feeding frenzy of Shy Albatross, Storm Petrels, Mutton Birds and the occasional Australasian Gannet was followed by a floor show of dolphins leaping alongside CD.  After dinner we watched a documentary about Tasmanian Devils, rounding off a busy and satisfying day.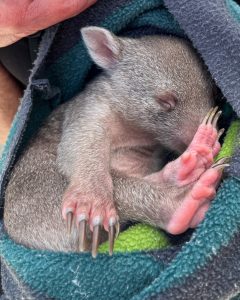 Day 5:Tayaritja/Flinders Island
05 January 2023
After cruising up the east coast of Tasmania overnight we arrived off the south-eastern corner of Tayaritja/Flinders Island, at dawn. After breakfast we set out on Xplorer to land on Trousers Point and separate into three groups to explore the island. Our drivers and tour guides were all born and bred on Flinders or had lived there for decades and provided deep insights into its history and unique culture. One driver, Kate, is known as the Wombat Lady and brought three baby orphan wombats to accompany her passengers through the day.
The day's activities included a beautiful walk along the granite coast north of Trousers Point, another walk to Castle Rock, and visits to the islands fascinating historic museum at Emita, a visit to the island's administrative centre, Whitemark, and to the small Unavale winery for a tasting of its unexpectedly delicious wines. We ate a picnic lunch near the island's second township, Lady Barron, enjoying a view across the island studded Franklin Sound to Cape Barren Island. En route our guides and guest lecturers told us about the human and natural history of the Furneaux Islands and some of their experiences working on the outer islands which we could see from various viewpoints. We enjoyed seeing plenty of wallabies, Cape Barren Geese, Sooty Oystercatchers, Hooded Plovers and a Beautiful Firetail. Clumps of trigger plants and purple flowered pigface were dotted along the tracks as we walked over the white sands and red lichen covered granite which defines the island's coastline.
After returning to CD for a well-earned rest we enjoyed pre dinner drinks on the after deck lounge, providing an opportunity to compare notes over the day's activities and then retired to the dining room for yet another feast turned out by the galley. After dinner a film from David Attenborough's Blue Planet series provided the opportunity to immerse ourselves even further into the globe's exceptional marine environment.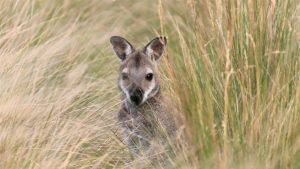 Day 6:Deal Island
06 January 2023
Once again we steamed overnight, this time from Flinders Island to the remote Kent Group where we arrived at dawn and cruised into Murray Passage which lies between Deal, Dover and Erith Islands.
Once again various activities were on offer once we'd landed at the picturesque East Cove where we admired the handicap winner of the Melbourne to Hobart yacht race whose crew was enjoying the poeac eof this idyllic spot. Some of us joined Expedition Leader Jamie and Guest Lecturer Ian to make the strenuous but rewarding 305m climb up to the 1848 convict-built lighthouse. Ian told us a little about the chequered history of this light, including its location above the frequent sea mists which occur in the Kent Group which meant that the light was often invisible at sea. After catching our breath we visited the nearby wreckage of a 1943 RAAF aircraft crash.
Others accompanied Guest Lecturer Shane for a gentler yet very scenic walk to Garden Cove, Guest Lecturer Sue on a cruise around the Murray Passage or Assistant expedition Leader Luke to Barn Hill which overlooks the 1848 lighthouse superintendent's cottage. We all visited the museum in the superintendent's cottage and found the display on the island's history both informative and well-done. After returning to Coral Discoverer we circumnavigated the Kent Group while enjoying our lunch, admiring the huge granite cliffs which ring the island. All of us saw numerous Bennett's wallabies which were relaxed at being photographed at length as well as Cape Barren Geese, Welcome Swallows and New Holland Honeyeaters. After lunch we those of us who hadn't already enjoyed a closer look at the coast in the morning reboarded Xplorer for an afternoon cruise to marvel at the extraordinary granite cliffs of Deal Island.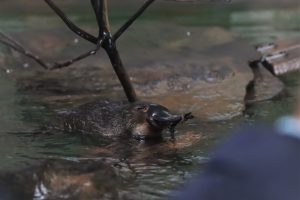 Day 7:Kanamaluka/Tamar River
07 January 2023
We steamed past the 1833 Low Head lighthouse at 6.30 and proceeded up Kanamaluka/Tamar River under the direction of a pilot, anchoring at Bell Bay. After breakfast we boarded Xplorer to cross over the river to Beauty Point where we were fascinated for two hours inspecting the seahorse farming operation at Seahorse World and platypus and echidnas at Platypus House. We learnt about the life cycles of all these amazing and unique animals and some of us were even able to handle live seahorses.
After returning to Coral Discoverer we weighed anchor, again under the control of a pilot, and proceeded further upriver to anchor opposite Rosevears while enjoying another gourmet lunch turned out by the galley. After lunch Guest Lecturer Sue enthralled us with a presentation about her career as a professional ocean yacht racer, particularly focusing on the Sydney to Hobart yacht race which she has competed in 16 times. While the photographs and short video she played were stunning few of us wanted to join a crew to experience the dangers, cold and wetness endured by these hardy competitors.
At 4.15 we reboarded Xplorer to go ashore and visit the Josef Chromy vineyard where we were able to taste some of the outstanding wines produced by this famous vineyard and enjoy a sumptuous meal. Returning to Coral Discoverer at 9.30 we were all well and truly ready for a good night's sleep swaying gently on the river.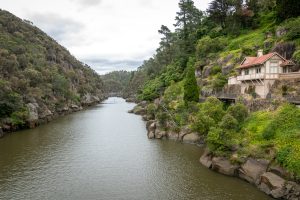 Day 8:Kanamaluka/Tamar River
08 January 2023
We had an early start today and bussed down to Launceston where some of us did some much needed shopping, others visited the Tamar River Wetlands and others explored Launceston's playground, Cataract Gorge where we enjoyed crossing the 1904 suspension bridge then walked along the path down the South Esk River, wondering what the gorge would be like in times of flood. The gardens rotunda with huge sequoias and Himalayan cedars planted in 1894 were very impressive. Launceston was founded in the Country of the Stoney Creek people in 1806 and features Australia's best collection of beautiful late Victorian weatherboard houses. It is Tasmania's second largest city and was the island's financial capital for many decades.
After returning to Coral Discoverer and enjoying lunch we re-boarded Xplorer for the 25 minute trip down to Low Head where we visited the Low Head light house. The existing light was built in the 1880s to replace the original 1835 light. We also visited Australia's longest continually operating Pilot Station which was opened nearby in 1805. Pilots were (and remain) important figures in our maritime story, providing safe passage for vessels entering dangerous rivers and harbours. The well-presented museum in the 1830s pilots' residences provided a good insight into the maritime history of the region and the life of pilots and their families.
We returned to Coral Discoverer soon after 5pm and after a brief rest repaired to the Bridge Deck Lounge for evening drinks followed by dinner in the dining room. The film Top End Wedding provided some lighter entertainment for after dinner movie buffs.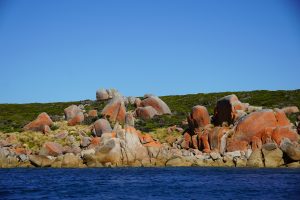 Day 9:Stanley
09 January 2023
We arrived at Stanley, a very picturesque village on Tasmania's northwest coast, after steaming west along the island's Bass Strait coast overnight. Approaching the town we were impressed by the Nut, a 150m high volcanic plug which overlooks the village. Shane and Sue walked some of us up to the base of the Nut, admiring the tiny nineteenth century cottages that make up this National Trust listed town. These included a cottage once lived in by Joe Lyons, Tasmania's only Prime Minister.
We split into two groups in Stanley, some of us opting to start with a walk or chairlift ride up the Nut, then walking the 4.6km track around its summit. Others took a bus to Highfield House, an 1830s mansion which overlooks the town. Highfield was built for Edward Curr, Chief Agent of the Van Diemen's Land Company which was granted all of this northwest corner in the 1820s. The house has been wonderfully restored by the Tasmanian Parks and Wildlife Service and has superb innovative interpretation. Midway through the morning the groups switched around so that everyone got a chance to visit Highfield or ascend the Nut.
After lunch Guest Lecturer Ian gave an illuminating presentation on the history of Palawa (Tasmanian Aboriginal) interactions with European mariners, finishing with a description of the Wybalenna Aboriginal 'settlement' on Flinders Island. The we boarded Xplorer for a cruise along the southern shore of Three Hummock Island, a very remote island off Tasmania's northwest coast, where we saw the delightful granite coastline, Pelicans, Little Pied Cormorants and Shy Albatross before finishing up with a wild ride back to Coral Discoverer. Dinner time was accompanied by large seas breaking along the side of the vessel as we round Cape Grim and began heading south down the west coast en route to Port Davey.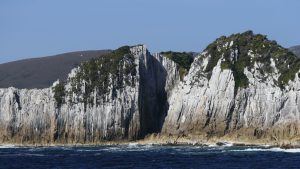 Day 10:West Coast/Port Davey
10 January 2023
After a rough night today was mostly a sea day, steaming down the west coast, out of sight of land initially, then coming in closer to land as we approached Macquarie Harbour. Shy Albatross and muttonbirds (Short-tailed Shearwaters) glided over the three metre swell as we continued south. In the morning Guest Lecturer Shane gave an entertaining and interesting presentation on Australia's migrating animals. Following this we did fascinating tours of Coral Discoverer's Bridge and Engine Room, feeling reassured at the professionalism of the ship's crew and the technology that keeps us afloat and safe as we circumnavigate Tasmania.
After lunch Guest Lecturer Sue gave an interesting presentation on Tasmania's lighthouses, particularly focusing on her time as a volunteer at the Tasman Island lighthouse. As the day wore on the swell reduced and we approached the coast below Macquarie Harbour, marveling at the small rocky islands, and white beaches backed by quartzite-capped hills and mountains. At around 3.30 we turned towards the Breaksea Islands and steamed around them into the tranquil waters of Port Davey and then the Bathurst Channel before coming to anchor at Pim Point below Balmoral Hill. Evening drinks were enjoyed in warm sunshine on the bridge deck, surrounded by the hills and waterways that make up this part of the Tasmanian Wilderness World Heritage Area, the closest road being some fifty kilometres away to the north.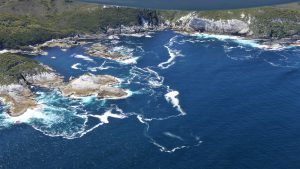 Day 11:Bathurst Channel/Melaleuca
11 January 2023
This morning many of us woke early to view the spectacular sunrise over Bathurst Harbour at 5.48. after breakfast we jumped aboard Xplorer to motor up the harbour and then into Melaleuca Inlet to spend the morning at the tiny outpost of Melaleuca. En route Shane told us the extraordinary stories of legendary tin miner Deny King, fishers Win and Clyde Clayton and later miners Barbara and Peter Willson who between them have lived in this remote area for the last 90 years. We experienced the still, tannin-stained waters of Melaleuca Inlet all in perfect blue skies.
At Melaleuca we split into three groups. Each group in turn did the Needwonnee Walk, a short trail developed by the Tasmanian Parks & Wildlife Service in conjunction with Tasmanian Aboriginal elders and spent time in the Deny King Museum and Bird Hide to view the critically endangered Orange Bellied Parrots feeding at a feeding station. Melaleuca is the main breeding area of these diminutive birds and this year ornithologists are ecstatic that 74 have returned from their winter migration to mainland Australia. We also did a half hour scenic flight around the coast of SW Tasmania, seeing from the air a section of this remote World Heritage Area. After enjoying a picnic lunch on the jetty we re-boarded Xplorer to return to Coral Discoverer.
After a short rest a few of us took to the kayaks to paddle across to the base of Mt McKenzie. Later some of us again boarded Xplorer and crossed to the nearby and beautiful Balmoral Beach where we went for a short walk before returning to CD for a rest and well-earned evening drinks. After dinner we formed into teams to pit our wits against quizmaster Luke in an entertaining Trivia Quiz.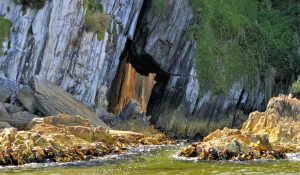 Day 12:Bathurst Channel/Melaleuca/Bramble Cove
12 January 2023
This morning we enjoyed another beautiful sunrise before some of us boarded Xplorer for a trip up to Claytons Corner where fishers Win and Clyde Clayton made a home for 14 years. A highlight of this restored cottage is a stick left in the bath, as Win and Clyde used to do, to allow quolls to climb out should they fall in.
While some of us cruised around the Celery Top Islands and walked on one of them, another party climbed nearby TV Hill while a third undertook the longer climb to Mt Beattie from which we enjoyed amazing views down Melaleuca Inlet, down the Bathurst Channel to Coral Discoverer and across to the high peak of Mt Rugby. Excitement was caused by passing a young tiger snake and hurrying past a helicopter drop zone just before it delivered track materials. Back on CD some guests took the opportunity for a relaxing morning while others paddled kayaks around the channel in dead calm waters.
After returning to CD we moved back down Bathurst Channel to anchor in the picturesque Bramble Cove. Guest Lecturer Shane told us about the nineteenth century whaling station which weas located in this apparently pristine bay as well as the farcical attempt to view a solar eclipse there in 1908 – it poured with rain. After eating lunch we again split up into various parties. Shane and Jamie took a group on a wonderful cruise around the Breaksea Islands, the group of islands which shelters Bathurst Channel and Harbour completely. There we saw the amazing geology and the family of sea eagles which is resident there. A few more brafved the afternoon sea breeze to take the kayaks for a paddle while ten hardy souls joined Ian, Sue, Luke and Captain Simon to climb steeply up Mt Milner and enjoyed superb views in all directions, watching Xplorer cruise around the Breakseas, and looking north into Port Davey. Ian showed us how by rubbing the leaves of lemon-scented boronias you could smell its delightful lemon scent.
Again, we enjoyed a delicious dinner created by Ruth, the ship's chef, and her team, while riding gently at anchor in Bramble Cove. A short post dinner film on the marine life of Port Davey and Bathurst Harbour rounded off a wonderful day as the sky turned crimson under the setting sun.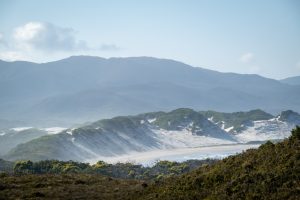 Day 13:Bramble Cove/Maatsuyker Island
13 January 2023
We enjoyed breakfast in the calm waters of Bramble Cove as a beautiful sunny morning slowly lit up the spectacular hills around us. We had scored another unusually calm day in Port Davey as we began our exploration past the rugged coastline of Breaksea and onto Spain Bay at the southern side of Port Davey. Soon after landing the walkers departed for a 4km walk across to Stephens Bay with Simon, Sue, Shane and Ian. The remainder stayed aboard the Xplorer for a ramble on Spain Bay beach followed by morning tea.
At 2pm Ian gave a presentation on shipwrecks in the waters we have been cruising through, finishing with a quick history of Australia's southernmost lighthouse which is located on Maatsuyker Island. We then cruised past Maatsuyker Island – its rugged coastline was testament to the battering received from huge seas and the roaring forties weather. With remarkably calm seas we then travelled between two Islands, Flat and Round Top Islands, then on to the rarely visited Pedra Branca, a wild rock far to the south of Tasmania and home to the endemic Pedra Branca skink. We continued past South Cape, and then up to Great Taylor Bay on Bruny Island where we anchored for the night. A variety of marine live could be seen around the ship including Albatrosses, Gannets, Shearwaters, Prions, Petrels, Terns, seals and dolphins, particularly around Pedra Branca. The rugged beauty of Tasmania's south west was shown in all its glory, along with the abundant wildlife.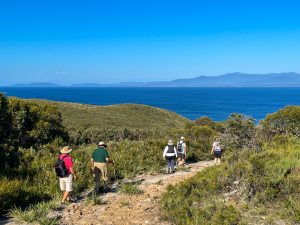 Day 14:Lunawanna/Alonnah Bruny Island, Franklin
14 January 2023
Last night we anchored in Great Taylor Bay off Sout Bruny Island and woke up today to a hot and sunny day. At 8am we boarded Xplorer for our trip into Jetty Beach and once ashore the walkers headed off for a 4km walk with Shane, Luke, Sue and Ian on the Luggaboine Circuit track. Others enjoyed a walk with Jamie along the beach discovering the diversity of marine life found here. The walkers enjoyed fine coastal views, occasional Tasmanian Christmas bells and many trigger plants on their walk.
We returned to Coral Discoverer on the Zodiacs and as we ate lunch we slipped up the wide Huon River estuary to anchor near Port Huon. We again boarded Xplorer for a warm trip up the river to the historic village of Franklin where we had a fascinating tour of the Franklin Wooden Boat Centre which was established three decades ago to teach traditional wooden boat building skills. Students come from around the world and from all walks of life to learn these almost lost skills. We also had time to cross over to Franks Cider Bar & Café to enjoy some afternoon tea, and sample their cider, which is produced from the famous apple orchards of the Huon River.
On our return to Coral Discoverer we had time for some relaxation before repairing to the Sundeck for pre-dinner drinks and a chance to compare notes about the day. Jamie gave us a rundown on tomorrow's visit to Port Arthur before another sumptuous dinner.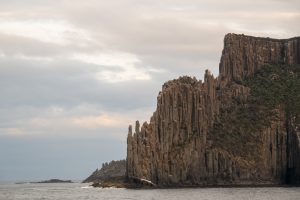 Day 15:Tukana/Port Arthur
15 January 2023
After yesterday's heat we experienced a cool, windy and overcast Tasmanian summer's day at Port Arthur after a cold front moved through around breakfast time. Perfect weather to board Xplorer and visit the Port Arthur Historic Site where specialist guides told us about this picturesque site's local and global significance.
Although many of us had been there before, these specialists gave us new insight into the importance of the place in the development of the 'Gaol of the Empire' (in the vision of Governor Arthur of the 1820s and 1830s), and the surprising lives experienced by convicts there. Many changes have occurred on the site in recent years, in terms of more interactive interpretation, and in the physical management of the ageing ruins, ensuring the site will endure into the future.
The wind and seas did not abate as the day wore on so an Xplorer cruise of the harbour was abandoned in favour of talks by Jamie about new cruises being offered by Coral Expeditions and then by Shane on convict escapes. At pre-dinner drinks Ian told us the story of 6 year old, Nancy Bentley, the first female to enlist in the Royal Australian Navy before dinner and a film about the maritime history of Bass Strait.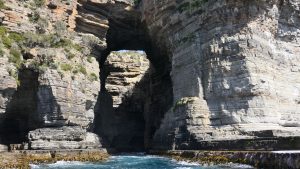 Day 16:Tukana/Tasman Peninsula
16 January 2023
Today dawned calm and we ate breakfast as we approached the spectacular 300m high cliffs of Cape Pillar and Tasman Island. We cruised through the narrow Tasman Passage which separates twice as Shane, Sue and Ian recounted stories about the geology, fauna and history of the region. Shy Albatross, Australasian Gannets, seals and dolphins accompanied us as gazed up at the awe-inspiring cliffs. A small pod of dolphins surfed Coral Discoverer's bow wave as we headed north up the Tasman Peninsula.
We passed Fortescue Bay and cruised up to Pirates Bay where many of us boarded Xplorer for a slow motor back down the coast to Fortescue Bay. Dan took us close to the cliffs and the many sea caves where we experienced the surging waves and came to understand the power of the sea in sculpting this amazing coastline. Before rejoining Coral Discoverer for lunch we cruised up to Cape Hauy and the Lanterns, coming up close to seals basking out on their haul-outs and watching fish swimming around in the clear waters. Ian told us stories of survival of rock climbers on the precipitous Candlestick and Totem Pole, climbers who suffered catastrophic falls and incredible injuries but survived to climb again.
After lunch we boarded Xplorer for the last time to visit Canoe Bay and Fortescue Bay where we disembarked for a short walk to the end point of the famous Three Capes Track.
Back on-board Luke entertained us with the Coral Expeditions quiz where we tried to remember all that we learnt over the past sixteen days. We then enjoyed Captain's Drinks as we steamed past Cape Raoul and ate our last dinner as we reminisced together about the adventures that had brought us together around this extraordinary island. In the late evening we came to rest at our final anchor point, Ralphs Bay, just a few kilometres downstream from Nipaluna/Hobart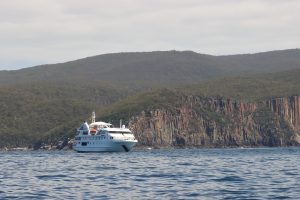 Day 17:Nipaluna/Hobart
17 January 2023
We weighed anchor in the early morning for our final steam up the Derwent Estuary into Nipaluna/Hobart where we bade farewell to our crew and fellow passengers before going our separate ways with fond memories of an extraordinary 17 days of spectacular scenery, wonderful food and great companionship, already planning our next Coral Expeditions adventure.