Understanding the remarkable lands of Northern Australia with Ian Morris
The remote northern Australian coastline between Cairns & Broome is a place of diversity, with an amazing history in both geomorphology and in human terms, but this history is little-known by average Australians. Coral Expeditions, with its specialised vessels, focusses on getting its guests to as many points along the coastline and adjacent islands as possible on each expedition. It is one thing to experience and observe the unique natural characteristics of each site visited, but to learn how these locations have evolved and changed over time and how humans have arrived, survived, interacted and managed them gives a much greater meaning to the visit. In some cases, we can meet up with the various traditional owner groups and learn first-hand of those ancient relationships between people and their land.
My involvement with this coastline began as a young boy, when members of my family were involved with rebuilding and developing the indigenous coastal communities which were bombed by the Japanese during WW2. From time to time, Yolngu children from Arnhem Land would join me at my school in Sydney during the 1960s and in return, this gave me the chance to join their families and get a window into their traditional education system back in Arnhem Land. This childhood experience became my most valuable education qualification in later life. I became transfixed with the knowledgeable way these people related to their 'country'. It looked after them if they looked after it!
While at the UNSW School of Zoology, I was fortunate enough to be included in a marsupial research team which carried out a survey in the rainforests of the Iron Range on Cape York Peninsula. This work brought home to me the relationships of tropical forest communities across our north and into southern New Guinea. The area had also, for the greater part of human history, been under the guardianship of three very different cultures – Aboriginal people for mainland Australia, Islanders for the Torres Straits and their Melanesian relatives on mainland New Guinea. Modern science had much to learn about this tropical ecology, which was already well known and embedded in other languages. During that rather enriching experience, we were able to discover two new species of native forest mammals for Australia – the Cinnamon Antechinus Antechinus leo and the Spiny-haired Bandicoot Echymipera rufescens australis.
Having had the privilege of enjoying the Arnhem environment and society for most of my life, I began to look for ways of sharing this experience with other Australians. I felt a responsibility to help the wider world to appreciate why and how Indigenous people had maintained and protected the natural ecosystems of Australia for so long. More and more of my own countrymen and women were becoming aware that they hadn't been taught the right story of Australia and were searching for the real story. At the same time, I held a fear that mainstream tourism had the potential to destroy the last few remaining traditional strongholds of Aboriginal Australia today. Coral Expeditions turned that fear around, as I will explain further on.
As a young teenager, I was taught by a senior Yolngu mentor, David Burrumarra, that his clan group, the Warramiri people, once lived on the shores of a big 'freshwater ocean' to the east of Elcho Island. Then, a big saltwater inundation caused them to move away to higher ground to the west. The English Company Islands and the Wessel Islands, now surrounded by the Arafura Sea, are the major part of Burrumarra's clan estate. Unbeknown to me at the time, he was referring to the final stages of the last glacial melt.
Cape York and Arnhem Land are today separated by a large body of ocean called the Gulf of Carpentaria. Current research is now showing us that the final stages of the last sea level rise caused one of Australia's largest and richest freshwater bodies, Lake Carpentaria, to be inundated by the rising ocean. It caused the Warramiri and many other clan groups to be pushed up into other clan estates where they didn't have hunting rites. It eventually reached our present sea level approximately four thousand years ago. It caused not only a change of diet, but an extended period of physical displacement and social upheaval. The people could only survive on marine organisms like shellfish, sharks and rays, etc. which followed them to higher ground. Slowly social stability returned as their children married out into mainland clans. Many more details in this ancient story are preserved in the oral histories of today's 'Saltwater People'. At the same time, going to school in Sydney, I was taught that Aborigines were 'nomads' and had no written language and therefore no recorded evidence of their history.
Today, the Warramiri are proud of their historic association with the 'Freshwater Ocean' and the special creatures which helped them to survive the great saltwater intrusion, such as the Giant Clam, the Octopus, the Humpback Whale, the Stingray and the Surgeonfish. Images of these symbolic creatures today decorate the sandstone caves and overhangs of the Arnhem coastline. On arrival after WW2, my aunt & uncle were absorbed into the Warramiri Clan, one of over thirty clans in the East Arnhem Region. That association continues to this day and several generations have now flowed into the modern world. All traditionally-born people have now gone, marking the end of a sixty-five-thousand-year dynasty. I consider myself very fortunate to have caught the last of the traditional era, who handed us a continent in very good condition, due to their policy of 'fitting in' rather than 'modifying to suit'. The last 250 years shows us that we still don't get it!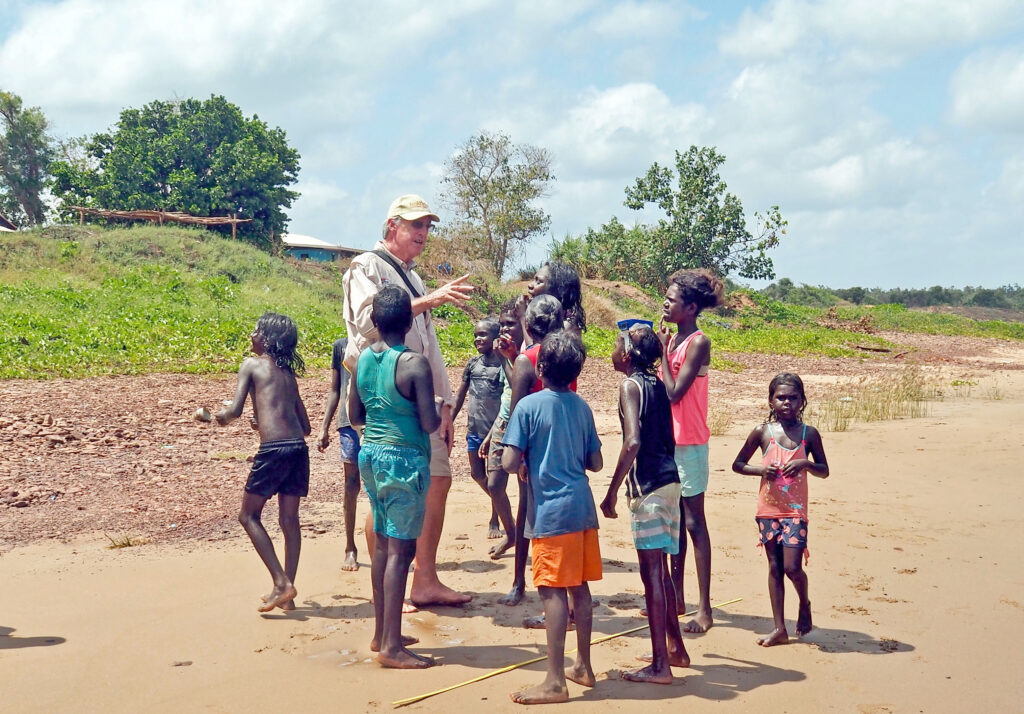 As a science teacher, my education continued. Shepherdson College, which was the largest Aboriginal school in Australia at the time, welcomed me in as a 'Balanda' (non-indigenous) teacher and I still maintain that I learned more than I taught. It was a bilingual school where outside teachers were required to learn and teach in the local languages before they were considered 'proper teachers.' That took me about three years to master and in the meantime, we were assisted in our teaching by a community 'teaching assistant' for accurate translation both ways. We were also encouraged to involve the community in our teaching programs. Many of our teaching assistants from that period went on and became fully qualified teachers themselves. I look back on those years as perhaps the best part of my life! I retain a strong contact with many of my former students.
Following those East Arnhem teaching years, I was asked by the Australian National Parks & Wildlife Service to formulate and implement a ranger training program amongst the indigenous homeland groups of what was to become Kakadu National Park. The discovery of uranium in west Arnhem Land brought many environmental and social changes to that part of Australia. That program kept me busy for the next ten years, using all the knowledge that the coastal people had generously passed on to me, combined with the quite different experience of the Gagudju people, blended with modern park management practices. During that time, my trainees and I were able to assist the Navy in managing coastal & offshore coastal nature reserves on the Kimberley coast as far out as Ashmore Reef. We rarely saw another vessel around the bays and islands of that beautiful coastline! It always amazed me that there were virtually no tourist operations on what I thought were some of the most remote and beautiful areas on the Australian coastline!
I reached a point in my life where I needed to sit back and pull together all natural and social aspects of my experience and begin formulating programs for parks interpretation and indigenous education. Based in Darwin, I was able to move about the Arnhem and Kimberley communities, working in schools and with community ranger groups. This included the Bunuba rangers from the Fitzroy River, who were venturing into cultural tourism. This helped me to understand that 'tourism' could actually work in favour of Aboriginal groups if conditions were favourable. I became involved with Go Bush Safaris who began taking small groups of eco-tourists into the remote Kimberley in conjunction with traditional owner groups. These safaris quickly became very popular with both the Aboriginal communities and the safarists from other parts of Australia.
In the late 90s, I was contacted by a man named Tony Briggs who told me he was about to expand his operation from the East Coast to begin Kimberley coastal expeditions in his vessel Coral Expeditions I. I was pleased that ordinary Australians would be able to access & enjoy this remote & unique coastline. I sent him a list of locations and information between Darwin and Broome which I thought his guests would enjoy. He asked me if I would like to join his expeditions as a guest lecturer. I gratefully declined, explaining that I was pretty busy and tourism wasn't really my scene. To cut a long story short, after many phone calls, I reluctantly went aboard for a Kimberley cruise and was quite frankly amazed with the whole thing! This wasn't just a holiday cruise to escape the busy world. His passengers were all keen to learn more about this little-known coastline, its evolutionary history, natural and most importantly, its human history. It gave me a way of sharing my experiences with tropical wildlife, indigenous countrymen, ancient land management patterns and much more. Even better, we went ashore with the assistance of specialised staff and vessels and actually met and experienced places and the people who had managed them for so long. I realised that this was an aspect of tourism which, under these conditions, could benefit both visitors and the traditional owners. I told Tony  that while ever he conducted this kind of expedition and promoting indigenous people, he had my support.
Looking back over the last twenty years or so, Coral Expeditions has constantly improved its product and grown its fleet and footprint whilst still maintaining the original values of respecting and sharing the region with curious travellers. As Coral Expeditions now enters its 40th year of operation am now even more enthusiastic about helping the guests to get a deepest possible understanding of our remarkable landscapes while enjoying the maximum holiday experience. In 2023 I will be fortunate to be onboard regular sailings across Cape York and Arnhem Land, the Kimberley, Papua New Guinea and also into the Spice Island region of West Papua.
Interview with Ian Morris – The Spirit Of Coral Expeditions
The spirit of Coral Expeditions lives through expedition team members like Ian Morris.  Ian is a biologist, author and conservationist who is one of Australia's most acclaimed naturalists. With a long history of working with the traditional owners of the Kimberley and Arnhem Land, Ian has an abiding love for the Top End. He also has a deep interest in the cultures and wildlife of Sulawesi and the Spice Islands. Ian has been part of Coral Expeditions for more than 15 years. Through these years, his intellectual curiosity and excitement at taking our guests to his favourite places continue unabated.