The Coral Expeditions Fleet Comes Home
31 March 2020
#TogetherAtHome
For us at Coral Expeditions, in the midst of the unfolding and uncertain situation our communities are facing, it is a joy and comfort to have all our ships at home.
Moored beside Trinity Wharf waits Coral Discoverer, her small but elegant bow tucked in among the yachts and fishing boats that are tied up alongside her. Not used to being in port for quite so long and more used to the open sea and the rugged cliffs of the Kimberley and Tasmania, she patiently awaits her next adventure. Coral Discoverer arrived from her Tasmania season a week ago, and her crew have spent that time unpacking and scheduling maintenance for the period of time that she is off duty.
Coral Adventurer, having travelled many nautical miles to return home due to the crisis, spent last night anchored off False Cape near Trinity Inlet.  At midday today, she arrived into Port, where there was a collective moment of relief and gratitude from those of us who know and love her. Having travelled through the islands of Indonesia to Darwin, Coral Adventurer brought all crew and guests safely back to Australian shores, before sailing for Cairns. She will also undertake a period of maintenance and onboard duties by a small group of dedicated crew members who will stay aboard to look after her.
While this is a difficult time for Coral Expeditions, and indeed for all travel companies, it is wonderful to have our expedition ships moored a mere 3.5 kilometres from our offices. Many of our staff are working from home, from where the business of planning and making expedition experiences possible continues. Captain Jacopo Barchetti, who commanded Coral Adventurer on her voyages through Indonesia and home again, can't wait to return to the sea. "Waking up every morning, going to the bridge and taking our beautiful ship to those destinations, is a challenge but a rewarding and exciting experience. I can only say that after more than two years with the company, every cruise feels like an adventure."
Many of our loyal guests will be glad to hear that our ships are home with us, and that everyone on board has returned home healthy and safe.  We look forward to providing you with more updates as we carry out maintenance, training, and planning while we wait for the moment we can again cross the horizon.
Master of Coral Adventurer; Jacopo Barchetti (also known as "JB"), captured these great shots of the crew enjoying their evening overlook mangroves while anchored off False Cape near Trinity Inlet, and the excitement once the ship came to port.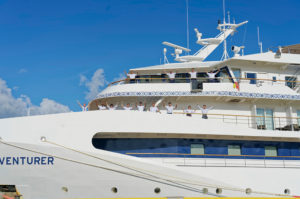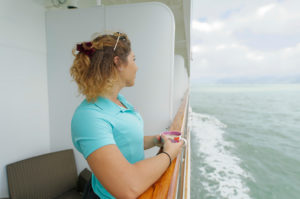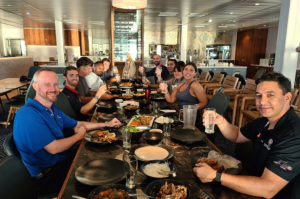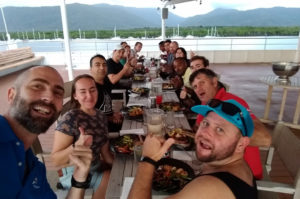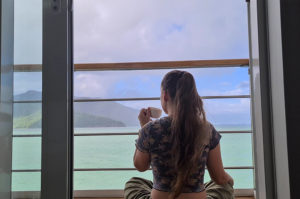 Photojournalist Brian Cassey was at Cairns Marlin Marina as Coral Adventurer made her way into port, and captured these great shots.