LIZARD ISLAND FOR TRUE EXPLORERS
Lizard Island and its surrounding coral reefs form one of the Great Barrier Reef's most treasured marine areas. White sand and grassland meet blue skies and even bluer seas on this remote tropical island that combines mesmerising reef encounters with historical significance.
WHERE IS LIZARD ISLAND?
Lizard Island lies 240 km north of Cairns,  with three smaller islands nearby (Palfrey, South and Bird). Together these islands form the Lizard Island Group and their well-developed fringing reef encircles a 10-metre deep Blue Lagoon.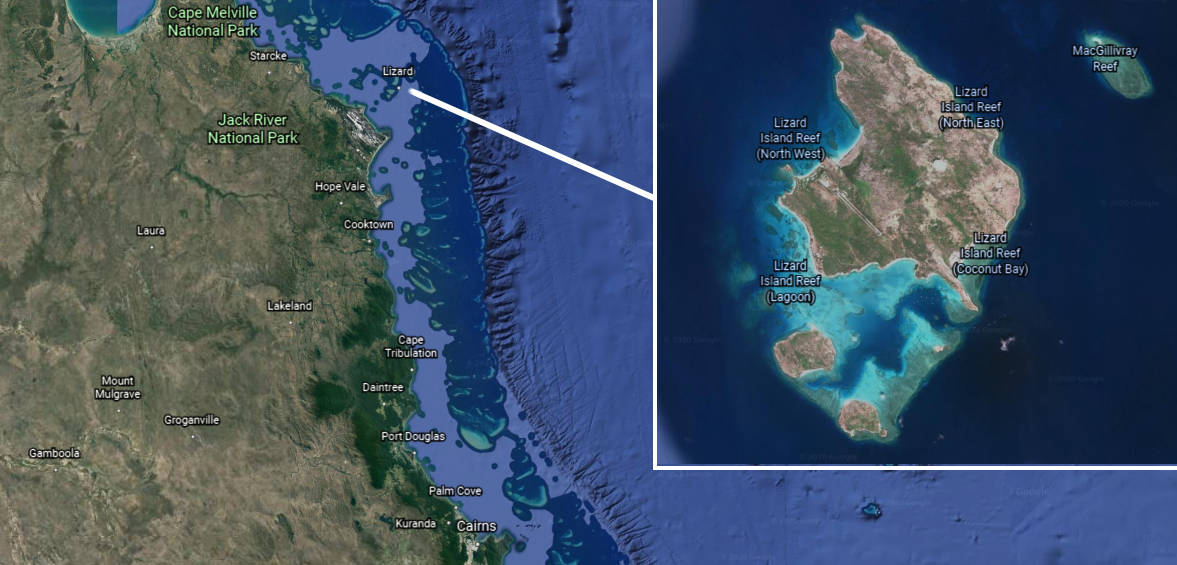 WHY IS IT CALLED LIZARD ISLAND?
When British explorer James Cook discovered and named this island off the Australian coast in 1770, he noted that large monitor lizards were pretty much the only creatures inhabiting the island. It hasn't changed much since. The most commonly found lizard on Lizard Island is the yellow-spotted monitor (Varanus panoptes).
THINGS TO DO ON LIZARD ISLAND:
Follow in the footsteps of James Cook on a hike to the summit of Lizard Island
Snorkel over giant clam gardens steps from the sandy white shore of Watson's Bay
Visit the Australian  Museum's Lizard Island Research Station
HIKING COOK'S LOOK
Start the day at Lizard Island with a heart-pumping hike to the summit of Cook's Look and take in the same panoramic view British explorer James Cook did when searching for safe passage through the maze of coral reefs.
Trekking past rocky tourmaline outcrops and paperbark trees gnarled and twisted by southeast trade wind, expect to sight the islands' namesake monitor lizards and yellow-bellied sunbirds flitting through fronds of purple kangaroo grass.
From 360m above sea level, gaze northwards at the horizon to where Cook had first seen the monstrous 'labyrinth' of reefs that threatened to entrap his crew, and spot Lizard Island's twenty-four white sand beaches meeting the South Pacific Ocean and the Coral Sea.

SWIMMING AND SNORKELLING AT LIZARD ISLAND
Spend the afternoon snorkelling the tranquil turquoise waters of the Clam Gardens at Watsons Bay to see an array of reef fish, the garden of enormous giant clams gardens, colourful coral, stingrays and turtles.
Set amidst the largest reef system in the world with one of the richest varieties of marine life, snorkelling and diving off Lizard Island is extraordinary.
MINGLING WITH SCIENTISTS
For those interested in the latest insights into reef conservation, don't miss the opportunity to visit the world-famous Lizard Island Research Station operated by the Australian Museum to facilitate coral reef research and education on the Great Barrier Reef.
A guided tour of the Lizard Island Research Station is a special bonus, from where visiting and resident scientists, naturalists and conservationists come to undertake important studies into coral and reef biology. The best-equipped on the Great Barrier Reef and one of the most renowned in the world, come here to learn about the significant research and reef recovery operation underway.
HOW CAN YOU VISIT LIZARD ISLAND?
Join a small ship expedition to have expert guides share their knowledge above and below the water, bringing you close to the natural wonders and wildlife and giving you a deep understanding of this precious destination. A 7-night expedition voyage to Australia's northern Great Barrier Reef is an ideal way to take in the cultural history, marine wildlife, and rainforest and mangrove ecosystems of this remote and biodiverse region.
Direct flights operate to Cairns from all Australian state capitals. Private transfers are organised by Coral Expeditions from the airport to Trinity Wharf to board yacht-like Coral Discoverer for an immersive adventure to the remote and untouched Northern reef.