Dylan Hodgins
Lead Chef
Growing up in Far North Queensland, Dylan began his cooking journey here. Upon completing his 3-year chef apprenticeship he wanted to travel and work as a chef. This is what lead him to apply for his role with Coral Expeditions. Dylan was able to progress his career whilst travelling across both Australia and internationally. "I knew that this job would give me great experience and open-doors ways later on in my career."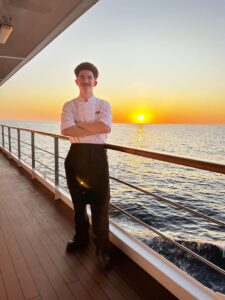 Dylan has been with Coral Expeditions over one year now, working as a commis chef for 4 months and then moving into the lead chef role. Dylan led the galley team across the entire 60 days of our recent Circumnavigation of Australian to much acclaim from guests and crew which was a great accomplishment. His role within the team is to lead services, predominantly lunch and dinner, and to instruct each member of the galley team on what is required from them each day. Dylan also notes the most important aspect for him in his role is creating a work environment that people are happy and want to work hard.
Day to day you can find Dylan writing the daily rosters to ensure everyone has an equal work balance, creating daily mis en place lists for each chef, adhering to the guests dietary requirements and alter menus to suit these needs. Dylan also liaises with the Front of House Crew and Expedition Crew when creating his menu plans to ensure these are printed and prepared for the following days service. On top of all this Dylan is also responsible for training his staff in their roles, making sure they are comfortable and competent with their position. Our lead chef team monitor their equipment daily, ensure cleaning schedules are complete, and update ordering and monthly stock takes.
Dylan mentioned his favourite thing about his role is making sure that each guest goes to bed well fed and enjoys their meals. "My favourite thing about working with Coral Expeditions would either be the beautiful places that we explore or the amazing crew that I get to work with who create for myself a home away from home."
In his spare time, Dylan enjoys travelling and making the most of the chance to spend time with his family and friends. In his down time he also likes too recharge the batteries, ready for his next expedition and swing onboard.  Dylan' also spends a lot of his spare time cooking (big surprise there!) , exercising when he can, and has recently taken an interest in diving, a new found hobby of his.
Fun Fact – Dylan is only twenty years old but has an amazing passion for food and everything to do with hospitality.