My family began an association with coastal Arnhem Land after the 2nd World War. An uncle, Dave Morris, who managed to survive the war in Changi Prison Camp, was asked after his recovery to use his engineering skills to help rebuild the coastal Arnhem communities which were heavily bombed by Japanese Zeros. In the process, Dave and his wife were absorbed into the Yolngu kinship system by the Warramiri and Golumala Clans of NE Arnhem Land and enjoyed the long-term benefits of that society for the rest of their lives. In later years, Dave became the superintendent of the newly constructed Galiwinku community on Elcho Island.
Without going into too much detail, once they were allotted social status, my aunt and uncle followed the rules of their new society. As Dave's nephew from Sydney, I was handed on to a 'classificatory' Yolngu uncle (mother's brother) from the Golumala clan, whose job it was to mentor his sister's children (my mother category) in a traditional way which makes the clan proud. This uncle took his appointed responsibility towards me very seriously all his life and as a result, I received a traditional education that money couldn't buy! This man was Goyma's maternal grandfather. I now have those same responsibilities towards many young Yolngu boys and girls. It is the traditional way for me to repay that man for my education. My university years pale into insignificance against his teachings. Coral Expeditions has given me an ideal way to repay these people. Goyma, who is classified as 'son' to me is one of many of my uncle's succeeding generations that I have been able to assist, primarily with a good education.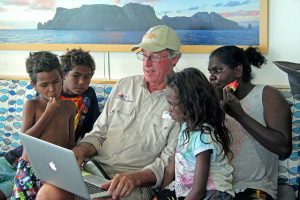 Responsibility for your clan country (estate) is inherited from the father's line, but a separate 'spiritual' responsibility comes from mother's country, which is geographically separate from father's country. Social status (skin) comes through the mother's line, not from the father. The mother leaves her country when she marries and raises the children on father's country, but they are all expected to return to mother's country periodically for ceremonial responsibilities, etc. The understanding is that if you are a good person and look after your patrilineal land, it will look after you and make your clan proud.
Over time, I have taken a variety of Yolngu children from Arnhem communities on Cape York & Arnhem Land expeditions to help our guests appreciate the unique culture of these people. The first time I brought Goyma aboard with his little cousin Daynganngan (nickname 'Monkey'), both from Elcho Island, they taught the guests the dances that young people learn on their passage to adulthood. Many of the guests happily joined in.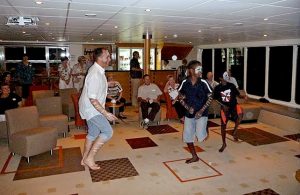 It became clear in those early days that our guests were mostly Australians who knew there was a lot more to our Aboriginal culture than they had been taught and wanted to learn more, particularly when they were in a remote part of the country where traditional life was still active. They were also encouraged to ask questions when ashore in the communities. I feel that this is a big driving reason for the popularity of our Kimberley and Cape York & Arnhem Land expeditions. I also think that this is the primary reason why other larger cruise companies have not been able to move on to our northern coastline. They simply do not have or understand that connection.
As Goyma grew up and his confidence increased, he could see a role for himself to complement what I was doing, and he began as my Assistant Guest Lecturer. From my point of view, it was good to include a local perspective in my presentations as I would often pass the mic to Goyma. It wasn't long before they put Goyma on his own expeditions which he thoroughly enjoys, so I've been able to give him some of my basic presentations, which he then modifies to suit his own personal perspective. We have had a number of indigenous guest lecturers over the years, but it is normally very difficult for these people to speak in other people's territory. Goyma, on the other hand, enjoys asking the various traditional landowners what cultural information they would like passed on to the visitors, on their behalf.
At the various northern communities that Coral Expeditions visits, Goyma has friends, relatives, schoolmates, and other connections. He enjoys linking guests and crew with these associates and the benefits are mutual. Yolngu people love the opportunity to share stories and market their arts and crafts. Remote communities do not often get the chance to do this and marketing their own goods means that they are less dependent on external 'middle marketing' or social welfare. The guests clearly like buying directly from the artists. There are also times when we can welcome groups aboard our vessel where they get a chance to see how we travel. This gives me the chance to go over my presentations with them and they get the chance to add cultural information about themselves to broaden the picture. Goyma does this now too. He is also an encouragement to the younger Yolngu kids to get involved with tourism. The local community is very proud of him.
One of the main reasons I work for Coral Expeditions is because of the company's attitude towards Australia's cultural heritage. Allowing me to bring indigenous people aboard to tell their stories is like opening a new door in the tourist industry. Our guests reinforce this privilege. It is my hope that one day we will have more indigenous guest lecturers and I feel that Goyma is setting a good example.