Guest Lecturer Ray Andrews
An accomplished author, guide, public speaker and broadcaster, Ray Andrews is the travel companion to have by your side when you're looking to add depth and wonder to your travels.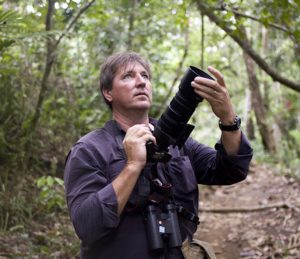 He is the author of several natural history books on Australia, is the founder of The Geographic Extremes Society, and a popular presenter of talks, podcasts and broadcasts that explore all aspects of Australia's natural history. Moreover, Ray is a passionate narrator who uses his widespread knowledge and relaxed approach to bring the curiosities of the Australian bush to life.
His initial studies focussed on botany, Ray has since also accumulated over three decades of practical, first-hand experience travelling and working across all parts of Australia and the South Pacific. He's worked in settings as diverse as the remote highland villages of Papua New Guinea to the luxury lodges of Australia, also adding to his insatiable quest for knowledge and adventure.
A passionate and articulate travelling companion, Ray's real gift lies in his ability to help people uncover their own natural curiosity in a way that is effortless and uncontrived. Enhanced by an encyclopaedic knowledge of all aspects of natural history, his approach is nevertheless conversational, thought-provoking, and inspiring, energised by his own contagious fascination with the world around him. He can inspire on topics as diverse as birds and wildlife, to geology, botany, history, geography, politics and culture, and he doesn't mind debriefing the day's adventures over a cold beer or a glass of great Australian wine at the end of the day.
For those looking to get the most out of their travels, to expand their understanding of the natural world, and to build wonder and fascination into their travels, Ray is the travel companion to help facilitate experiences and memories that will last a lifetime.