For thousands of years, Australia's Aboriginal and Torres Strait Islander people have passed down their stories and spirituality through spoken word and art, creating an unbroken lineage connecting people to place, culture and community.
Over decades, our exploration of Northern Australia's remote coastal communities has built a strong relationship with First Nations people of the region. That pioneering spirit and heritage of respect and sharing now sees us at the forefront of a global travel trend – regenerative tourism or 'travel for good'. Who would have thought we would be trendy?
Regenerative tourism explicitly aims to improve regional economies, preserve local cultures and protect biodiversity while offering memorable, authentic, life-changing experiences to guests. From our point of view, it is simply the type of travel experience that has been within our DNA since the beginning and is at the heart of our Cape York, Arnhem Land, Papua New Guinea and Torres Strait expeditions, and which has developed over four decades.
We are pleased to share some of our highlights and experiences in the Cape York, Arnhem Land & Torres Strait regions.
Culture & Art
A way to celebrate and share the art and traditions of some of most ancient, rich and enduring cultures in the world is to pay visits to the cultural and art centres at the heart of contemporary cultural practices today.
Though vibrant, active and globally significant, many of these centres are inaccessible to many due to their geographic remoteness and requirements for special visitor permission from the relevant Land Councils, Native Title bodies or community leaders. Through our ongoing relationships we are able to provide to an important platform for sharing art, culture and stories.

World-famous Maningrida Arts & Culture is based on Kunibídji country in Arnhem Land and its artists are celebrated across the globe. We visit both the Djómi Museum and the Babbarra Women's Centre, home to the exquisite Babbarra Designs hand-printed textiles. The Elders who share their stories through art provide a deepened perspective and cultural connection.
Badu Art Centre in the Torres Strait enables the people of Badu Island to renew, strengthen and express their culture while providing skills development and training that can lead to complete self-determination. Reflecting their strong cultural traditions, language and links to the sea, Badu artists produce works using a range of media including printmaking, etching, jewellery, textiles and carving.
Still in the Torres Strait, at Moa Arts on Moa Island, print, weaving and jewellery workshops with local artists are on offer. Moa Arts celebrates Mualgal art and culture and the living traditions of Zenadth Kes (the Torres Strait) which we are privileged to experience through a traditional dance and song performance.
The Gab Titui Cultural Centre is a contemporary art gallery and keeping place for cultural artefacts located on Thursday Island – land of the Kaurareg nation, the traditional custodians of the Kaiwalagal region (Inner Islands) of the Torres Strait. Their goal is to preserve, revitalise and develop the region's rich cultures and their changing program of exhibitions includes sculptures, headdresses, intricate lino-cut prints, wood carvings and paintings, as well as jewellery made from local materials such as pearl and seashells.
Buku-Larrnggay Mulka Centre is an Indigenous community-controlled art centre of Northeast Arnhem Land located in Yirrkala. In the 1950s, Yirrkala art is believed to have been the catalyst for the non-Aboriginal art world's realisation that Indigenous Australian art is a unique and profound independent art tradition – the equal of any other global form. Established in 1976 as an act of self-determination, the Buku Art Centre centre has forged a vibrant path for Yolŋu contemporary art and represents Yolŋu artists from around the region as well as housing important historical artefacts.
Elcho Island Arts is a Yolŋu-owned art centre located in Galiwin'ku off the north-east coast of East Arnhem Land. The community's artists are renowned for their originality in design and knowledge of traditional bush materials, continuing a tradition of many thousands of years. Their artworks, weavings, fibre art, carvings and ceremonial poles are widely exhibited worldwide including at the Louvre in Paris. The works exhibited here include Morning Star poles, larrakitj or dupan, bark paintings, yidaki (didjeridu), woven pandanus baskets, carvings and shell jewellery. Their fibre art is particularly prominent, with grasses and fibres dyed and woven together to form baskets, dilly bags, mats, fishing nets and jewellery.
The remote and culturally rich Tiwi Islands off the coast of Darwin are home to a number of art centres including Ngaruwanajirri at Wurrumiyanga on Bathurst Island. Ngaruwanajirri, which means 'helping one another' in Tiwi, was established in 1994 originally for disabled Tiwi residents but now includes all artists. Art created includes natural ochre paintings on paper and canvas, batik on silk, lino prints on paper and fabric and ironwood carvings. Many paintings and carvings from Ngaruwanajirri, including tutini poles for Pukumani ceremonies, are found in private collections and galleries across the world.

Local economies
Every engagement with local businesses, communities, art centres and individuals contributes to financial independence now and for future generations. Economic opportunities are often few and far between, and the guests who visit in person make a real contribution.
When it comes to artworks, most centres encourage collectors to purchase direct from the art centres. This not only ensures authenticity and provenance of the artwork, but importantly it maximises the income to the artist. And in larger centres like Thursday Island there's an opportunity to support the wider community by exploring and shopping at local stores during our shore visit.
Global Awareness
Over the past 5 years Coral Expeditions has been a major partner of the annual Cairns Indigenous Art Fair. Specifically, we get behind the 'Curators and Collectors' program which bring private and institutional buyers into the event with a view to collecting art and curating exhibitions on a global scale which in turn creates long term benefits for the culture and community. We have also been a major purchaser of artworks for permanent display onboard our vessels to add to the expedition experience of our guests.
Onboard Connection
At sea, our Art Themed Cruises through Cape York and Arnhem Land are proud to welcome Guest Artists who provide insight and interpretation on shore excursions, and host art workshops on board. These are uniquely personal opportunities to learn more about the stories, culture, techniques and traditions of each artist and to produce a piece of art to remember the expedition by.
In our current expedition schedule, we are delighted to collaborate with three experienced Torres Strait artists whose passion and artistry is both inspiring and infectious.
Brian Robinson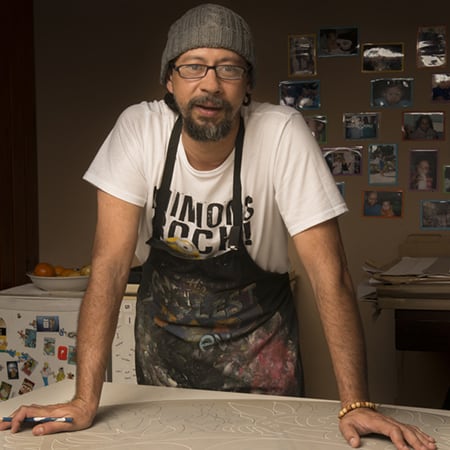 Brian Robinson is an internationally renowned Torres Strait artist whose iconic works – including The Woven Fish and Citizens Gateway to the Great Barrier Reef – are arguably among the most iconic and photographed landmarks in Cairns. Born on Waiben (Thursday Island) and now based in Cairns, Brian is known for his bold, innovative printmaking and public sculptures which often reflect the tropical marine environment and its intricate connection to the culture and traditions of Torres Strait Islander people.
Brian's public art commissions can be seen across Australia and his Athletes Parade Track was one of the triumphs of the Commonwealth Games opening ceremony on the Gold Coast in 2018. His works are exhibited and collected around the world, but he remains deeply connected to his community and is a sought-after speaker and advocate for arts and culture.
Brian's relationship with Coral Expeditions is particularly special. Not only has he joined several of our art voyages since 2017, but he also designed our distinctive logo. To learn more about the process of bringing our logo to life, read our article Behind the Coral Expeditions Logo.
Laurie Nona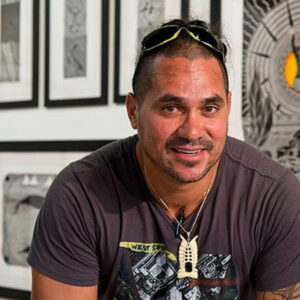 Laurie Nona has lived on Badu Island in the Torres Strait all his life and his work shows his deep connections to, and recognition of the importance of island culture. His intricate work – predominantly linocut, copper plate etching and carving – expresses the relationships between ocean creatures, the skies and winds, storms and currents and the islands of the Torres Strait. The turtle and the dugong are frequently referenced in his work as are his unique signature symbols.
Laurie's work has been collected by the National Gallery of Australia since the 1990s and exhibited widely across the country.
A true leader at heart, 'Uncle Laurie' is revered across the Torres Strait and his passion for Badu Island, its way of life and future generations is evident in every aspect of his life. Laurie is not only General Manager of Badu Art Centre, but also a Torres Strait Island Regional Councillor for Badu Island and Chair of the Mura Badulgal (Torres Strait Islanders) Registered Native Title body corporate.
David Bosun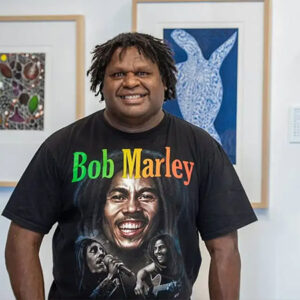 David Bosun grew up on Moa (Mua) Island – the second largest island in the Torres Strait – and is from the Wug community. From the age of four he practised traditional dancing and singing and at school became fascinated by art and drawing.
In 2000, David was chosen by elders as one of four artists assigned to recording stories in the form of printmaking. Since the loss of material culture to missionaries and collectors a century earlier, this marked the first time that traditional stories had taken visual form and celebrated the rich cultural heritage and distinctiveness of Mualgal culture.
David was a founding member of the Mualgau Minaral Artist Collective – now known as Moa Arts – where he is a senior artist and leading practitioner of the printmaking traditions of the Zenadh Kes (Torres Strait). His work reflects Melanesian influences and is known for its strong figurative imagery and intricate design.
His work is exhibited in collections across Australia including National Gallery of Australia, at the Victoria & Albert Museum and Cambridge University Museum in the UK as well as the Kluge-Ruhe Collection at the University of Virginia, Charlottesville USA, where he has spent time as a guest lecturer and artist in residence.
To learn more about our Cape York, Torres Strait & Arnhmeland expeditions and to view live availability or book online, visit https://www.coralexpeditions.com/au/destinations/cape-york-arnhem-land/darwin-cairns-art-expedition/