We are delighted to announce the return of two exceptional artists, Paulina Puruntatameri and Carol Puruntatameri, who will be joining us once again for the 2023 'Best of the Kimberley and Tiwi Islands' expedition aboard Coral Discoverer. This is an extraordinary opportunity to engage in artistic exploration and cultural immersion as you learn from these talented artists during their onboard art workshops.  
Paulina and Carol's presence as special guest artists on our previous expeditions in October 2022 through Cape York & Arnhem Land left an indelible mark on our guests. Their immersive workshops provided a unique platform for guests to explore the art forms of lino-cutting, paper printing, and more, guided by the wealth of knowledge and experience shared by these accomplished artists. 
As you embark on the 'Best of the Kimberley and Tiwi Islands' expedition, you will have the chance to learn from Paulina and Carol, gaining insights into their artistic processes and the cultural significance of their creations. Under their expert guidance, you have the opportunity to develop your own skills and create personal artworks inspired by the landscapes and cultural connections you make along the way.  
 Best of the Kimberley and Tiwi Islands 
Departs Darwin & Broome | 10 Nights
With fewer than 70 guests, this 10-night journey will connect you with the vibrant modern culture of the Tiwi Islands and take in the vast Kimberley coast and its ancient rock art galleries dating back over 40,000 years. Visit a local co-operative gallery at Munupi Arts Centre where guests can purchase art at the source, participate in workshops and view cultural performances.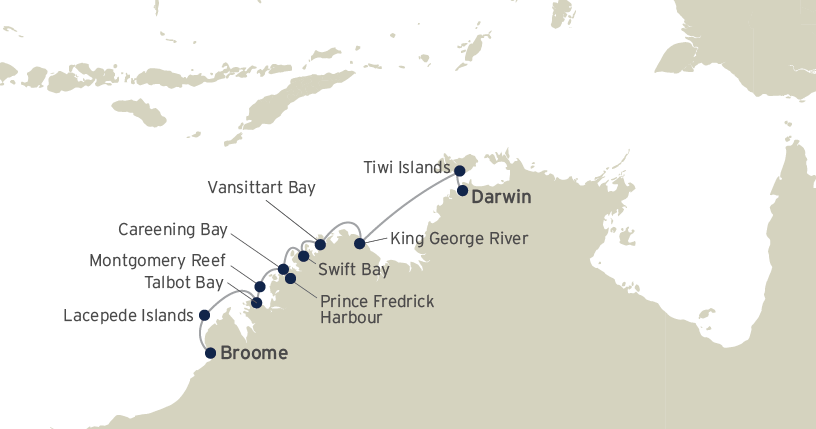 Cape York & Arnhem Land Voyage Diary
Friday 7th October 2022 | Day:3 – Arafura Sea
"Paulina Puruntatmeri and Carol Puruntatmeri on the Bridge Deck Lounge for their first art workshop, an introduction to the medium (ochre) used by the Tiwi artists and people. The guests had the chance to learn how the different ochres are used and how different ochres are used to mix with water that makes it a different colour." – Goyma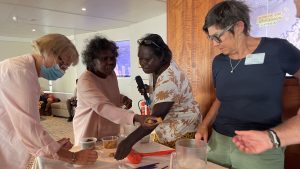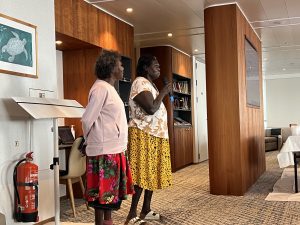 Sunday 9th October 2022 | Day:5 – Gulf of Carpentaria
"Our day on the ship in the middle of Gulf of Carpentaria started off with our guest artists Paulina and Carol Puruntatameriin the dining room teaching the guests about some of the painting techniques used by the Tiwi artists, and how they used Ochre to make beautiful artwork and how they paint their faces for special events." – Goyma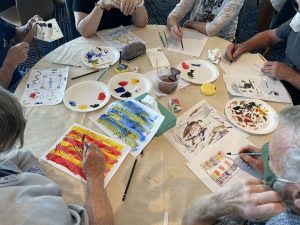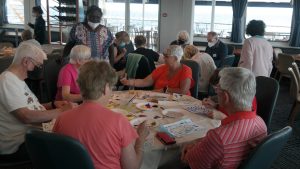 Monday 10th October 2022 | Day:6 – Tip of Australia Cape York
"After lunch the Tiwi resident artists, Paulina and Carol conducted the third of their art workshops. This had the guests using acrylic paints to create their own landscape views. A few of the house staff and expedition team joined in what was a fun session under the gentle tuition of the Tiwi ladies." – Joc