Media Release: Wednesday 25 October 2023
Coral Expeditions triumphs in 30th season in the Kimberley
Cruising the Australian Way affirmed as best in class.
Coral Expeditions, Australia's pioneering cruise line, has just wrapped up the final sailings of its 30th consecutive year of operations in the Kimberley and celebrates the best performance and highest guest sentiment ratings in the company's long and distinguished history in the region. It was a season for the ages with 52 departures between March and October hosting over 4000 passengers onboard and breaking new ground with the introduction of new art and culture themed itineraries. The company is proud to have achieved "excellent level 5/5" overall satisfaction rating from 96% of guest reviews and continued high acclaim from global travel partners.  
"This season has been a triumph for our crew, and they deserve our recognition and praise" said Managing Director Mark Fifield. "We have retained our focus and stepped it up to meet the challenges of an increasingly competitive landscape with many larger foreign flagged and crewed vessels converging on the Kimberley coast. The feedback we have received this year is impressive and holds us in good stead for the years ahead. It is the recognition from our guests that is the most rewarding accolade to achieve, and this feeds the passion and energy of our team." 
With the 2024 season looking to see even more foreign entrants trial sailings in the Kimberley, Coral Expeditions is intent on ensuring that the advantages of travelling with a locally flagged Australian expert expedition line are celebrated. This is what we call "The Australian Way", a culture that clearly differentiates Coral Expeditions from the competition. 
"It is the Australian Way that sets us apart" says Commercial Director Jeff Gillies. "For decades our reputation has been built on key foundations of a shared adventure between our guests and crew. These are practices and values that come so naturally to our team and have developed over time". "It is these ways that build the pride of our crew and ensure the satisfaction of our guests and we know that they will be impossible for others to replicate".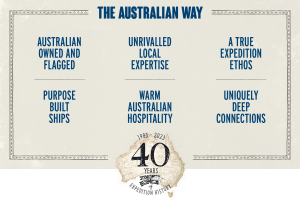 In the words of our guests: 
"We had real confidence knowing that you are an Australian company with a strong reputation and track record. There were many options, but Coral Expeditions stood out as a smart choice, and you did not let us down. Well done and we have already booked our next trip" 5/5 
"Your Xplorer boats are genius. It makes things so easy to get on and off the vessel regularly for the excursions and we never have to wait. We cruise ALOT and have never seen this type of set up. Comfortable, fast, shady and we love the running commentary from the crew. You are onto a winner here" 5/5 
"Your crew are simply the best. Such amazing young professionals who care for us like we are family. Always hard working and kind – their teamwork, attitude and attentiveness were outstanding. A joy to be a part of this experience. Congratulations and thanks for a wonderful voyage." 5/5 
"What we love most is the way we feel included in all aspects of the cruise and can see all of areas of the ship. We enjoyed sunrise coffee and chats with the officers in the bridge, getting below decks with the engine rooms tours and sharing lunch and dinner stories with such interesting experts. This is what an expedition is all about" 5/5 
Looking forward to the 2024 season: 
Coral Expeditions will continue to lead the way in the Kimberley with the largest deployment schedule spanning from the early arrival of the fleet in April through until early October.  
Highlights of the season will include: 
Waterfall Season – Spanning the the months of April and May promise to be spectacular with the annual big wet sure to deliver majestic flow across the many waterfalls cascading off the escarpment country. This is a special time of year with only a few of the local expedition fleet operating.  
Tropical Winter Season – Escape the cold of the southern states through June and July at the traditional peak Kimberley season. Warm weather and spectacular sunsets set the scene and the deep local knowledge and unique long-range Xplorer tenders will ensure we take guests to the secluded and special gems of the Kimberley.  
Whales of Springtime Season – During the springtime months from August to October, we will enjoy the annual whale migration and offer more new itineraries with our Art and Culture of the Kimberley and Tiwi Islands and our Kimberley Icons voyages which explore remote Ashmore Reef and the Rowley shoals for memorable aquatic snorkel and dive adventures. 
Special Offers for 2024 season: 
Travel Credits Offers of up to $1000 per person to assist with flights and accommodation. (Offers vary on sailing dates and cabin categories)

 

Sole Traveler – No Supplement Special now available across April, May and June on our Promenade and Explorer stateroom categories.
Our unique offers are open to guests booking direct, online or through your travel agent. 
## 
Find accompanying imagery HERE 
For media enquiries please contact: 
Jeff Gillies | Commercial Director
[email protected]
0418 415 581.
 
About Coral Expeditions
Recognised as Australia's longest established and most awarded expedition cruise operator, Coral Expeditions is Australia's pioneering cruise line offering a unique style of immersive expeditions. Starting with environmentally sensitive cruises on the Great Barrier Reef, 40 years later the fleet has grown to a purpose-built ocean-going fleet featuring the intimate Coral Discoverer and the advanced flagship vessels Coral Adventurer and sister ship Coral Geographer. All ships feature the company's trademark complement of multiple zodiacs and 'Xplorer' safari tender boats that take guests to shore quickly and comfortably.  Headquartered in Cairns, Coral Expeditions offers expedition cruises to the Great Barrier Reef, the Kimberley, Tasmania's wilderness coast, Cape York and Arnhem Land, New Zealand and further afield to the small Islands of Japan, New Guinea and the East Indies.
www.coralexpeditions.com