Day 1: Departing Hobart
1 Jan 2021
All guests were onboard Coral Discoverer at 4 pm after completing our SailSAFE and pre-boarding checks. The afternoon was spent enjoying delicious afternoon tea, settling into staterooms, exploring the ship, mustering for a safety drill and making introductions with the crew and fellow guests. At 6:15 pm we enjoyed Captains Welcome Drinks, courtesy of Captain Nathan, and learnt the itinerary for tomorrow from our Expedition Leader Alistair. Dinner at 7:15 pm was a delicious feast!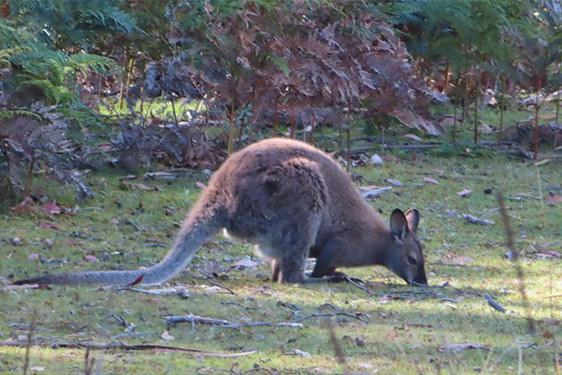 Day 2: Adventure Bay & Tasman Peninsular
2 Jan 2021
We awoke at 7 am to tuck into breakfast. By 8 am we were onboard the hydraulic lowering Xplorer tender heading out on our first adventure of the trip, to a location with a fitting name – Adventure Bay. The weather was good and our landings were smooth. Alistair and Tom took a group of guests for a walk along the trail to Grass Point while providing insights on the whaling and explorer history of the area. We finished the walk with a short steep climb to the first lookout overlooking the Fluted cape for some amazing views. Mike and Richard took the other guests for a cruise along the Fluted Cape and then to the Bligh Museum. The groups reconvened back aboard for morning tea and enjoyed an interesting and knowledgeable lecture about Tasmania from Mike. After lunch, Tom presented about the early explorers and their interactions with the Palawa. For the afternoon Tom and Mike shared the microphone telling stories and pointing out flora and fauna as we arrived at Tasman Island and Nathan took us through the gap before cruising along the stunning Tasman peninsular. Again pre-dinner drinks and dinner went down a treat. The BBC documentary Coast Tasmania played afterwards in the lounge.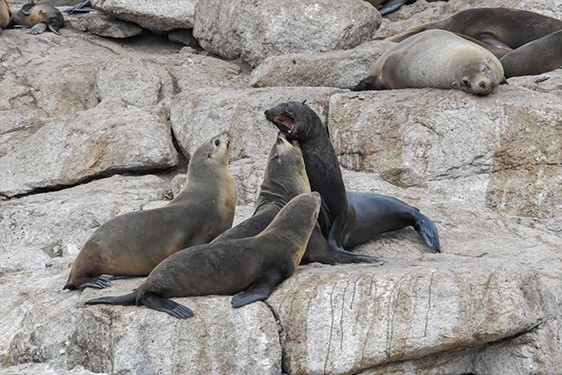 Day 3: Maria Island
3 Jan 2021
After brekkie, the Xplorer departed for Darlington. Alistair, Tom and Richard took guests who opted for the longer walk, and set off to the Fossil Cliffs. Stopping along the way at the various ruins, and finishing off with some free time to explore the settlement itself. Mike took the guests interested in the shorter walk option straight to Darlington. After lunch we walked the Reservoir circuit, which was a lovely easy walk through towering Blue Gums, Stringy Bark and Peppermint Gums. Some guests opted to cruise to the Painted Cliffs and then around under the Fossil Cliffs. Back onboard we cruised to Ile de Phoques and Nathan took us in for some up-close up views of the fur seals. At pre-dinner drinks Tom did a recap on isthmuses and after dinner Terrors of Tasmania playing upstairs in the lounge.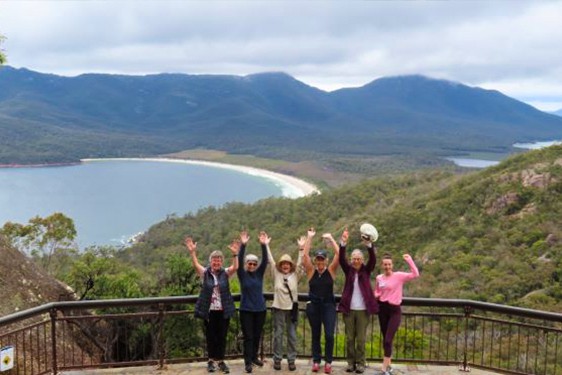 Day 4: Wineglass Bay, Freycinet
4 Jan 2021
After breakfast, 6 adventurous guests opted in for the long walk to the Wineglass Bay lookout. The weather was overcast with a little drizzle but that didn't scare off our intrepid 6. We had an easy landing at Hazards followed by a lovely walk across the isthmus. After some recent rain the wetlands in places were full of water, but we made the most of this as we enjoyed our walk with frogs and birds singing all around us. Once we were over the isthmus we began the hike to the lookout. Luckily by the time we got to the top, the cloud had lifted enough for excellent views of Wineglass. We headed down and met up with the rest of the guests who opted in for the shorter walk, and together we walked to the southern end of the beach for our pick up. After enjoying lunch back on board Coral Discoverer, we departed for a short walk on Schouten Island and met the current volunteer caretaker at Moreys Hut who was more than happy to have a chat with us. While we did that Mike took another group for a cruise. All guests reconvened back onboard for Mike's Whale presentation. After dinner, David Attenborough's Tasmania was playing upstairs.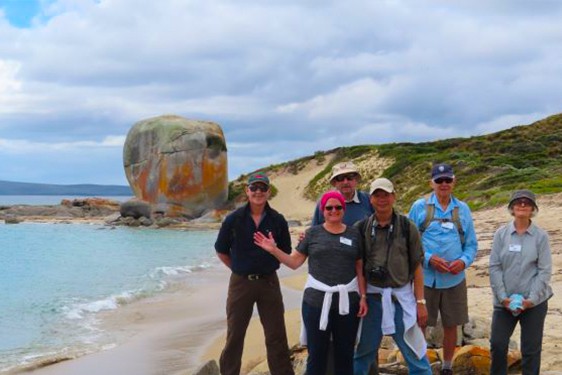 Day 5: Flinders
5 Jan 2021
After breakfast we departed for Settlement Point, where we boarded buses for Wybalenna to meet Michael Mansell. He was excellent and we spent a lot of time asking him questions. We also visited Furneaux Museum which was a fantastic little gem on a very remote island. After lunch a group of us went on the Castle rock walk and loved it. The other guests took tours of Finders with Tom, Mike and Richard and enjoyed seeing more of this remote part of the world. Pre-dinner drinks and dinner was enjoyed and Blue Planet 2 played afterwards.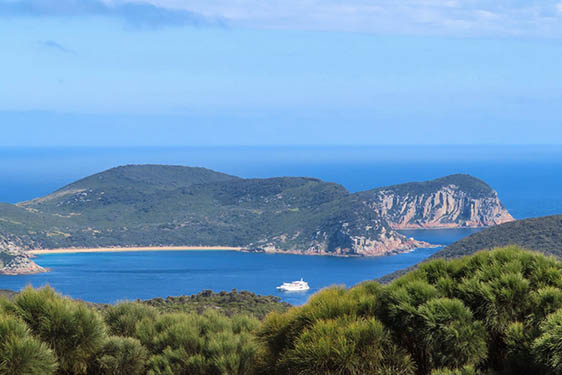 Day 6: Deal Island
6 Jan 2021
The weather today was good – Sunny, with a light breeze and little swell. We landed on the beach at Deal Island and hiked up the switchback path to the cottages where we met the island caretakers, a friendly couple by the names of Shane and Viki who were happy to stop for a chat. From there Mike and Richard took a group of guests to a little museum they have there, and then for an Xplorer cruise around the island. Tom, Eliza and Alistair took those guests eager for a longer walk to the lighthouse. It was a beautiful walk through casuarina forest. Steep for the last half but well worth it for the views. Guests learnt about the history of the lighthouse and the plane crash. In the afternoon we explored East Cove beach, spending time swimming and kayaking. The kayakers enjoyed themselves and when the guests were finished swimming Max took them, a few at a time, for a spin in the zodiac. Only a handful of guests came out to brave the chilly Bass Strait waters. Simon and Andrew held a Bridge tour for those that stayed aboard. The rest of the afternoon was spent cruising around the Kent Island group with some commentary from Mike and Tom about the geography, flora & fauna. After dinner Wild Tasmania played upstairs in the lounge.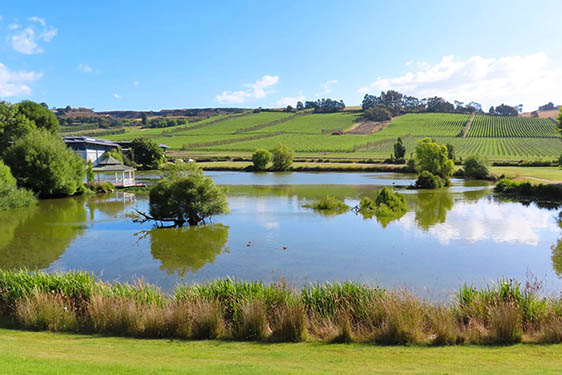 Day 7: Tamar River
7 Jan 2021
After breakfast, we departed for Platypus house and Seahorse world. The tours were interesting and the guides were great. After lunch we cruised to our next anchorage while Tom gave his presentation, Bass and Flinders Circumnavigation of Tasmania. In the evening we headed to Josef Chromy, where the scenery was gorgeous. We all sat for a tasting first. The two favourites were the chardy and the pino gris. Then came dinner which was amazing. Once we finished dinner we made our way back to the bus and Alistair did a next day brief on the way back to Coral Discoverer.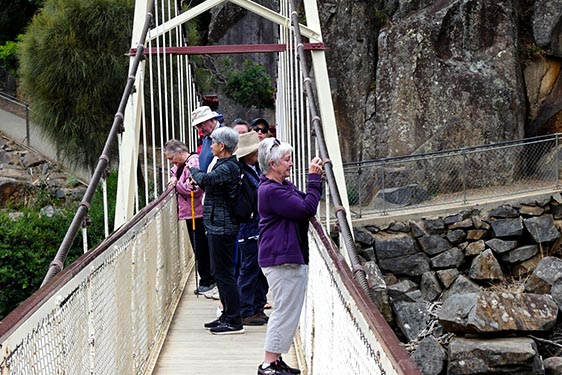 Day 8: Launceston & Low Head
8 Jan 2021
After an early breakfast,  the Xplorer departed for the Rosevears Pontoon to meet the bus taking us into Launceston. First we dropped off the guests who wanted to spend some time shopping in town, then made our way to Cataract Gorge. Once we arrived the guests had the option of going for a wander on their own or following Mike, Tom or Alistair. The scenery was lovely and the resident peacocks were very interesting. While we enjoyed lunch onboard Coral Discoverer, we cruised back up the Tamar and after lunch we departed for Low Head. Once we landed at the boat ramp we were met by a host of volunteers to greet us. We split in two – one group going straight to the museum and then to the café next door, while the other group walked to the lighthouse. The walk was perfect, not too long and well paved. Along the way our guide Peter stopped here and there to talk about the history of the area. At the lighthouse, there was another volunteer who also gave a talk. We spent a few minutes here before heading back to the museum. These tiny out of the way museums in Tassie continued to surprised us. The collections on display were fantastic – A great stop. The volunteers were great and so happy to have us there. After dinner Eliza hosted games night, many laughs were had.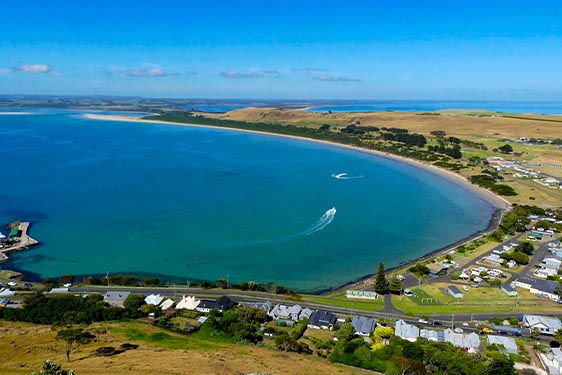 Day 9: Stanley
9 Jan 2021
At the tiny seaside village of Stanley, we stepped ashore for some free time exploring the town, and the Nut State Reserve. There, most guests used the chairlift and all enjoyed the views. Last night several guests asked if they could stay in town for lunch at a well-known crayfish restaurant here. After checking with Captain Nathan and our Hospitality Director Marcus, this option was offered to all the guests. A lot of guests ended up staying and having a lobster lunch. The rest came back to Coral Discoverer for lunch. The Xplorer departed again after lunch to head to Highfield, an interesting afternoon stop that told the history of the colonization of the north-west of Tasmania. We were all back on board for sunset drinks and debrief. After dinner, we had a movie night with Bran Nue Dae playing upstairs.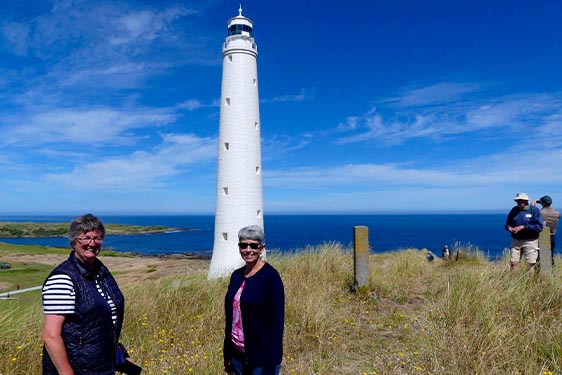 Day 10: King Island
10 Jan 2021
We departed for Naracoopa boat ramp to meet Mat and Moss from King Island Coach Company. They were both locals and heavily invested in their community and it's history. We started with a quick stop in Currie. The guests had a stroll along the main street and most visited the coffee shops. Then the buses split all visiting the same locations at different times. Mat, Tom and Alistair were on one bus, and Moss, Richard and Mike on the other. Mat took us to Meat Your Beef but on the way we had a quick stop at a kelp crafts gift shop. It was a charming little spot and most guests bought something. We met Ana at the Farm and she told us a little of how she and her husband got started before taking us to meet her cows. She then took us into her house and gave us all local veggie soup, some octopus and some beef nigiri. The food was fantastic and Ana herself was very welcoming. After that little taste, we got on the bus and Mat took us to Cape Wickham lighthouse. Once there Mat told us about the various ship wrecks that had happed around the island. We then did a quick drive by of the golf course on our way to our final stop, King Island Cheese factory, where we were treated to 6 different cheeses. The favourites were hotly debated before the guests raided the shop – More than a few wheels of cheese ended up aboard today. To finish we were dropped of at Naracoopa and said our goodbyes to our guides. After a late lunch back onboard, Mike did a presentation on Kelp Forests. Sunset drinks followed by dinner was thoroughly enjoyed. After dinner, Blue Planet 2 series played upstairs.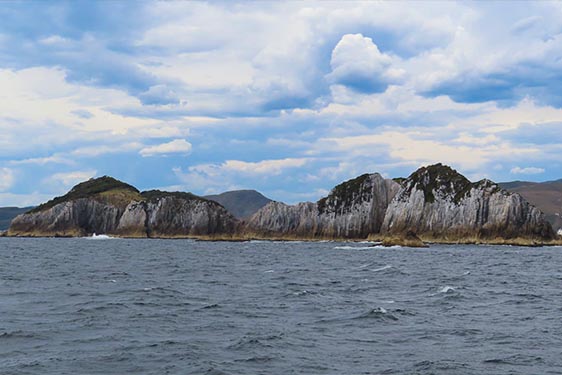 Day 11: West Coast
11 Jan 2021
We enjoyed a sleep in this morning with breakfast served at 8:30 am. Tom did his bird watching presentation which was perfect timing, as today we saw plenty of sea birds soaring around the coast. Before lunch, Nathan gave his presentation on navigation. Nathan definitely has the gift of the gab, and everyone enjoyed his talk.  After a delicious lunch, Mike did a very informative and insightful presentation about his time diving in Port Davey. We enjoyed a relaxing afternoon tea and had the Critchley Parker documentary playing upstairs. Due to the once in a blue moon weather we got on a run down the west coast, arriving into Port Davey early, at about 4 pm. Everyone admired the spectacular scenery from the decks and took plenty of photos. At 6 pm Mike hosted a wine tasting night and his experience was much appreciated by the guests.  After dinner Wildness played upstairs.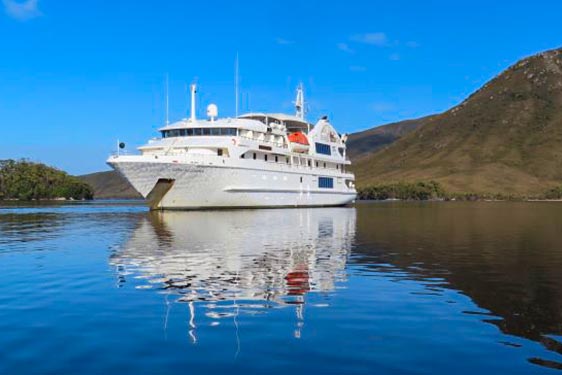 Day 12: Port Davey – Claytons Corner
12 Jan 2021
Overnight the clouds had settled low over Port Davey, so we rescheduled the scenic flights for tomorrow morning when the cloud was forecasted to lift. We enjoyed bridge and engine room tours onboard this morning, and guests all loved the behind the scenes tours that Max and John ran. At 11 am Tom did an interesting presentation "Thylacine – From Vermin to Icon".  After lunch we departed for Clayton's corner. We landed at the jetty and gathered around the cottage for some information from Tom, Mike and Alistair before splitting into groups. Mike and Alistair took the more adventurous guests to the lookout on TV Hill, while Tom and Richard stayed with the guests that wanted to have a look around Win and Clyde's old home. Afterwards we all got back on Xplorer for a cruise around Bathurst Harbour. The sun shining through for us made for some great photos. We got back aboard by 5 pm to enjoy sunset drinks before dinner. After dinner "Cray Fishing around Tasmania" played.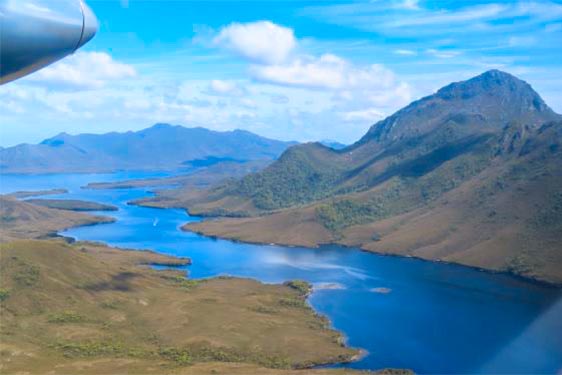 Day 13: Port Davey – Melaleuca & Bramble Cove
13 Jan 2021
We made the right call changing the flights to this morning, the sun was out and the wind had dropped. It was a beautiful day in Port Davey. We set of in Xplorer for our run down to Melaleuca. As usual despite the sun, the run through the narrows was chilly. Once we reached the Celery Top Islands we slowed down to cruise through the Melaleuca Inlet while Tom, Mike and Alistair provided commentary. Once we arrived at the jetty we headed off to meet our waiting pilots. The flights were amazing, with spectacular scenery. All the guests loved it. When not on flights, we walked along the Needwonnee Boardwalk or spent time in bird hide. Some guests got to see the Orange Bellied Parrot. After a late lunch, guests wanting to go on a long walk departed for Mt Milner. We had a lovely, steep climb to the top and were rewarded with great views of the Breaksea Islands and the Xplorer with the guests who stayed back for a scenic cruise. We had 5 guests who opted for a kayak, and enjoyed their paddle. We had planned to do stargazing tonight but the cloud cover had returned. Instead we put the Critchley Parker documentary on again by request.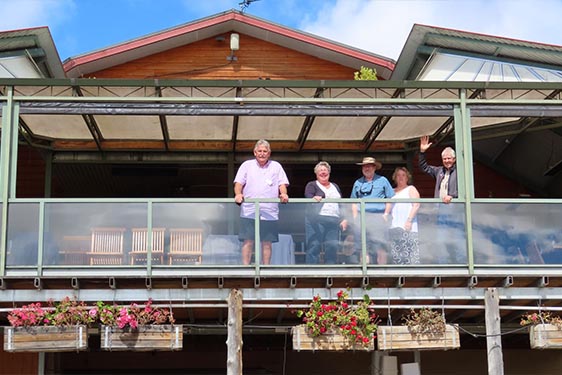 Day 14: Woodbridge
14 Jan 2021
After breakfast, we departed in Xplorer for Trial Bay where we met our bus to Grandvewe and Pepperberries. We were Grandvewe's first group since March last year and they were eager to put their best foot forward. We were greeted by the whole family Diane, Nicole and Ryan. They gave us a taste of their sheep whey cheese, vodka and gin while telling us their story. The guests loved the experience and many stopped by the shop to organise bottles to be shipped to their homes. After that we had some time to stroll around the farm and meet the residents, many fat happy sheep and some friendly dogs. Next, at Pepperberries we were met by Chris who told us his story. We then split the group into walkers and strollers. The walkers went on the sculpture walk, where Pepperberries holds an annual sculpture competition and some are installed along a track on the farm. It was a lovely walk with plenty of sculptures. The strollers stayed with Chris and visited the garden. We met back on Coral Discoverer for lunch, and the rest of the afternoon was spent cruising along the D'Entrecasteaux channel with commentary from Mike and Tom. Tom did his presentation "From France to Freycinet – French Explorers in Tasmania" which was thoroughly enjoyed. After drinks and dinner Bill Baileys Jungle Hero played upstairs, and some guests join Tom on the sundeck for stargazing.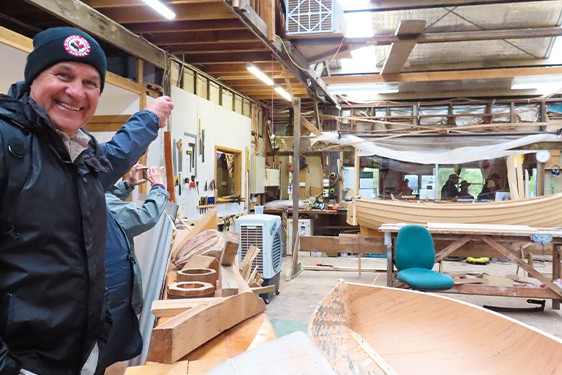 Day 15: Huon & Quarantine
15 Jan 2021
After breakfast we departed for The Wooden Boat centre. Once we arrived we were met by the volunteers. One of them was Kelvin one of our guests from last year, he even still had his name badge! As always the guys there were fantastic. They are all very passionate and it was great to have one of our former guests interacting with new guests. In groups we moved around the display area, workshop and jetty. After the tour had finished we had some spare time and some of the guests headed over the road to Franks Cider for coffee, cider tastings and a warm fireplace. All of us were back onboard Coral Discoverer for lunch, then departed again for our afternoon's adventures at Quarantine station. Once there Tom and Alistair took some guests for an easy walk up to the graves sites and old German oven, then stopping for a look around the station itself. After dinner Tom hosted Trivia night, enjoyed by everyone.

Day 16: Port Arthur
16 Jan 2021
After breakfast, the Xplorer departed for a cruise around Port Arthur. Overnight the weather changed on us so it was very wet and windy. Later, the Xplorer departed for the jetty and we went ashore. Tom and Alistair guided everyone around the memorial gardens, then we met our guide and buggy for a great tour that everyone enjoyed. We were all back aboard by midday for lunch. In the afternoon Mike did a presentation on sharks and rays in Tasmania. For the evening all guests enjoyed Captains Farewell Drinks on the house, and Nathan gave a heartfelt speech.
Day 17: Hobart
17 Jan 2021
After an early breakfast, Coral Discoverer came alongside and ties up at Macquarie Wharf. We said our farewells and disembarked at 8 am to go our separate ways. Many guests will keep in contact with the new friends we have made along the way on this significant voyage and special moment in time. On behalf of all of the crew and the team at Coral Expeditions, we thank you for joining us and we hope to see you again in the not too distant future.