Voyage Log: To South Sulawesi & Borneo for Christmas – Coral Geographer
Broome to Singapore   |   13 December 2022 – 30 December 2022
This trip diary was compiled by: Guest Lecturers Mike Sugden, Greg Watson and Linda Hoffman
Jump To: Day 1 | Day 2 | Day 3 |  Day 4 | Day 5 | Day 6 |  Day 7 |  Day 8 | Day 9 | Day 10 | Day 11 | Day 12 | Day 13 | Day 14 | Day 15 | Day 16 | Day 17 | Day 18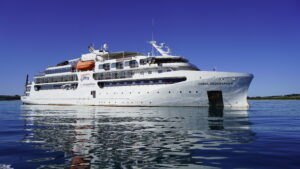 Day 1: Depart Broome – 13 Devember 2022
The passengers began gathering at the Broome Civic Centre at around 0600, to meet the Expedition team and the ship's medical officer, Judy. To keep the ship virus free medical checks had been carried out prior to arrival and then checked at the center. When all passed and been checked in for the cruise, we boarded the bus and headed out to Broome Wharf to board the ship Coral Geographer, which would be our home for the next seventeen days.
We had a chance to meet our fellow passengers over tea or coffee as we waited to be shown to our cabins. We had time to explore the ship and watch as we departed Broome wharf on a beautiful sunny morning with a calm sea. At 1115 we had our mandatory Safety Briefing in the Bridge Deck Lounge. We met the hospitality crew led by Purser Aaron and found out about the running of the ship and safety. Cara then introduced the expedition team and introduced the planned expedition for the next seventeen days. Soon after we were called down to our first meal aboard ship, a delicious lunch. We were beginning to become comfortable on-board ship as we headed north west towards Indonesia.
Mike gave his first presentation at 1400, "An Introduction to Indonesia". This was followed by a presentation from Linda, titled "Amazing Indonesia." We then had a chance to meet Captain Jacopo Barchetti during Welcome Aboard Drinks on the Bridge Deck. At 1845 Cara briefed us on the planned activities for the following day, before we headed down to the Dining Room for our first dinner aboard ship on this cruise.

Day 2: Timor Sea –  14 December 2022
The Timor Sea remained benign on a warm sunny day. After breakfast Greg gave his first presentation called "My Island Home." Morning tea was available soon after. We began our preparation for our in-water activities at 1100 with an In-Water Safety Briefing in the Bridge Deck Lounge. A delicious lunch followed. Those interested in snorkel diving were then fitted out with their mask, snorkel and fins. A scuba briefing was also given to the expeditioners keen on exploring the deeper parts of the coral reefs to be visited.
After lunch the first of the Engine Room Tours started. Guest lecturer Linda then gave a presentation on "Traditional Ikat Weaving." This was an excellent introduction to the craft work we were hoping to see in the next few days. At 1800 we enjoyed pre-dinner drinks on the Bridge Deck aft. Cara briefed us on the activities planned for the following day. A delicious dinner was then enjoyed in the Dining Room.

Day 3: Kupang, Timor – 15 December 2022
After breakfast Captain JB gave an excellent presentation on Navigation on the high seas. We had an early lunch to prepare for the immigration officials who were expected early in the afternoon. At 1330 we began our first snorkel diving on the local coral reef. This was followed by a visit to the local beach for a Sasando Welcome Performance. We enjoyed our first session ashore and were made to feel very welcome. The costumes worn by the local dancers were very beautiful. Oswald, our local guide also joined us on the beach with some of his assistants.
We returned to ship in time for pre-dinner drinks and Cara's briefing at 1845. We then headed down to the dining room for another excellent meal.

Day 4: Pulau Alor – 16 December 2022
Breakfast was enjoyed at 0730 before we began our in-water activities/. By 0830 we were heading in to explore a beautiful coral reef. A bit of tidal movement was experienced during the dive but did not spoil the breath-taking spectacle of the coral reef and its associated marine organisms. The reef was enjoyed by both snorkel and scuba divers. Some of the expeditioners had an exploratory walk with Oswald and we all met on the beach for transfers back to the waiting Xplorers. This was our first opportunity to experience the huge diversity of coral life in the renowned "Coral Triangle" for this trip.
A well-deserved lunch was enjoyed back aboard ship as we headed into Kalabahi. By 1330 we were ready to begin our exploration of this island of Alor. The ship had come alongside Kalabahi Wharf and we were given a traditional welcome once ashore. Busses then took us through Kadelang City to its Moko Drum Museum and sprawling marketplace. Guides interpreted and led us through the museum and busy marketplace, before we once again boarded the busses for our trip out to Latafui Village. We were given a traditional welcome and experienced some of the traditional ceremonies and dances of the village. Refreshments were offered as we had a chance to buy some of the offered cultural artifacts. It was a great chance to see a traditional village and experience village life. The locals made us feel very welcome.
We arrived back on ship in time to prepare for Pre-dinner drinks. At 1845 Cara briefed us on the activities planned for the following day before we headed down for another delicious and well-earned dinner.

Day 5: Pulau Hoga and Wakatobi National Marine Park – 17 December 2022
Breakfast was enjoyed at 0700 as we steamed towards Sampella Village on Hoga Island. At 0800 Greg gave another fascinating presentation on "Camouflage – amazing animals you've never seen." This was followed by a presentation from Mike on the "Colourful Bottom Dwellers of the Indo-Pacific.
Soon after lunch we had the opportunity to explore Hoga Island with its Marine Research Centre. Since Covid the research facilities have not been used and were showing the signs of the lack of use. Many also took the opportunity to snorkel or scuba dive on the local coral reef and were rewarded with some beautiful coral and a rich diversity of marine organisms. At 1600 we headed over to Sampella Village. Here we enjoyed a stroll through the sea bound village on the boardwalk to view the houses raised above the ocean on coral platforms. We received a very warm welcome from the locals who were once nomads of the ocean.
We returned to the ship for pre-dinner drinks before heading down to the Dining Room where Cara gave her briefing after the main course had been served.

Day 6: Baubau, Sulawesi – 18 December 2022
Breakfast was enjoyed at 0645 on a warm and humid morning.
We were getting an early start to our exploration of the colourful city of Baubau. We explored the extensive Wameo Market, with much fresh local produce on display. The Sulaa Weaving Village gave us an excellent opportunity to view the weavers at work in a very warm and friendly atmosphere. Many of the local children were keen to get selfies with the expeditioners. Refreshments were also provided. The Wolio Buton Palace was also visited. The huge fortifications were evidence of previous troubled times. We were given an exceptional welcome in the Buton Palace and provided with some of the local foods, beautifully presented by numerous costumed hostesses. We returned to ship for a well-earned lunch.
By 1430 we were heading off in the busses again to visit the Malige Palace, the abode of the Rajah's family. A spectacular building in the heart of Baubau. From here we walked down to the Masjid Raya Baubau Mosque. Some of the expeditioners took the opportunity to venture into the mosque during prayer time. The 1500 call to prayer could be heard before we got to the Mosque. We then had free time to return to the ship or explore the city a little more. Cara gave her briefing for the following day's activities on the Bridge Deck at 1845 before headed down to another delicious evening meal.

Day 7: Tinabu Island – 19 December 2022
An overnight sail found the ship lying off Tinabu Island – a speck of green amongst the waves. This had not always been the case. Much of the vegetation on this small island has been planted by visitors – including us! Guests were invited to participate in the ongoing restoration process by planting some Casuarina seedlings, The success and vigour of the trees was indicated by the fact that some guests (and staff) had already contributed on previous visits. Their trees were well past seedling stage and rocketing skywards. How could they tell? Their names were commemorated on a plaque in front of each tree. Already, birds like Lemon bellied White-eyes could be seen and heard flitting amongst the branches.
Other restoration projects that guests joined in were coral transplanting efforts and the release of a dozen or so hatchling green turtles. Snorkellors found the fringing reef drop-off to be "fishier" than previous sites – proof of the ability of even small protected areas to recover – given time and protection.
Others enjoyed snorkelling with the baby blacktip sharks that were cruising about the shallows
After lunch, the ship repositioned to Rajuni Kecil, where we were to meet with two groups – the Bajo, whom we had encountered previously – and the Bugis.
The landing was by zodiac shuttle where we were met by a local dance group and made welcome. Guests split into two groups – one visiting the Bajo and the other the Bugis. These people used to far more nomadic than now and were once feared as pirates. Not now… smiles all round.
The Bugis houses were sensibly hi set to allow for cooling breezes and possess a distinctive architectural style of overlapping roof pelmets. The streets and homes were immaculate – not so the aroma from the fish on the drying trays scattered about. This harvest was not for local consumption but for export elsewhere.  The boats with their extended bamboo outriggers used for mounting lights at night to attract fish and squid and from where nets were deployed underneath were bobbing at anchor just beyond the jetty – now packed with local kids laughing and jumping in and out of the sea.
Back to the ship for a restorative beverage… some guests were lucky enough to observe the "green flash" as the very last part of the sun sank beneath the waves. One day ends and another beckons.

Day 8: At Sea –  20 December 2022
A sea day. Guests now had the chance to rest a bit after all their excursions and snack, chat or simply do nothing at all. A relatively late 8.00 am breakfast set the tone admirably
GL Mike delivered a presentation of fish behaviours – describing different strategies for survival used by many of the fish observed while snorkelling or diving.
GL Linda then followed with a presentation on the cultural diversity found within Indonesia-a subject upon which she has years of experience.
Whilst still steaming, guests were invited to join in the treasure hunt -the clues being found on and around the many beautiful Aboriginal artworks that hang throughout the ship. Purser Aaron and the hospitality crew then tried to beat that with a wine tasting. Two reds and a white, all paired with appropriately complementary canapes. Some thought that drinks at 6 were not really needed. Others, just getting into their run up, disagreed.
We are steaming westwards to Borneo.

Day 9: Karamian Island – 21 December 2022
Still steaming. First up today was Greg. Talking about some of the brilliant, brave and bonkers naturalists of the 19th century who travelled and collected in this area. Linda then followed with a stimulating presentation on the history. style and impact of Islam on Indonesian people. An interesting topic which elicited lots of discussion.
During we closed to our destination – a small island group called the Masalembu. Our anchorage was to be Karamian Island. Permission to land on the larger, forested one of the two parts of the island was not forthcoming so we utilized a smaller, satellite islet as our base for shore exploring, swimming and kayaking. The only way up to the top of the hill was via an old rope tied off on the rocks, followed by a short return abseil. We had to keep an eye on the incoming tide. Quite a few local fishermen had joined in the party and were busy helping and taking LOTS of selfies with the guests.
The rising tide played havoc with plans for beach drinks (hard to do when there is no beach!) so everything was packed up and returned to the ship where" halfway mark" drinks were held on the aptly named vista deck.

Day 10: At Sea – 22 December 2022
What was that old saying about the best laid plans of mice and men?
Captain JB had re-positioned the ship to the north side of Karamian Island in order to start the water activities that were due to take place. During the night the wind increased, and the anchor was dragging which meant that the crew were up readjusting the chain at intervals.
With the change in windspeed and squally conditions looming, EL Cara and team, after reconnoitering, decided to abandon those planned activities, cut our losses and move on.
"Coral Geographer" moved out of the lee of the islands into an increasing wind and, for Indonesia, unusually high sea state. Other local vessels, fishing boats and tugs with ponderous towed loads of coal on barges were taking shelter.
We headed straight for Kalimantan into a freshening westerly wind and a rising sea. Clearly, today was to be another whole day on the move.
The crew moved swiftly into action. Mike delivered a presentation on local sharks and rays. After morning tea (as if anyone needed more food!) Linda showed some videos of how young Indonesians are connecting with their traditional music and dance heritage and putting a modern touch on a culture for which they are rightly proud.
Greg held up his end after lunch by talking about life in the open sea whilst EL Cara and AEL Anita presided over an enthusiastic, fun filled session of the guessing game "Celebrity Heads". Fun. Then dinner, a documentary and bed.
Expecting a rough night….

Day 11: At Sea – 23 December 2022 
…and rough it turned out to be.
According to Captain JB, winds were averaging 30 knots with gusts to 50 knots during the night. That's gale force in the old measure. The deck crew had tied everything down outside. After breakfast (the attendance at which event being slightly lower than usual) GL Greg gave a presentation on the perils and pitfalls of National Park management. Guests settled in for a bumpy but uneventful day at sea,
Hah! Everybody was jolted out of their composure when the Captain abruptly announced that the ship had received a "Mayday" distress call and was changing course to assist. Everyone was perturbed to see a tug lying low in the water, and incapable of maneuvering, wallowing at the mercy of the waves. There were 9 crew aboard – all in very real danger of losing their lives should their vessel take on too much water and capsize.
The sea state was too dangerous to enable a rescue from our zodiacs, so the ship stood by whilst efforts were made to alert authorities to the situation and allow them to send a larger vessel. Notwithstanding many phone calls from the captain, our Indonesian government agent and tour agent on board, no help was forthcoming.
Coral Geographer then stood by for the rest of the day, monitoring the state of the tug. All abord her declared themselves well and uninjured. Captain JB was told that a rigid hull inflatable was dispatched from Kumai (our destination) by the tug's owner but was forced to turn back to port because of heavy seas.
It was up to us.
After an evening and night tacking back and forth but staying within sight and radio contact with the stricken tug (to keep up the spirits of the crew), it was decided to attempt a rescue next morning as conditions were expected to ease overnight.
Shipboard activities continued – cocktail demonstrations by purser Glen and senior cruise attendant Molly – followed by drinks and dinner – a somewhat surreal experience, given the struggle for life taking place a kilometer or so away.

Day 12: Kumai Bay, Kalimantan – 24 December 2022  
Great news!!
Conditions had indeed abated during the night and at first light a zodiac, crewed by First Mate Mark and crew Robbie, reached the tug and, in two trips, had transferred all nine sailors to the ship. They were all well, if understandably frightened by their experience.
They, plus their personal effects, were taken aboard down to the crew lounge to be met with a welcome feast of Indonesian fish and rice cooked up by chef Jamie. After all this excitement they got a bit emotional, so everyone was showered and rested during the trip to Kumai port.
Captain JB gave a personal recap of the operation – from the first mayday call to the rescue itself. He explained his decisions and reasoning and was warmly congratulated by all present. Nobody seemed the least put out that we were now 24 hours behind schedule and one destination in Sumatra would have to be dropped in consequence.
Daily activities continued for the guests on this Christmas Eve – a talk from GL Linda on Indonesian fruits, followed by one from Mike concerning the cataclysm of the Krakatoa eruption in the 19C.
After lunch it was Linda again-this time how to tie sarongs and then the movie "Lady in a Van" was shown.
Then it was time for drinks on deck accompanied by a briefing from Cara on tomorrow's events plus a short overview from Greg on orangutan biology and behaviour. By this time the ship was docking at Kumai, so everyone came out to see the tug crew walk down the gangway to the rest of their lives. Captain and First Mate were there, as well as a host of Indonesian officials. smiles, handshakes and hugs all round. Best Christmas present the ship's company could have wished for.
After dinner those guests who wished were able to take some free time around Kumai town making sure to return by 2200 hours at the latest.
Tomorrow, we have an appointment with some big red monkeys!
Side note: We were later advised that the tug capsized and sank about 6 hours after our rescue of the 9 crew members.

Day 13: Tanjung Puting National Park – 25 December 2022   
Today, expeditioners tumbled out of their beds for Grab 'n Go snacks at 0500 before boarding the Explorers at 0515 for a much-anticipated visit to Tanjung Puting National Park, Kalimantan. Upon arrival at the Sekoyner River we transferred to wooden 'klotok' boats that would be our transportation for the remainder of the day's adventure. A breakfast of Frittatas prepared by chef Jamie and his team was served on board as we cruised upriver spotting wild orangutans, orangutan nests, proboscis monkeys, kingfishers and other birdlife.
We reached Pondok Tanggui for the 0900 scheduled feeding. Formerly a rehabilitation and release site for rescued and orphaned orangutans, park rangers continue to offer a minimal number of bananas to the creatures to supplement their diets while also providing a safe environment for visitors to view them. We were rewarded by the arrival on to the wooden platform of several mothers carrying infants and watched them almost in total silence until it was time to move on.
A sumptuous lunch of a variety of local dishes prepared onboard our klotoks was our Christmas mid-day meal and was enjoyed by all. Following a short cruise further upriver for more wildlife spotting, we turned back downstream. Our final stop was Pondok Harapan, another former rehabilitation and release station which is now being used as a visitor information center and sapling nursery. Several varieties of trees, including some used as traditional medicine, were clearly marked and very interesting. Due to the urgency of the Coral Geographer needing to catch the tide out of the Kumai river, our visit was cut short and our klotoks took us back to meet the Explorers for transfer back to the ship.
Back onboard, after a wonderfully divine Christmas dinner Santa Claus and some of his elves appeared to give gifts to some of the guests and crew who had been especially good. The best gifts of all, though, were fruit baskets from the 9 men we had rescued the previous day and knowing they were all back at home with their families, safe and sound.

Day 14: Bulu River Birdwatching / At Sea – 26 December 2022
It was up early again for a 0500 departure on the Xplorers for the keenest birdwatchers to try to catch wildlife activity at sunrise on the Bulu River, followed by breakfast at 0730.
Sleepyheads breakfasted first, then departed at 0800 for a similar experience. GLs Mike & Greg provided interesting narrative on both sighting adventures as occasions presented themselves.
After lunch and a bit of a snooze, GL Greg was up at 1430 with an interesting talk on venomous creatures, including snakes and jellyfish. A lively discussion followed.
At 1600, GL Linda introduced a documentary on Indonesia's Majapahit empire, the last of the great Buddhist-Hindu dynasties, as a prelude to her "Kingdoms, Spices & European Invasions" talk scheduled for the following day.
During pre-dinner drinks, GL Greg posed the question "are coconuts native to   Australia?" and received an interesting variety of comments in response.

Day 15: At Sea – 27 December 2022
After a good night's sleep, a leisurely breakfast was served today at 0800, followed by GL Mike's presentation "Marine Turtles of Indonesia, the Cold-Blooded Wonders of the Ocean at 0930. In this talk he noted 6 types of turtles found in the Indo-Pacific waters and some of the methods being employed to ensure their survival.
At 1030, Chief Engineer Damith gave an excellent presentation on the building of the Coral Geographer, giving guests a rare peek into the construction of the vessel from concept to launching.
Lunch was followed by Lead Chef Jamie's cooking demonstration of a modern spin on a typical Indonesian dish and a chat about a chef's life onboard.
GL Linda was up at 1600 for her presentation on an exploration into the world's search for Indonesia's exotic spices that led to the Age of Discovery, the kingdoms and Europeans who sought control of the secret location of the coveted spices, and how Indonesia's independence from Dutch rulers emerged out of centuries of suppression.

Day 16: Tanjung Kalian & Muntok, Bangka – 28 December 2022
As our voyage enters its final days, it was necessary to schedule time today to handle necessary paperwork in the form of the Singapore Arrival Card. Working in shifts due to poor internet service onboard, guests were methodically assigned a time to visit the purser's office to use the laptops there, which have better WiFi connections than the rest of the ship.
At 0900 the Explorers departed for a jetty landing at Tanjung Kalian Harbour on Bangka Island, Sumatra, where we boarded buses for a full day tour of Muntok town and Tanjung Kalian lighthouse.
First stop was Wisma Ranggam where we were treated to a welcome performance before touring the house where exiled President Sukarno lived in 1949 for causing disturbances that were unsavory to the Dutch. Indonesia had declared independence in 1945, yet the Netherlands refused to acknowledge it. Four years hence the Freedom Fighters, led by Sukarno and Hatta, had grown increasingly vocal, so the Dutch exiled them to Muntok. GL Greg took the opportunity to test his skills on a traditional mandolin-like instrument that was part of the ensemble accompanying the dancers.
Perhaps the most popular part of the house was a veranda marked "Free WiFi Zone".
The Museum Timah (Tin Museum) provided an in-depth look into the tin mining industry that put Bangka Island on the map. The young guides stationed in every room of the museum gave excellent explanations of displays to the guests.
Our next visit was to Rumah Mayor China, the Dutch colonial home occupied by two successive Chinese mayors until the Japanese invaded and relieved them of their position in 1942. The significance of this house is that it was unusual at that time for Chinese immigrants to rise to such an exalted position. Today the house is a museum.
A delicious buffet lunch was served at Fuk Miao Temple, where we were greeted by young lion dance performers, who later provided an extended dance in colorful costumes. Indonesia's second President, Suharto, banned all visible evidence of the Chinese culture during his 30+ year tenure, which was later overturned by a successor President. It was, therefore, a treat to see that the lion dance tradition is not only thriving, but that it continues to involve youths.
GL Greg once again showed his musical prowess by entering a "drum-off" duet with the lion dancers' accompanying ensemble.
After lunch, our buses moved us to Tanjung Kelian beach, where guests had an opportunity to climb the 150 stairs to the top of the old Dutch lighthouse. Others who chose not to ascend spent a few pensive moments at the WWII memorial honoring Australian nurses who were murdered by the Japanese. Souvenir sellers set up in the lighthouse courtyard were delighted to see how many buyers from the Coral Geographer wanted to rid themselves of their remaining Indonesian rupiah.
The final event of the day was a Pencak Silat performance demonstrating the skills of practitioners ranging from a young girl to their teacher. Pencak Silat is a traditional mixed martial arts sport that is now recognized internationally.
Taking our final ride on the Xplorers, we returned to the ship where Singapore Arrival Card registrations continued after dinner.

Day 17: At Sea – 29 December 2022
Having a full-on sea day the last day of our voyage was ideal for catching up on paperwork, packing, and final exchanges of information such as contact numbers (for those who wished to do so).
GL Greg presented his final lecture "Going…going…gone! Principles of rarity and extinction" followed by a vigorous round of questions and discussions. After morning tea, the Expedition Team hosted a Product Presentation offering a chance to see some future trips being offered by Coral Expeditions, along with onboard discounts.
After lunch, GL Mike hosted the Coral Expeditions Quiz challenging teams of 6 to show how much they've learned on this voyage, with prizes awarded. A game of "Last Man Standing" rounded out an afternoon of fun.
In the evening, Captain Jacopo Barchetti hosted a farewell drinks and canapes evening with Cara briefing guests on tomorrow's disembarkation details.
After dinner, guests were encouraged to settle their accounts with Purser Arron.
Day 18: Singapore – 30 December 2022
With the Coral Geographer arriving in Singapore in the early morning hours, guests began disembarking at 0830 and on to their next destinations.