Ruth Dalton
Lead Chef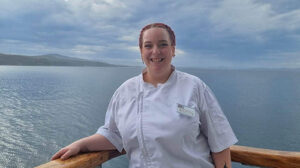 Ruth has worked with Coral for almost a year and a half. Her career started in the industry when she was just 14 and hasn't looked back since. Ruth completed her cheffing apprenticeship in 2011 and continued with a Combined Baking and Patisserie Apprenticeship, meaning she had completed the trifecta of Culinary Study by the age of 23!!
Ruth worked in various French Artisinal Bakeries and Patisseries before moving to Tasmania to work for Mona for a further 6 years in the previously hatted Source Restaurant. Ruth moved to Launceston after COVID hit and worked casually in some local restaurants before securing a position at Freycinet Lodge in the Freycinet National Park. She worked here for a year or so before being offered the job to work with OSM Maritime on MV Caledonian Sky, where she worked for almost 2 years in various roles eventuating into Executive Chef before being offered the job with Coral Expeditions. Since starting in the seafarer industry Ruth has been growing and learning from the diverse working crew around her, and have never looked back!
Ruth's role at Coral Expeditions includes ensuring the Galley Team are kept in high spirits across their times at sea together. She said "Often working at sea, away from home can be very hard so keeping morale up in all areas is a must. I also prepare the food as Lead but that's easy compared to keeping this lot happy haha!"
Ruths day to day responsibilities include confirming menu and dietary requirements for guests, Breakfast, Lunch and Dinner Service periods and prep, overseeing the Galley Team and its cohesive teamwork with the onboard Purser and Front of House team, stocktake and ordering, and she says "the list goes on but with a great team to support we smash it and have fun doing it."
Ruth's says her favourite part of working with Coral Expeditions is "the fact that WE GET PAID TO SEE THIS!! It still blows my mind that we are lucky enough to visit some absolutely remarkable places, some most wouldn't even dream of seeing in their lifetime and we get paid to do it! We meet such amazing people from such diverse backgrounds, hear stories from guests, interact with so many different cultures and circles and all as a job! I feel very privileged and lucky to be here."
In her spare time when not onboard Ruth loves baking, travelling and spending time with her loved ones. Camping and spending time at the beach are also favourites!