Micheline-Nicole Jenner AM & Curt Jenner AM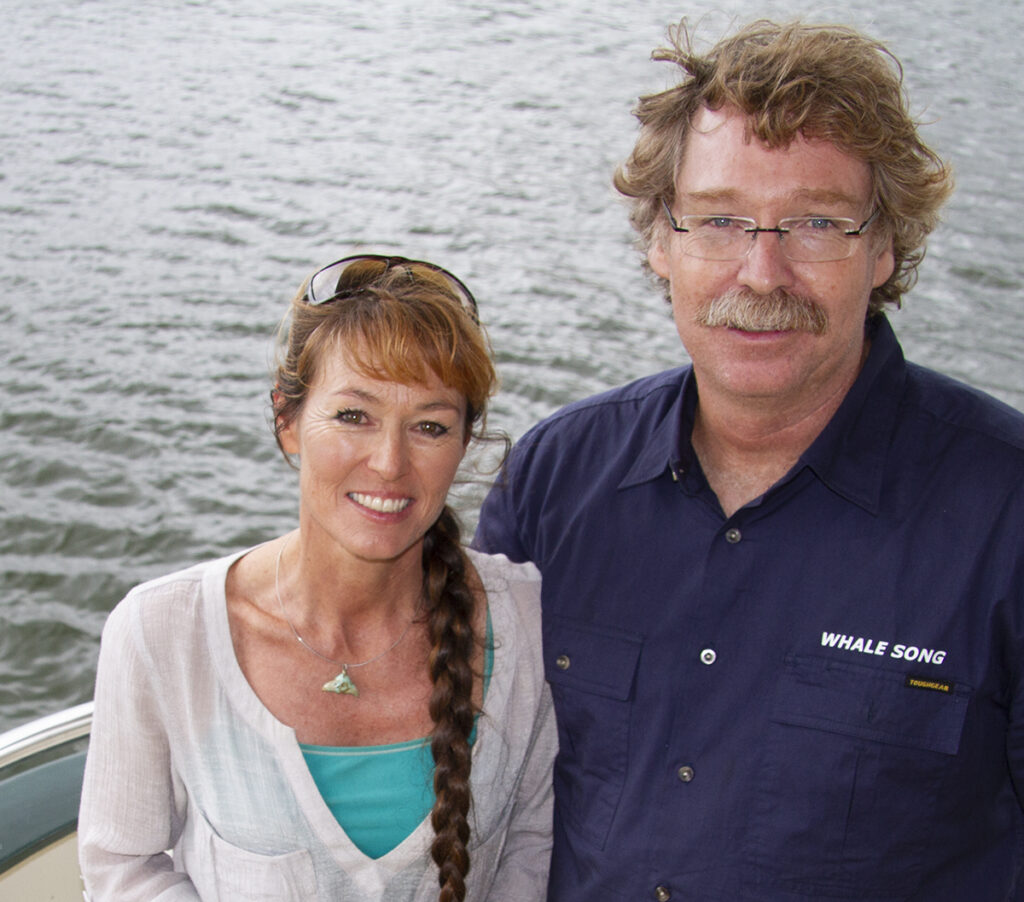 Australian Geographic Partner Hosts
Curt was born in Weyburn, Saskatchewan in the middle of the Canadian prairies. Despite only seeing the ocean at 16, he whole-heartedly embraced recreational/scientific diving in the chilly waters of British Columbia, Canada while completing his B.Sc. in Marine Biology.
Micheline was born in Sydney, Australia, and grew up in Auckland, New Zealand where she completed her B.Sc in Zoology and M.Sc. in Marine Biology.
In 1987 Curt began his humpback whale research career in Queensland ("Straddie" and Hervey Bay). The next year in Maui, Hawaii he met fellow whale researcher Micheline Jenner AM, now his wife of 32 years. As newly-weds they volunteered for a year at a killer whale research group (Orca Survey) in the San Juan Islands in Washington State, USA. By July 1990 they had gathered "grassroots" funding from Australian Geographic to commence their own 5-year Dampier Archipelago Humpback Whale Project from a desert island in the northwest of Australia.
Together their strengths lie in designing and conducting scientific studies in remote, ocean regions with logistically demanding conditions, their work contributing to over 60 peer-reviewed scientific papers. They have discovered critical habitats including the winter calving ground of humpback whales in the Kimberley and a foraging area for pygmy blue whales culminating in the government gazetted Lalang/garram Camden Sound Marine Park and Perth Canyon Commonwealth Marine Park, respectively.
With almost 70 years of combined offshore experience, they have operated four research vessels including RV Whale Song, their current home and research platform, which is a 28m ice-class steel Expedition vessel. With so many sea miles travelled both have qualified with three Master Mariner tickets.
The New York-based Explorers Club awarded Curt and Micheline FI'10 (Fellow International) members, a Lowell Thomas Award for their pygmy blue whale research. In November 2017 the Australian Geographic Society presented them with Lifetime of Conservation awards for their conservation efforts. Recognised for "Significant service to conservation and the environment, particularly for whale research in Western Australia", each were appointed as Members of the Order of Australia (AM) in September 2018.
Since 1995, life on the high seas has included raising and educating their two daughters, Micah (26) and Tasmin (22) aboard three of their floating homes. Details of their daring research exploits coupled with lively family adventures feature in BBC and Nat Geo documentaries and in the Whitley award-winning book The Secret Life of Whales by Micheline Jenner (2017) published by NewSouth Books.