BEHIND THE SCENES: MEET CREW MEMBER JO WYKES
Bosun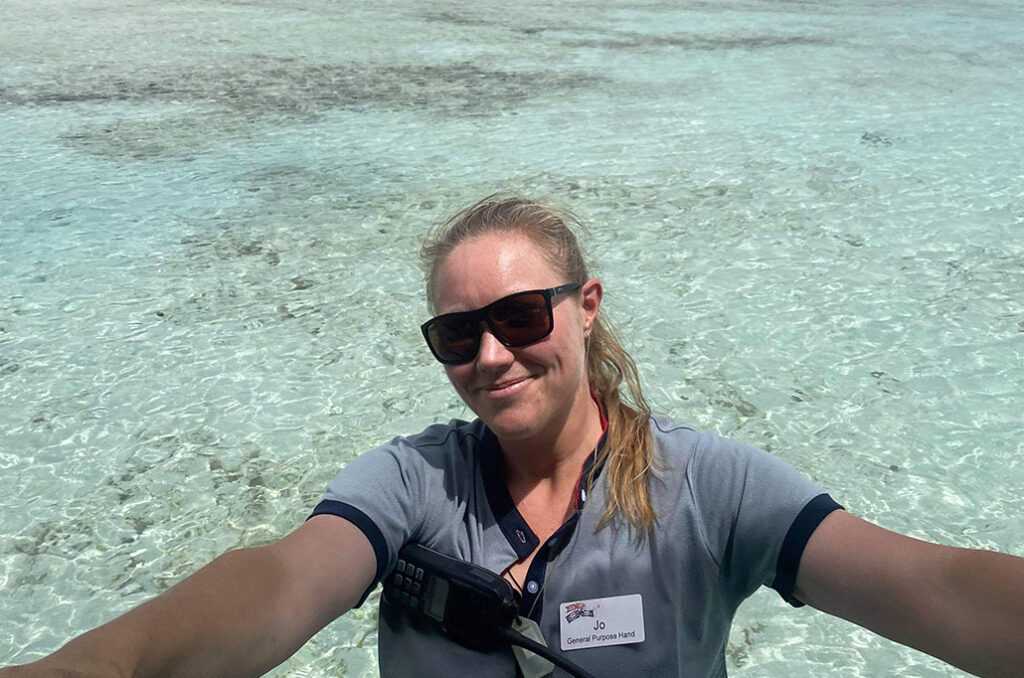 Jo's journey with Coral Expeditions began fourteen years ago as a Maritime Trainee. In her years with us she has gained a wealth of experience and knowledge working in roles from Deckhand, Mate and now as a Bosun. In her current role Jo plays a key part in the daily maintenance and upkeep of the vessel as well as facilitating our expedition adventures for crew and guests. She works closely with our freshest faces training new seafarers and plays a vital role in bringing our guests up close to the action by driving our Xplorers and Zodiacs and ensuring they are ship shape and ready for adventure.
Exclusively cruising the Kimberley region for five years throughout 2009 until 2014, Jo says that it will always be her favourite destination. Describing the experience, she says, "sharing such a beautiful, remote, culturally significant part of our country that few people have experienced is fulfilling."
Drawn to a career on the seas for the ever-changing scenery and environment, alongside the prospect of new challenges and experiences on offer with every new day, Jo is passionate about learning and growing in her career with Coral Expeditions. She is currently studying towards the role of 2nd Mate with her next goal in mind being graduating to a Mate role on our larger vessels. Jo says she looks forward to "new experiences daily and opportunities to increase my skill set."
Jo has a passion for photography and can often be spotted snapping a shot of the sights she encounters on our expeditions. "It allows me to share my travels and experiences with family back in New Zealand, while capturing memories of sights and the amazing destinations we are privileged to explore."
Jo points to travelling up the Sepik River in Papua New Guinea and visiting villages and tribes who don't usually get tourists as amongst her favourite moments from her travels, calling it an "amazing opportunity".
Encounters with nature have become treasured memories for Jo. She says, "I've also been incredibly lucky to experience some amazing natural phenomena in my time- from seeing thick bioluminescence as far as the eye can see, witnessing snub fin dolphins displaying their feeding habits at night, seeing humpback whales nurture young calves only metres from the ship, and bottlenose dolphins literally glowing as they bow ride through an ocean of bioluminescent squid and dinoflagellates." Jo has captured some of these memories through her lens, and she is pleased to share some of her photography below.