IN MEMORY OF CHRIS DONE
Vale Chris Done, a true bush legend. 
It is with heavy hearts that Coral Expeditions joins the Kimberley community in mourning the passing of long-time Kununurra resident Chris Done, December 2020.
Chris was Coral Expeditions longest-serving Guest Lecturer – cruising the Kimberley coastline since we began operations in the 1990's.
We send our sincere condolences and kindest wishes of support for all Chris's family and friends.
We asked Chris's colleagues here at Coral Expeditions to share particular memories that they each had with Chris.  Below are the memories that has always stuck with them, whether it was something they achieved together or an impression Chris left.
This year will be my 12th year visiting the Kimberley coastline, as I look back at the time that I spent with Chris Done, I am always drawn back to my very first solo trip as an expedition leader. The Kimberley region is a very challenging area to operate in, it asks questions of you in many different ways from the giant tides the ancient culture and its immense size are among the factors.
Chris was the first Guest Lecturer whom I worked with on the Coral Discoverer then called the Oceanic Discoverer, I, of course, made many rookie mistakes as we all do in a new job but I always thank Chris for his unending patience on those two trips from Darwin to Broome and back to Darwin. He was always omnipresent to help with my planning and timings of expeditions off the ship, at the time I didn't of course understand how deep Chris's knowledge and understanding of the Kimberley was. It isn't until you have enough years under your own belt that you can look back and tip your hat to a man who led the way for all of us who are now passing on our knowledge of the Kimberley to the next generation.
All of us who have been around during the time Chris was with us in the Kimberley will undoubtedly miss his understanding and knowledge and great companionship aboard ship. Whilst he won't be with us in person, we all know that his spirit will live forever amongst the ancient rocks of the mighty Kimberley.
Steve Cox – Expedition Leader.
I have been friends with Chris since I started at Coral Expeditions and learnt a great deal from him. He was the gentle giant who cared about human beings first, followed closely by nature. He infected everyone he came in contact with. 
When I was airlifted to Kununurra after breaking my pelvis Chris instantly came to the hospital to visit. His concern and company was just the right thing at this time. He followed the ambulance to the airport and took care of my belongings which he mailed back to me. Every two weeks he would contact me to find out my progress.
I will miss my great Kimberley friend personally but will remember his legacy every time I go back into this region.
Many people around Kununurra will remember the tireless work that Chris carried out in the East Kimberley and also the Kimberley as a whole over many years as the head of the then CALM – Dept. of Conservation and Land Management and later DEC – Dept. of Environment and Conservation. He was instrumental in the establishment of the sandalwood industry here, as he was instrumental in many projects and initiatives that have had lasting effects for the Kimberley.
The acolades could go on and on … hopefully someone more qualified than myself will make a contribution in that arena. I met Chris Done when he was the head of CALM back in 1989 when I worked driving tours to the Bungles and around the Kimberley. Over the years since and also as my boss when I worked as a ranger I was always impressed by his quiet, calm demeanour and knowledgeable grasp of the overall environment of the Kimberley.
He was highly accomplished in the botanical field and was an authority on the various environmental zones of the Kimberley. Chris was a "naturalist's naturalist". Above all else for me he was a great boss and a steadying hand in what can be very volatile areas of debate at times. He genuinely tried to promote Indigenous participation in the running of the Kimberley's national parks and was passionate about the future of joint ventures between Traditional Owners and his department in the ownership and running of parks in the Kimberley.
In recent years I occasionally had the great pleasure of working with Chris as a Guest Lecturer on popular cruises around the Kimberley coast with Coral Expeditions. His depth of knowledge and wonderfully passionate presentations on his beloved Kimberley will be sorely missed for many years to come. He often worked with his brother Terry Done and as a duo they were a formidable team indeed in bringing to life the geology, biology, history, cultural depth and environment of the far flung Kimberley coastal regions.
Chis Done, in short, left a huge legacy in multiple areas throughout the Kimberley, not just in the country but in the people he lived and worked with over so many years. His loss will be most deeply felt by his wife, Pip and his close family. I know that large numbers of Kimberley people will join with me in sending our sincere condolences and kindest wishes of support for all Chris's family and friends.
Rest In Peace
– From Chris Brown (Browny), Guest Lecturer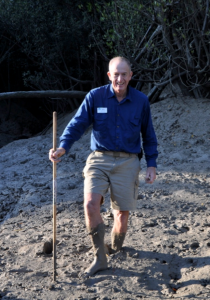 I worked with Chris on several trips in the Kimberley and on the early trips to Tasmania on Coral Expeditions 1. He was great to work with and generous with his knowledge. In the Kimberley I remember going ashore on the Explorer with Chris when he spotted a large (3.5m) crocodile sunbathing on the beach where we were about to land. Chris went ashore first to see if it was safe to land and that we didn't block the path of the crocodile from the beach back into the water. We were able to land and Chris kept a close eye on the crocodile as everyone visited the rock art site nearby. He had the ability to make everyone feel safe and calm.
In Tasmania I attended a three-day workshop with Chris run by Tasmanian Parks and Wildlife and got to know Chris a bit better away from the ship. He was a family man and he asked me one day if I had any grandkids – my response was that I didn't but hopefully I will be one day. His response was – 'you will love them, Tom' – I will always remember this about Chris his love of his family and especially his grandkids.
Finally, I phoned Chris on the 2nd December 2020 just a week before he died and the line was engaged. Shortly after, Chris rang back after just finishing a call with Jamie Andersen. He still had time to chat even though he was obviously not long for this Earth and I really appreciated it. At the end of our conversation I said that it was lovely talking to him and he responded in his typical upbeat, friendly way – ' Well, I am sure I will talk to you again soon, Tom'
Farewell Chris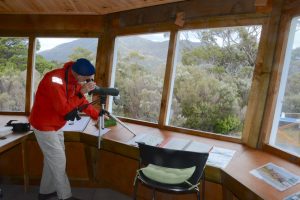 I didn't know Chris Done that well, but for all his importance in the national park system, I was impressed with his down-to-earth qualities, as this little memory will attest. 
We were on a trip in the Kimberley on Coral Princess 1, maybe 15 years ago, as Guest Lecturers to guide, inform and entertain the guests.  One night, I had to wear a silly but very expensive wig for some foolish display for the guests. I stored it temporarily in a plastic garbage bag, but a diligent crew member, assuming it was garbage, threw the bag out, wig and all!  When it came time for the wig wearing, Chris, with whom I was sharing a cabin, wondered why I was stressed out.
When I described the dilemma to various crew members, one said "oh, it's in the garbage room", which is a small dark, scary hold under the stern deck of the ship. With Chris assisting, I had to unlatch and jump into the dark and dank garbage room, on top of, and in amongst, big bags of tissues, scraps, and God knows what else from the galley and passengers.
Good old Chris immediately jumped in there with me, and after ripping open and re-bagging mound after mound of garbage bag, he finally, triumphantly, lifted up the clump of curly hair! So there we were; me, an idiot biologist, and Chris Done, then responsible for the entire north western Australian National Parks system, in a garbage dump looking for a lost novelty wig.
Thanks Chris!
Back around 2006 we were doing the Darwin to Broome run and Chris explained to passengers how he and a team of volunteers had worked very hard to regenerate/ revegetate Koolan Island after BHP had left its mining operation. Much of the scars left by the mining operation had recovered the previous vegetation, softening the impact of the mining.
The next trip was from Broome to Darwin and Chris and I were still aboard. As we rounded the point from Nares Point, a big cloud of red dust rose into the air as a large explosion shook the island. It marked the re-start of the Koolan Island mine and the explosion was right in the centre of the area re-vegetated by Chris and his hard-working team. The work they had done quickly disappeared as clouds of red dust rose into the sky. Chris will be sorely missed.
Working as Cruise Attendant aboard the Coral Expeditions 1 in the Kimberley some 10 years ago and having Chris and his brother Terry leaving chocolates on the pillows in the cabin for us to find when servicing the cabins. It was such a lovely gesture and a nice little treat in the middle of a busy morning. He was a very considerate, genuine person, exceptional at his job obviously. He was the best and one of mine and others favourite Guest Lecturer's to work with.
-Adele Merdjanic | Operations Admin
My first meeting with Chris was in 1998 aboard Coral Expeditions I in Broome. At this stage Chris was in his third year of guest lecturing in the Kimberley and was still active in his full time employment as the Manager of the Western Australian Department of Conservation and Land Management for the whole Kimberley region. He was either on leave from the department or taking his annual leave to help travellers better understand the natural wonders they were experiencing.
At this stage of company development Tony Briggs, owner of Coral Princess Cruises, had made the bold move to fit out one of his vessels for exploration tourism. Tony had been fortunate to find a person like Chris to be a pioneer Guest Lecturer to work along-side Expedition Leader Mark Buckingham.
My regular job was lecturing at the University of New England in Armidale, NSW and during my vacation and leave periods developed and led travel programs for Odyssey Travel who had a close relationship with Coral Princess Cruises and used their ships to provide Great Barrier Reef experiences for travellers from USA. Unknown to me the two managers of these companies had got together and my name must have come up as lecturer and one who had travel experience in the Kimberley. As a result, I was offered a cruise between Broome and Cairns.  In short I thought I was being offered a complementary cruise, but within a short period of boarding CP in Broome was asked by Mark and Chris –"Well what are you going to be talking about?"
Clearly, I had arrived with nothing prepared but with Chris's help we were able to organise a number of talks and make use of slides from the 35mm library and reference books carried on CP. Chis had saved the day and I went on to see the Kimberley coast under his guidance along with inputs from another person loaded with local knowledge, our Captain Peter Satori. Thus Chris was instrumental in my being asked directly by Tony if I would be available in 1999 to join CP as a GL and so began a new phase of my life!
Over the next few years, I would call in to see Chris at his Kununurra office when leading my inland Kimberley travellers and was always able to pick up new snippets of information from him about this fascinating region to use in my cruise talks. From memory, I only shared a few more cruises with Chris and face to face meetings were generally limited to short exchanges at crew changeovers in Darwin and once at a Kimberley Society seminar in Perth. However, he remained as a good correspondent by email and phone calls when the need arose. Interactions intensified when I was researching each of my books on the Kimberley coast and Chris was kind enough to proof-read my second book particularly to check for technical errors.
In recent years following moving their family home to Nannup, Chris continued to be a great help, particularly with plant IDs. Chris clearly had a broad knowledge of Kimberley biology but when in doubt was happy to call upon his expert friends to help solve my dilemma.
My only regret in this saga is that the recent WA COVID-19 restrictions prevented me from attending Chris's funeral and saying a heartfelt goodbye to a gracious and most helpful compatriot. He will be missed by many but his legacy lives on in Coral Expeditions.
–  Sandy Scott, 19 December 2020
About Chris
After spending seven years working in Papua New Guinea, Chris moved to the Kimberley where he worked for over forty years.
As the inaugural Regional Manager for the Department of Conservation and Land Management, his role included responsibility for the management of all national parks, nature reserves and wildlife matters. This role also focused on involvement with tourism.
Chris developed a keen interest in, and knowledge of Kimberley issues, including its history (both Aboriginal and more recent settlers), Indigenous art, geology, flora and fauna and associated management issues. He was fortunate to be able to accompany and support an expedition to relocate the "original Bradshaw" art site.  The style represented at this site is now correctly referred to as Gwion art.

He was closely involved with the research into, and the eventual establishment of, the sandalwood industry in northern Australia having planted the initial trials in the early 1980s.
Chris began his association with Coral Expeditions during its initial Kimberley season in 1996 and had since worked as a guest lecturer on many Tasmanian and Cape York & Arnhem Land expeditions as well as those in the Kimberley.
Chris wrote "The Best View of the Kimberley: From The Ocean" for us in March 2019  as part of the "A Pioneering Cruise Line" Anthology of Stories