Quentin Chester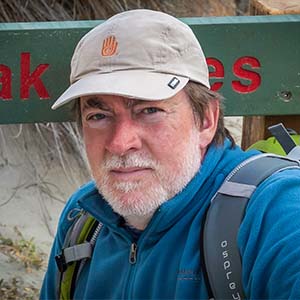 Islands have always been a fascination for Quentin. A long-time Kangaroo Islander, he grew up with the isles of Encounter Bay, and also lived for many years on Dangar Island in the Hawkesbury River. An inveterate offshore traveller, destinations have included remote islands in Queensland, Bass Strait, Arnhem Land, the Kimberley and South Australia's gulf waters. Together with Alasdair McGregor he's the co-author of Australia's Wild Islands, as well as their acclaimed The Kimberley: Horizons of Stone.
A writer by trade, Quentin remains one of Australian Geographic's longest-serving contributors. This 35-year association includes feature stories covering some of Australia's most beloved and far-flung regions. Meanwhile, his 'Wild Life' nature essays were a mainstay of Wild magazine for more than two decades. Over recent years landscape photography has become a major impetus in his work, both for editorial assignments and as an award-winning participant in fine art exhibitions.
An experienced outdoor guide, Quentin's early stints included leading Himalayan treks and wilderness tours in the Flinders Ranges and Victoria's high country. His enthusiasm for encountering landforms, wildlife and cultural history continues to inspire guiding roles in the Kimberley, outback South Australia, and most notably on Kangaroo Island.
From his home base – a converted shearing shed on 26 acres of bush at Antechamber Bay – Quentin and his wife Dale keep busy with the island's lighthouse heritage, its resident sea lion colonies, as well as several conservation projects.
View this post on Instagram
Images by Quentin at https://adobe.ly/3iSC6Dp