Dr Mike Donaldson OAM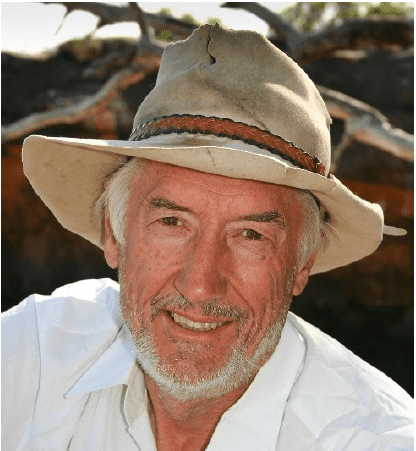 Mike was born in Sydney in 1945 and grew up at Warriewood Beach, one of Sydney's northern beaches. He graduated with an Honours Degree in Geology from Macquarie University (in Sydney) in 1972 and completed a PhD at The University of Western Australia in 1983 (awarded 1984), with a thesis on aspects of nickel sulfide ore genesis.
Mike worked in mineral exploration and associated research for over 30 years with companies including WMC, Coolgardie Gold, Sons of Gwalia, Ashton Mining, Beadell Resources, and Lithic Minerals and Energy. These activities took him all over Australia and to China, Russia, Finland, and much of Africa. He also worked with the Geological Survey of Western Australia (GSWA) for seven years as General Manager Mapping.
A latent interest in Aboriginal rock art took him to the Kimberley in 1989, followed by extensive bushwalks along the area's wild rivers almost every year since. Detailed photographic documentation and accurate location data of over 900 Kimberley art sites, many unknown even to traditional owners due to their remoteness, has resulted in a valuable archive of the regions artistic heritage. A similar detailed inventory of petroglyph sites on Burrup Peninsula in the Pilbara was also completed.
These images were made available to the public in large-format extensively-illustrated books published under his personal imprint, Wildrocks Publications; Burrup Rock Art in 2009, and Kimberley Rock Art (volumes 1 to 3) in 2012–13. Other volumes covering the art of a Pilbara island, Depuch Rock Art, and an Australia-wide volume, Australia's Rock Art, were prepared in 2016–18, but are yet to be fully approved for publication.
Copies of over 28 000 of Mike's rock art images in some 1600 art sites across Australia were donated to the Centre for Rock Art Research and Management (CRARM) at The University of Western Australia in January 2021 for use in ongoing research on Aboriginal rock art in Australia.
Mike was awarded the Order of Australia Medal (OAM) on Australia Day 2022, for service to the Indigenous community of Western Australia.
Books and manuscripts by Mike Donaldson. Details on www.wildrocks.com.au