Allan Du Toit
Rear Admiral Allan du Toit, AM, RAN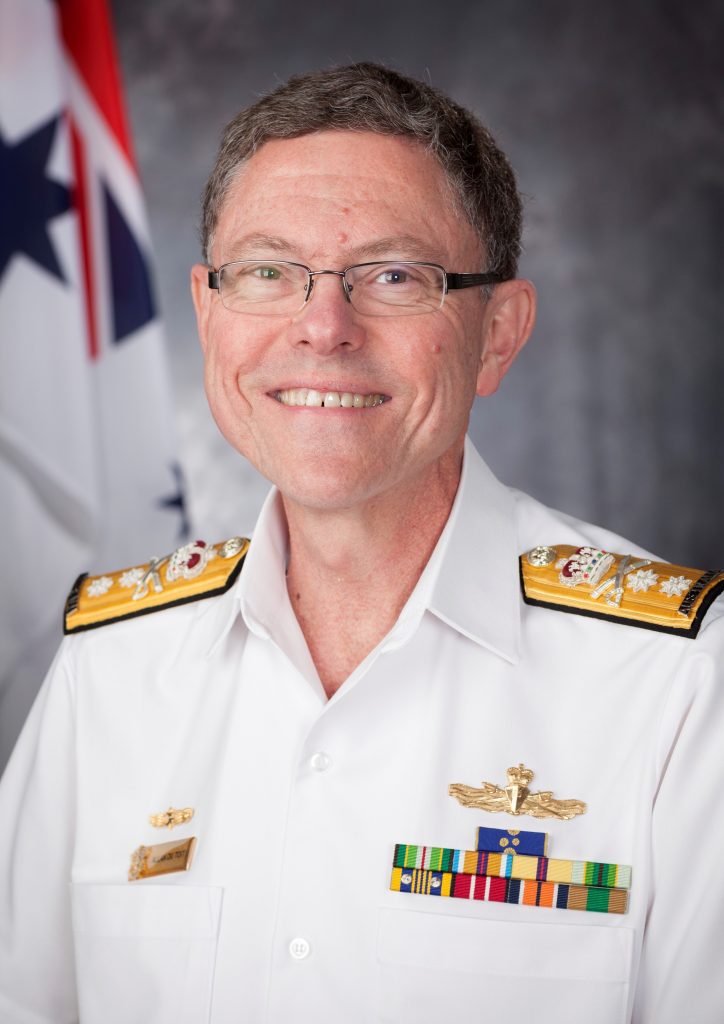 Allan du Toit transferred to the active reserve as a Rear Admiral in early 2016 after 40 years combined full-time service in two Commonwealth navies. He was born and raised in South Africa and educated at Kingsway High School in Natal. He entered the South African Navy in 1975 and joined the Royal Australian Navy in early 1987.
As a Warfare Officer at sea, he served in mine counter measures vessels, submarines, frigates, destroyers and amphibious ships, commanding at each rank from Lieutenant to Rear Admiral. As a Rear Admiral he commanded the multi-agency Border Protection Command and Joint Task Force 639 from 2008-10. The Command was responsible for Whole-of-Government efforts to protect Australia's maritime borders and offshore maritime interests. As a Commodore, he commanded Combined Task Force 158 in the North Arabian Gulf in 2007-8, charged with safeguarding Iraqi waters and offshore oil infrastructure, developing the new Iraqi Navy, theatre level engagement with Iraq and Kuwait and providing an international maritime security presence in a dynamic regional threat environment.
Previously, as Commander Australian Amphibious Task Group at the rank of Captain, he deployed to the Middle East in the amphibious ship HMAS Kanimbla in 2001-2 and commanded the first RAN Operation SLIPPER rotation. During this deployment, he became the first non-US Navy officer to command multinational maritime interception operations enforcing United Nations sanctions against Iraq, embarked with his battle staff in the destroyer USS John Young. Earlier that year, he participated in Exercise TANDEM THRUST 2001, Australia's major biennial high-end training exercise with the United States, as deputy Commander Amphibious Task Force embarked in the amphibious assault ship USS Essex. As a Commander he commanded the amphibious landing ship HMAS Tobruk from 1998-9 during Operation BEL-ISI, the combined peacekeeping operation in Bougainville. As a Lieutenant Commander he commanded the experimental non-commissioned SA Navy mine countermeasures catamaran Annie-K in 1985 and as a Lieutenant was relief commanding officer of the coastal minesweeper SAS Durban for a short period in late 1984 after serving in a range of junior seagoing appointments and undertaking warfare officer training.
Ashore, he served in a wide range of single-service and joint appointments, most recently as Australia's Military Representative to NATO and the European Union in Brussels from 2013-16 during which time Australia's strong commitment to NATO operations in Afghanistan continued. Prior to that, he served as Head Navy Capability in 2012; Head Navy People and Reputation and Head HMAS Success Commission of Inquiry Implementation in 2011; and Deputy Chief of Joint Operations in 2010 following his tenure at Border Protection Command. As a Commodore he established and served as the inaugural Director General Military Strategic Commitments in 2006-7 during a period of high operational tempo in Iraq, Afghanistan, East Timor and the South West Pacific. His other shore appointments as a Commodore included Director General Joint Operations and Plans in 2005-6 and Director General Navy Capability, Performance and Plans in 2004-5. As a Captain he served as Director Navy Strategy and Futures in 2003-4 and Commander Australian Navy Amphibious and Afloat Support Group in 2000-1, and as a Commander, Staff Officer Amphibious Policy, Doctrine and Capability in 1999; Operations Director Mine Hunter Coastal Project 1993-6; and Director of Mine Warfare and Clearance Diving 1992-3. He served in a variety of shore appointments as a Lieutenant Commander including Deputy Commander Australian Mine Warfare Forces in 1989-90, Executive Officer HMAS Waterhen in 1989, Staff Officer Mine Warfare to the Commander Australian Mine Warfare and Patrol Boat Forces in 1988-9.
He is a graduate of the South African Military Academy, the SA Naval Staff College where he also taught, RAN Staff College and the Australian Joint Services Staff College, and he attended various professional training courses in South Africa, Australia, the United Kingdom, the United States and with NATO during his career. He holds a Bachelor of Military Science degree from the University of Stellenbosch, where he read nautical science and politics, a Graduate Diploma in Strategic Studies, and a Master of Defence Studies degree from the University of New South Wales (UNSW). He is a member of the Australian Institute of Company Directors.
He has written and lectured on historical and contemporary defence, naval and maritime affairs both in Australia and abroad and is currently a part-time doctoral student in naval history at the UNSW Canberra where he is a Visiting Fellow, Adjunct Lecturer and member of the Naval Studies Group at the Australian Centre for the Study of Armed Conflict and Society (ACSACS). His books include: Ships of the South African Navy published while serving as a midshipman in 1976, and South Africa's Fighting Ships – Past and Present, published in 1992.  He was on the Advisory Board of the Australian Centre for Ocean Resources and Security (ANCORS) at the University of Wollongong from 2008-13 and he served as President of the Australian Naval Institute from 2011-13. He is currently non-executive Chair of JFD Australia, the world's leading submarine rescue company. He received a Chief of the SA Navy's Commendation in 1986 and was appointed a Member in the Military Division of the Order of Australia in the 2004 Australia Day Honours List.