"Dear All at Coral Expeditions,
We, as a family, would like to most sincerely thank you for an unforgettable time onboard the Coral Expeditions II at the end of July – beginning of August.
What an amazing trip this turned out to be! From the time we climbed on board to the time we left, everything was just perfect (except maybe a touch of sea sickness on the first night but there again, the team was most professional). Having never been on a cruise before, this was just what we were looking for : a small ship, a small group of people and mostly outdoors activities. so to all other crew members and the administration team for their assistance at all times. Thank you also to Mr Mark Fifield for the lovely bottle which we enjoyed when in Port Douglas.
We do hope to be back some time although we are quite far away…
Till then, we wish you all the best from the French Alps."
Nathalie & Jean-Marc N. | The Great Barrier Reef | August 2017
"Dear Mr. Fifield,
I noted that you would like comments on our experience on the Coral Expeditions 1. My friend Jenny and I recently returned from 10 days on this boat. We left from Darwin and reached Broome on the 22nd.  I completely surprised myself in that I was fighting back tears when all the staff lined up at the gangplank to farewell us. It was just that they had been so incredibly efficient and friendly and really cared for us. This trip was far better than I could have imagined…
Jenny and I discussed some way we could thank the crew before we disembarked.  So we threw together a little ditty, sung to the tune of "Botany Bay". We enjoyed putting it together and we sang it to the crew on the last night. They really appeared to appreciate it. So…thank-you Mr. Fifield. I am left with such great memories.  Jenny will be going to Tasmania next March on the Coral Discoverer, but not with me. Needless to say I shall be spreading the word – Get to The Kimberley."
Bronwen M. | The Kimberley | July 2017
"Pru and I had a thoroughly wonderful experience on Coral Expeditions II last week, in response to your most generous offer following the Spice Islands Cruise feedback (from others!).  We wanted to thank you once again for your generosity.  It was also lovely to meet Dawn and spend some time chatting with her.
Mitch and Carole were outstanding in attending to Pru's difficult dietary requirements, and we reiterate the thanks we passed on to them at the time.  The rest of the crew were also excellent – attentive, efficient and friendly.  As we remarked to someone at the time – a well-oiled operation. I am confident we will be aboard Coral Discoverer in the not too distant future!  Our sincere thanks once again."
Max & Pru E. | Great Barrier Reef | July 2017
"We would just like to tell you how much we appreciated and enjoyed our recent prize winning trip with Coral Expeditions to the Great Barrier Reef.  As always the crew were amazing…exceptionally friendly , helpful and welcoming and did everything they could to make our trip a success. The fact that they couldn't control the weather (cold, windy and a bit rough!) was beyond their call! We were reassured to see the coral reefs in very good shape, and our memories of the reef were reconfirmed. The expert advice was spot on and informative as usual. We hope to join you on another Coral Expeditions adventure in the future, as we enjoy your concepts, and your itineraries and destinations."
Cathie & Simon B. | Great Barrier Reef | June 2017
There aren't enough good words to use about these guys. Flawless. Honestly I think the best thing I have ever done on a holiday, and that's saying something! Having done day trips to the reef before I was really underwhelmed. I don't dive (though the amazing dive instructor with Coral gave me the confidence in the free skills class that I ended up doing an hour dive!) but I love snorkeling. This cruise suits anyone from experienced divers to non-swimmers, as there's a dive instructor on board taking any level of experience, all the snorkeling equipment you could need (and staff even taking time to teach people snorkeling who hadn't been before/guiding weak swimmers) plus glass bottom boat for non-swimmers. Marine biologist on-board was so knowledgeable; glass bottom boat took us to and from shore on Lizard Island and did a few other trips every day to see the reef and learn about it too. I did them all! Snorkeling was unbelievable – the cruise visits 5 different reef sites, including all three types of reef. The boat was amazing; very comfortable and cabins brilliant. Rooms cleaned daily, as well as turn down service in the evenings. Every need was taken care of, food was AMAZING (full breakfast and lunches as well as varying between buffet and a la carte dinners, plus morning and afternoon tea). I am a foodie and I was impressed. To put it into a nutshell… our first afternoon on the beach at Lizard Island we watched the sun go down while eating canapés and oysters and drinking champagne. The next day on our excursion ashore the chef had made a selection of fresh macaroons. It was to die for. I could go on and on, but it was a phenomenal way to REALLY see the outer reef at its best. Already thinking of booking it for my dad when he goes to Oz next year and have recommended to a client already. We were so lucky with the weather – I didn't take many pics but here's one of waking up to perfectly calm seas at Lizard Island! We were very lucky that there was only 17 of us aboard (takes up to 40) and 12 staff members, but I have no doubt the service would be just as great regardless, the staff were SO good. I could go on about it for hours seriously it was PHENOMENAL…
Rosie S. | Great Barrier Reef | October 2016
I wanted to thank you for all the help you gave me in organising my trip on Coral Expeditions 1. It was the trip of a life time for me. My fabulous cabin was very luxurious, the staff amazing ( like staying with family) and the activities always interesting. The chef produced amazing food to the extent one of the guests said "Couldn't you serve something I don't like"! Tom Collis the guest lecturer was a mine of information which he always presented in a friendly easily accessible way.
Lesley R. | The Kimberley | September 2016
I do want to tell you that my wife and I often sing your praises and when asked, we always tell people, whether asked on other cruises, or on any other occasions, that some of the happiest and best overall organisation in cruising which we have done, has been with Coral Expeditions.  On the 30 or so cruises we have done, including many ranging from a number of other operators, we always remember and refer to the Kimberley cruise with you from Darwin to Broome as a highlight among the many and thank you again and again for the many happy memories you and your people have given us.
John S. | The Kimberley | April 2016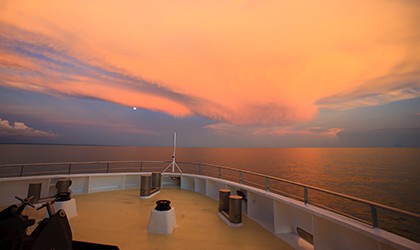 "We enjoyed this cruising so much, we have been on five more cruises and have wonderful memories of the stunning Kimberley area and going through the Horizontal Waterfalls in the zodiac, visiting many small islands of Melanesia and Papua, and to New Zealand, seeing the uniqueness of the local people. We have recently been on our sixth cruise – this was Darwin to Cape York and Arnhem Land and on to Cairns, visiting the Tiwi Islands, Cobourg Peninsula and Torres Strait Islands, again seeing the diversity of local people, and again being able to access diverse and spectacular remote areas in the small ship. We enjoyed and admired the beauty of sunset at the tip of Australia and then cruised, snorkelled and swam in the Barrier Reef, among beautiful coral and fish. The features we enjoyed on our first cruise still draw us back and we look forward to more memorable experiences, eco – adventure cruising with Coral Expeditions."
Jenny and Sel G. | Cape York and Arnhem Land | March 2016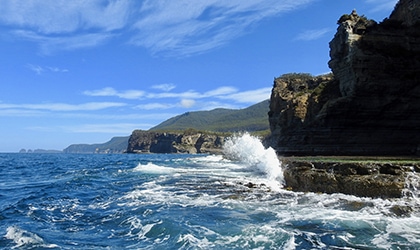 "Thoroughly enjoyed cruise. Staff have a good sense of humor greatly appreciated and helpful at all times. Lectures and interpretive content – 'Local information and knowledge very valuable – brought it all to life. Your choice of Kathy (Guest Lecturer) was excellent! – a living treasure of the areas visited gave our experience so much depth! The scenery was remarkable."
Jane & Col W. | Tasmania, November 2015