A Collection of Stories | Aboriginal Art
Art and culture are prominent themes across our voyages, alongside natural encounters and historical understanding.  Taking the connection with Indigenous communities to the high seas, our flagship vessels Coral Adventurer and Coral Geographer display a curated collection of artworks that tell the stories of the communities and art centres we visit.
Aboriginal art is the oldest form of artistic expression in the world. Using soil and mineral materials, First Nations artists produce carvings, ground designs and paintings as a means to pass on their history and knowledge to younger generations. It is an important means of cultural preservation used as storytelling means to convey knowledge of the land, events, and beliefs.
"We want to support and connect with the communities we visit and bringing the elements of these cultures and stories with us on board our ships is a powerful way to do that," says Assistant Marketing Manager, Jessica Roelofs.
"Coral Adventurer now displays over 35 pieces of artwork onboard, including eight pieces sourced through a Cairns Indigenous Art Fair (CIAF) partnership. We have also just received two unique paintings from well-known Coen artist Naomi Hobson, which were commissioned for Coral Geographer. Guests can enjoy these beautiful paintings when she takes her maiden voyage in March 2021."
Many of the works were sourced at their origin in places we visit like Elcho Island and Maningrida in Arnhem Land. We have been offering Indigenous art-themed voyages for several years now and have had the pleasure of Indigenous artists accompanying us to host workshops for guests. These artists have included well-known Torres Strait artists, Brian Robinson and David Bosun. A little-known fact is that Coral Expeditions logo was designed by Brian Robinson in 2015! Through our partnership with CIAF, we also held an art-themed sailing with Indigenous artist Naomi Hobson on the Great Barrier Reef.
"We are looking forward to a long association with CIAF and sourcing more feature artworks for the Coral Geographer," explains Jessica Roelofs. "Wherever we go in the world, we want to bring with us the Indigenous stories and culture from our home shores of northern Australia that we have explored for over 30 years."
New artwork aboard Coral Geographer
A collection of new works will be on display for the first time aboard the Coral Geographer when she debuts on her maiden voyage Across the Top of Australia in March 2021. Keep an eye out for large-format works by emerging artist, Daniel O'Shane, who draws inspiration from his Torres Strait Island and Aboriginal heritage.
Naomi Hobson is an Australian Indigenous artist from the Lockhart River, Cape York Peninsula in Queensland. Naomi Hobson is a visual, ceramic, and photographic artist known for her contemporary artworks full of vibrant colour and dynamic intricate shapes which imitate nature. Look out for Naomi's vibrant paintings in Coral Geographer's Bridge Deck Lobby – an abstract interpretation of her culture and the social and political history of her family and the ancestors before her.
Donny Wollagoodja is a renown Kimberley artist known for his expressions of Wanhjina art. He watched his elders pain the Wandjinas on bark and boards, and learned the stories of Lai Lai (creation).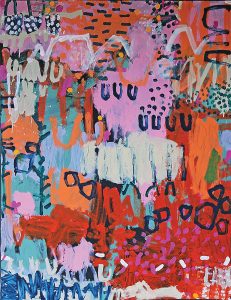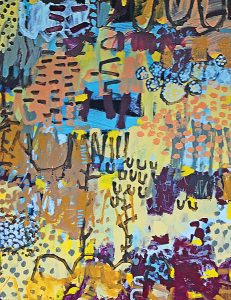 Naomi Hobson – Making Waves & Sea Light – Coen / Lockhart River
Daniel O'Shane – ii-ra-mer-ene-Gawei – Cairns & Torres Strait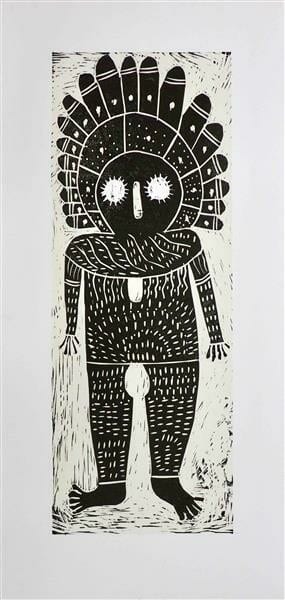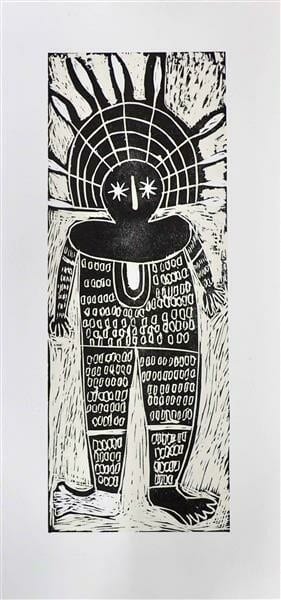 Donny Wollagoodja Nyorna – Jarlarloyni & Namarali – Kimberley
Supporting economic empowerment
Community arts centres are the gold standard if you want to buy Indigenous art ethically. Coral Expeditions voyages through Cape York, Arnhem Land and the Torres Strait islands frequently include stops at Maningrida Arts & Culture and Babbarra Women's Centre at Maningrida; Elcho Island Arts at Galiwin'ku; Badu Art Centre at Badu Island; Moa Arts at Moa Island; Tiwi Design on the Tiwi Islands; and Buku-Larrŋgay Mulka Centre at Yirrkala.
Purchasing art here is an authentic and meaningful way to support remote artistic communities. These art centres are often the beating heart of the communities on Indigenous lands, as they are places where culture is celebrated and instructed every day. The impact they have on the economy of remote communities is also deeply valuable, as creating art is one of few economic drivers that is available to remote areas.  In these art centres, community leaders work with a committed and ambitious vision to create a better future for future generations, as the centres play an important role in artists' career development and become a place of sharing culture between old people and young people.
Cairns Indigenous Art Fair partnership
Coral Expeditions is a proud sponsor of the 'Collectors and Curators' program at the annual event of the Cairns Indigenous Art Fair (CIAF). The program brings private collectors and curators from major institutions to the Fair, providing many emerging Indigenous artists with the chance to gain exposure to art leaders from across the country
"This is an important and aligned partnership for us on both a local and global level," notes Commercial Director Jeff Gillies. "Our expedition cruise experience is built on our commitment to storytelling and the delivery of authentic expeditions into rarely-visited regions.  We are very proud to be an ongoing supporter of CIAF with a multi-year partnership in place. It is a relationship our crew and team are very proud to be involved with."
"We encourage readers to invest in art, music, creative expression, and the people who provide it. We are proud to support remote Australian artistic communities from the rainforest of Queensland, to the saltwater of Arnhem Land and Torres Strait, and to the red sands of the West."