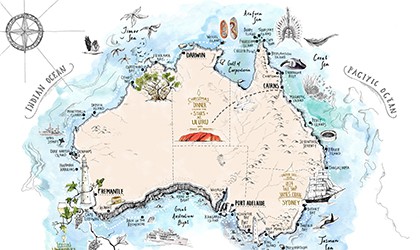 We take a voyage to circumnavigate this great land, to see the coast the way that mariners throughout history have seen it, and to explore key historical sites that shaped Australia. The great unknown land, Terra Australis Incognita, was for centuries imagined but uncharted, before explorers sailed to the edge of the world to find it. They discovered a land which was not unknown to the many indigenous tribes who lived throughout the vast island continent, and from that moment created a new history with both magnificent and terrible deeds. 2020 is the 250th anniversary of Captain Cook's landing, the 200th anniversary of Philip Parker King's explorations, and the 35th anniversary of Coral Expeditions.
> Departs 7 November 2020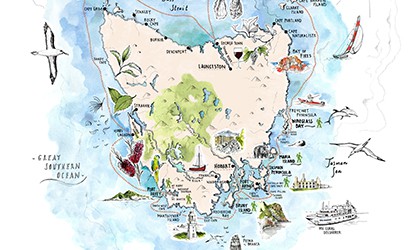 Following the sold-out success of our inaugural 2020 Tasmania Circumnavigation, we have extended the voyage for 2021. Join us on our first full circumnavigation voyage around Tasmania, showcasing the best of the remote parks, islands and harbours of this pristine island at the edge of the world. Highlights include a special Winemaker's Dinner in the Tamar region, hiking through the Strzelecki National Park on Flinders Island, a gourmet lunch and dairy tour on King Island, and two days exploring the rarely-visited world heritage wilderness of Port Davey.
> Departing 1 January 2021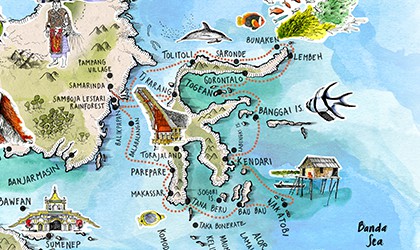 On this voyage, encounter extraordinary Sulawesi, which is famous for remote regions of remarkable cultural heritage, and inhabited by rare species such as the group of small primates known as Tarsiers, the Sulawesi hornbill, the Maleo and the Celebes Macaque. Visit the Bajo people, known as sea gypsies, in their stilt villages built over the water, and dive at the world-renowned reef locations of Bunaken and Lembeh. See the traditional Phinisi boats being built on the beach at Tana Beru, and encounter sun bears and orangutans in Kalimantan. Over 20 nights, experience another world from the comfort of Coral Adventurer.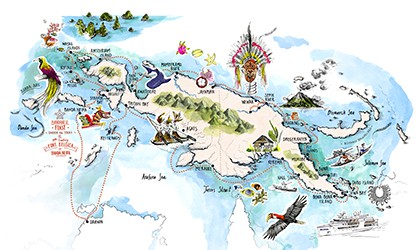 Be one of a special few to join us on our full circumnavigation voyage around New Guinea. This one-off voyage is packed with highlights. Sailing in comfort aboard Coral Adventurer, you will experience many diverse cultures from the Spice Islands to the Sepik River, marvel at untouched landscapes, explore the wonders of Raja Ampat, and be immersed in one of the world's last frontiers.
Make sure you are subscribed to our email updates to be notified when we release our October 2021 New Guinea Circumnavigation.