Explore a wild and unspoiled land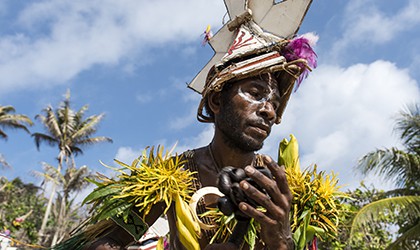 The Sepik is one of the world's great river systems. Meandering 1,100 km through Papua New Guinea, this mighty river has nurtured tribes and cultures for millennia. With dense terrain making this part of the world largely inaccessible by road, the river provides access to villages and towns along its course.  Coral Expeditions first explored the Sepik River nearly a decade ago.  We were amazed at what we saw. We encountered a truly wild and unspoilt land – increasing in magnificence the further upriver we went.
In response to increased demand to see more of Papua New Guinea,  Coral Expeditions has planned a short series of four landmark expeditions in February 2018, each of 7 days duration. Positioning the Coral Expeditions I at the Sepik for a short month-long window, we will take advantage of her shallow draft and maneuverability to travel as far as the middle Sepik, where few have ventured before.
Allowing the rhythm of the river to determine our schedule, we will visit local tribes who have had little contact with modernity, pass through some of the oldest and densest rainforests in the world, and look out for local species including the famed Bird of Paradise.  Reconnaissance voyages up smaller tributaries can be taken in smaller tender vessels, returning after each excursion to the comfort of Coral Expeditions I.
Coral Expeditions draws from our own experience cruising the Sepik, as well as the expertise of local operators, to develop an itinerary that is both comprehensive and exploratory. This knowledge of the area, as well as the experience and professionalism of our staff, will ensure you have a safe and exciting cruise.
Fares
February 2018
| CORAL EXPEDITIONS I | TWIN SHARE | SOLE USE* |
| --- | --- | --- |
| Deluxe Stateroom | $5,890 | n/a |
| Upper Deck Stateroom | $5,590 | n/a |
| Stateroom | $5,290 | $7,935 |
| Cabin | $4,990 | $7,485 |
*Limited sole use occupancy available