In the Wake of the Makassans: Australia to Sulawesi
14 Nights | Departing Darwin 27 February 2020 | Arriving Makassar 12 March 2020
From the 16th century, and possibly even earlier, Makassan trepangers began to venture down from their homeland in South Sulawesi. Travelling through the Flores and Savu seas, they arrived at the shores of the Kimberley and Arnhem Land.  Fishing for sea cucumber, the Makassans encountered the peoples of northern Australia and left an impact on the cultures that survive to this day. The Yolngu people of Arnhem Land in particular recount stories of the Makassan visitors and images of their boats are recorded in rock art.
Coral Adventurer will make her own journey from Darwin up through the straits of the Indonesian archipelago on her way to Makassar and will return the same way. These two voyages explore the undiscovered paradise of Indonesia's less-visited islands. Traditional lifestyles continue in regions of astounding beauty, and this journey takes you into the heart of it all.  Encounter traditional cultures from Pulau Alor, to Lamalera, Sagori, Torajaland and Tana Beru.  Experience the dramatic beauty of Indonesia at Flores, Komodo, and Takabonerate.  This journey through the archipelago is a feast for the senses.
Related Cruises: Reverse voyage Makassar to Darwin | Sulawesi Circumnavigation
Fares
CORAL ADVENTURER
TWIN SHARE PER PERSON
SOLE USE*
Bridge Deck Suite
$20,990
n/a
Bridge Deck Balcony Stateroom
$14,990
n/a
Explorer Deck
$13,990

$20,985

     $13,990

Promenade Deck
$12,790

$19,185

      $12,790

Coral Deck
$11,990

$17,985

      $11,990
Prices are listed in Australian dollars. Please note, for online bookings, special offers are not automatically calculated but will be applied once we receive your reservation.  Alternatively, you can book via phone call or email. * Limited sole use occupancy available. 
Solo Travellers Offer: Enjoy a double room with no single supplement on this voyage. T&Cs Apply. Learn More.
First Time Guests Offer: Save $1,400 per person when you travel with us for the first time. T&Cs apply. Learn more.
Xplorers Club Members: If you have travelled with us before, you will receive an Xplorers Club saving. Learn More.
Optional Charter flight: $850 per person.  Limited seats available, call our reservations team to confirm your booking.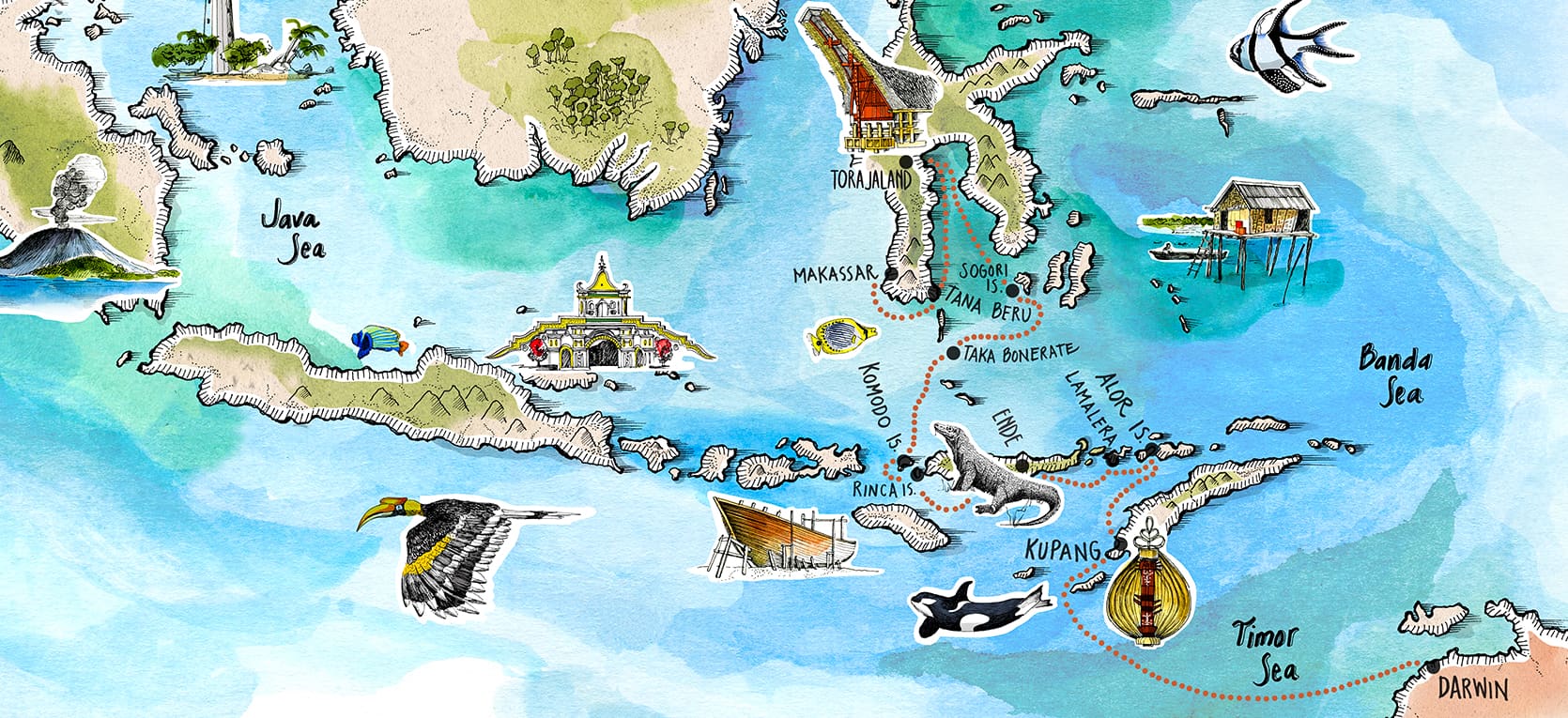 Tana Toraja – the Land of the Heavenly Kings
Toraja, the highland people of south Sulawesi, live in an area of steep mountains, fast-flowing rivers, and lush pastoral landscapes. The natural scenery is breathtaking, however the biggest appeal of Torajaland is its traditional ceremonies. The colourful funeral rites and sacrificial feasts are held against a backdrop of striking traditional architecture.
Torajans lived in isolation until the beginning of last century, and their age-old beliefs, rituals, and tradition live on. The noble people of Toraja are believed to be ancestors of those who came down a heavenly stairway to live here on earth. While Christianity has greatly influenced the Toraja people, the local animistic religion called Aluk Todolo "Way of the Ancestors" is recognised as the religion of the Torajans. This religion is marked by close familial ties and ancestor worship, and ancestors are believed to be in contact with their descendants' lives. This belief in a unique afterlife gives them a reason to work and gain wealth and status to have a better afterlife.
In order to survive and understand the eternal cycle of life and death, Torajans sustain the energy of the land and its people through rituals that celebrate life and death.  Life rituals and death rituals are kept strictly separate, linked to the agricultural seasons.  The elaborate funeral ceremonies last for days and involve whole villages. These times are not just to mourn the dead but to strengthen the unity of family and community.  Death ceremonies are only held after the last rice harvest, between July and September. This is possible because the dead are not buried immediately but are kept for months, sometimes years, in the ancestral house until time and funds allow for a proper funeral.  At these times, when the gate to heaven is believed to be open, the bodies of family members are moved from the house to the burial site. These processions, known as Rambu Solo, are uproarious events, celebrating death as the peak of one's life.  They can last for days or even weeks. Effigies of the family member are carved and placed in front of the grave to represent the continued life of the ancestors.  These death rites and ceremonies reinforce the eternal bond between the living and the dead.