Board at Darwin's Fort Hill Wharf at 1:00pm for 2:30pm departure on 15 January 2020. Guests are welcomed to board Coral Adventurer at 1:00pm,  and will depart Darwin at 2:30pm. After a safety drill and crew introduction, it's time to mingle and get to know your fellow expeditioners.  During pre-dinner drinks the briefing for tomorrow's activity will be conducted by our Expedition Leader.  Throughout the cruise we will be airing a selection of documentaries relating to our travels.
There will be a few presentations to be held today, and guests will be informed of the itinerary, safety procedures and protocols while visiting Indonesia. We plan to have a lecture in the afternoon, followed by the Captain's Welcome Cocktail Party.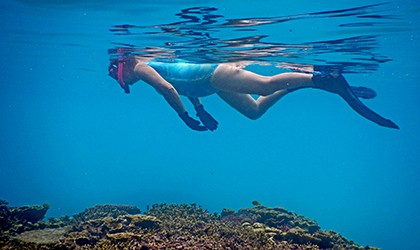 Welcome to Kupang – our gateway to Indonesia.  We will anchor at  Tablolong Beach, famous for its beautiful white sandy beach and a favourite swimming area. The highlight of the tour is listening to the traditional musical instrument 'Sasando'. Guests will also enjoy a traditional welcome dance and cultural performances along with refreshments.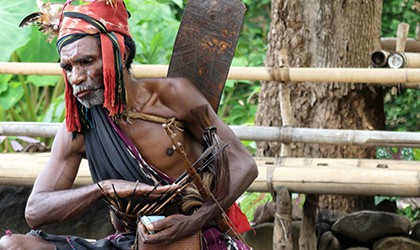 We will arrive at Alor and clear customs and immigration here. The population of Pulau Alor is about 140,000 but the island is very rugged, one of the reasons why this small island is divided with about 50 different languages. There are a few traditional villages and we will tour through the open-air Kadelang Market, the Museum of 1000 Moko, and on to the very pretty Takpala village to enjoy local dances and cultural shows. This island is famous for its hand-woven Ikat textiles.
Our destination here is the famed Kelimutu Crater. On the way to the Kelimutu headquarters we will stop at an orphanage where they will prepare local coffee and other refreshments. After enjoying the visit we continue on our climb up through the ranges enjoying the spectacular views in the valleys below.  After our journey by bus, we will hike to the spectacular Kelimutu Crater Lake.  You may throw stones into the lakes for good luck.  Enjoy another scenic drive to the village market followed by a delicious lunch at the Eco Lodge.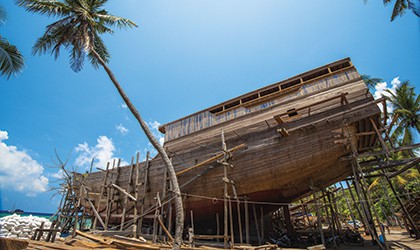 At this village in Sumbawa we will witness traditional boat building techniques and learn how they are crafted by hand.  Hear the stories and play with the village children.  We will also see the famous traditional checkered cloth being woven right underneath the village houses. You may be lucky enough to weave the cloth yourself and certainly you will have the opportunity to purchase some directly from the artisans.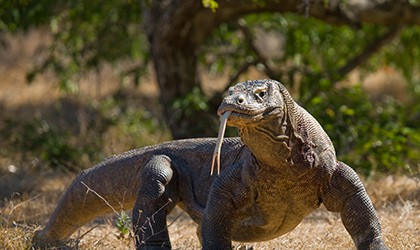 We awake at Rinca Island.  The main attraction here is of course to see the ancient Komodo Dragons. Our group divides to explore the island, taking turns enjoying water activities or searching for the iconic Dragon.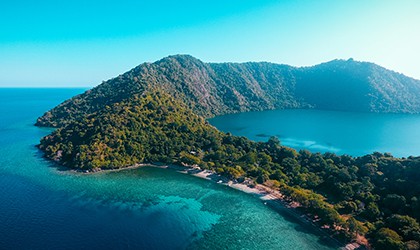 Satonda Island is a small un-inhabited volcanic island off the north coast of Sumbawa, separated by a narrow strait from Tambora, the site of the largest and most devastating volcanic eruption in human history.  In 1815 Tambora erupted expelling into the atmosphere twice as much material as the later Krakatoa in 1833. For the small island of Satonda, there is a lasting effect. The eruption was so great that it breached the rim of Satonda crater and dumped millions of gallons of sea water there, leaving the crater lake filled with salt-water instead of fresh. Satonda's beach is remarkable because a major portion of its sediment consists of pebbles of pumice – a foamy volcanic glass, so light that it floats on water.  This hidden gem offers quiet nature walk, some pristine white beaches, wonderful snorkelling,  and birdwatching.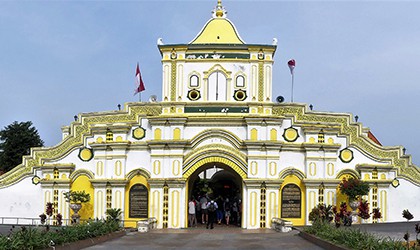 Sumenep is Madura Island's most interesting town, situated just north of the eastern tip of Java. The history, culture and architecture of Sumenep can be seen in the Palace/Kraton Museum (such as a 500 kg hand-written Quran), which include relics of the Hindu kingdoms.
Explore the historic Sumenep Palace and the museum. Marvel at Sumenep Jamik Mosque with its distinctive architecture. Visit Kalianget Old Town, with its relics of a salt factory, and colonial architecture built by the colonial Dutch government.  Sumenep Square is a well-presented park, Taman Adipura, a horticulturalist's delight; and the night markets provide a wide range of culinary specialities. Visitors can obtain fine batik cloth, wood carvings, Dutch antiques – browsing through shops and stalls is fascinating.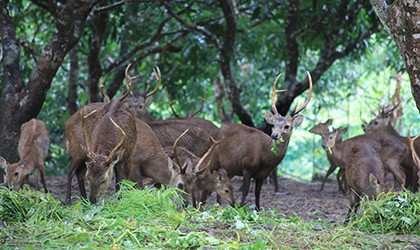 Pulau Bawean is located in the Java Sea. This small island is circumnavigated by a single narrow road and is dominated by an extinct volcano at its centre that rises to 655 m.  As a result of many men leaving the island for work, females constituted about 77% of the actual population of the island, which is thus often referred to as the island of women (Indonesian: Pulau Putri).  The island has rich nature with many endemic species, such as the Bawean Deer which is only found on the island and is included to the IUCN Red List.
There are several smaller islands around Bawean such as Pulau Gili and Pulau Noko – small un-inhabited sand islands with crystal clear water and underwater beauty. The calm water and makes it very good for snorkelling or swimming.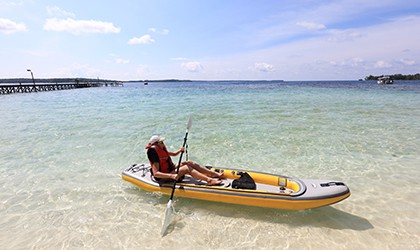 Uncover Karimunjawa Archipelago's pristine beaches and coral reefs and join in numerous water activities or hike the low hills through lush forests.
We visit Pulau Kecil, a privately owned island which the owner allows us to visit.  This remote location has an excellent great coral reef for snorkelling and a beautiful beach with shady areas for relaxation.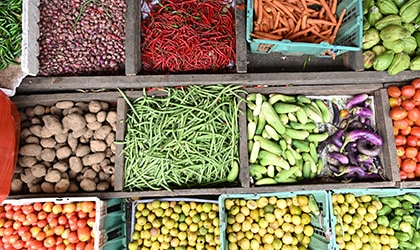 Batavia is the old Capital of Dutch East indies company. Here we will visit the old building which still stands and was the Headquarters. Located at a square which is now called Fatahillah square, we will visit  Jakarta History Museum, Maritime Museum  and old Dutch buildings. Jakarta – previously Batavia, from where Tasman commenced his voyages, both 1642 and 1644.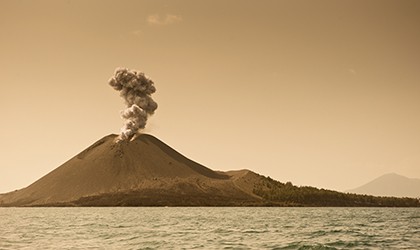 On the way to Ujong Kulon, we will pass by Krakatau. Krakatau (Krakatoa) is a black volcanic island in the Sunda Strait between Java and Sumatra in Indonesia. The name is used for the island group, the main island, and the volcano as a whole. It has erupted repeatedly, massively, and with disastrous consequences throughout recorded history. The best-known eruption culminated in a series of massive explosions on August 26-27, 1883, which were among the most violent volcanic events in modern times. The sound of the explosion was heard as far away as Alice Springs, in Central Australia; fine ash reached as far as New York City, while the resultant tidal waves which caused complete destruction in the surrounding coastal areas. Despite the devastating effects, the disappearance of the gigantic Krakatoa also meant the birth of small islands in its place, including the present Anak Krakatau (Son of Krakatoa).  From both West Java's west coast, and from Sumatra's Lampung Province, this young and very active volcano is clearly visible. Today the volcano is under 24-hour visual and electronic surveillance from Java.  View the recently erupted volcano as we cruise past.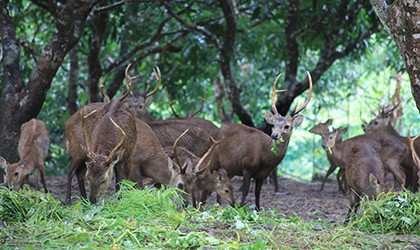 Ujung Kulon, one of Indonesia's best known national parks, lies on the SW corner of the island of Java. It is one of the last remaining natural forests on Java and one of very few areas offering a profile of sea-shore to mountain top tropical vegetation. The beautiful isolated beaches that cover the coastline are among Ujung Kulon's best-kept secrets. While snorkelling, it is spectacular to see the variety of tropical fish in the clear blue crystal water.
The park holds well over 700 species of plant life, of which 57 are classified as rare. The rocky shores, mangrove swamps, mud flats, sea grass beds, coral reefs, and sea trenches provide diverse and fascinating insights into the underwater world.
Ujung Kulon's tropical climate makes travel pleasant in this World Heritage listed site, which is also home to the highly endangered Java rhinoceros. The large array of wildlife is fascinating, with some sighted daily while others are rarely seen. What is remarkable is that this park remains a pristine haven of nature on Java, one of the most densely populated islands in the world.
Start the day with sunrise at HMAS Perth. Commodore Rynd will host our remembrance service with the Coral Adventurer positioned over the resting place of the HMAS Perth.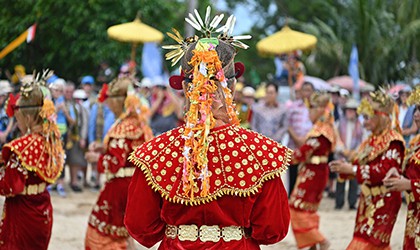 Enjoy watching a ceremony full of life and exotic dancing, greeted by hundreds of smiling locals. After the performances, we are taken on a tour of Tanjung Kelian, with the stunning backdrop of a 156yr old 66m tall lighthouse, with the option to go up the 177 stairs to spectacular views at the top. Stalls around the lighthouse grounds, give you the opportunity to feast on magnificent local cuisine. See Photos From Our Last Trip Here.
Today guests can recap their adventures with photo sharing and final lectures by our Expedition Team.  In the evening enjoy Captain's Farewell Drinks.
Coral Adventurer will arrive into Singapore at 8:00am. Farewell your captain, crew and fellow guests at disembarkation around 9am.