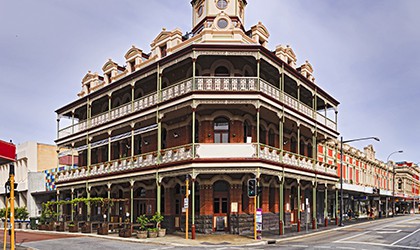 Board Coral Geographer in Fremantle where there is time to settle into your cabin before our 9:00am departure. Spend the day exploring Coral Geographer and become acquainted with our advanced expedition ship and all her facilities including wrap-around Promenade Deck, Open Bridge with Navigator Lounge, Vista Deck, Lounge, Gym and Cocktail Bars.
As dusk falls meet your fellow travellers, the Master and crew for the Captain's Welcome Drinks.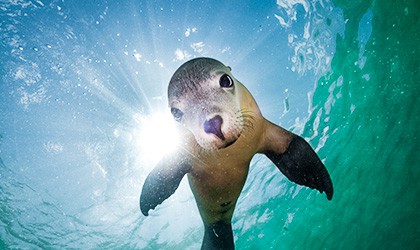 The Abrolhos Islands are a low-lying archipelago of 122 islands and reefs 60km off Geraldton. These National Park islands are surrounded by the southernmost coral reef and hold significant places in Australia's history as the resting place for Dutch shipwrecks Batavia and Zeewijk. The Batavia shipwreck, recovery of artefacts 300 years later and the discovery of graves is one of Australia's most fascinating maritime stories.
Batavia was laden with gold and silver coins and bound for the Spice Islands with 322 passengers and crew onboard when she ran aground on Morning Reef in 1629. Shipwrecked survivors scrambled ashore, but mayhem and massacre ensued as a mutinous crew lusted after power as a bounty of treasure lay within Batavia's wrecked hulk. In their bloodthirsty quest for control, the mutineers dispatched a contingent of soldiers to what we now know as West Wallabi Island, hoping they would quickly perish without food or water. Instead, the soldiers flourished, surviving on wallaby and a freshwater spring they found and building a makeshift fortress to repel the murderous mutineers. This simple structure, little more than rocks piled atop each other amongst low-lying scrub, became the first European construction in Australia, and the ruins are still visible today.
Historic shipwreck aside, the waters surrounding the Abrolhos Islands are the main attraction. Abundant marine and birdlife are lured by the warm waters of the Leeuwin Current. The islands are a significant seabird breeding ground for millions of shearwaters, noddies and terns. But it is the inquisitive sea lions who steal the underwater limelight. Swimming and snorkelling with these curious mammals as they frolic playfully with swimmers is an undisputed highlight of our Abrolhos Islands stopover.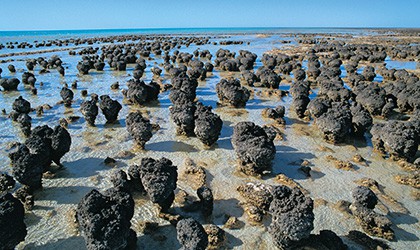 Shark Bay is Australia's most westerly point and one of just four West Australian World Heritage Sites. UNESCO recognises Shark Bay for three exceptional natural features. It has the largest and richest sea-grass beds in the world, which in turn attracts a large dugong (also known as sea cows) population. But it is the 'living fossil' stromatolites of Hamelin Pool which attract the most attention in these parts, as the representatives of life 3.7 billion years ago.
By comparison, Indigenous Australians' 22,000-year occupation of Shark Bay makes them relative newcomers. In 2018 Indigenous Malgana and Nhanda people were granted native title rights, giving them unhindered access to occupy, hunt and fish the red sand country they have roamed for eons. Ancient midden sites have been found in the ochre-hued sand of Peron Peninsula and Dirk Hartog Island.
Dirk Hartog Island was named after 17th century Dutch sailor Dirk Hartog when the Roaring Forties took his ship Eendracht close to the 'Southland' coast while enroute to Batavia (present-day Jakarta) to trade for spices. Hartog stayed long enough to ascertain (incorrectly) the land was uninhabited and of little interest. Nevertheless, he marked his arrival by nailing a pewter dinner plate to a post on the cliff top before resuming course for the Spice Islands. Hartog thus became the first known European to land on Australia's west coast and the second to step ashore on New Holland (Australia) after countryman Willem Janszoon.  Englishman and natural historian William Dampier followed 83 years later, recording the first detailed botanical drawings of flora and fauna and naming the region after the proliferation of marine life sighted.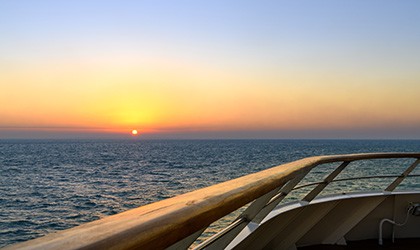 Enjoy five luxuriant sea days at leisure as we cruise north-westwards towards the Cocos (Keeling) Islands. Join our Expedition Team for a fascinating program of activities, demonstrations and informative presentations.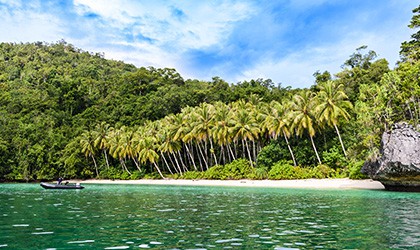 Thousands of coconut palms rise above the horizon as Coral Geographer nears the Cocos (Keeling) Islands. Emerging from the cobalt-blue Indian Ocean, a horseshoe-shaped string of low-lying atolls rimmed by powder-soft white beach sand appear adrift upon a turquoise lagoon. Beach expert Brad Farmer named Cossies Beach at Direction Island the best in Australia.
This abundance of palm trees is the legacy of a copra plantation established by the original 'King of Cocos Islands,' Scottish merchant seaman John Clunies-Ross. In the 1820s Clunies-Ross ruled this sunshine-blessed paradise as his private kingdom, bringing in indentured Malay labourers to work his coconut plantation. Their 500-odd Cocos Malay descendants, plus a handful of Australian government employees, make up the entire population of Cocos (Keeling) Islands.
In 1985 Cocos residents voted to become a democratically run, self-governing Australian territory. Self Determination Day is the biggest festival of the year and Coral Geographer's visit is timed to join in the celebrations. The festival promises a beguiling clash of Cocos Malay dances, Scottish line dancing and a colourful boat regatta between traditional jukong sailing boats.
Cocos' remote location makes it a significant habitat and rookery for seabirds – oft-sighted species include red-footed boobies, noddies, white terns, frigate birds and the Rufus night heron. The incredible aquamarine lagoon rimmed by Direction, West and Home Islands is inhabited by turtles, manta rays, reef sharks, dolphins and colourful tropical fish.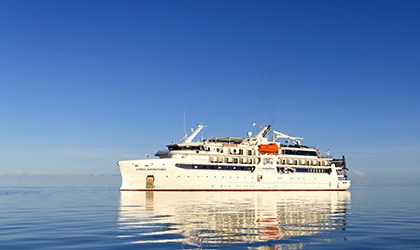 Enjoy a relaxing sea day at leisure as our program of activities, demonstrations and informative presentations continue.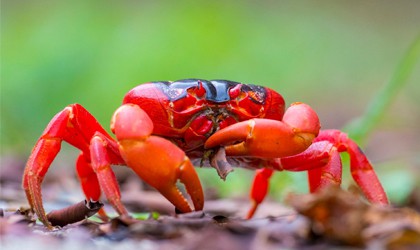 In stark contrast to beach-lined Cocos, Christmas Island's topography is all craggy outcrops befitting its topography as a flat-topped summit of a 4,500m underwater mountain (Switzerland's Matterhorn is 4,478m). With just 360m of the mount visible, Christmas Island's near-vertical underwater cliffs make it a world-class scuba diving and snorkeling destination.
Nature dominates at Christmas Island with 60% of the island a national park protecting its unique flora and fauna. A mammoth robber crab population, some the size of toasters and weighing as much as 4kg, command the spotlight. The annual spawning of the 40-50 million or so red crabs is considered one of the world's greatest migrations when traffic is redirected to allow crabs safe access to the sea. Endemic seabirds like the endangered Abbott's Booby's and Christmas Island Frigate Birds nest here as well as golden bosuns (White-tailed Tropicbird) and migratory Lesser Frigate Birds being regular visitors.
Beyond these extraordinary wildlife watching opportunities, Christmas Island's interior is graced with stands of rainforest pierced by waterfalls and caves carved by freshwater springs and pummeling seas. Sea cliffs grace much of the 80km long coastline, giving way momentarily to picturesque coves and beaches bookended by weathered limestone outcrops.
Home to a harmonious multicultural community who have themselves travelled far across the seas, Christmas Islanders embrace visitors to their remote island outpost.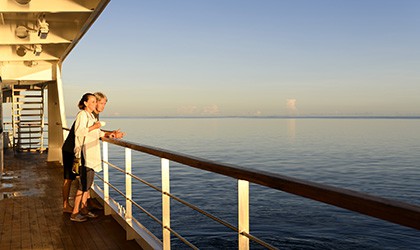 Enjoy four luxuriant sea days at leisure as our program of activities, demonstrations and informative presentations continue.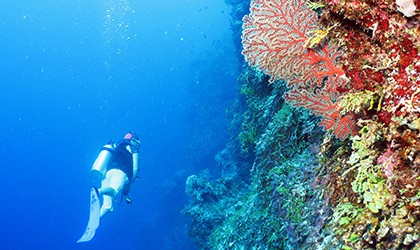 The uninhabited and protected Australian External Territory of Ashmore Reef lies in the Timor Sea on the edge of the Continental Shelf. Ashmore Reef Marine Park encompasses three low-lying islands that barely rise above sea level along with a vast lagoon circled by a fringing reef. Approximately 100,000 seabirds, such as Greater Frigate Birds, Crested Terns and White-tailed Tropicbirds breed here annually. Additionally, tens of thousands of migratory birds travelling between northern Asia and Australia temporarily stop at this important feeing site.
Snorkelling in the marine park offers a rare opportunity to explore remote, protected coral reefs with their abundance of marine life.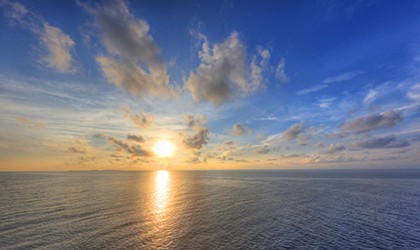 Our penultimate day onboard is spent at sea as we reminisce about our Island Outposts adventures with new friends and enjoy our last evening over Captain's Farewell Drinks.
Coral Geographer arrives into Darwin at 8:00am. Farewell your Master, crew and fellow guests at disembarkation at 9:00am.