We are welcomed on board Coral Adventurer in Wewak at 11:30 am and depart at 1:00 pm. Relax on board as you get to know your fellow passengers. Watch the magnificent coastline pass by as you enjoy sunset drinks before your first of many delicious dinners.
Overnight we cross into West Papua waters ahead of our arrival in Jayapura, formerly known as 'Hollandia' during World War II and now a melting pot of sights and smells. Guests will be joining a guided bus tour around the city which includes Hamadi Museum Loka Budaya, Hamadi Traditional Market and Pepera Monument which is the landmark in the heart of Jayapura City.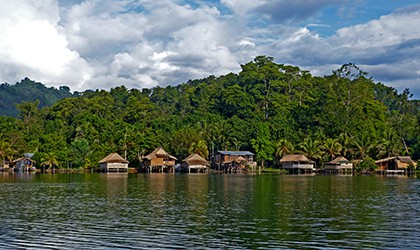 Explore the river known as the Amazon of Papua. As the largest and widest river in Indonesia, it cuts the northern mountain range in two and forms the border between the eastern Foja Mountains and the western Van Rees Mountains, weaving its way deep into virtually unexplored terrain. Tribes here are almost completely un-contacted and the vast biodiversity is incredibly preserved.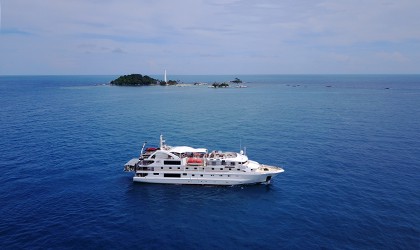 Spend a day at sea and join the Expedition Team in the Lounge for an introduction to Raja Ampat. Learn about the many wonderful experiences we will undertake over the coming days exploring the archipelago. Raja Ampat Islands is located in the heart of the Coral Triangle, the Centre of marine biodiversity in the world. The area is home to 75% of the world's coral reef types with 553 types of coral reefs and 1,437 kinds of reef fish.
Cross the equator today into the northern hemisphere as we make our way towards stunning Wayag Island.  Experience the breathtaking views as we enter Wayag lagoon, then explore the magical maze of limestone karst 'gumdrop' islands aboard the Xplorer and zodiacs. After lunch enjoy water activities on the nearby beach or for the very fit climb to the top of Mt. Pindito for the panoramic view.
We make our way to Kofiau Island, another island of the Raja Ampat region. Be welcomed by local village dancers on a "flatform boat" as they lead us ashore to Kampung Deer. Local guides lead us through as we explore the village. A local long-boat transfer takes us to the next village Kampung Awat where we enjoy an Opening Sasi ceremony and beach BBQ. We spend the afternoon snorkelling, bird watching and exploring other villages.
Raja Ampat's literal meaning 'The Four Kings' is because this archipelago comprising over 1,500 small islands, cays, and shoals are surrounding four main islands: Waigeo, Batanta, Salawati, and Misool. Today we visit Folley on the top East side of Misool. Here will take in the picturesque beauty that is Balbulol, where five high cone-shaped cliffs rise from the turquoise waters in a line like emerald Christmas Trees. We enjoy swimming and kayaking water activities here.
There are more than 1000 ancient rock paintings have been discovered in Misool in over 60 sites. Red-coloured rock paintings on several cliffs a show form women's hand with long tapering fingers. There are also paintings of marine fauna such as sharks, tuna, dolphins, several sticks, canoes, overlapping abstract images, line and symbol of fertility.
After lunch we visit Yapap, the best natural pool in the world. This huge primordial pool is adorned with impressive karst formations which look more like chess pieces than rocks. Its turquoise seawater is so clear that the sand and coral reefs on its shallow ocean floor are clearly visible from the surface. Swimming and diving here is incredible. We also visit Dafalen Love Lake. It is an excellent place for lovers, friends and family to swim together in this symbolic lake of love. You can optionally climb up into the summit of the rock to see the heart-shaped lake from above.
Sawai is a little slice of paradise located on the Central Northern side of Seram Island, Maluku. Sawai village is one of the oldest villages in Maluku, with houses that extend out over the water. We will spend the day exploring the beautiful clear waters and reefs along with grand cliffs and Manusela valleys of Manusela National Park. Not far from the location of the reef, there is a big gap and height that can be entered and a beautiful spot for bird spotting.
Buru Island is the third largest island within Maluku Islands and has a diverse historic narrative. Between 1658 and 1942 the island was colonized by the Dutch East India Company and then by the Crown of the Netherlands. During former President Suharto's New Order administration in the 1960s–1970s, Buru was the site of a prison used to hold thousands of political prisoners. Buru is located at the boundary between the biogeographic zones of Australia and Asia, its flora and fauna are unique and are the subject of national and international scientific research.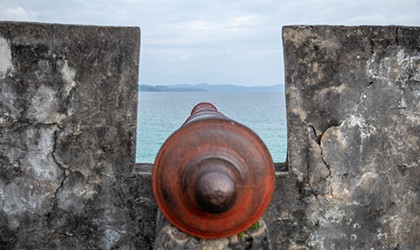 Mamala on the tropical Ambon island is mountainous, well watered, and fertile making for vivid scenery on guided walks, along with snorkelling and diving opportunities. After lunch we make our way East across to Saparua Island, one of the legendary 'Spice Islands' where we are welcomed by merrily singing school children. The area holds an important spot in history books which we learn at Fort Duurstede, a 17th-century Dutch fort with a complicated backstory that spans centuries. Here men and boys give us their war dance with shields, swords and cultural adornment. The Saparua street markets are known for their fresh produce such as fish, bananas, chillies and sago. Sago starch comes from the centre of the sago palm tree and was once known as the 'hidden white pearl' for its importance as one of Indonesia's staple foods. Saparua takes full advantage of this cash crop. Not only with the selling of fresh sago and sago baked goods, but also sago 'fire' wood, which you often see drying along the shoreline.
An early morning option to snorkel or dive over the unique submerged lava flow.  For those wishing a leisurely morning, return to Banda and enjoy the traditions of a bygone era with cinnamon tea and local delicacies at the waterfront hotel before we farewell the Spice Islands and set sail towards Darwin.
Today we explore the centre of the Spice Islands, where the world's supply of nutmeg and mace has been traded for over 2000 years.  See Gunung Api volcano and Banda's famous Kora Kora canoes in action.  At Banda town our guides will introduce us to the sights and smells of this historic area. We wander past the remnants of mansions constructed during Dutch colonialism on a town tour and visit historic buildings before visiting the markets. Refresh onboard before joining the locals for a traditional dance and music performance while enjoying a glass of champagne on top of Fort Belgica.
Spend the day at leisure enjoying the on board facilities as we cross the Timor Sea and join our Expedition Team in the ship's lounge for a recap of the expedition.  Reminisce with your new found friends at the Captain's Farewell Drinks.
This morning at 11:30 am we arrive at Darwin's Fort Hill wharf, marking the end of our great adventure discovering New Guinea. Once cleared by Customs and immigration we disembark at 1:00 pm.