Voyage Log: The Kimberley Cruise | Darwin to Broome
Darwin to Broome   |   18 August 2023 – 28 August 2023
Jump To: Day 1 | Day 2 | Day 3 | Day 4 | Day 5 | Day 6 | Day 7 | Day 8 | Day 9 |  Day 10

17 August 2023 
For some, the Kimberley was a long-awaited dream. For others, the opportunity to relive unforgettable experiences from another time. As a group, we all gathered at the Novotel conference room in Darwin, bright and early. Pre-embarkation requisites, such as luggage tagging and health requirements, were completed. We hopped on the coaches, ready for our next adventure!
Captain Simon and his staff awaited us with welcoming smiles and a continental breakfast. Cabins and luggage were assigned, and everybody settled in nicely, awaiting the next steps. Seven short blasts followed by one long blast announced the mandatory "safety and abandon ship" drill, right at the moment of departure. In orange life jackets, we went through safety steps on how to muster and abandon ship in case of any emergency. After completing the drill, the captain, purser, crew, and the expedition team introduced themselves and gave an outline of the program through to Broome. At 11 am, guest lecturer Jamie invited us all to the Bridge Deck Lounge for our first lecture of the voyage, 'Kimberley – Behind the Scenes.' Jamie is our 'Kimberley Oracle,' as Bia likes to say, and shared all things Kimberley with a very interested crowd. From freshly renamed sandstone to birds of prey, Jamie covered the most interesting topics on features we might encounter in the coming days. Lucky us! At noon, we got a sample of what to expect from our enthusiastic hotel and galley teams. Carefully crafted meals, well-balanced and beautifully presented. Very much looking forward to experiencing the menus yet to come!
For those interested in the Mitchell Falls helicopter flight, our EL David organized a quick session at the Bridge Deck Lounge at 2 pm to share information on the flights and logistics for that day. At 3 pm, the engineers and Bridge teams opened their doors to welcome anyone who'd like to learn a little bit about how the brain and heart of the Coral Discoverer work. Tours were organized, and spots were limited! An announcement at 5:30 pm had all of us a wee bit excited when we heard that Captain Simon would like to welcome everyone upstairs for Welcome Drinks. As he was feeling rather generous, all drinks were on him, of course ;) Drinks were then followed by our lovely hotel team, ready to accommodate us in the restaurant, and a delicious welcoming menu was prepared by the galley. The night was wrapped up with a tropical Pavlova. Early bedtime for some, but for those still active, a documentary 'BBC Australia – The Kimberley' was shown. What a day it has been.
The voyage had officially begun!

Day 2: King George River – Oomari Falls
 19 August 2023
Overnight, we enjoyed the continued calm seas as we cruised towards the Kimberley Coast. A quite welcoming scenario, as calm seas mean a well-rested evening. Straight after breakfast, we were soon heading up the King George River in the Xplorer, following a spectacular eroded sandstone valley with towering red sandstone walls, which wound 16 kilometers inland to the famous King George Falls – our first excursion into the ancient geological world of the Kimberley. As we motored upstream, we learned some of the unique facts of this hidden river valley. What amazed us was the fact that so many navigators had missed this spectacular river, and it wasn't until 1911 that it was discovered and named by an overland expeditioner, C. Price Conigrave. He named it for King George V.
When we reached the falls, we were given an opportunity to try and spot a small patch of rock art present on an iron oxidized patch of the sandstone, quite high up. Hard to spot with the naked eye, but if we knew what to look for, we could lock our eyes on it and use binoculars to see details. For those who couldn't, not to worry! We will be visiting plenty of other sites where rock art can be appreciated. Wildlife was quiet on the river, but we did flush out a couple of White-bellied Sea Eagles while looking at an impressive Osprey's nest. The tide was friendly, which allowed us to get nice and close enough to the nest to be able to see both parents there – one of them feeding a chick. After lunch, we met Guest Lecturer Bia at the Bridge Deck Lounge for her first presentation on this cruise, 'Something You Didn't Know About WW2,' where we learned that Koolama Bay was the stage for a dramatic episode of WW2, with the bombing of a ship, rescue parties, and a possibly unsolved mutiny. But Bia didn't give us everything! She saved part of the story for the screening of the documentary/dramatization 'Malice or Mutiny – the Koolama Incident' following her lecture. The MV Koolama was bombed on 20th February 1942 and sailed into Rulhieres Bay for repairs. Passengers from the MV Koolama were taken overland, from Pangali Cove (a small cove at the western end of Koolama Bay), by a rescue party to Kalumburu (Pago Catholic Mission). Thanks to the expertise of Aboriginal guides, they all survived. Later, there was a change of name to the bay from Rulhieres to Koolama to commemorate a mighty ship.
The afternoon unfolded pleasantly, with Bridge and Engine Room tours available for those who could not attend the previous day, and a lovely Wine Tasting session got everyone excited around 5 pm. A quick peek at the Matildas' game got everyone's nerves on edge, but a lovely dinner took our minds away from the Swedish team's victory. Not to worry. The Matildas were fabulous!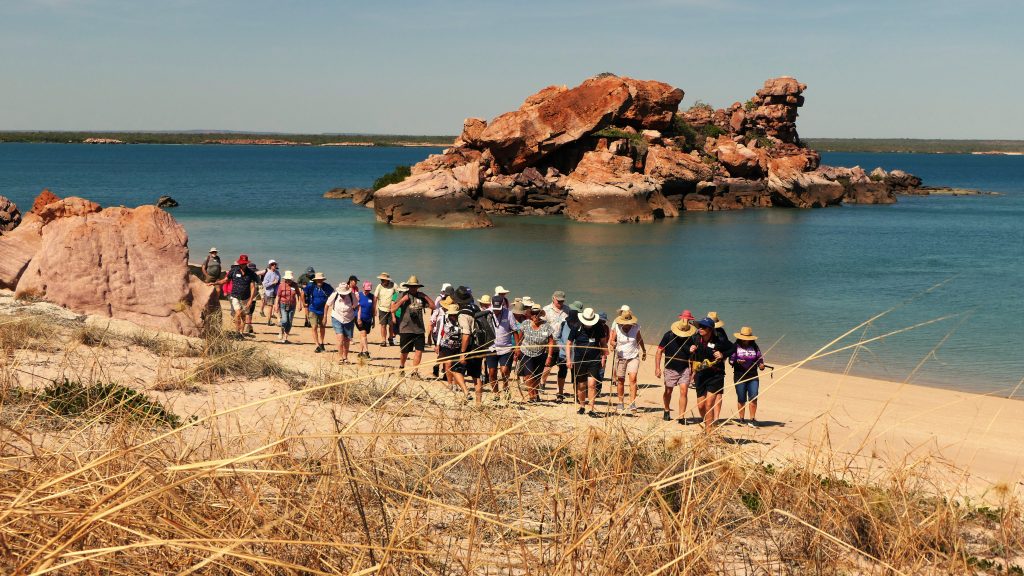 Day 3: Vansittar Bay – Banjal
20 August 2023
We anchored in Vansittart Bay near Jar Island last night. Phillip Parker King named this bay in 1819, hoping to secure a new ship to replace the leaky HMC Mermaid. After breakfast, we gathered in the Bridge Deck Lounge for a captivating presentation by Jamie titled 'Phillip Parker King – Legendary Surveyor of the Kimberley Coast.' We delved into his daring explorations along some of the most challenging regions of the Australian coastline.
Our next adventure took us to the southern side of Jar Island, also known as Ngula, aboard the Xplorer. This island received its name from the discovery of clay pottery shards left behind by Makassan trepangers from Eastern Indonesia, who used it as a base for processing their catches centuries ago due to the high demand for Sea Cucumber. We also explored an ancient Gwion Gwion art site, offering a glimpse into an enigmatic ancient society.
After a sumptuous lunch, we headed to Anjo Peninsula, where we encountered a well-preserved C53 Sky Trooper that overshot Broome due to a navigational error during a night flight from Perth, ultimately belly-landing on a saltpan. We enjoyed exploring the bush and the saltpan, observing dry-season growth and various insectivorous plants.
Returning to the Coral Discoverer, the sundeck bar opened for sundowners, offering a pleasant breeze after our warm Anjo Peninsula walk. A delightful seafood dinner concluded a day rich in history.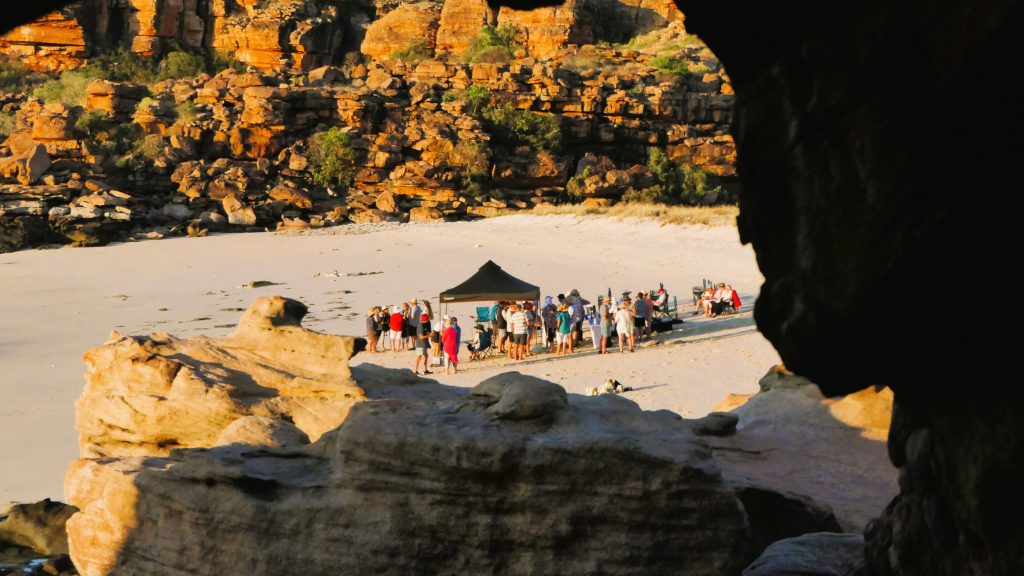 Day 4: Winyalkan and Punamii-Uunpuu Mitchell Falls
21 August 2023
We anchored near an island with three small beaches, and the dawn's first light revealed a stunning sight as the sun rose, painting the cliff faces with vibrant colors. Breakfast came with breathtaking views. Guests had several options for the day. The first group, accompanied by Maddy, took a helicopter to the Mitchell Plateau, and four more groups followed suit. They all explored the Mitchell Falls, enjoyed a lookout, and swam in the Mitchell River, named after William Easton in 1923.
The helicopter rides were a highlight for all. Those who stayed behind joined Xplorer with Adam, David, Jamie, and Bia. We visited Shelly Beach, uncovered a shell collection, and viewed ancient Gwion Gwion figures on a sloping rock. These figures appeared dynamic, hinting at dancing, though interpretation varied. Created around 20,000-13,000 years ago, much of their legacy now rests below sea level. In the afternoon, we explored a hidden rock art gallery on the mainland near Wollaston Island. We saw Wandjina figures and symbols, some with challenging interpretations. An image of the extinct Thylacine (Tasmanian Tiger), once a local apex predator, was prominent. The day concluded with sunset drinks on Verandah Beach on 'Winyalkan Island,' made special by the crew's efforts. White-bellied Sea Eagles soared above. Dinner included Duck or Yellow-finned Tuna, followed by a delightful Sticky Date pudding.
After dinner, 'From the Heart – The Kimberley' offered a lighthearted exploration of the Kimberley, featuring guest lecturer Ian Morris. It was a memorable day!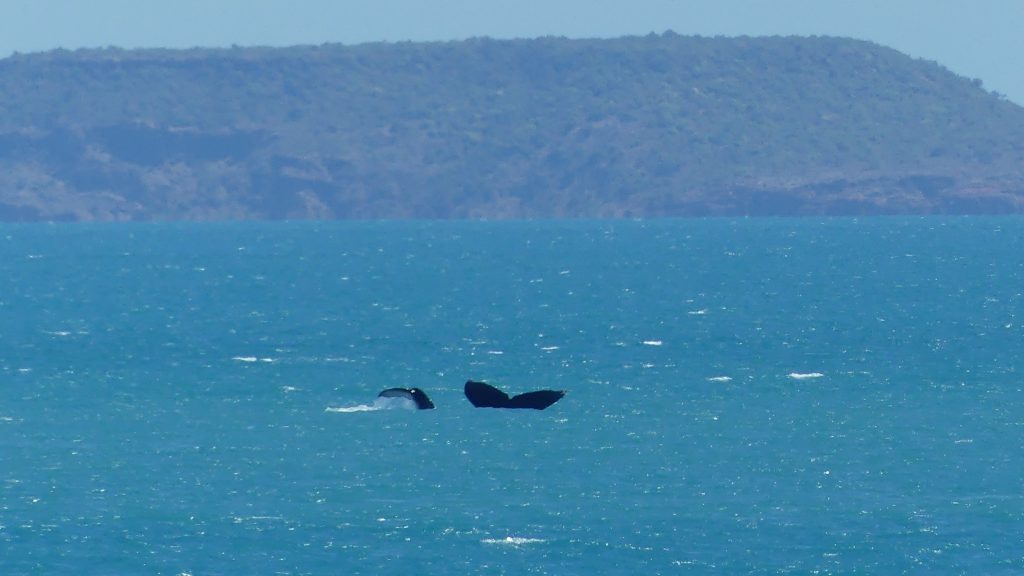 Day 5: Swift Bay and Bigge Island
22 August 2023
The sun rose, and our ship anchored near Swift Bay. After an early breakfast, we took advantage of the low tide to explore the sea bed in the gorge, with a wet landing from the Xplorer. We began with a beachcombing walk, spotting Beach Stone Curlews along the water's edge. Rock hopping led us to a captivating rock art site featuring Wandjina figures, animals, handprints, and more, showcasing the ancient history of the area.
Afterward, Jamie led us through a gap in the rocks, revealing a sunlit cave and tunnels shaped by water erosion. We then returned to the ship for refreshments and Bia's lecture on Kimberley's Marine Mammals, which extended into lunchtime.
In the afternoon, we visited Bigge Island, where we explored the two-dimensional image of Father Kiara, a coastal Wandjina, on the sandstone. Bigge Island comes to life at night with its unique wildlife. Although we couldn't see them, we noticed their footprints all over the bay.
The day wrapped up with a Zodiac cruise around Crocodile Rock, the second part of Bia's lecture, sunset drinks with humpback whale sightings, a delicious dinner, and an Aussie movie, 'The Castle.' Our Kimberley adventure feels like paradise!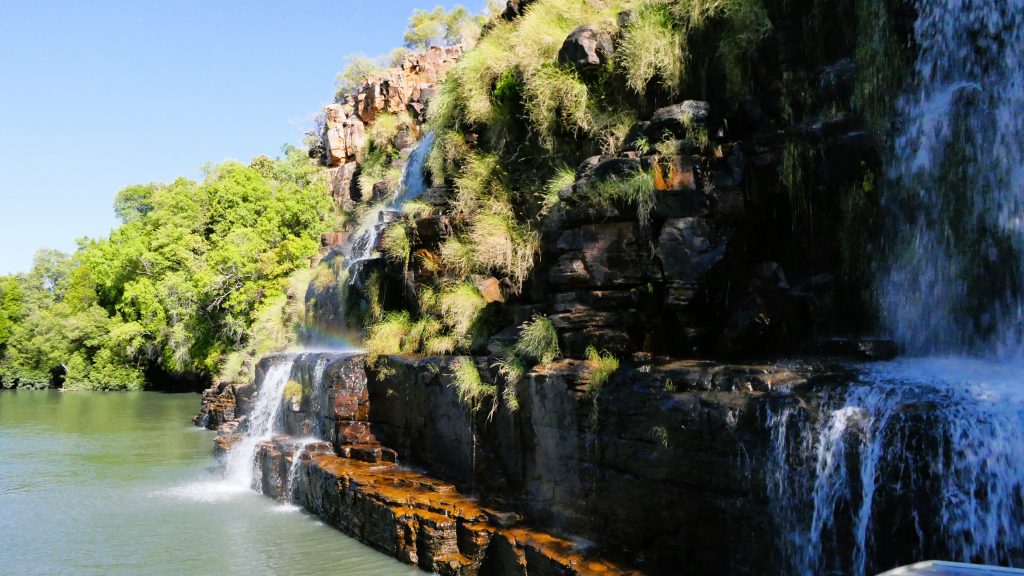 Day 6: Careening Bay and Prince Regent River
23 August 2023
In 1820, explorer P.P. King searched for a bay to repair the leaking HMC Mermaid. He found Careening Bay in Port Nelson. This morning, we landed on the same beach with low tides. Jamie showed us an imposing split Boab Tree and a bower built by a Great Bower Bird.
After that, Jamie presented 'Montgomery Reef – Fully Exposed,' a unique part of the Kimberley coast that we'll visit tomorrow, only visible during low tide. After lunch, we sailed to the mouth of the Prince Regent River, aiming for King Cascade.
Our journey featured sunny weather and mangrove-filled riverbanks. We encountered a shy Snubfin Dolphin before reaching King Cascade. Adam maneuvered us close, allowing some to dip beneath the falls for a refreshing experience. We also had a brief encounter with a curious crocodile.
As we returned, another Snubfin Dolphin treated us to some tail action. Our compass was set for the Coral Discoverer, guided by the setting sun. Truly, it has been an extraordinary day.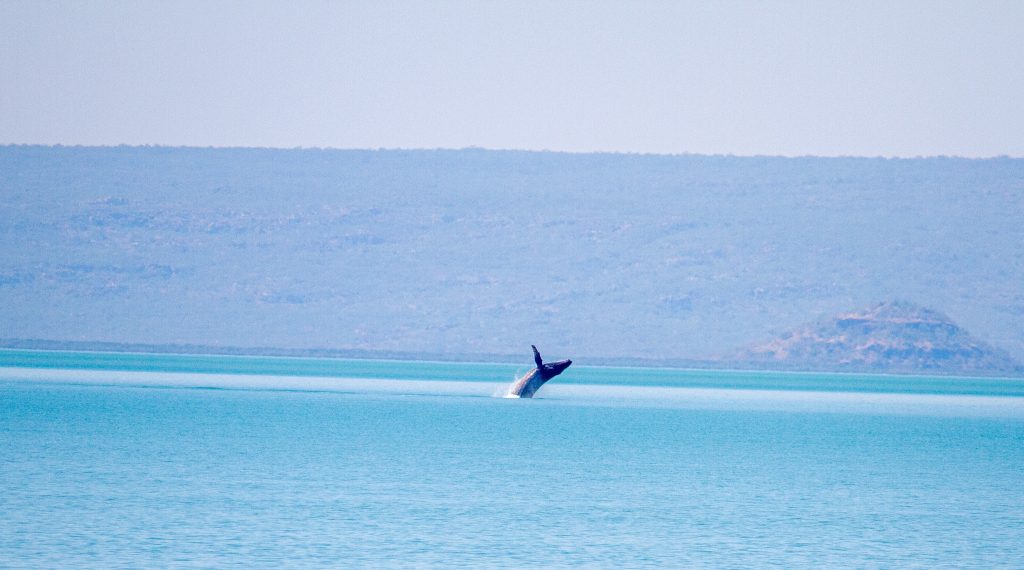 Day 7: Montgomery Reef and Red Cone Creek
24 August 2023
Overnight, Captain Simon anchored us off Montgomery Reef, a unique part of the Kimberley coast that undergoes remarkable transformations with changing tides. At dawn, we witnessed this world's largest "inshore reef" emerge as the tide dropped.
We explored the reef from Zodiacs, getting up close to the cascading water. On the eastern edge, we spotted the "High Cliffy Islands," once home to the Yawijibaya people for nearly 7,000 years.
As we sailed to our afternoon anchorage in Red Cone Creek, we encountered a Humpback cow and calf feeding on the surface. We explored Red Cone Creek, which gradually narrowed into a rocky gorge, leading to the spectacular Ruby Falls.
We had two choices: climb the 30-meter rock walls, walk along the creek, swim, and then climb back down, or stay aboard the Xplorer with Adam, Elliott, and Jamie, searching for crocodiles and other critters.
For those who climbed, the refreshing swim was a reward for the challenging ascent. The rest of us explored the mangroves with Jamie, hoping to spot crocodiles and other creatures.
We returned to CD with drinks, capping off an extraordinary day. Dinner was a cheerful affair with plenty of stories shared, followed by the documentary 'BBC Coast Australia – the North Kimberley.'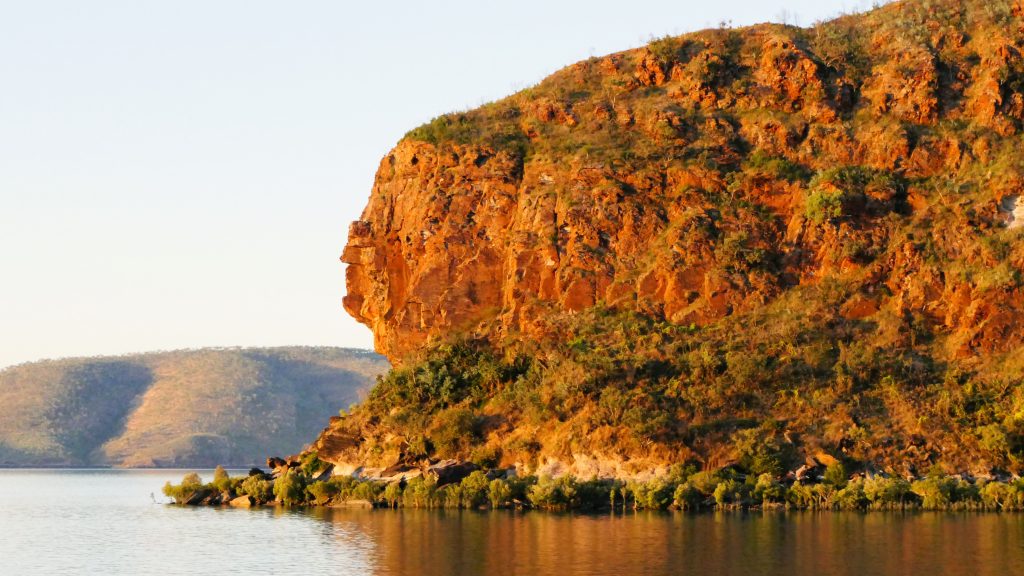 Day 8: Horizontal Falls and Talbot Creek
25 August 2023
The day began with an early breakfast, and by 0800, we were gearing up for the "Horizontal Horrors," an iconic experience. We split into groups of six, riding Zodiacs through the falls. Adam and Elliott guided us through the first falls expertly.
After everyone had their turn, it was time for a tea or coffee break. Following our refreshments, Jamie delivered his presentation, "Fire in Northern Australia – an emotive topic."
After a satisfying lunch, we boarded the Xplorer for a cruise into Talbot Creek. En route, we made a detour to the Horizontal Falls, where Jamie explained how the unique gaps were formed. Then, we ventured into Talbot (or Cyclone) Creek, where Maddy spotted a calm male Short-eared Rock Wallaby.
We continued up the creek, observing the sandstone folds and appreciating unique plants. Talbot Creek is sometimes referred to as Cyclone Creek, as it's where Paspaley's pearl farming vessels were moored during the wet season.
On our way back, we encountered a wary Striated Heron. Once back on the Coral Discoverer, we prepared for a BBQ dinner on the sundeck.
While we were away, the chefs and CA's worked diligently to create a fantastic meal in a magnificent setting. As we feasted, Coral Discoverer weighed anchor and sailed out of Talbot Bay, providing a welcome breeze as the sun set, concluding another unforgettable day.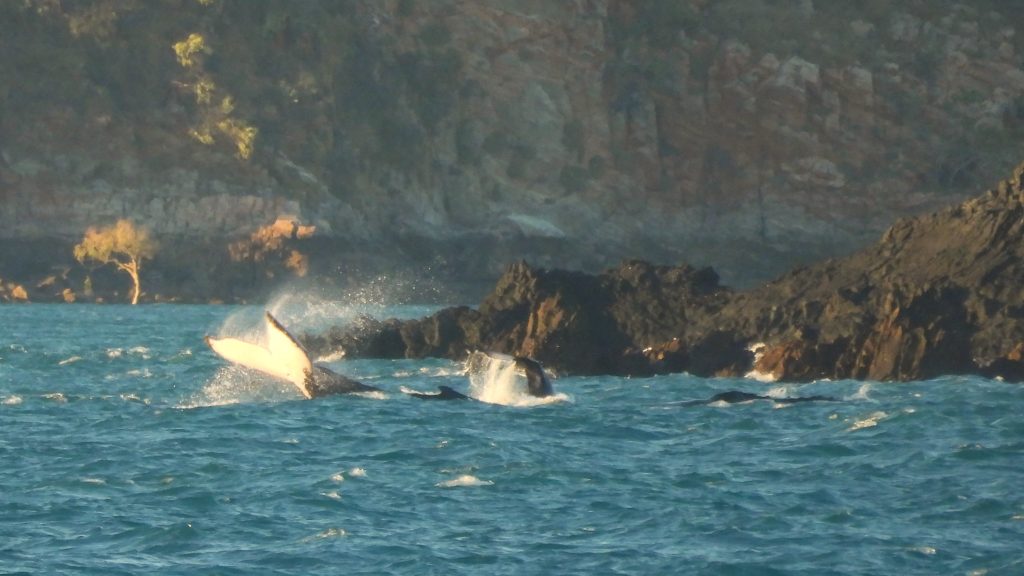 Day 9: Iron Islands, Koolan Island and Nares Point
26 August 2023
Early explorers like Alexander Forrest, Michael Durack, and Frank Hann, who ventured through the Kimberley, noted the diverse landscape. They recognized that sandstones were less fertile than darker rocks, which dominate Kimberley shorelines with their impressive sandstone and basalt cliffs.
Today, we explored Iron and Koolan Islands, known for their ironstone, hematite, siltstone, and quartz. Our morning excursion led by Elliott took us to Ballast Rock, where Jamie shared insights into the area's history, including pearling and early mining. We saw Ospreys and driftwood on the beach.
Bia later enlightened us about "Living Dinosaurs of Northern Australia," focusing on Saltwater Crocodiles and Sea Turtles. After lunch, we examined the Koolan Island Mining site at Nares Point. Jamie discussed the mining history, geological aspects, and the landscape's transformation.
We explored the beach and caves, encountering wildlife tracks. Back on the ship, we enjoyed a sunset during dinner, watched Bottlenose Dolphins, and participated in a Kimberley-themed Trivia game hosted by Maddy.
After this eventful day, a good night's rest is in order!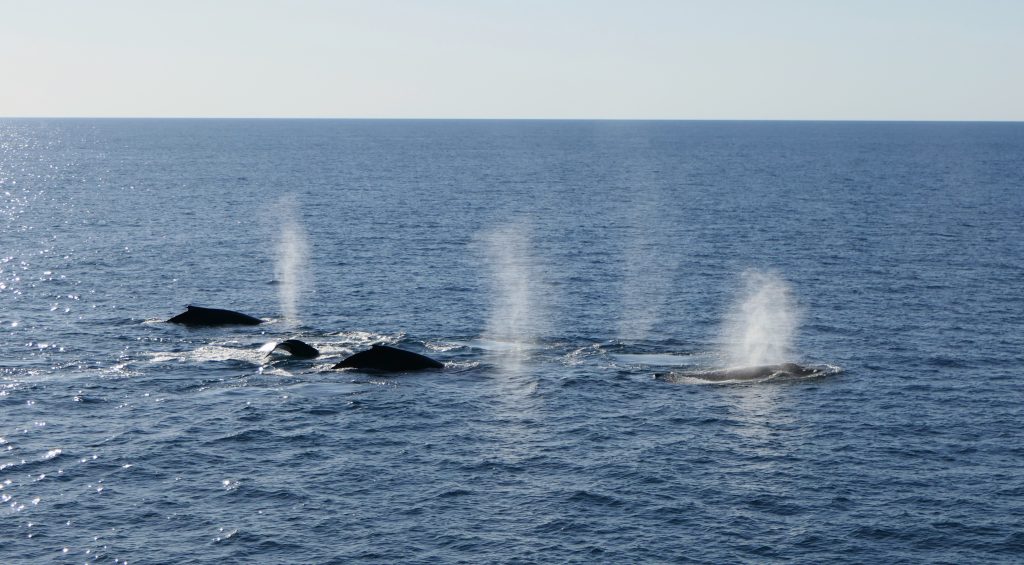 Day 10: Crocodile Creek
27 August 2023
This morning, we started early with breakfast in preparation for our last shore activity. Elliott and Adam guided us to Crocodile Creek's entrance in Yampi Sound, where we marveled at a sea cave formed by natural erosion. As we ventured deeper into the creek, reflections on the water's surface offered great photo opportunities. Inside the creek, we encountered a stainless steel ladder installed by miners from Cockatoo Island and Koolan Island mines in the 1980s. This ladder led us to a picturesque waterfall and plunge pool, where we enjoyed a refreshing swim.
Returning to the Coral Discoverer, we had morning tea while admiring the Yampi Sound coastline and received a presentation about the Cape York & Arnhem Land cruise. After lunch, we dedicated our afternoon to whale watching. We spotted several whales, with one particularly active individual, possibly a female humpback, and a few presumed males. Their behavior was captivating, lasting for over 45 minutes.
We gathered in the Bridge Deck Lounge to view images from the cruise, showcasing the region's natural beauty. Captain Simon's Farewell drinks on the sundeck featured more whale sightings and served as a joyful conclusion to our journey, with appreciation for the exceptional crew service.
Our "final supper" featured a delicious roast, capping off our voyage with a satisfying meal. The chefs' culinary skills were outstanding throughout the trip.