7 Nights on the Great Barrier Reef | 14th to 21st October 2020
View Upcoming Itineraries and Fares >   Send an Email Enquiry >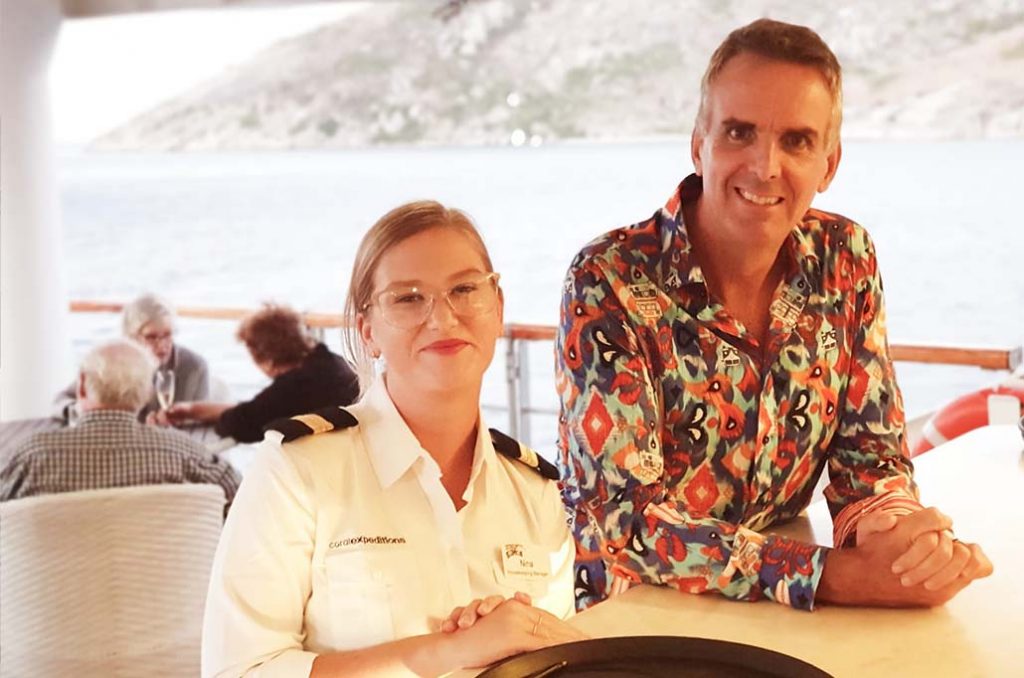 "What a fantastic week it has been – feels great to return to operations here at home in Cairns and the Great Barrier Reef. It has been a reunion for our guests and crew, and we were blessed with great weather and natural encounters along the way. It is good to sail again.  We hope you enjoy our trip log and images!"
Pre-Cruise
Our expedition begins a day early with guests arriving in Cairns to our new "check in" lounge on Tuesday at the Pullman International Hotel. All guests undertook their COVID PCR testing and pre-screening.  All went smoothly.  Guests appreciated the abundance of caution that has gone in to developing our SailSAFE Plan.   They all gave positive feedback about the confidence that it has created to travel again. The guests were brimming with enthusiasm.  There was much anticipation of the day to come tomorrow – time to sail!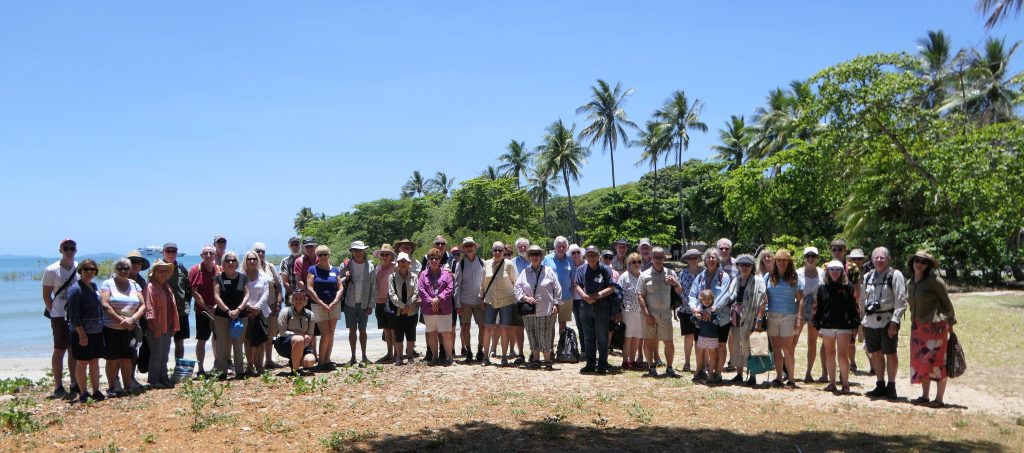 Day 1: Depart Cairns
Wednesday 14th October – Guests boarded the coach transfer to Cairns Cruise Liner Terminal – the excitement was palpable!  At the wharf, Coral Discoverer gleamed in the late afternoon sun, and the expedition team were on hand with a warm welcome at the gangway. While the crew handled the safe transfer of luggage, many guests made their way to the sundeck to get a view over the city, and to wave goodbye.
The shoreside team threw off the lines, and Coral Discoverer eased away from the wharf and turned her bow towards the open sea. There were waves and cheers as she passed Coral Adventurer, and it was an emotional moment for many Coral Expeditions crew and staff as we set off on an expedition once again after 6 months idle.
Onboard was Marysia Pawlikowska as our expedition leader and Master Reef Guide along with legendary expedition leader Jamie Anderson, who knows Coral Discoverer like the back of his hand.  Together with our dive instructor Sebastian, hard-working deck crew, friendly hotel team, and Captain Miles, we were in very good hands and high spirits for the next seven days.
Day 2: Cooktown
Thursday 15th October – We awoke to clear skies and rolling seas. After a light tropical breakfast, we boarded the Xplorer for the first excursion of our expedition; the historic town of Cooktown. Upon landing at the town jetty, Jamie and Marysia led the way to the town's museum and past historic monuments before a pleasant jaunt up to Grassy Hill lookout which offered great views over the Coral Sea, the township and the Endeavour River.
Back on board and after a hearty lunch, Marysia gave an educational presentation on the history, science, and species of Great Barrier Reef to build on the knowledge and information of guests before we dive into the natural wonders of the reef.
Late in the day we approached the iconic Lizard Island and as we came to anchor, our effervescent Captain Miles shouted everyone's beverages of choice and officially welcomed us all to this exceptional first expedition of the season at Captains Drinks. We enjoyed a glowing sunset from the sundeck aft and all relaxed and connected in each other's company.
After dark we gathered in the dining room and were treated to an ambrosial supper, served up by chef's Steve, Jasper and Jamil. Later all guests were invited to join on the sundeck for a stargaze with Sebastian where he pointed out our Milky Way and a few of our cosmic neighbours.
Day 3: Lizard Island
Friday 16th October – In anticipation of our first opportunity to get in the water for a first look at the GBR's underwater realm, passengers and crew alike awoke this morning with a spring in their step. Some of whom so much so that they felt energized and adventurous enough to wake at dawn to tackle a solid hike to Cook's Look in the coolness of the morning hours. Other guests enjoyed a nice lie in. Guests who braved the hike were rewarded with spectacular 360-degree views of the island, the surrounding reef systems, and mainland in the background, just like Lieutenant James Cook did centuries before.
The hikes and the sleeper reconvened over breakfast soon after all set ashore with the expedition team to the stunning silica-rich white-sand beach for a refreshing dip in the cool, clear, azure-coloured waters at the northern end of Watson's Bay. Most swam and snorkelled under the watchful eye of Marysia; a few kayaked; many were treated to Jamie's glass-bottom boat tour and others simply enjoyed lounging in the shallows and on the beach.
After lunch, we were off again in the Xplorer, this time in direction of the beach at the southern end of Watson's Bay. Here the party split into varied activities. Some chose to snorkel off the beach with marine biology expert, Marysia to explore the giant clam garden. We saw many giant clams, schools of fusiliers, and many damselfish hiding amongst the corals. There were also a couple of green sea turtles that made an appearance.
The other group hit the walking track with Jamie and Seb, who took them past Watson's Cottage and the island's airstrip to the eastern side of the island, for awe-inspiring views of the Blue Lagoon.
At days end we all returned to the ship and the call was made to set a course for the wides of Osprey Reef through the night
Day 4: Osprey Reef
Saturday 17th October – We awoke today to moderate rolling seas which had lulled us to sleep throughout the night. After breakfast and upon arrival at this isolated reef, the expedition crew launched our zodiacs and Xplorer recce the area in search of a protected high tide snorkelling site. Only the strongest of swimmers braved the conditions in the morning. By mid-afternoon the tide had dropped, and we located a suitable site where we were greeted by phenomenal water clarity, mesmerizing deep coral walls and far more relaxed surface conditions. Those wishing to snorkel were able to and the diving team accomplished a successful first immersion at this incredible site.
Returning to Coral Discoverer for pre-dinner drinks, recaps and supper, everyone agreed it had been quite enough excitement for one day and we headed for the sanctuary of the Ribbon Reefs.
Day 5 : Ribbon Reefs 3 & 9
Sunday 18th October – Under the protection of the outer barrier reef, we arose in calmer waters and beautiful conditions.  After breakfast, we made our way on Xplorer to Ribbon Reef No. 9, where snorkellers and divers were treated to a plethora of reef fish, pristine coral coverage, and stunning underwater visibility (approximately 30m). Marysia conducted a guided snorkel tour to those remaining at the surface, spotting a large Porites coral with at least 10 anemones and their host clownfish.  There were also many giant clams, and we saw a friendly black tip reef shark. Seb took the scuba divers down around a large coral bommie and to blow bubble rings on the sea floor.
Back onboard, Second Officer John and Engineer Marcus led tours of the vessels bridge and engine rooms respectively, providing guests with a better understanding of the ship's inner workings.
After lunch, everyone was refuelled enough to take on the afternoon's events; we had made our way to Ribbon Reef 3 for more snorkelling, diving and even glass-bottom boating were on offer to those who had yet to satiate their adventurous hunger.
Drinks, dinner and an early night for most was necessary after another fun-packed day, as we set sail for the idyllic town of Port Douglas, and the nearby Daintree River.
Day 6: Daintree River & Undine Reef / Cay
Monday 19th October – Those on deck in the morning witnessed glass-like seas as a glorious sunrise lighting up Port Douglas' Island Point.
As the sun rose higher and the early breakfast was cleared away, we gathered on the back deck in preparation for our adventure to the Daintree River.
It was a very informative coach ride with fantastic commentary from Jamie and our coach driver, Mick, who told us all about the local sugar cane, prawn, and barramundi industries as we made our way to Bruce Beltcher's Daintree River Cruises. On arrival, Bruce and his son Griffith introduced themselves before promptly ushering us onto their vessel and setting off for a very enjoyable cruise down the river. We were fortunate enough to see a couple of the large ancient crocs; one roughly three-and-a-half meters long and the other a four-and-a-half-meter beast, affectionately nicknamed Lumpy and Bruce. On the banks of the river we were also lucky to spot a Papuan Frogmouth bird, sitting on her nest, which made Jamie very excitable.
Mick took us back past the Mossman Mill and a drive by of 4 Mile beach before returning us safely to the landing site where Sebastian met us with his hand sanitizer.
We travelled north from Port Douglas, en route to Undine sand cay for more swimming, snorkelling and glass-bottom boat fun. Although the fish and coral coverage did not meet the calibre of our previous snorkelling sites, it made a great location for a late afternoon swim and a stunning spot to enjoy a few beverages with the sunset as a backdrop and whilst eagle rays and hammerhead shark's frolicked in the shallows of the reef.
Another delectable feast this evening, prepared by the chefs and served up by the hospitality team, headed by Purser Arron. A relaxing evening after another busy day.
Day 7: Fitzroy Island & Sudbury Cay
Tuesday 20th October – We were blessed with postcard perfect conditions at Fitzroy Island for what would be a fitting final day to an adventurous week on expedition. Today was filled with swimming, snorkelling, walking and simply relaxing on the beach with an abundance of time to enjoy one or all of these activities. Mid-morning, many of us made our way to Fitzroy Island's Turtle Rehabilitation Centre, where we met Julie, who explained what the rehab center's mission is, what they did day-to-day and then introduced us to Leila, a beautiful little Green Sea Turtle due to be released in the next couple of months and who is sponsored by Coral Expeditions.
We enjoyed a relaxing lunch onboard and later that afternoon we steamed for  the sandy haven of Sudbury Cay, for adventure drift snorkelling and diving in what was aquarium-like conditions, teeming with tropical fish, green sea turtles, corals and other magical marine creatures.
Once everyone had a chance to spruce themselves up and get their party frocks on, we were back on land, this time atop the cay for Captain Miles' farewell sunset drinks. We were treated to a sunset worthy of the last night of our voyage, before an incredible roast dinner back on-board Coral Discoverer.
Truly an amazing finale to our adventures through the Outerknown regions of the Great Barrier Reef.
Day 8: Home Time
Wednesday 21st October – After a short early steam back into the port of tropical Cairns, we said our farewells and disembarked at 8 am to go our separate ways. Many guests will keep in contact with the new friends we have made along the way on this significant voyage and special moment in time.
On behalf of all of the crew and the team at Coral Expeditions we thank you for joining us and we hope to see you again in the not too distant future.
YOUR CREW
Captain Miles, Chief Officer Riccardo, Second Officer John, Chief Engineer David, First Engineer Bole, Second Engineer Marcus, Deckhands: Harry, Wairuu & Aidan, Dive Instructor Sebastian, Expedition Leader Marysia, Expedition Assistant Jamie, Purser Arron, Assistant Purser Sara, Housekeeping Manager Nina, Cruise Attendants: Clint, Hugoline, Jonathan & Glenn, Chefs: Steve, Jasper & Jamil.

Join us onboard
Join us onboard for our 7 night Outerknown Adventures on the Great Barrier Reef. We have departures running from October until December this year.