Voyage Log: Coral Geographer's Mystery Maiden
Cairns to Cairns   |  31  March 2021 – 14 April 2021
Master: Jacopo Barchetti,  Expedition Leader: Jamie Anderson, Assistant Expedition Leader: Dawn Singleton, Expedition Crew:  Joel Moore, Dive Instructor: Sally Richards,  Guest Lecturer: Ian Morris, Guest Photographers:  Yogi & Stella Freund
Jump To: Day 1 | Day 2 | Day 3 |  Day 4 | Day 5 | Day 6 | Day 7 | Day 8 |  Day 9 |  Day 10 |  Day 11 | Day 12 | Day 13 | Day 14 |  Photo Gallery

Welcome Coral Geographer
30 Mar 2021
It was a very proud moment for everyone as the newest vessel Coral Geographer was welcomed to the fleet with an intimate ceremony and gala dinner in Cairns. We enjoyed an evening of live music, delicious food, and witnessing the official christening with a bottle of champagne was broken over her bow. It was a very special milestone indeed.
Photography by David Li

Day 1: Cairns & Fitzroy Island
31 Mar 2021
With a great sigh of relief, we but proudly departed Trinity Wharf and steamed out into Trinity Inlet. Guests almost missed the entire scene as they were tucking into their first breakfast. Our mandatory Safety Drill was held in the Bridge Deck Lounge. Soon Expedition Leader Jamie was in front and introduced his team including the Guests Lecturers, Ian, Yogi and Stella. Jamie went through the procedures and gave guests an idea of the itinerary that had been poured over for the past few days. Guests were just feeling happy to be out on the sea on an adventure, it didn't matter where!  Jamie handed over the microphone to Dive Instructor Sally who went through the in-water safety and snorkelling demonstration. As Lunch was beginning we looked carefully at the weather conditions and made the decision to stop at Fitzroy Island. Brian drove the first Explorer to Welcome Bay Beach and heavy rain began to fall as we landed on the beach. Dawn took a small band up to the lookout halfway to the Lighthouse. The rain was so heavy the lighthouse couldn't be seen. There were a few hardy souls who went for a snorkel and they came back with the fact that it was warmer in the water than in the rain. Ian and Joel took a small group over to Nudey Beach and Jamie organized guest transfers from further down the beach as the tide was dropping. Guests while very wet seemed very happy just to be out in the wilds. After the small walking group got back from Nudey Beach we had all returned to CG for a hot shower. Pre-dinner drinks were held in the Bridge Deck Lounge.
Photography by Juergen Freund

Day 2: Lizard Island
1 April 2021
We steamed into Lizard Island, the rain was incessant and the wind lowing to 30kts made for an interesting observation. We finally dropped anchor and at least had a little relief from the swells. As we arrived, guests were enjoying breakfast.  Ian Morris gave a presentation at 0915 on a Natural History of Lizard Island. Guests found it very interesting. The rain had disappeared and we made the call to go ashore. On offer was a session of beachcombing, snorkelling the fringing reef, going for a guided walk or just relaxing on the beach. The equipment was all on the beach and guests went off in different directions. Sally was involved in briefing DSD divers in the water, while some guests enjoyed snorkelling on the reef. Dawn and Joel had the beach under control. Jamie took a small group for a walk and found amplexing green tree frogs. Flowering trees were prevalent and smaller birds were enjoying the lack of rain. This did not last long as a massive rain squall came through and completely drove everyone into the trees for useless cover. Explorer came and picked up all guests and took us back to the showers on CG. After lunch we again had a dry spot and we made our way to Watson's Bay, where Ian, Dawn and Joel took guests on the Chinaman's Ridge walk. Sally took her certified Divers for a wonderful scuba experience over the Clam Gardens – they were very happy. Just as the walkers reached the top of Chinaman's Ridge the heavens opened up and again driving rain and wind across Lizard Island. Walkers came back very wet but nonetheless happy with their walk. Showers were again beckoning. Pre-dinner drinks were again held in the Bridge Deck Lounge. Stella gave a presentation on Dwarf Minke Whales and Jamie gave tomorrow's activity brief. After dinner we showed the Attenborough documentary – Blue Planet 1 – Coral Seas. It has been a day of strange weather.
Photography by Juergen Freund

Day 3: Lizard Island
2 April 2021
At 0900 we boarded Explorer for a cruise to Watson's Bay southern end. On offer was a walk to Blue Lagoon with Ian, Jamie and Sally. There was plenty of botanical information to give as many plants were in flower or fruiting. Down at Blue Lagoon there was an impressive array of detritus left on the beach. We all made our way back to Watson's Bay where some went for a snorkel on Clam Gardens, and others had some free time exploring the beach. We had an extra bonus this morning – sunny periods! Apart from a couple of heavy showers by 1100 the blue sky was very evident. We returned to CG enlivened by our activity. We ran an Engine Room Tour for guests who stayed on board. After lunch we boarded the Explorers for Steep Beach. The beach was good walking and there were plenty of rocks and vegetation to play with. Jamie, Dawn and Joel controlled the walking and in-water activity. Sally took DSD's for a diving experience. Guests enjoyed the snorkelling and some stayed in for well over an hour. Those that did not stay on the island went for a cruise with Ian. They were eventually taken back to CG. Everyone enjoyed their afternoon activities. At 1730 we cruised over to Turtle Beach for sunset drinks. There waiting for us were Zac, Simon, Brenmarie, Caity & Dale with big smiles and a well laid out seating arrangement. There were drinks all round and a sunset. Yes a Sunset!! Guests had a wonderful time, and watching over us as we ate our canapes and drank our champagne was 'Eric' the friendly young Spotted Monitor. Ian Morris found it basking in the last of the setting sun's rays. It was a very friendly atmosphere as we were transferred back to CG for dinner.
Photography by Juergen Freund

Day 4: Restoration Island
3 April 2021
After a late breakfast, Yogi & Stella gave a presentation 'Journey Through the GBR – Marine Life/Science/Conservation'. This was an interesting story, especially the information about coral spawning and AIMS. Morning tea was held in the Bridge Deck Lounge and guests really enjoyed this. Captain JB followed on with a presentation about CG as well as marine navigation. Guests really enjoyed the talk. During lunch we arrived at anchorage just off Restoration Island. We used two Explorers to take guests across to Restoration beach where we were met by the very friendly Ash who told everyone they were welcome to wander the 5ha of flat ground, including the beaches. There was a rustic bar (not in use) where a few guests took the opportunity to relax. Ian and Jamie took guests for a walk through the vegetation where we found many species of butterfly. We told the stories of William Bligh and his incredible journey after the mutiny aboard the Bounty. We related stories of David Glasheen's life on the island. Guests got to stretch their legs and experience a very remote and lonely island. Back onboard CG we departed for what we are hoping is going to be excellent conditions at Cape York. Ian gave a presentation entitled Bridges and Barriers Stories of natural and human elements on Cape York Peninsula. After dinner we showed the documentary 'Blue Planet 11 – Coral Seas'.
Photography by Juergen Freund

Day 5: Cape York
4 April 2021
We started with our first early breakfast which was followed by a presentation from Yogi and Stella. At 0945 the explorers took almost all guests across to Frangipani Beach which is just on the western side of the Cape York tip. There was a track that led into the old wilderness lodge and Ian, Dawn, Joel and Sally took a  number of walkers. Jamie took the cruise with the other guests and Stella & Yogi joined him. The walkers climbed up into the vegetation and then made their way to the top lookout on the tip. I used to work at the Cape York Wilderness Lodge (Pajinka) in the late eighties and it was a shame to see so much degradation as it once was sheer paradise. The walk was enjoyable and there were plenty of birds, plants and butterflies to be photographed. The cruisers were given a great deal of information regarding the coastline of Cape York. As we cruised the eastern side of the Cape, Jamie was able to give first-hand knowledge of the natural, human and historical. The weather was overcast with no rain and the light was getting better all the time. Cruisers viewed the walkers as they climbed along the ridge. After lunch, Ian gave a great presentation on the 'Importance of the Gulf of Carpentaria'. Guests got a great deal out of this presentation. After afternoon tea, Chief Engineer Sean took an engine Room Tour and guests were thrilled with the information. At 1715 Paul driving Explorer Two took all the Tip walkers to the landing spot.  Guests enjoyed drinks at the tip this evening which was a really enjoyable experience. The light was great and it was only a shame that the sunset fizzled out early. Guests did get a great shot of the Coral Geographer with lights blazing as we all returned home. Paul and Merinda did an extraordinary job with Xplorer especially with boarding at the tip. Guests all came back happy. After dinner tonight we viewed Top End Wedding. It has been a full and enjoyable day.
Photography by Juergen Freund

Day 6: Sommerset & Possession Island
5 April 2021
CG moved during breakfast closer to the Albany Passage. The weather was very fair with little wind and very pleasant sunshine. Sea conditions were calm. After breakfast we took both Explorers to Somerset Beach where most were sent to wander around the parkland behind the beach. The walkers had a pleasant walk through the rainforest with Ian, Dawn, Joel and Sally assisting. Once up at the homestead site they found the indigenous gravestones, but the homestead site was completely overgrown. It was impossible to find where the homestead started and finished. When I worked at the tip we used to keep the area clean and maintained. The butterflies and bird species were prevalent and it took a trained eye to spot them in the heavy tree growth. Jamie took the cruise with Brian and Louis driving we took guests down to Fly Point, where Frank Jardine had spied Mad willy from Badu. Fly point was set up as an airstrip but was still too short to be of use. To my knowledge only one plane landed. We cruised down along the east coast beaches and found some of the migratory waders feeding before the long flight to Siberia. It was a nostalgic trip for me and as we went along I was able to remember some of the events that took place in past times. We finished off with showing them a cave with Aboriginal art on the walls. What made this even more interesting was the fact that at times the art goes underwater and yet still exists – incredible! Those on the cruise seemed very happy with their lot. The walkers were picked up early and shown the cave before being taken back to CG.  There is plenty more area to discover in Cape York and Torres Strait. Coral Geographer moved to Possession Island where James Cook took possession of the East Coast of Australia for King George III.  Due to a very low tide we could not land so it was a cruise that was on offer. Ian, Dawn and Joel took one vessel with Wairu driving and Jamie and Sally took the other with Brian and Mitch driving. We all went to the Possession Island Monument and then cruised around other islands. Birdlife, Fish jumping and Turtles a popping gave guests a real buzz. Back on board Yogi and Stella gave a presentation Crabs, Sharks and the Living Fossil.
Photography by Juergen Freund

Day 7: Jardine River & Mutee Head
6 April 2021
It was an early breakfast but with smooth seas overnight and this morning guests were happy to see the sunrise and the wide Jardine River entrance, the longest river on the northern Peninsula. The first question before we even left was "why is the water brown?". The Jardine River was in flood and the tannins in the water made it a tea colour. Two Explorers and two zodiacs departed at 0815 and slowly entered the river mouth. Once inside we ran into a pair of Beach-stone Curlews. It was at that time that we started transfers into the zodiacs driven by Louis and Joel. The Explorers had Ian and Sally in one and Jamie and Dawn, Yogi and Stella in the other. We explored nooks and crannies in the river, we slid into small arms and got up close and personal to mangroves including the Nypa Palms. Birdsong was varied and many birds left their roosts as we closed in on them. Guests were given plenty of information and had a great time. It was a sad moment for me when I had to inform guests that we were to head back to CG. The water was ripping out of the river by this time and the freshwater was well and truly out to sea. Joel, Jamie and Brian did a recce of the landing for our afternoon destination – Mutee Head. Joel and Jamie walked up to the WW11 Radar Tower to check the track. Things change over 30+years. It was still there and the beach landing with an extremely low tide was still doable. After lunch, we offered the walk to the Radar Station, a walk on the beach or a cruise. Brian took the cruise around Mutee Head and into the old Catalina Base where tie up pylons are still visible and the old jetty risers still a navigational hazard. Guests really enjoyed the cruise. Brian found plenty of birdlife to talk about while Jamie, Ian, Joel, Dawn and Sally took a large number of guests up to the Radar station. We walked just over a km and found the station, the gun emplacements and the quarters and amenity block. There was plenty of plant life to talk about and guests were intrigued with the grasses etc. They all enjoyed the walk. Afternoon tea was followed by a presentation from Ian entitled 'Visitors to our Coast Pre Cook'. This was the story of the Dutch, Portuguese and the Makassans. It was an interesting presentation. As we departed the Jardine River mouth Pre-dinner drinks were held on the Vista deck. The weather was calm. Ian gave a recap, there was a magnificent sunset and Jamie briefed guests on tomorrow's activities. After dinner the Movie Garamul. It was a great day, unique in every way & a bonus.
Photography by Juergen Freund

Day 8: Baird & Farmer Islands
7 April 2021
It was a spectacular sunrise as we cruised in slowly towards the Piper Island Group. Our anchorage was about 400m from Farmer Island and 600m from Baird Island. The tide was full and we did a recce over breakfast. There was certainly no walkies on Baird Island as it is a flooded mangrove forest. Farmer Island has a beach that surrounds the island.  After breakfast we had both Explorers in action. Paul had the first with Ian, Dawn and Sally. Brian took the second with Jamie and Joel. We both cruised over to Baird Island where we were able to motor into the mangroves. The water here was crystal clear and the birdlife was extraordinary. Black Noddies in large numbers flew out of the mangroves and dived into the water collecting seaweed for nests. A pair of White-bellied Sea Eagles sat in a dead mangrove eagle eyeing their realm – stunning. White Reef Egrets massed together on top of the mangroves. It was a sight to behold. We then took a cruise over to Farmer Island and made a dry landing on the sand spit. Ian took a walk around the island and the first thing they came upon was a small croc track, but no croc. There were heaps of birds doing circle work around the island. These included Pied Oystercatchers, White-breasted Woodswallows, varied Honeyeaters and many more. There were also small flocks of migrating waders. Some guests went for a swim others just had a paddle. It was great to have warmth, saltwater and some exercise. Water clarity seemed to improve with the outgoing tide. After an early lunch we again headed to Farmer Island. By now the tide was way out and the reef flats were very exposed. It was a complete turnaround and guests were amazed. A small group made their way to the beach again and Ian took most on a walk to the reef flats.  It was quite interesting with crabs, live clams, small fish in exposed pools, seashells of all kinds and many other small critters that call the reef flats their home. Jamie was on beach watch and kept an eye on swimmers and underwater photographers. The other Explorer was on the reef edge where diving & snorkelling took place. Guests enjoyed the in-water activity. Yogi & Stella presented a Basics in Photography workshop session just before pre-dinner drinks. Ian gave the recap and Dawn gave the briefing. After Dinner is the 'GBR Natures Miracle'.
Photography by Juergen Freund

Day 9: Stanley Island
8 April 2021
What a wonderful day. There is not enough space to write what a pearler it was. Suffice to say it has been a busy day and very successful. It started early at 0745 and a group of guests were taken over to Stanley Island. They were split into groups, one led by Ian and one by Jamie. The Expedition Team were spread between the groups. The first two groups were taken on a track and given an extensive interpretation on plants and aboriginal usage, before hitting the boardwalk. Guests loved the art and the interpretation in small groups.  Sighting of a dugong was an added bonus. We were all back on board CG for lunch and CG moved to Davey Cay for guests wanting more opportunity to dive and snorkel. Jamie then took a zodiac and with the help of Anteo (3rd Officer) made their way through a bommy minefield to the shores of the Cay. Guest wished to get over to visit the cay and see the nesting Brown Boobies and other seabirds. Both Explorers brought guests to the reef and anchored close by. Jamie took a group of Guests with Ian to the cay. We landed and guests were enthralled with the juvenile boobies and the chicks. A small lagoon gave guests a chance to view Moray Eels and this was a bonus. Divers and snorkellers had a wonderful experience along the fringing reef. Corals and fish were very diverse and the calm weather made for ideal conditions. Visibility was down but the reef was close to the surface so it did not really matter. A great afternoon all up. At 1715 Joel gave a presentation on Climate Change and he did a great job. Many guests thought it was excellent and certainly he had guests and staff thinking. Ian gave the recap and Jamie followed up with the briefing. After dinner the Movie Captain Phillips was shown. It has been an excellent day, with guests happy.
Photography by Juergen Freund

Day 10: Osprey Reef
9 April 2021
Another bonus day with fairly calm conditions on Osprey Reef. JB had us in place by 0730, and we started to get the equipment ready. The first Xplorer took divers and snorkellers to Round the Bend mooring, while due to slightly lumpy conditions Xplorer Two pulled up some 300m away at the Entrance Mooring. Some guests were a little freaked by the depth of water, others took to it like ducks to water. The Divers had an excellent dive in crystal clear waters and Sally was thrilled with the site. There was plenty of fish to keep eyes on at both sites. Dawn took a snorkel tour for those guests nervous about the depth. Visibility at the entrance site was 25m+. After lunch we returned to the reef but we took one Xplorer with guests and crew who wished to drift dive and snorkel on the west side of North Horn. The sea conditions were better than this morning but we did cruise 12miles return with guests. How did the snorkel/dive go? It was unbelievable!! Guests had a magnificent experience. Sharks came in to investigate and Dawn had a way to keep them close. Large pelagic fish swam in large schools along the reef walls and myriads of smaller fish raced in and out of the rock cracks and holes. Guests found quite a few Moray Eels and came back reporting that they had seen fish species they had never seen before. Asking guests later they said it was a great day and they were pleased the day had worked. Our Reef Pilot Warwick gave a good presentation on 'Ships and their Stories'. Warwick has an easy voice to listen to and a wry sense of humour. His experience as a pilot is extraordinary and he still has a passion. Guests enjoyed it. During pre-dinner drinks Jamie gave the recap and did the briefing straight after. A bonus just as he finished was a pair of young Red-footed Booby came to visit the ship. They were tired of flying so what better mode of transport. Ian put his hand out and one of the boobies landd on his hand and sat there for all to see. 'The Bird Whisperer'. After dinner we put on First Footprints – The Great Drought.
Photography by Juergen Freund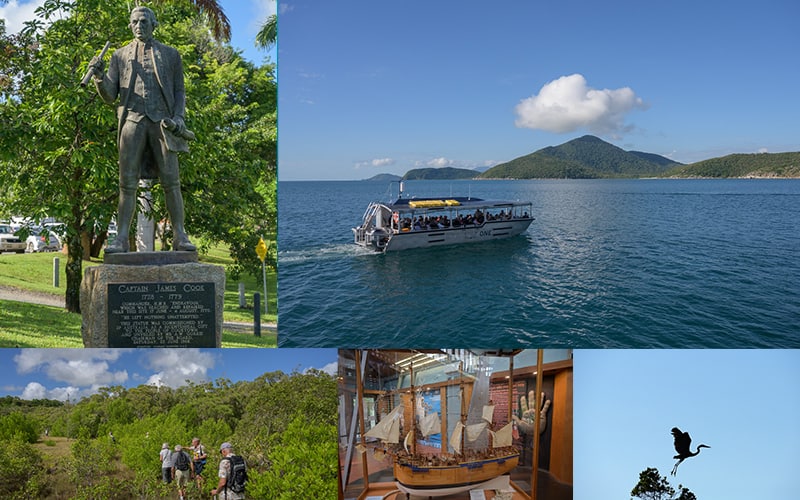 Day 11: Cooktown
10 April 2021
We awoke to CG gliding on calm seas and dropping anchor just off the mouth of the Endeavour River. At 0815 all guests who were doing the bus tours of Cooktown or doing their own thing took the first Xplorer to Cooktown floating pontoon. The buses were waiting for us and Joel and Sally went on a bus each. They each visited Grassy Hill, the Cemetery, the James Cook Museum and a historical drive down the main street viewing the monuments. The commentary from Justin and his offsider was excellent and guests enjoyed the experience. Many sought out the James Cook Museum with many commenting on the quality. The second Xplorer came over with those wishing to do a guided walk. Jamie, Ian and Dawn took this walk, which was historical and nature-based. Once we hit the Railway Precinct some guests wished to head straight to the Museum so Dawn took them. Ian and Jamie continued to walk on the old railway line and eventually made it to the historic Cooktown Cemetery. The main feature here was the grave of Mary Watson and her son Ferrier who died after 9 days at sea. They had lived on Lizard Island. There were many other old inhabitants who died during the gold rush days and the first world war. The guests were very interested. The long walkers eventually ended up at the Museum. We all departed at 1150 for lunch on CG. Yogi and Stella gave their presentation on 'The Coral Triangle'. At 1600 we boarded both Xplorers and entered the Endeavour River. We weaved our way through all the yachts and found many wading birds foraging on the sand bars and mudflats. A male Black-necked Stork was fishing and large egrets were practising contortionism looking for their quarry. Another highlight was the Great-billed Heron that perched itself on a dead tree for photographs. We talked about crocodiles but saw no evidence of them. A sea breeze made it reasonably comfortable on the river. During pre-dinner drinks, Ian gave the recap and Jamie gave the briefing. After dinner we are playing First Footprints – the Great Flood. This is a very good and prevalent series. Cooktown has been magnificent today. The usually windy town was extremely calm.
Photography by Juergen Freund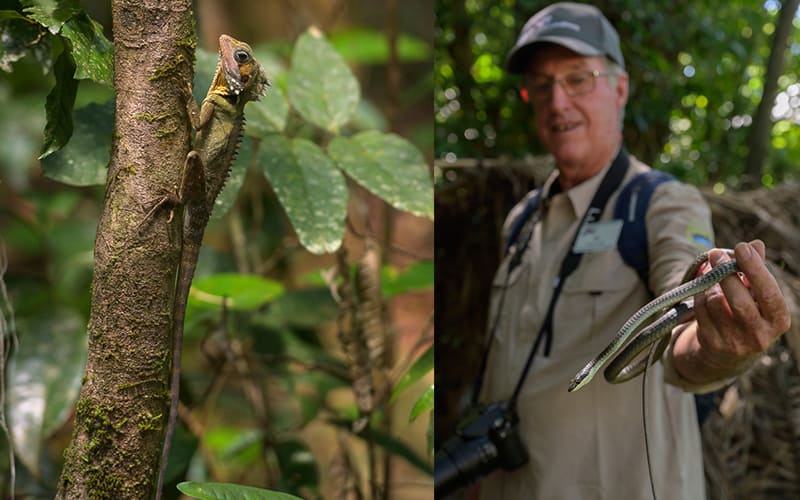 Day 12: Port Douglas & Mossman Gorge
11 April 2021
Woke early this morning as we approached our Port Douglas anchorage. The weather again was calm and being a Sunday there was plenty of small boats heading for the reef. The two Welcome to Country sessions at Mossman Gorge were run firstly by Mooks and on the second group by Yunganda. Both gentlemen had different ways of welcoming us to country, and guests were impressed with the ceremony. The Mossman Gorge buses took us out to the Gorge proper and we split the groups. Ian took one group with Dawn and Yogi, and Jamie took the other with Joel and Stella. We found the very large Major Skink, and as a bonus 2 x Boyd's Rainforest Dragons. Hard to see at the best of times, we found two on each tour. Guests had a chance to walk over the swing bridge at Rex Creek and view the magnificent Zamia Palm, before returning to the bus pick up area. we finished the tour on time and gave guests 15 mins to shop. The second group arrived with Sally and Dawn & Joel took group 1 back to Port Douglas. This group was much smaller and so Jamie, Ian, Stella, Yogi and Sally were able to give as much information as was required. The Port Douglas Markets proved to be very successful and there was a great deal of shopping there and in shops. The guests enjoyed the experience in the rainforest. Guests did a fantastic job wearing masks in the market area and in shops as well as the Mossman Gorge Centre & their buses. After lunch and a rest, and during afternoon tea, Ian gave a presentation on 'The Process of Indigenous Boys Growing up in Arnhem Land'. This was by request as guests seem very interested in this topic. Jamie did the briefing in the Bridge Deck Lounge and after dinner.
Photography by Juergen Freund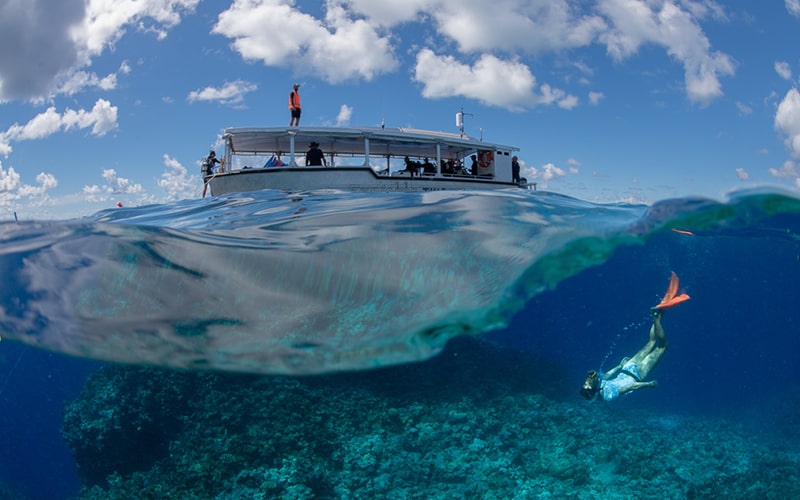 Day 13: Holmes Reef
12 April 2021
Overnight we cruised to Holmes Reef and at first light Explorer was leading CG into the lagoon. By 0715 we were in place. Guests had breakfast and were ready for action early. Dawn, Sally, Paul and Merinda took a zodiac to find a snorkel spot. They selected an area and Sally & Dawn hit the water to determine the conditions. The water was crystal clear with visibility 30m+. there was a slight current and the tide was slack – perfect conditions. We anchored Xplorer and snorkellers started to get in the water. Within 10mins the current picked up, so the crew made the decision to bring everyone back on board.  Dawn, Sally, Joel, Ian, Brian, Louis, Wairu, Paul, Marinda, Anteo and Zac moved swiftly to get all guests back onboard. What a team!! We moved to a second site with little current for guests who wished to do a drift snorkel before getting back onboard CG. We then went down the reef to recce the afternoon site Nonkies Dive site. JB came with us and he realised he could get CG down close to Nonkies and anchor. Over lunch that is exactly what we did and we were ready to go right on time. Nonkies is a pinnacle and the fish life is incredible. It is obviously a dive mecca but with visibility over 20m snorkellers had a grand time as well. Guests were very happy with things this afternoon. We returned satisfied and then it was time for afternoon tea. Yogi and Stella gave their best presentation 'Our Home the Wet Tropics'. Guests thought it was great. Stel & Jamie did the recap and Jamie followed on with the briefing. After dinner Joel ran the infamous Coral Geographer Quiz. It has been a good day.
Photography by Juergen Freund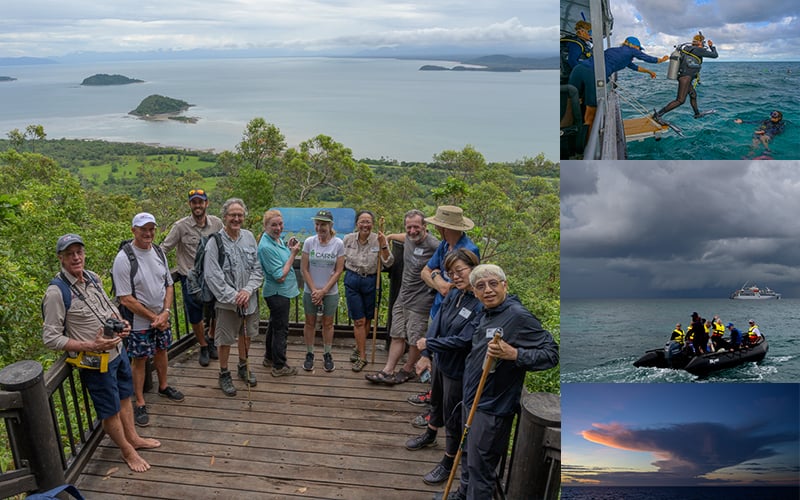 Day 14: Yamacutta Reef & Dunk Island
13 April 2021
We finally found some rain again and cruised through a rainbow to drop anchor off Yamacutta Reef. After breakfast we boarded Explorer and with a storm brewing and we got into the water quickly. Although the skies were very overcast the reef still showed colour. Guest came back from their final snorkel and dive glowing. What was quite interesting was the coral regrowth and there were plenty of fish about. A new storm was brewing and this time headed straight for us. We re-boarded CG just as the heavens opened up. Coral Geographer moved position to just off Dunk Island. After lunch we cruised across to Muggy Muggy Beach and we all gathered on the beach. We had two groups – the Mt Kootaloo trekkers and the beach walkers. Ian and Joel took the trekkers and Jamie and Dawn took the beach walkers. All guests enjoyed their selected walks. Beach walkers ended up at the Jetty where kayaks were waiting for those who wished some more adventure. Most kayakers had experience and it was good to see them being used. All were back on board by 1700, and at 1730, Mark and Jamie gave a product presentation. Mark started with our itineraries for 2021 & 2022. He also mentioned what cruises we were looking into. There were plenty of questions for Mark. It was dry outside and so Captains Farewell drinks were held up on the Vista Deck. It was a very happy occasion although many were sad to see it all end. JB gave a stirring speech. After the final dinner the images of the trip were rolling in the Bridge Deck Lounge. It was a pretty good end to what has been an enjoyable 14 days. The weather for the last 10 days has been incredible. we couldn't ask for more.
Photography by Juergen Freund