Voyage log: Coastal Wilds Of Tasmania
17  – 27 January 2021
Master: Nathan Clark | Expedition Leader: Jamie Anderson | Expedition Team: Danielle Matheus-Holland | Guest Lecturers: Mike Sugden, Ian Terry & Justin Jones
Jump To: Day 1 | Day 2  |  Day 3  | Day 4 | Day 5 | Day 6 | Day 7 | Day 8 | Day 9 | Day 10 |
View Upcoming Departures  |  View Brochure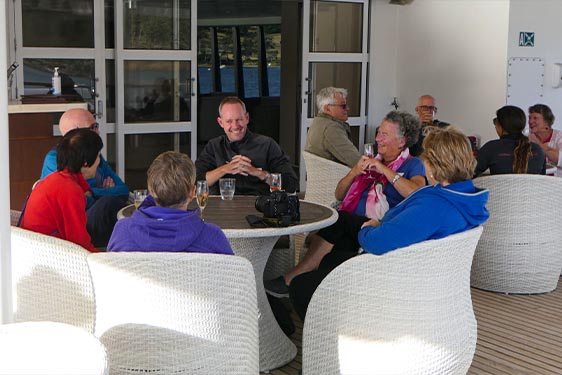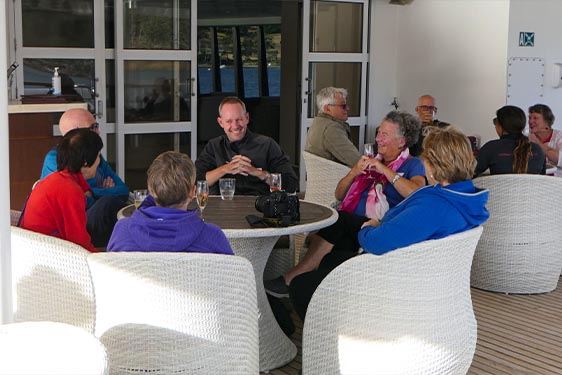 Day 1: DEPARTING HOBART
17 Jan 2021
This morning the crew said goodbye to those who travelled onboard our Tasmania Circumnavigation, and Coral Discoverer was turned around ready for our new guests to board in the afternoon. All guests were onboard Coral Discoverer after completing our SailSAFE and pre-boarding checks, and we departed at 4:45 pm. The mandatory muster drill took place shortly after, then Arron introduced the crew. We all came up for Captain's Welcome Drinks and Nathan gave a vibrant welcome. There was plenty of smiles and laughter filled the back deck as our small number of guests mingled. Jamie ran through the expedition experience that we were in for over the next 10 days. With the weather predicted to be a bit rough for the first few days, the crew have planned adventures that will make the most of the weather conditions at hand.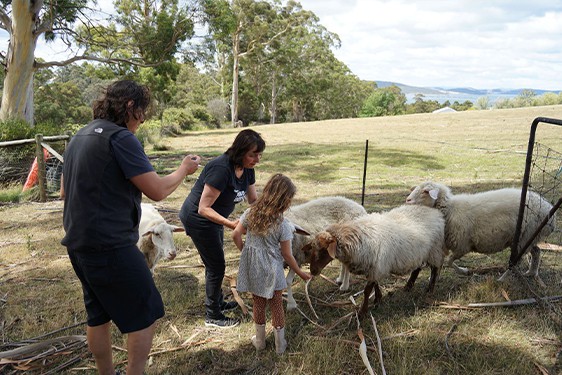 Day 2: Quarantine Bay & Woodbridge
18 Jan 2021
This morning we woke to cool, sunny conditions and after a lazy breakfast, we boarded Xplorer for the first time. We may have been a small group but we were feisty and ready to explore. Jo took us to the Quarantine Station Jetty and we all quickly got ashore, where Mike went straight into interpretation mode. We ambled up the road to the first house and shed and found the small wrens playing in the fallen trees, Turbo chooks (Tasmanian Native Hens) scarpered all over an open paddock and a family of Red-breasted Robins plummeted from tree branches into the grasses getting breakfast. A downhill run to the Quarantine Station and we were met by Volunteer Ranger Joe who gave us some history before Ian Terry (our Historian Guest Lecturer) gave us even more information. Joe opened up the facilities for us. Guests wandered into the Information building and learnt about the original settlers on the land, the Cox family, how the station started and why and were also able to look at plant specimens through microscopes. It all seemed a little surreal with what has been going on over the past year. Ian took a small group to the grave sites of two sailors from the SS Oonah who perished from the Spanish Influenza Pandemic in 1919. Mike, Dani and Jamie had guests with them and they were pointing out orchids, birdlife and fungi. We all visited the graves and surrounds, before making our way back to the jetty for a pick up and the chance of a hot chocolate back onboard Coral Discoverer. It was a very enjoyable morning.
During lunch, the weather system really moved up a notch and 62kts was recorded across the Bridge. It was decided to lift anchor and steam across to Peppermint Bay. Dan and Joe took Xplorer across to Trial Bay Ramp where Moon Coaches were waiting for us. The wind was strong and it took skill to get Xplorer alongside a jetty and onto the ramp. All guests safely disembarked and joined the minibus. Mike Moon drove us directly to Grandvewe Cheeses and Dianne met us at the door. It was a magnificent view from the balcony and guests enjoyed the cheese tasting and gin and vodka infusions. Dianne and family gave an excellent interpretation on their products and are very proud of what they have done and so they should be. There were many items purchased before we rejoined the bus and made our way to Pepperberry Art Farm which is quite close by.
We did the Art Walk and with Mike, Ian, Dani and Jamie, there was plenty of interpretation taking place. The sculptures are impressive at times and plain weird at times but it kept us all guessing. The wind was whistling through the tall eucalypts and the views of the D'Entrecasteaux Channel was fresh to frightening but it was an enjoyable walk. We arrived back at Trial Bay ramp and Xplorer was on its way. Jo did a great job of getting us back to CD and everyone bar Jamie got back dry – the usual story in rough conditions.
Pre-dinner drinks in the Bridge Deck Lounge were very comfortable and many stories were told over a drink. Ian gave the recap and Jamie gave a briefing on tomorrow's activities. Guest feedback was excellent and all seemed to have a wonderful time. After dinner we put on the documentary Coast Australia – Tasmania which most guests chose to watch, including the Doctor and his wife.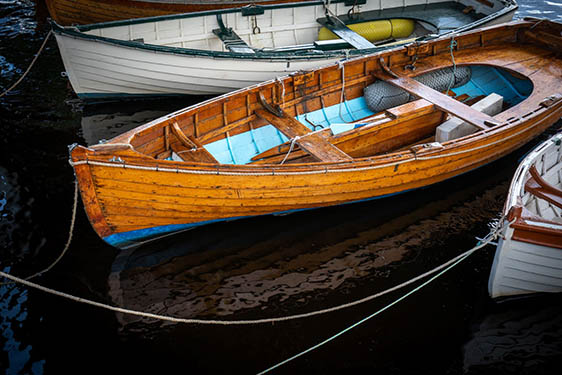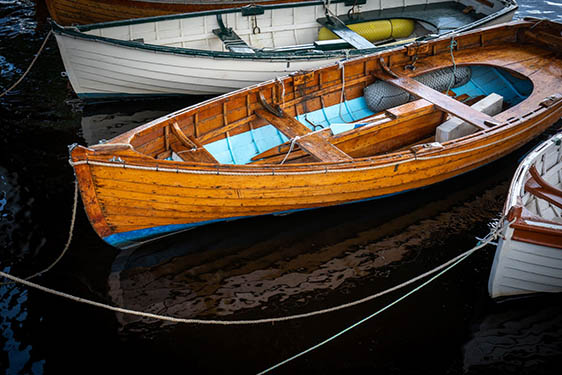 Day 3: Huon River
19 Jan 2021
We woke to a sunny morning which soon changed to an icy shower. We boarded Xplorer for our cooling cruise up the Huon River to Franklin, and arrived at the jetty. Graeme (Volunteer), from The Wooden Boat Centre, took the group through the centre. First stop was for Hot Chocolate. Guests really enjoyed the centre and some have organised to build boats in the future. There was a class taking place while we were there and guests were able to see some building taking place. The tour took an hour and after that almost all guests and crew purchased some Huon Pine items. Guests went off in different directions with the Expedition Team. Some went for a walk to the village, some for a Franklin History Walk and others across the road to Franks for scones and cider. Most went for a coffee rather than cider. The sun came out and if one was out of the wind it was almost warm.
After a cold and rainy Xplorer ride back to Coral Discoverer for lunch, Mike gave a presentation on "An Introduction to Tasmania'. Guests enjoyed the talk.  We enjoyed an afternoon tea then Jonesy gave his presentation 'Crossing the Ditch – Kayaking from Australia to New Zealand'. What a journey! What an extraordinary 62 days! What a great presentation. It had it all – raw emotion, elation, angst and fear all rolled into one. Guests had plenty of questions and I think everyone had a tear in their eye at one stage during the talk. I know Jonesy did.
Pre-dinner drinks were held in the Bridge Deck Lounge and again we sat in a huddle telling stories. Mike gave the recap on Tasmania's building timbers and Jamie gave a briefing on tomorrow's activities. We anchored in North West Bay and will make our way to Adventure Bay in the morning. After dinner tonight we are showing Wilderness, the story of two fine Tasmanian wildlife photographers – Dombrovski & Truchanus. Guests have enjoyed the day.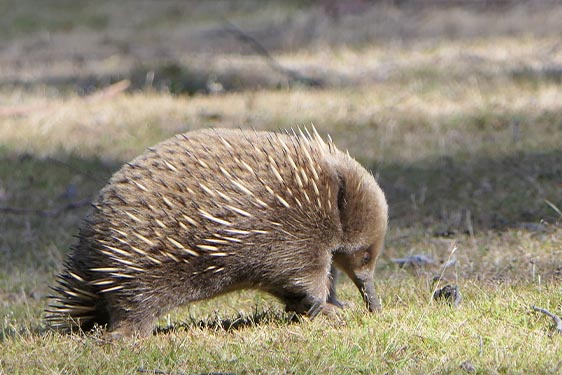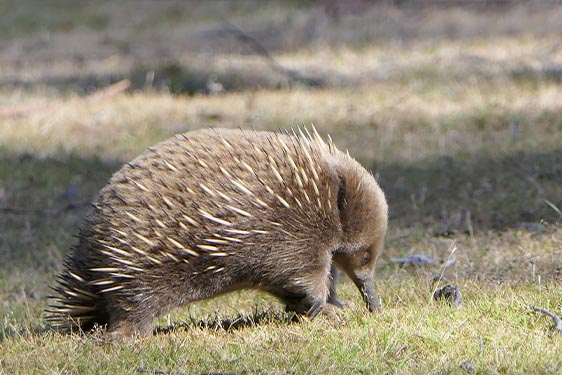 Day 4: Bruny Island – Adventure Bay
20 Jan 2021
On arrival at Adventure Bay we were pleasantly surprised to find that there was little swell and with the sun shining there was almost a warmth in then air. At 9am we departed in Xplorer for the beach near the start of the Fluted Cape/Grass Point walks. We were met by a Pied Oystercatcher Female and its juvenile young one who was propped on one leg and sleeping. Guests changed their footwear before we all met on the track. The first thing we found was a small echidna, and after telling Jonesy's daughter to not chase it, most guests got to photo it as it settled down to feed. There were two walk options one to Fluted Cape and the circuit and the Grass Point return walk. Dani, Marie and Ian went with some of our guests including Jonesy and his daughter, while Mike and Jamie took the other guests on the more moderate walk. Both groups enjoyed the walks. The Grass Point walkers were very fortunate to see a very friendly Bennett's Wallaby, gregarious Superb Blue Fairy Wrens, and hundreds of roosting terns and cormorants. There were also a number of marine plants and invertebrates that had been washed up onto the rocks. This gave Mike a chance to talk about them while Jamie sought out examples to show. The Fluted Cape walkers had magical view along their walk. Very favourable comments were received.
After lunch we again took a cruise in Xplorer around Penguin Island to the Fluted Cape (columns of Dolerite). With the incredible large swells there was plenty of foam, surf and vapour to be seen as waves crashed ingloriously into rocky cliffs. Photos were at a premium and it was an enjoyable experience. We then made our way back into Adventure Bay and cruised for the main beach where some guests disembarked onto the sand. We made our way to the Bligh Museum and Barry met us at the entrance. We then went to the beach and enjoyed a wade and for some a swim (crazy).
On return to CD guests were invited to the Bridge Deck Lounge for a presentation from Ian on 'Encounters on the Shore – Palawa meets Europeans on the Lutrawita Shore'. It was well-received. Jamie did the recap and the briefing of tomorrow's activities. Guests really enjoyed their day and are looking forward to Port Davey and Maatsuyker Island. Tonight after dinner we are showing Crayfishing – from a fisherman's Perspective.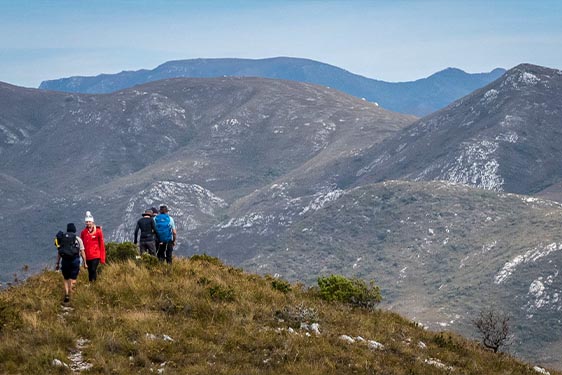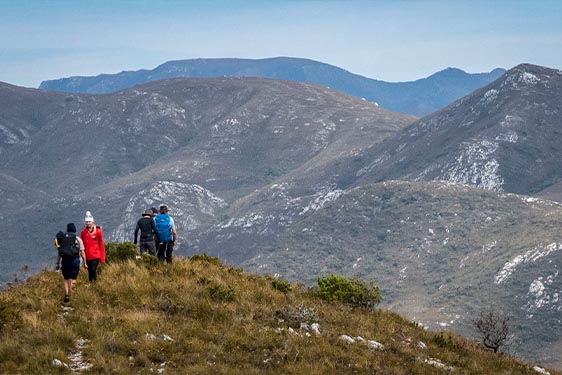 Day 5: Maatsuyker Island & Port Davey – Bramble Cove
21 Jan 2021
After breakfast, Mike gave a presentation 'Port Davey – Underwater Exploration'. The sun came out as we entered Port Davey and we dropped anchor in Bramble Cove. At 11am we took a very special cruise out to the Breaksea Islands where Mike, Ian, Jamie and Dani interpreted what was seen. The light was spectacular at the beginning until cloud covered the sun. We then made our way into Watering Bay where a White Bellied Sea Eagle watched our approach from on high. We visited the waterfall that provides freshwater to the yachties and then made our way into Schooner Bay where there were ochre pits that were once very important to the local indigenous tribe. Guests really enjoyed the cruise.
After lunch a small group went over to Bramble Cove Beach to do the Mt Milner Walk. The views were spectacular and when the sun was out Bramble Cove with Coral Discoverer sitting at anchor was spectacular. Everyone had a great time. Five guests went for a swim after the walk which, they reported, was very bracing but worth it. The rest of the guests were offered other activities such as kayaking and a special doco on Port Davey but they declined and went to read books. Crew did go for a kayak.
We moved Coral Discoverer to Pimm Point in very stable conditions during pre-dinner drinks. Ian gave a recap on Denny Kings family and Jamie gave the briefing on tomorrow's activities in Bathurst Harbour and Melaleuca. After dinner, guests were interested in the Information docos on 'Port Davey Wild & Pristine and Above & Below'. It has been a great day for guests.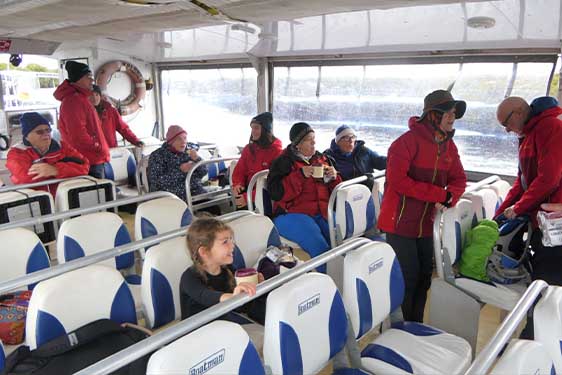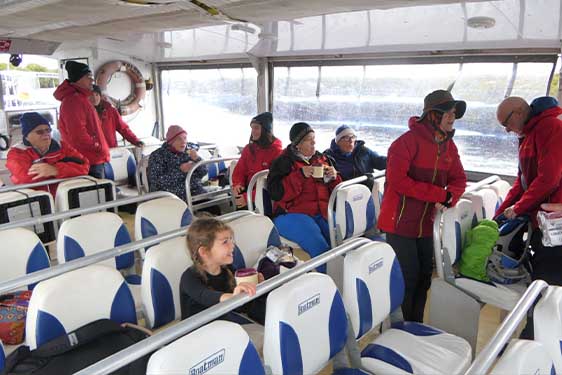 Day 6: Melaleuca & Bathurst Harbour
22 Jan 2021
We left early and beat a path into Melaleuca Inlet where we did get a little respite from the wind. We arrived at Melaleuca and entered the Hide but there were no birds.  We took the Needwonee Aboriginal walk through the dense melaleuca forests. Mike led one group and Ian the other. We met for a photo in the middle and the only thing missing was Icebergs and penguins – it was that cold!
When we got back to Xplorer GPH Jo had set up the inside and dropped the curtains so we could have morning tea in comfort. We made a slow journey back to Bathurst Bay and then powered back to Coral Discoverer. As we left Breaksea Island the swell was increasing and the albatross, shearwaters and smaller prions and storm petrels were enjoying all the feeding action on the high seas. As we turned to the east Ian give a presentation "Into the Abyss – Shipwrecks in Southern Tasmania'. It was very interesting. At pre-dinner drinks, Mike gave a recap and Jamie let everyone know plans for tomorrow. After dinner most guests were in attendance for Wild Tasmania. Despite the windy cold wether, guests enjoyed the day's cruise and walk.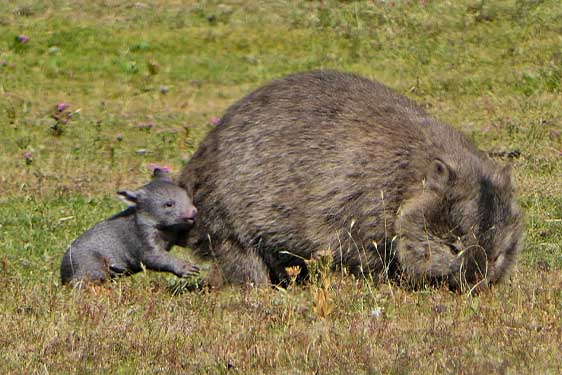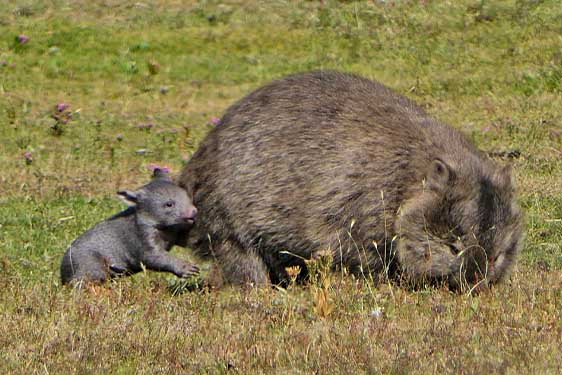 Day 7: Maria Island
23 Jan 2021
We cruised into the anchorage at Maria Island after seeing seals and dolphins in the very early light. At 8:30am we departed for Darlington Settlement. All guests and expedition crew landed. There were two options and Mike took those that wished to look at the settlement. Ian, Dani Jamie and Marie led the rest on a 4.4km circuit to the Fossil Cliffs. Mike's group started at the Commissary then made their way slowly to the settlement. At 10:30am they returned via the painted cliffs to Coral Discoverer. The long walkers enjoyed a leisurely walk through the forest viewing many Tasmanian Pademelons, Forester Kangaroos and Bennett's Wallabies. Wombats were scarce and were only seen when we got to the fossil cliffs. One was asleep under a rock. Everyone was able to sit on a rock and photograph it. The morning was absolutely beautiful weather-wise with warm conditions and just enough breeze to make it comfortable. The long walkers were picked up at 11:45am and on the way back to Coral Discoverer we also took the opportunity to visit the Painted Cliffs.
After lunch Mike gave a presentation 'A Whale of a Tale on Maria Island' which guests found enthralling. At 3:00 pm we again hit the shores of Maria Island with a group of crew and guests walking the Reservoir Circuit. This was a 1.5hr walk and it was beautiful walking through massive tall timber which shaded our progress. As we arrived in the settlement we found a female wombat with a young feeding on lush pasture. This was a complete bonus. Mike had a small group who looked around bird rock and green Island.
Everyone was back on Coral Discoverer by 5pm and we departed for surprise sunset drinks while we circumnavigated Ile des Phoques. Mike gave commentary and Ian, Jamie and Dani talked with guests while we were viewing the seals and birds. Guests were in awe of the cruise by. The seals were in awe of the guests and really put on a show. During dinner, Jamie gave the briefing and after dinner the doco on Terrors of Tasmania was shown. It has been a great day. We have moved into Surprise Bay to anchor overnight.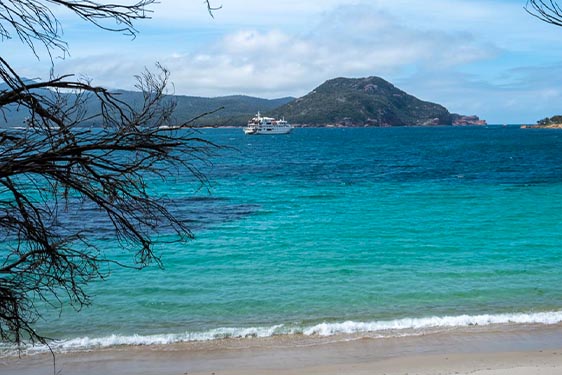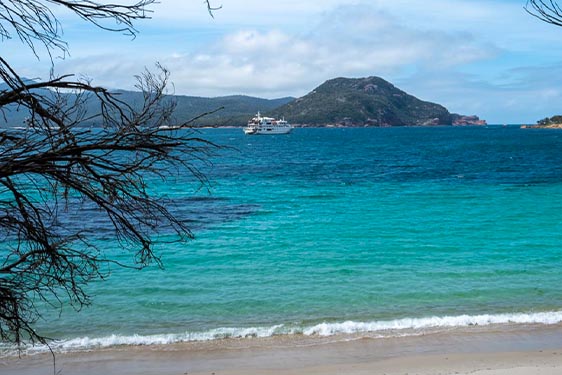 Day 8: Wineglass Bay & Schouten Island
24 Jan 2021
We woke to overcast conditions but little wind and after breakfast at 8am we took the long walkers across to Hazard's Beach, then we walked across the isthmus to Wineglass Bay and then walked up to the Wineglass Bay Lookout. It was good exercise. We cruised for Schouten Harbour and arrived at 2pm. Dan drove Xplorer to Crockett Beach and we stepped ashore. There were locals camping for the long weekend. Our group wandered through and made our way down onto Morey's Beach. Mike, Dani, Ian and Jamie gave interp along the way. We made our way to the old Whaler's Hut and chatted to the two young volunteer rangers, who were very happy to give heaps of information.
We were back on Coral Discoverer by 4pm and after afternoon tea Ian gave a presentation on 'Guiding Lights – Lighthouses of Southern Tasmania'. Guests enjoyed the talk. Pre-dinner drinks ended as a wine and cheese night with Mike giving plenty of info. Jamie completed the drinks session with a briefing. Tonight after dinner Jonesy is talking about his Antarctic Journey to the South Pole. Nobody will miss this one. Guests enjoyed the day's activities.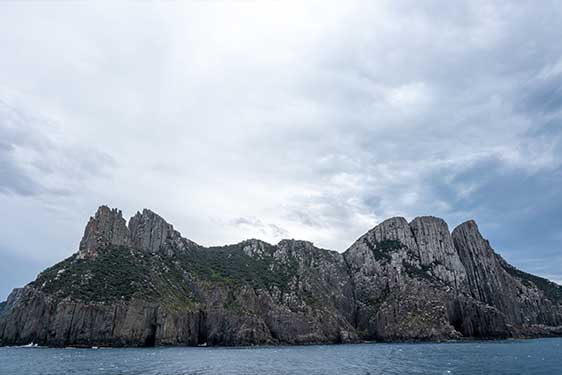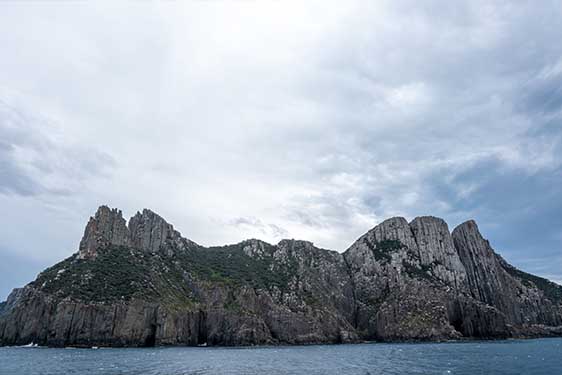 Day 9: Fortescue Bay & Canoe Bay
25 Jan 2021
We awoke to cloudy conditions but little wind. Jo drove Xplorer and with Mike and Ian doing the commentary we slowly followed the coast from Eaglehawk Neck and Pirates Bay down to Fortescue Bay. Jo took us past the Blowhole, Tasman Arch, Devils Kitchen and Paterson's Arch. We went into Waterfall Bay and there was a massive L shaped arch that Jo was able to put Xplorer into. Guests thought this was a true highlight. We saw a little water cascading down the cliff face. We then headed for Canoe Bay and eventually returned to Coral Discoverer which was now anchored in Fortescue Bay. It was a sensational cruise and the guests really enjoyed it. Jo did a magnificent job guiding us around.
After lunch we cruised back into Canoe Bay and landed on a rocky shore. We walked on the Tasman Trail from Canoe Bay to Fortescue Bay, but before doing that Mike led us about 300m towards Pirates Bay and showed guests and crew the tree fern gardens. These were ancient gardens with tree ferns 8m high. To get to these gardens one had to cross a swing bridge. Then it was back on track to Fortescue. It is a moderate walk and all guests who took the walk enjoyed it. There were plenty of plant species, reptiles and birds to view and while initially it was very warm,  by the time we reached the beach it was gently spitting rain and cooled things down. It was not uncomfortable and a few guests and crew jumped in the water for a swim. It was obviously very refreshing. Xplorer came to pick us up and it was decided that because conditions were still favourable that we would take a cruise in Xplorer down to the Lanterns where views of the Totem Pole and the Candlestick could also be photographed. There were plenty of seals on the rock ledges which was a bonus. Xplorer Driver Dan had us close to all the action. Guests were very impressed with the cruise and it really sealed the day (excuse the pun).
We arrived back on Coral Discoverer and cruised for Port Arthur. We did this via Cape Pillar and Tasman Island and guests were given the royal cruise through the gap after viewing Tasmania's last built lighthouse. This was a great adventure with Ian and Jamie giving plenty of information. The overcast conditions were excellent for images and with the wind picking up the Australasian Gannets were just motionless above Coral Discoverer. By pre-dinner drinks we were in sight of Port Arthur and again it was an ideal view of the penitentiary. Jamie gave the recap and then briefed guests on tomorrow's activities. After dinner guests watched the very special documentary on 'Maria Island Marine Reserve'. Today was a very special day and guests really had a ball.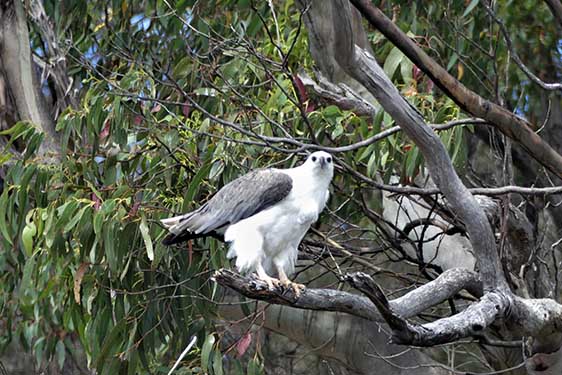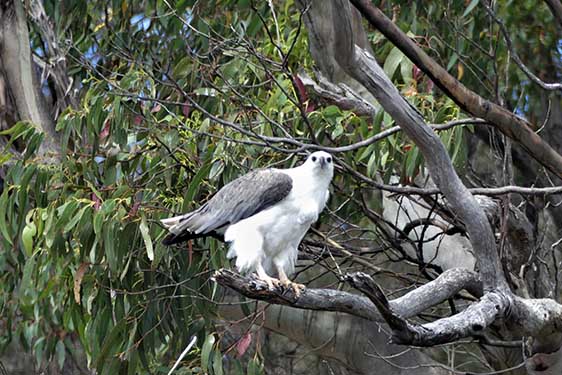 Day 10: Port Arthur
26 Jan 2021
After breakfast Ian gave a very interesting presentation, 'One Hell of an Inferno – the 1967 Bushfires'. It was interesting to find out how Tasmania handled this catastrophe economically and psychologically. History has a tendency to repeat itself but will we ever learn from the mistakes made? Guests really enjoyed the talk.
With lovely conditions on the water we took guests for a cruise along the coast. We started with the shipbuilding section at Port Arthur and Mike and Ian gave some historic information and some interesting stories. We went across to Isle of the Dead where officers and convicts were buried during the halcyon days of the penitentiary. A cruise along the limestone coast gave us an insight into the cave formation and then we were able to view the cormorant colony with hungry chicks attacking parents for food. We looked over the salmon farms and spoke of the damage to underwater grasses and other marine critters. A pair of White Bellied Sea Eagles sat in tall Blue Gums watching our every move. In the morning light, they looked spectacular.  After lunch we cruised across to Port Arthur where we went on a guided tour with a Port Arthur Guide. Farewell drinks were very friendly and it was great to chat as a whole group. It was a good day and a good trip.