The Mermaid Tree: Celebrating 200 years with Special Guest Johnathan King
A descendant of Rear Admiral Phillip Parker King shares historical insights
In 1820, British Naval officer Lieutenant Phillip Parker King commanded HMC Mermaid on a series of voyages charting northern Australia's coastline. Also on board were surveyor John Septimus Roe and botanist Allan Cunningham. Then Lieutenant (later Rear Admiral) King produced marine charts of such quality and accuracy that they were still in use a century later, and his colleagues survey and scientific work contributed significantly to safe navigation and the understanding of Australia's unique natural values and coastline.
Rear Admiral Phillip Parker King left an indelible mark in the Kimberley while repairing his leaking vessel at what is now known as Careening Bay. With his crew stranded on this remote coastline for 17 days while effecting repairs, the ship's carpenter carved the words 'HMC Mermaid 1820' into the bottle-shaped trunk of a boab tree near the beach. 200 years later, the 'Mermaid Tree' has split into two trunks and now sports a mammoth girth of 12m with the inscription standing almost as tall as the average person. Visiting this site is one of the historical highlights of our Kimberley voyages.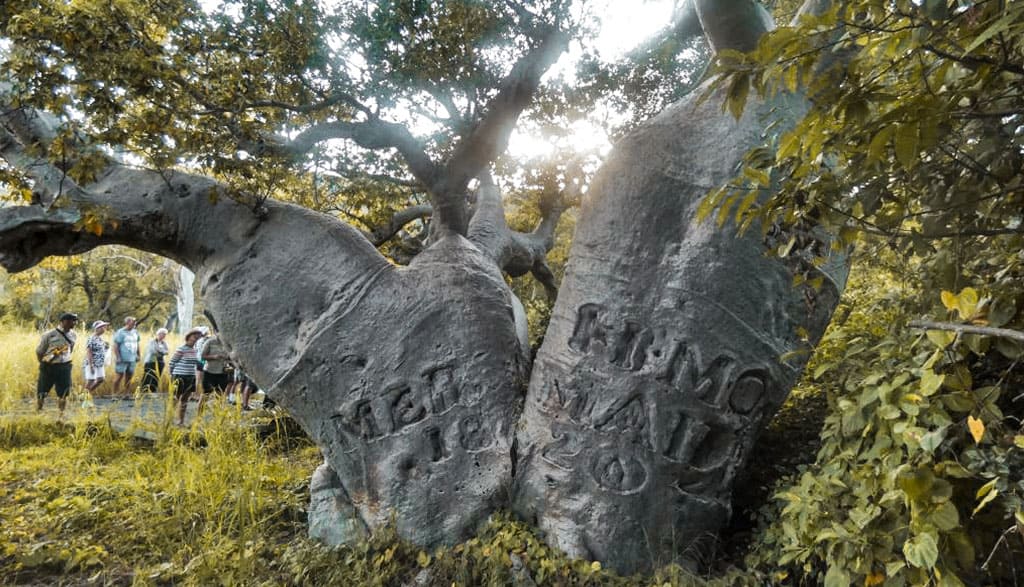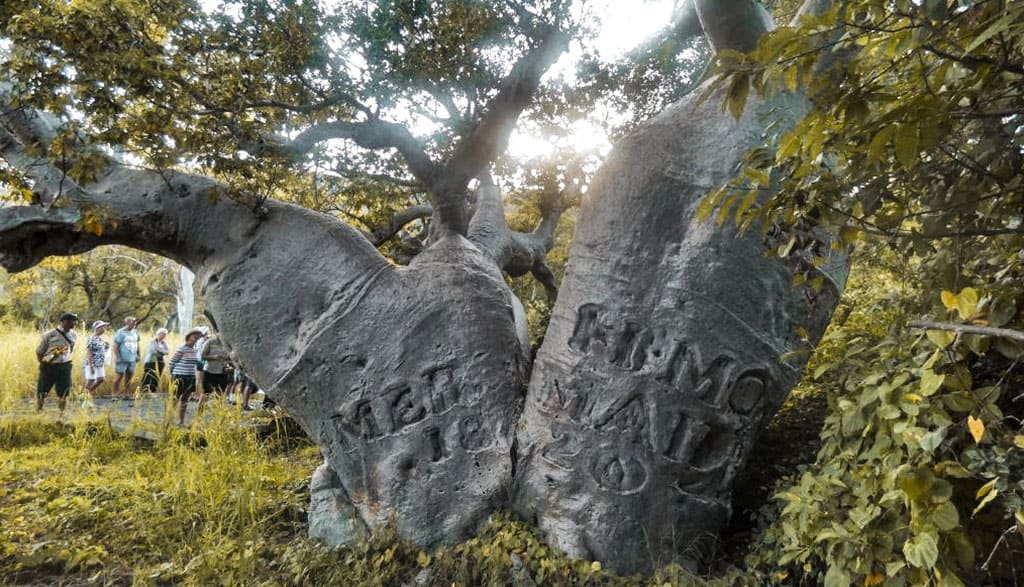 Historian and author Dr. Jonathan King, great-great-grandson of Rear Admiral King, is a special guest on one of our Kimberley cruises as we celebrate the 200th anniversary of Rear Admiral King's voyages of exploration through the Kimberley. Dr. King describes the moment at the Mermaid Tree as a crucial one for his great-great grandfather.
'This scene sketched by Lieutenant Phillip Parker King in Careening Bay may look idyllic, but it recorded a desperate life or death moment for him and his crew, frantically trying to repair the hull of his rotting ship – through which the sea had been pouring into his tiny, fragile vessel. If they failed, they would never get back to Sydney on the far side of Australia but would perish on this remote and hostile Kimberley coast. If they succeeded, at best they could slow down the leak and limp back home, pumping water out of the hold around the clock. No wonder King – fearing his ship would sink – carved 'HMC Mermaid 1820′ on a local boab tree, thinking it could be his posthumous memorial. It's only by landing on this far-flung shore ourselves that we can appreciate just how perilous that life or death moment really was.'
Special guest Dr. Jonathan King is the author of 30 historical books and 20 documentaries, a sought-after keynote speaker, and has re-enacted great historical events and voyages. He was presented with the Australian of the Year Award and Australian Achiever Award after orchestrating a re-enactment of the First Fleet's voyage from London to Sydney to celebrate Australia's 1988 Bicentenary. A storyteller with a passion for history and the events that shaped Australia, Dr. King brings a rare insight into his ancestor's voyages through the Kimberley.
'Not only did little-known Lieutenant Phillip Parker King map more of the Australian coastline in his leaky sub-standard ship from 1817 to 1822 than the great Captain Cook or Matthew Flinders but this fearless, young, death-defying explorer also miraculously survived terrifying storms, near ship wrecks, starvation, dehydration, heatstroke, disease, snakes and vicious attacks on land by Aboriginal warriors and at sea by Malay seafarers that could have killed him at any moment. This deeply religious ship captain only survived these near death experiences, according to his fellow explorers, because he was blessed with 'the King's luck'.  After all, in mid-career, Cook was brutally killed by natives on a Hawaiian beach and Flinders was imprisoned for six years on a trumped-up change of spying by a cruel French government on the fortified island of Mauritius.'
'It's only by sailing in his wake along that breathtakingly remote West Australian coast, that you can appreciate the enormity of his achievements,' says Dr. King. 'I congratulate Coral Expeditions for paying overdue homage to one of Australia's greatest but least-known navigators, Lieutenant Phillip Parker King, who first mapped the remote Kimberley coast between 1817 and 1822.'
Coral Expeditions' small expedition vessels visit Careening Bay on the pioneering Kimberley Cruise. For more information about these voyages, click here.