A Land of Waterfalls
Cruising the Kimberley coast is a magical small ship experience, where sandstone cliffs are carved by tumbling waterfalls and tidal movements create twice-daily horizontal waterfalls.
Australia's Kimberley coast is one of the world's true wilderness regions with its rugged coastline making it a popular small ship cruising destination. Waterfall season is particularly spectacular but, in reality, the Kimberley with its 2,500-odd islands is extraordinary no matter the season.
Some 20 million years ago, the Kimberley waterfalls emerged with the tectonic uplifting of the region, when steeper slopes and faster flowing rivers carved the deep gorges seen on the Berkeley and King George Rivers. The unusually straight channel on the Prince Regent River was also created by water, a result of weakness in the rocky landscape caused by a geological fracture line. The mammoth Kimberley tides result in deep rivers emptying leaving behind beds of mud, and offshore reefs rising above the horizon, a natural phenomena unique to the Kimberley.
March brings the onset of the big wet in the Kimberley and the landscape is radiant with new growth and freshwater swimming holes replenished by gushing waterfalls.  Many waterfalls flow year-round but the best time to witness the Kimberley waterfall spectacle is generally from March to early June. In 2023 it is anticipated that this waterfall season will likely extend beyond June.


KING GEORGE FALLS
Fed by the King George River draining across the Gardner Plateau, King George Falls are iconic thanks to twin falls that plunge over 80m down vertical sandstone cliffs. Before reaching the mist-like spray rising from the base of King George Falls, we cruise through steep-sided gorges carved by a flooded river system that carved a swathe through the landscape 400 million years ago.
King George Falls is Western Australia's highest twin waterfalls and a Coral Expeditions visit to these falls are undisputedly one of the highlights of a Kimberley expedition cruise.


KING CASCADE
King Cascade is a classically beautiful, terraced waterfall that is one of the most photographed. Falling from a considerable height and around 50m across, water tumbles down a staggered terrace of Kimberley sandstone. Layer upon layer of ochre-hued and blackened rock sprouts grasses, mosses, and ferns in a sort of lush hanging garden.
King Cascade is reached via the steep-sided Prince Regent River which snakes down through the Caroline Range and is a remarkable anomaly as it runs dead straight along a fault line.
The falls were named after himself by Lt. Phillip Parker King, who also named nearby Careening Bay and the Mermaid Boab Tree. Seeking to replenish his water stores, King noted in his journal, "At a distance of 17 miles from St George's Bank we were surprised by hearing the noise of a fall of water. But distrusting our ears we were not convinced of the fact until an opening in the mangroves exposed to our view a cascade of water 160 feet in breadth falling from a considerable height."

MITCHELL FALLS
Tumbling down the Mitchell Plateau in a series of tiered waterfalls and rock pools, the Mitchell Falls are the photogenic poster child for the Mitchell River National Park. Accessible only by an optional scenic helicopter flight, the Mitchell Falls are fed by the Mitchell River.
The park's tropical savannah and wild escarpments are home to significant numbers of mammals, amphibians, reptiles, and bird species which are lured by a year-round water source. Sandstone terraces beside tiered rock pools make a terrific viewing platform from which to savour the serenity of this ancient landscape.


RUBY FALLS
Red Cone Creek flows gently downstream until it meets the small but impressive Ruby Falls. Named by local mariner Capt. Chris Trucker after his daughter, Red Cone Creek is carved through rock formations stacked atop each other like building blocks.
These rock walls are great for climbing and clambering over before reaching a series of freshwater swimming holes and waterfalls. The falls may be a gurgling torrent or a gentle trickle, depending on the time of the year.


MONTGOMERY REEF
Far from a regular waterfall, Montgomery Falls appears twice a day as the sea recedes in mammoth 11-metre tides. As the tide falls, Montgomery Reef rises from the Indian Ocean in a cascade of rushing water revealing a flat-topped reef pockmarked with rockpools and rivulets. Opportunistic birds take advantage of the emerging reef, feeding on marine life left exposed in rock pools. Turtles and dolphins are also attracted to feeding opportunities as the ocean recedes.
The ocean is awash in a swirl of eddies and whirlpools as the moon's gravitational force takes hold. Then, a few hours later the entire water-borne drama is reversed as the tide comes in and Montgomery Reef disappears below sea level.

HORIZONTAL FALLS
Another waterfall unique to the Kimberley coast, Horizontal Falls are also a result of the massive tides the Kimberley is renowned for.
Naturalist David Attenborough described the Horizontal Falls as 'one of the most unusual natural wonders of the world.'
The Horizontal Waterfalls are created as the ocean is sucked through a narrow channel squeezing through two headlands of the McLarty Ranges. Water builds up on one side and is forcibly pushed through the bottleneck, creating a rushing horizontal waterfall of swiftly flowing seawater. Riding the rapids on our Zodiac inflatable tenders is one of the highlights of our Kimberley expedition cruises.
Depart from either Broome or Darwin on Coral Geographer, Coral Adventurer or Coral Discoverer on our classic 10-day Kimberley expedition.
Latest information on the current travel conditions can be found on this link:  Kimberley Flooding 2023 – Current Travel Conditions (australiasnorthwest.com)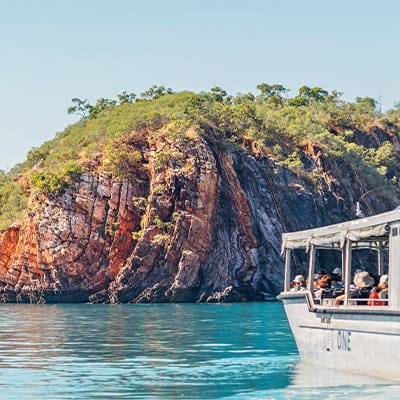 THE KIMBERLEY CRUISE | DEPARTS DARWIN & BROOME | 10 NIGHTS
Our classic 10-day voyage explores this rugged land carved by the powerful forces of nature. Thrilling rides through Horizontal Falls, showers under King Cascade, ancient rock art, crocodiles basking on rock ledges – this is a true Australian adventure.
Departs April to September Annually
VIEW ITINERARY & FARES