The A to Z of Expedition Cruising
Born from a heritage of taking travellers where only scientists had been, expedition cruises were the first to take citizen explorers to many remote destinations. Up close and personal, hands-on small ship expeditions invite wildlife, culture, and history to take centre stage. Venture to the remote untouched wilderness areas as early explorers once did: aboard a small ship, slipping in and out of sheltered inlets and hidden coves, peeking in on a family of playful sea lions and eagerly awaiting what's around the next bend.
Wondering what they are and how they differ from an ocean cruise or a river cruise? Read on to discover the A to Z of expedition cruising.
A is for Australia
Operating out of Cairns in far north Queensland for 35 years, Australia's pioneering small ship cruise line Coral Expeditions is best known for its warm Australian hospitality. As an Australian-flagged operator, vessels must abide by Australian laws regarding employment conditions, safety, taxation, and environmental regulation. Only Australian-flagged and crewed ships can gain a general licence to operate between Australian ports, meaning that a ship operating in the Kimberley doesn't need to sail to a different country to turn around such as Tahiti or Noumea. And because Coral Expeditions vessels are registered in Cairns, Australia, they have been the first cruise operator in Australia to resume operations in the wake of the coronavirus pandemic.
B is for Birdwatching
The world's best birding trips are, of course, found near water. A small ship expedition cruise has the great advantage of being able to manoeuvre into small coves and get close to shores and cliffs, which afford guests multiple opportunities to view birds during planned excursions and between them.
From Tasmania's rare, Orange-bellied Parrot to the Osprey Eagles of the Kimberley and cassowaries of the Daintree, many Coral Expeditions voyages feature splendid birding opportunities. Take your binoculars aboard to seek out the yellow-billed Kingfishers and white streaked honeyeaters in Cape York at the tip of Australia, Eastern Reef-egrets of Rowley Shoals, or sooty terns and black noddies on the Great Barrier Reef. Exploring with experts, naturalists, and local guides, learn about the ecology and conservation of fascinating avian species aboard a small ship voyage.
C is for Cultural Exchange
'Cultural exchange' is the sharing of different ideas, traditions, and knowledge with someone who may be from a completely different background than your own. Whether travelling to Kimberley, Tasmania, PNG, the Islands of Indonesia, or New Zealand, guests are assured local perspective, local guides, authentic interactions and a true taste of local culture and cuisine.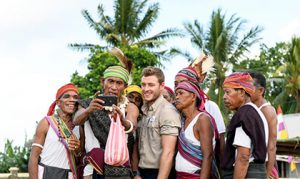 Coral Expeditions aims to encourage cultural exchange between the guests and the communities it visits, giving an insight into the artistic and cultural life of some of the most remote villages on its sailing itineraries.
On select expedition voyages, anthropologists join an already impressive compliment of naturalists, historians, and guest lecturers to further illuminate local life. These cultural commentators are leaders in their fields, some still engaged in conducting research, and who know the region intimately. Expect ample opportunity to learn from them during onboard lectures and engage with them on a one-to-one basis to learn more about their topic or backgrounds.
D is for Destination
Stand on a column of fluted, Jurassic dolerite rock with your head in the sea fog at the summit of the Fluted Cape and take in the exhilaration, wonder and awe of standing on the edge of Australia itself. Paddle a kayak. Get eye-to-eye with rare and endangered wildlife. Embrace the wilderness. Eat well. Kick back. Share a few laughs. You're in for the experience of a lifetime.
Small ship expeditions are about the destinations, not the ship. The smaller size of our ships makes it possible to get to hard-to-reach areas, giving you the chance to discover hidden spots unlike any other. With a strong focus on exploring remote locations off the beaten track, shore excursions are designed to promote local interaction and cultural exchange with the aim to enrich and educate. All expedition experiences are underpinned by key themes of nature, history and culture that allows guests to become fully immersed in each destination.
Spontaneous guests will love the opportunity to drop anchor somewhere unplanned to enjoy a stroll ashore and meet some locals or get swept up in a once-in-a-lifetime marine encounter.
E is for Ecotourism
Ecotourism is about uniting conservation, communities, and sustainable travel. As an Australian eco-accredited small ship cruise line, we take small groups of like-minded explorers to some of Australia's most beautiful and remote destinations, building awareness and appreciation for the nature around us.
Each voyage aims to build awareness and appreciation for the natural world. Travelling with small group sizes significantly reduces the environmental footprint and Expedition Teams keep guests informed about how they can minimise their impact. As an established expedition cruise operator, we are proud to have developed longstanding relationships with Indigenous communities in Australia, the islands of Indonesia, and New Guinea. Through these relationships, we are conscious of our impact to these small communities and incorporate several ways we contribute to economic development, for instance by providing them with income through art purchases, visitor fees, purchasing goods and also distributing relief supplies.
F is for Flora & Fauna
Expedition cruising brings together travellers with a curiosity about the world around them, a keen sense of adventure and a desire to spend time immersed in the natural world. With excursions taking place on tender vessels or on hikes led by adventure guides, our resident naturalists and expedition leaders provide environmental interpretation and educate guests about the range of species endemic to the areas explored, animal behaviour, habitat preservation and local ecosystems.
Whether releasing baby turtles into the ocean in Indonesia, learning to forage for native Aboriginal foods on a bush tukka expedition in Arnhem Land, spotting baby orangutans swinging from ropes in Borneo, or tracking the migration of minke whales on a citizen science expedition to the Great Barrier Reef; each destination includes opportunities to get up close to native wildlife and learn about natural history.
G is for Guest Lecturers
The onboard interactive lectures and educational experiences offered by Coral Expeditions are a cornerstone of the company. Unlock doors to the pristine areas we visit and bring the destination to life with professionals ranging from scientists and naturalists to geologists, historians, and cultural leaders. Our guest lecturers are the best in their fields and passionate about the geographies they explore. No matter the topic, they will add to your appreciation and contribute a vital, but not easily discovered, facet of a region. These knowledgeable experts enthusiastically share their knowledge with expert interpretation and effectively transforming a pleasant cruise into a learning adventure.
H is for Hiking Expeditions
There are many ways to explore a destination, but few resonate in the way that hiking does. Get back to nature, challenge yourself and enter landscapes well beyond our urban environments. Picture yourself enjoying a spontaneous moment as you smile back at a young Indigenous child, snack by a rushing stream, follow winding paths that weave through the mountains, and scale rugged and rocky terrain in search of the perfect sunrise. In a nutshell, a trekking trip is all about embracing unique moments, incredible landscapes, and new cultures in some of the most isolated parts of the world.

With some of the most off-the-beaten-track hiking opportunities in the world, you can choose from a range of introductory treks to challenging treks designed to bring you closer to the culture and wilderness of a country. Our responsible travel guidelines have been developed to ensure our trekkers travel with minimal impact on the culture, environment, and community, saving the beauty of this world for future generations. Best of all, unlike many other hiking providers, our trip prices include the cost of accommodation, food, and transport so there won't be any surprise hidden expenses while you're on your trek.
I is for Immersive
Spending more time in port and less time at sea sounds like a radical idea for a cruise line. Yet the No. 1 reason people travel is to experience a different culture.
Destination immersion is becoming a deciding factor for travellers when choosing their next holiday as they increasingly seek more enriching experiences, and not just to see the sights when they travel. Our immersive itineraries are rich in authentic experiences and our purpose-designed small ships' shallow draft and high manoeuvrability get you closer on coastal adventures to explore the sheltered bays and hidden inlets inaccessible to larger ships and exclusive shore excursions are designed to bring guests closer to the nature, wildlife, and history of the regions we visit.
To complement the extensive shore excursions already included, keep an eye out for our collection of curated Signature Experiences for a genuine immersion in each destination. Widely diverse, these activities are featured at no extra cost. One expedition offers the chance to roam the wilds of Rinca Island to see the fascinating Komodo dragons. Another adventure takes travellers to meet local Asmat tribesmen on an authentic village experience at Syuru.
J is for Journey
Say goodbye to queues, long waits and assigned seating. Instead, enjoy a relaxed atmosphere shared with likeminded explorers aboard a small ship expedition cruise.
The company of fewer passengers also means the opportunity for more activities. Most expedition cruises can accommodate two different landings a day, so people are spending more time off the ship and in the environment. A smaller passenger compliment makes for a more intimate and convivial atmosphere on the ship, too: you generally form close relationships with people on expedition ships because you're with the same ones each day.
Our unique open-bridge policy offers the opportunity to visit the bridge and observe ship operations as much as possible. From the bridge, your Captain and his crew can see the way forward both visually and through advanced nautical navigation equipment. They can control the wheel and throttle guiding your group safely over open water, through narrow fjords and into pristine bays for further exploration by Zodiac or on foot. Friendly Captains enjoy the open interaction they share with our guests, and invite all to learn more about the navigation, charts, and planning behind each day's travel.
K is for Kimberley
The ancient Kimberley region in North Western Australia is a panorama of rugged mountains, spectacular gorges, and majestic waterfalls. The region traditionally attracts visitors from all over the world, but not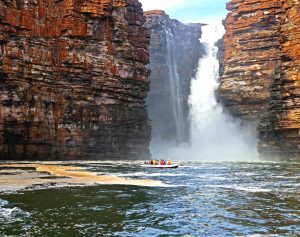 everybody is fortunate enough to truly experience this ancient land.
Coastal explorations offer the opportunity to take the time to connect and get closer to nature, history, and culture. Purpose-built to go where bigger ships cannot, our fleet of small ships safely navigate the region's many shallow river systems and provide guests with intimate access to iconic natural features. With over 25 years of expertise in the Kimberley, experience a thrilling nature-based adventure as you board a zodiac ride through Horizontal Falls, shower underneath King  Cascade, and marvel at 60,000-year-old Gwion Gwion rock art depicting Indigenous Australian mythology and interpreted by regional experts in geology, history and ecology.
L is for Local Knowledge
Coral Expeditions' Australia, Papua New Guinea, Indonesia, and South Pacific itineraries showcase a local perspective through expedition experiences underpinned by local guides, authentic community interactions, culture, and cuisine. Select voyages carry guest ethnographers who unpack the regions' people and cultures with their customs, habits, and mutual differences. These precious experiences are made possible through our intimate local knowledge and well-nurtured local destination relationships.
M is for Master Reef Guide
Official ambassadors of Australia's Great Barrier Reef, Master Reef Guides are recognised as the world's leading reef guides, interpreters and storytellers sharing the wonders of the Great Barrier Reef World Heritage Area through engaging, entertaining, and educational experiences that surpass visitor expectations.

Whether your Master Reef Guide is a dive instructor, reef pilot, captain, marine biologist or tour guide, you'll hear the latest information and intel about the reef along with a clear conservation message about how you can make a difference to its sustainability, regardless of where you live. Although not all reef experiences have a Master Reef Guide onboard, if you're lucky enough to experience the reef with one, ask lots of questions across the day and tap into their insights and intel. Most recently, the program was recognised internationally by the Commonwealth Blue Charter as the first of its kind working on the issue of coral reefs and as one of Australia's commitments to achieving sustainable ocean development.
N is for Naturalist
Into nature and natural history, our Naturalists are the stewards of the voyage narrative and are key to the quality of your experience. Guests consistently cite the expertise and engaging company of expedition staff as a key reason to repeatedly travel with onboard. More than guides, they are engaging companions, joining you at meals as well as on walks, Zodiac, and kayak forays.
While at sea, you will often find naturalists on the bridge scanning the horizon for wildlife with a pair of binoculars, or on deck enthusing over a thrilling whale or seal sighting. They may be updating the wildlife list with the most recent observations, or in the lecture theatre giving a presentation on the wildlife, you have seen or hope to encounter. On land, naturalist guides are available to answer your questions about local wildlife, vegetation, and other natural phenomena. If you have a question about migratory birds in Western Australia, howling monkeys in Sulawesi, or macaroni penguins of the subantarctic islands of New Zealand, our naturalists are there to reveal the hidden lives of these remarkable creatures. Whether you're travelling to the Kimberley, the small islands of the South Pacific or the Indian Ocean, their contagious enthusiasm and impressive local knowledge will enrich your expedition.
Osprey Reef, Coral Sea Australia
Approximately 350km northeast of Cairns, beyond the outer Great Barrier Reef with no land in sight, Osprey Reef is the summit of an undersea 2,000-metre-high mountain. Its vibrant corals, plummeting drop-offs and crystalline waters make this one of the best tropical dive sites in the world. The chances of encountering a manta ray or an eagle ray are good, as these are frequently seen in the area thanks to the reef drawing in vast amounts of marine life from the surrounding blue on the Continental shelf.
P is for Photography
Remote and wild destinations are perfect for photography. On selected expeditions, a photography expert will offer lectures and presentations to help improve your skills. Whether a beginner or experienced photographer, you will find that the presentations and informal tuition, either on board or during landings and excursions, will help you capture memorable moments. Nature photography is a great way to get up close and personal with wildlife without harming them or their environment.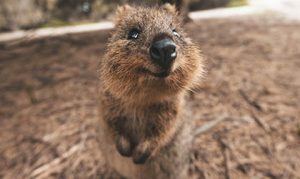 Q is for Quokka
The quokka is a medium-sized, macropodid marsupial that is native to the south-western corner of Australia. While being a wildlife icon on Rottnest Island, the species is threatened with extinction. They are often called the 'happiest animal on Earth' because of their cheeky smiles. Stop at Rottnest Island on a voyage from Broome to Fremantle, home to pristine bays, picturesque beaches, and of course – the lovable quokka.
R is for Rangers
Known as the 'keepers of the keys to our wilderness', rangers preserve the scenery, natural resources, and historic objects for current and future generations. From Public Education and working in immense natural tracts or intimate cultural and historic sites, National Park Rangers are diverse specialists in botany, ecology, history, archaeology, and curatorial sciences. A day might be spent looking for sea turtle nests or checking on the rookery of endangered birds. Rangers also bring divergent cultures together by sharing indigenous cultural insights into the landscape with visitors.
Find them at National Parks on expeditions to Tasmania's southwest, the remote indigenous communities of Cape York and the Torres Strait Islands, and the Kimberley.
S is for Small
Small ship expedition cruising is all about venturing further, seeing more, and doing more, but also enjoying great food, wine, and a little pampering along the way. You'll stay close to the coastline, which means there will be no long days spent at sea and more time spent exploring.
These voyages often follow in the footsteps of early explorers, scientists and naturalists as they set sail for islands inhabited by few but overflowing with natural treasures and in-tact cultures in far-flung archipelagos such as the Malay and Bismarck, to archipelagos closer to home including Recherche, Buccaneer, or Nuyts.  It is these off-the-beaten-path destinations often end up being the highlight of a voyage.
T is for Tidal movements of the Kimberley
Massive tides are just a part of everyday life on the Kimberley coast where the sea can seem to vanish and then come flooding back in along the Kimberley coast thanks to Australia's biggest tides of over 11 metres. It can leave ships high and dry, expose kilometre-wide mudflats that reflect the moonlight like a stairway, and force the ocean through narrow chasms creating what looks like a horizontal waterfall.
The huge tidal variation has benefitted traditional owners along the Kimberley coast for thousands of years, and challenged the first European explorers, including William Dampier and Philip Parker King, at times as their fragile wooden boats were caught in swirling tidal currents surging around a coastline now bearing their names.
Join a Kimberley expedition to witness the many unique spectacles created by the largest tropical tides in the world, from mini cascades over the mighty Montgomery Reef to the only horizontal waterfalls on Earth.
U is for Underwater
Diving is one of the great solitary travel experiences, satisfying a primal sense of curiosity with the anticipation and excitement that comes from swimming into the unknown. No matter how many times you dip below the surface, you're never sure what you're going to see. It's possible to spend hours gliding along the edge of a vast ocean, taking in aquatic sights and letting the mind wander among a slow-motion territory where no clocks can tick.
While swimming is one of the simplest maritime pleasures, diving brings another type of happiness altogether. To explore beneath the surface of the ocean is to be awed by a serene and silent world hidden beyond our normal comprehension. To go into the deep, you'll, of course, need the professional guidance of a SCUBA instructor, but shallower waters are easily navigable with nothing but a snorkel and pair of goggles. To dive among aquatic wildlife is to be reminded that natural beauty doesn't end on land, and to be quickly transformed into a marine environmentalist.
While it's easy to feel like you're part of another world out in the water, it is, of course, an integral part of our planet, covering more than two-thirds of its surface. To dive among aquatic wildlife is to be reminded that natural beauty doesn't end on land, and to be quickly transformed into a marine environmentalist.
V is for Volcanic islands
Volcanoes are Earth's geologic architects. They have created more than 80 per cent of our planet's surface, laying the foundation that has allowed life to thrive. Many of the most remarkable and biodiverse regions we explore today have been created as the result of volcanic activity.
From Hawaii to Indonesia, hundreds of islands across the globe have been formed by submarine volcanoes. Submarine volcanoes are exactly what they sound like—volcanoes located beneath the ocean's surface. Eruptions and lava flow from submarine volcanoes allow volcanic islands to grow and develop thriving ecosystems.
Our oceanic expeditions offer the opportunity to explore the remote volcanic islands of the Pacific and Indian Oceans in comfort, including Tambora in Satonda, Banda Api in Banda Neira, Krakatau in the Sunda Strait, and Piton de la Fournaise on Reunion Island. The nutrient-rich waters washing these shores teem with marine life and islands form a natural 'flyway' for migratory birds.
W is for World Heritage Areas
Heritage is our legacy from the past, what we live with today, and what we pass on to future generations. Our cultural and natural heritage are both irreplaceable sources of life and inspiration. To be included on the World Heritage List, sites must be of outstanding universal value and meet at least one out of ten selection criteria. From New Zealand's subantarctic islands and the Great Barrier Reef to Madagascar, Sri Lanka and the glacial fjord of Port Davey in Tasmania – we pride ourselves on taking guests to remote and pristine areas of outstanding universal significance aboard our fleet of purpose-built small ships.
X is for Xplorer

Coral Expeditions' purpose-built Xplorer tender vessels are hydraulically lowered and lifted from an innovative expedition platform on the stern of our small ships, enabling guests to transfer right on the main deck. No clambering or wet feet! Take in the views and enjoy the ride in comfort with padded seating, an overhead canopy, onboard commentary facilities and a toilet for your convenience. There are zodiacs too, able to nudge between mangroves, get close to nesting seabirds, and even shoot up the famous Horizontal Falls in the Kimberley. Travelling ashore or enjoying water-based activities could not be simpler.
Y is for Yirrkala
Yirrkala is a small Indigenous community located in north-east Arnhem Land, one of Australia's last true wilderness areas. The town is known for its Indigenous community-operated art centre, Buku-Larrnggay Mulka, from which the art emerging in the 1950s was a catalyst in the art worlds' awareness that Indigenous Australian art is a unique and profound independent art tradition, and equal of any other global form. Established in 1976 as an act of self-determination, the art centre has forged a vibrant path for Yolŋu contemporary art.
These art centres are often the beating heart of the communities on Indigenous lands, as they are places where culture is celebrated and instructed every day. The impact they have on the economy of remote communities is also deeply valuable, as creating art is one of few economic drivers that is available to remote areas.  In these art centres, community leaders work with a committed and ambitious vision to create a better future for future generations, as the centres play an important role in artists' career development and become a place of sharing culture between old people and young people.
With an all Australian crew and expert expeditions staff including author and zoologist Ian Morris, who speaks Djambarrpuynu, Warramirri, and Gupapuynu, repeat guests often follow their favourite expedition guides.
Z is for  Zooxanthellae
The worlds' reefs owe their existence to organisms typically no larger than a grain of rice. Coral polyps, the reef's building blocks, are tiny colonial animals that house symbiotic algae in their cells called zooxanthellae. As those algae photosynthesise, using light to create energy, each polyp is fuelled to secrete a 'house' of calcium carbonate, or limestone. As one house tops another, the colony expands like a city; other marine life quickly grabs on and spreads, helping connect all the pieces together. They form the architecture of the entire environment and are the habitat for everything else living in tropical reef systems.